Passive Income is still an elusive term for most people, but it's definitely a legit way of earning money. With the digital world around us, it's never been easier to create a product once and sell it multiple times, repackage it and sell it again in a different form.
Let's take a look at the top sources of passive income you should consider in 2022.
Do you prefer video?
Disclosure: Please note that some of the links in this post are affiliate links for products I use and love. This means if you click on such a link and take action (like subscribe, or make a purchase), I may receive some coffee money at no extra cost to you. This helps me create more content free of charge for you. And, as an Amazon Associate, I earn from qualifying purchases. Thanks for your support!
Top Sources of Passive Income in 2022
1. Stock market and dividends
Stocks come with a risk of losing everything and I want you to read this line twice before you decide to continue. If you already have some money, you don't need and if you're ready to potentially lose them all, then you can start thinking about investing in the stock market.
If you can't afford to lose your investment, don't bother with stocks. Also, don't ever consider borrowing money to invest. These are very dangerous ideas and you should definitely avoid them.
Why investing is a good way the earn passive income?
The answer is easy. Historically, in the long-term, investment returned around 10% profit per year on average. This means that when you look back to the past, you'll see some pretty nice gains over long periods of time.
You could see that in the past, stock markets returned to investors 100% more of their initial investment in 10 years on average. In short, their money doubled.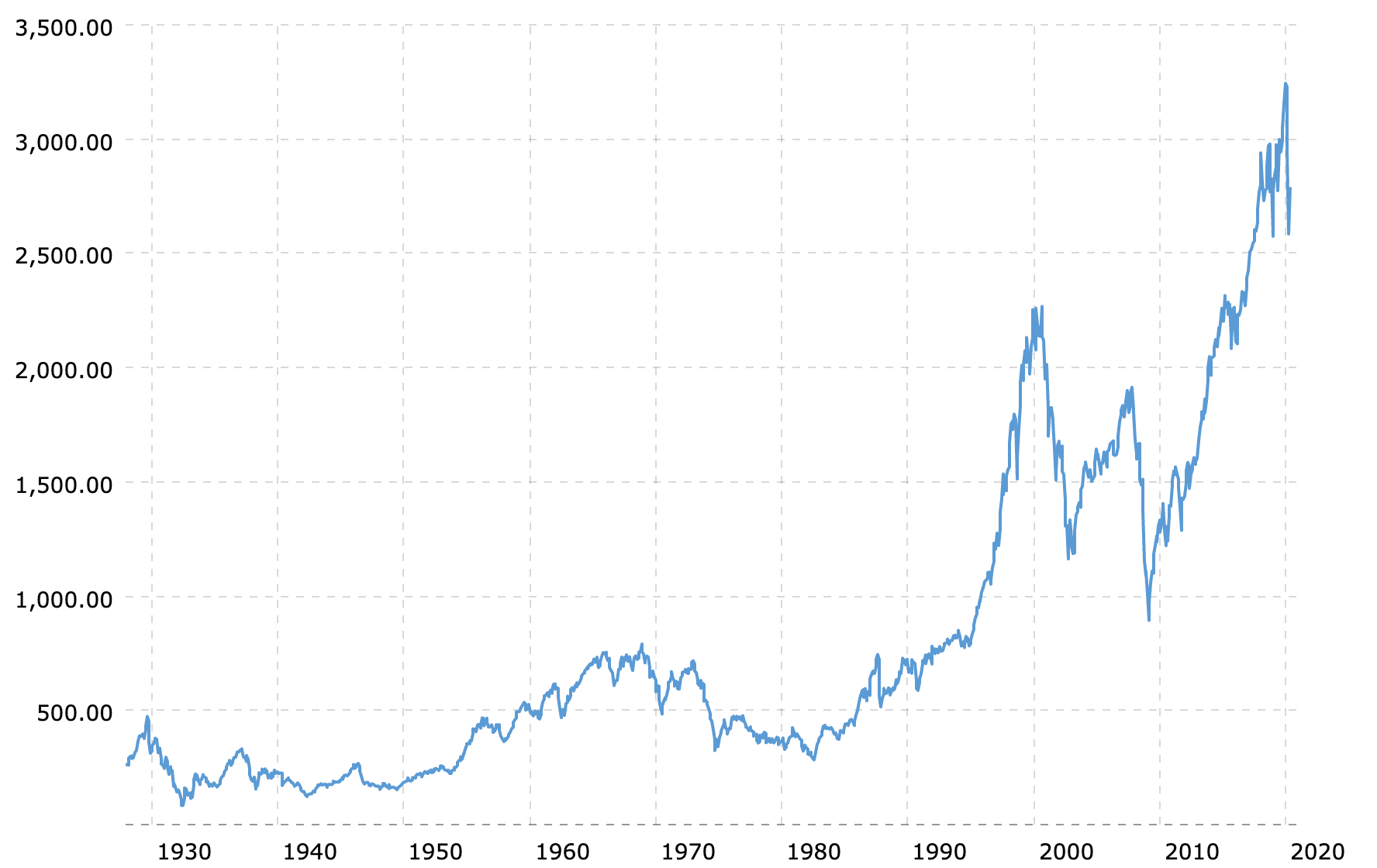 Here's the S&P 500 index which measures the performance of the overall stock market since 1928.
The most popular pitch would be that if you put $378,78 USD in this index in January 1980, you would have $3228,75 USD in January 2020 which translates to 752,41% of profit in 40 years or 18,81% in 10 years on average. All figures are inflation-adjusted.
If you're all in after reading this, please, calm down. Read the first paragraph once more and focus on terms "long-term", "on average" and most importantly "historically".
What I'm talking about here is what happened, on average, in the long-term. Don't confuse this with the idea that it must happen again in the future. I don't know it, you don't know it and nobody in the whole world knows it.
I witnessed shady tactics of the so-called "financial advisors" who would show me some chart with the historical prices while trying to sell me the idea that the historical growth is somewhat guaranteed in the future.
Make sure to understand that in stock markets, nothing is guaranteed and these "financial advisors" know exactly the same as anyone else about the future, which is nothing.
With that said, your money sitting idle on your check account will only depreciate over time thanks to the inflation.
The savings account might probably just keep you break-even, so if you're really OK with potentially losing everything, stock markets are still the easiest way to make your money work for you.
Investing in stocks is not only about growth. It's also about a regular payment you'll get as an investor regardless of the current stock price on the market. Yes, I'm talking about dividends.
How to start investing in stocks?
Watch my video How to Start Investing in Stocks where I explain 5 steps to becoming a shareholder.
1. Decide on your financial instruments
If you have time and desire to research and evaluate individual companies and read quarterly earnings reports, you can invest in their stocks. Or you can take a more passive approach and choose to invest in index funds that track a stock index like the S&P 500.
2. Decide how much money you will invest in stocks
While the stock market usually rises over the long run, there's too much uncertainty in the short term to invest money that you might need within the next five years. It's quite usual to experience a drop of 20% in any given year.
Even though savings account won't give you high yield, these kinds of money should definitely stay there:
emergency fund
tuition payments
vacation fund
mortgage payment
If you still have some money available that you won't likely need within the next five years, you can allocate them depending on your age and risk tolerance.
Take your age and subtract it from 110. You'll get the percentage of your investable money that should be in stocks, mutual funds, or ETFs. The rest should end up in bonds. So, if you're 40 years old, 70% of your money should be in stocks and 30% in bonds.
If you're more of a risk-taker or if you're planning to work even in the retirement age, you might want to shift the ration in favor of stocks, for example, 80:20 percent.
3. Open an investment account
To buy shares of publicly traded companies, you'll need a brokerage account. Opening a brokerage account is typically a fairly easy and quick process that you can do in a matter of minutes. You can then fund your account conveniently by wiring the money from your regular bank account.
The majority of online stock brokers eliminated big trading commissions, so as far as costs are concerned, they all offer pretty much the same deal.
However, they can differ greatly when it comes to user-friendliness and functionality of trading platforms, the ability to trade from mobile devices, free access to educational tools and materials, and so on. Some will even let you try the so-called paper trading in a demo version before committing and money.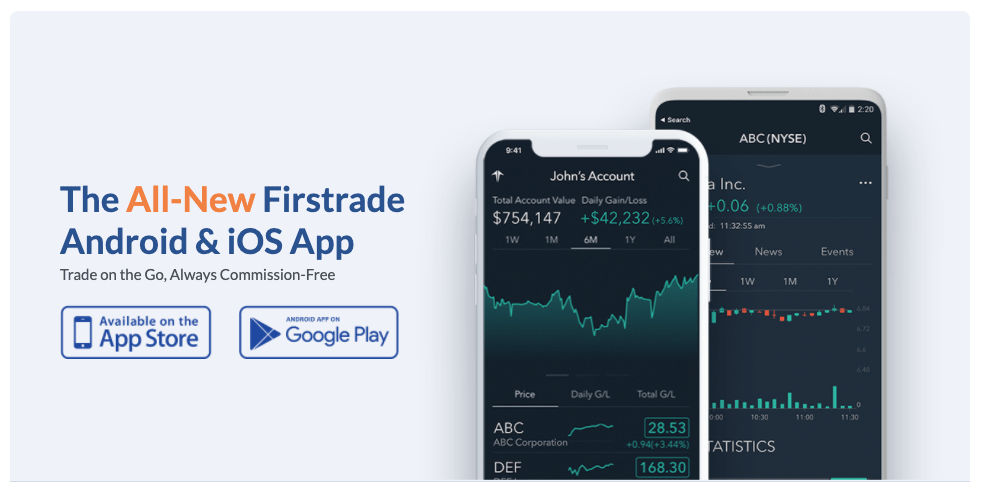 I have personal experience with many online brokers, but I can truly recommend Firstrade and Interactive Brokers for their low commission price, easy-to-understand trading platform, and mobile apps.
If you're just starting out, Firstrade is a safe bet especially if you plan to buy and hold. Interactive Brokers offer more tools, but it's generally suitable for seasoned investors.
4. Choose your stocks
There's no chance to go over everything you should consider when selecting and analyzing stocks in a few sentences, but these are the most important concepts you should consider before getting started:
diversify your portfolio
invest in businesses you understand
avoid high-volatility and penny stocks
learn the basic metrics to evaluate stocks
Especially when you've just started, you should have a variety of different types of businesses in your portfolio, however, too much diversification is not good either.
Stick with businesses you like and understand, and if it turns out that you're able to evaluate a particular type of stock, go ahead and make one industry a relatively large part of your portfolio. There's nothing wrong with that.
Start with rock-solid, established business, also known as blue chips. These companies are around for decades, regularly pay dividends, and have pristine financials.
They might not grow as fast as some flashy start-ups, but they shouldn't go under anytime soon. Wait for high-growth stocks until you're a little more experienced.
5. Continue investing
One of the biggest secrets of investing coming right from Warren Buffet is that you don't need to do extraordinary things to get extraordinary results.
The best way to make money in the stock market is to buy shares of great businesses and hold on to them as long as they remain great businesses.
So, there you have it. If you're ready to wet your feet, check The Best Stocks for Beginners where I suggest how to make your starter portfolio.
2. Affiliate marketing
Affiliate marketing is a form of marketing products or services where an affiliate sells on behalf of a merchant for a specific rate or percentage.
Affiliate marketing benefits everyone involved. Merchant gets paid for his product, an affiliate gets paid for promoting merchant's product and a customer gets the product, usually with some nice discount when he comes through an affiliate link.
How to become an affiliate?
Becoming an affiliate or a promoter is very easy. First, you need to find the product or service you would like to promote and find out if the merchant offers an affiliate program (sometimes called partner program).
Usually, you can find the link in the footer of his website or you can just google his name along with "affiliate program" and you'll get the link you're looking for.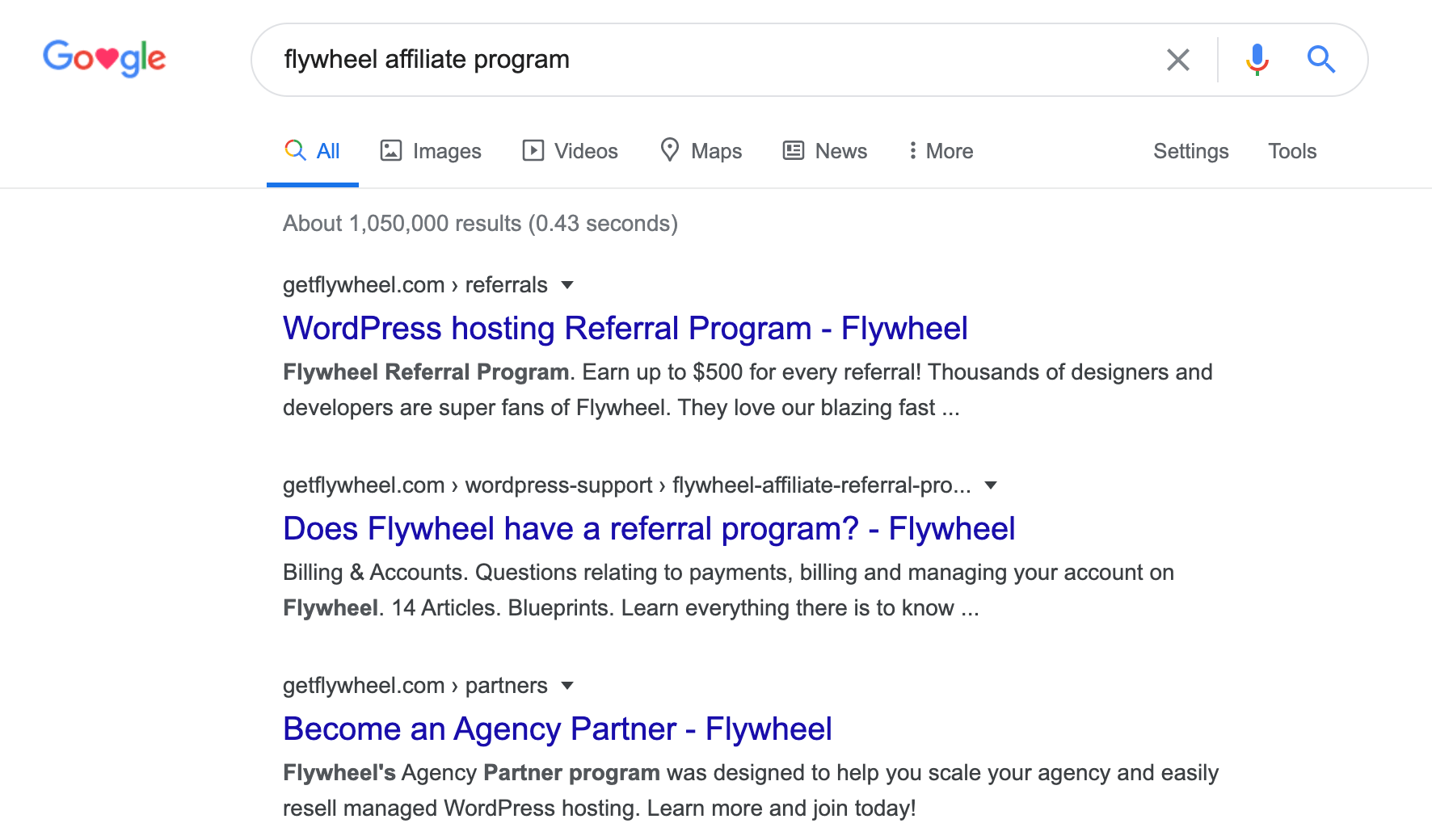 Next, you need to sign up, which usually means filling out some form with your credentials and the URL of the website you plan to use for your promotion activities.
Once your application is approved, you'll receive a welcome email with access to the affiliate dashboard where you can find or create your unique affiliate link.
This is your signature, so anyone who purchases products or services from the marketer via your link will be tied to you and you'll get rewarded with affiliate fee.
Most merchants will pay you via PayPal, so make sure to create a free PayPal account before you start.
Affiliate networks
Affiliate networks help connect merchants with promoters so they don't need to find each other via footer links or Google search. Joining the affiliate network is usually free and once you're a member, you can easily find the types of products you would like to promote.
The most famous affiliate networks are:
How to start promoting products?
First, you need a place where you put your recommendation of the product, and second, you need potential customers that will read your recommendation and click your unique affiliate link.
The most common places are social networks, publishing networks, a YouTube channel, your own blog, books, and online courses.
Social networks
Social networks like Facebook, Instagram, Twitter, and LinkedIn are free to use and you'll already probably on some or all of them.
Facebook specifically isn't a very good place for affiliate marketing, though, because it won't show your posts with external links to your followers as frequently as you would like.
Facebook wants its users to stay within its platform and it's a proven fact that once your post contains external links, it won't reach many eyeballs.
Publishing networks
Publishing networks like Medium.com are more interesting because there's a lot of traffic and you can even create a nice-specific publication for your promoting activities.
Read more in the How to Start Writing on Medium and Earn Money article if you want to start publishing on Medium.com.
Another great way to utilize a traffic-heavy site is Quora.com. Quora's mission is to share and grow the world's knowledge.
It's based on questions and answers and if your answer is good enough, people can upvote it. This way, you can build your credibility which leads to a growing number of followers.
3. Blog
It's really easy to create a new blog and start writing about topics you like. You don't even have to buy web hosting or domain name, but it's definitely worth considering if you plan to stick with blogging to build your online presence.
Here's the article about The Best Blogging Platforms and if you want to start some serious blogging, make sure to read How to Start a WordPress Blog.
4. YouTube channel
YouTube channel is another great way to tap into huge Internet traffic. You should approach YouTube as your free advertising platform and post interesting videos before you even consider making some money on YouTube which is not that easy for beginners these days.
To get your channel monetized, you first need to reach 4.000 hours of overall watch time and have at least 1.000 subscribers within the past 12 months.
5. Books
The easiest way to publish your books and audiobooks online is via Amazon Kindle Direct Publishing platform. You get access to Amazon's huge traffic without any up-front cost and even paperback versions of your books will be printed on-demand, so you don't have to keep them printed in some warehouse.
Take my Forty Years Old Dad in Twenty Years Old Body as an example. It's available as eBook, hardcover, and even audiobook via Audible. I wrote it once and managed to repackage it multiple times including some articles on thenewfitness.net blog.
If you're interested in Kindle Direct Publishing, do more research on this topic and watch some free tutorials or even take some online courses for expert advice.
I can recommend these Udemy courses:
6. Online courses
An online course is another important source of passive income. It takes more time to produce, but once it's done, it can generate money infinitely. I still get students to some of the courses I published in 2017.
Beginning instructors make one huge mistake. They spent a lot of time producing courses about a specific version of some software. But once they publish it, there's an update to that software and their course becomes obsolete even before it got a chance to gain a considerable number of students.
I made the same mistakes with iOS development courses which are now obsolete thanks to the old version of Swift programming language.
So, the most important aspect is to pick the so-called evergreen topic that will be hopefully relevant for many years. I learned this rule the hard way, but my Total Web Development Course is still relevant today because web technologies like HTML, CSS, JavaScript, and PHP tend to change very slowly.
There are three main ways to publish your online courses. You can take advantage of the existing traffic on the so-called marketplaces like Udemy or Skillshare. Or you can publish your content on specialized teaching services like Podia, Teachable, or Thinkific. Or, you can run your own Learning Management System on top of your WordPress blog.
Udemy & Skillshare
For beginners, I highly recommend Udemy and Skillshare. They both offer free accounts for teachers, so you don't have to worry about spending too much before selling your first course.
This is like a SaaS (Software as a Service) approach, where everything is managed for you, including pricing and promotion to some extent, and you only supply your educational content.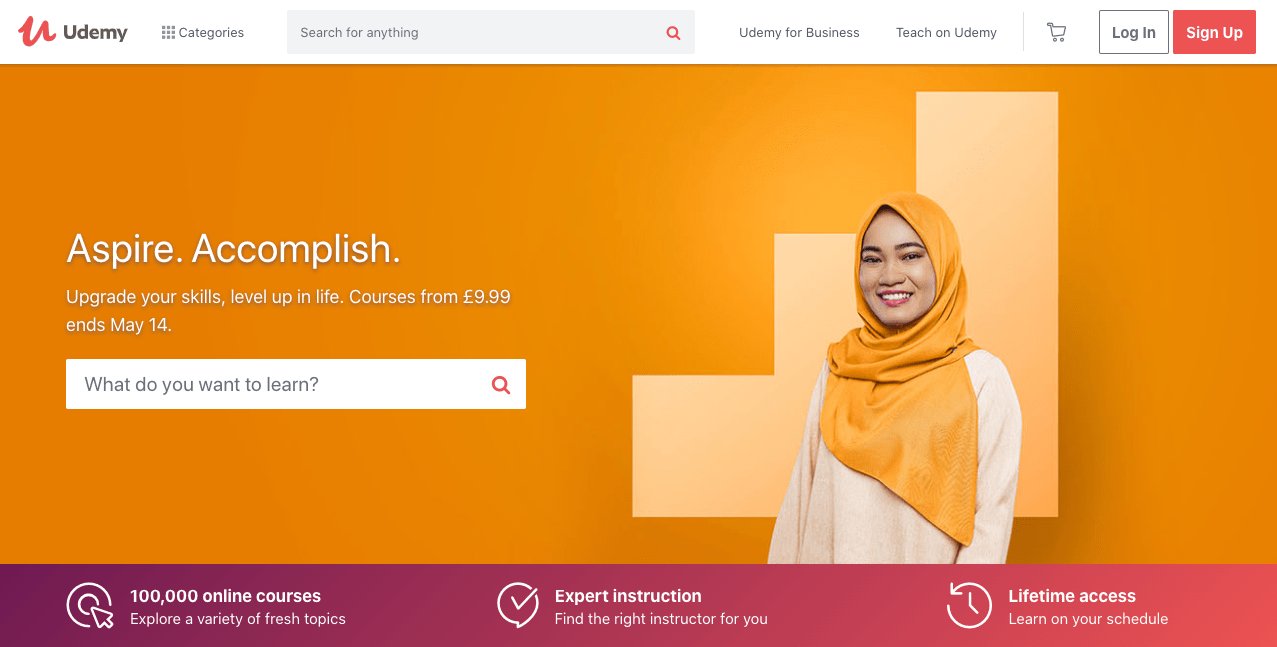 Udemy allows you to set the base price for your course from the list of available price tiers. If you let Udemy promote your courses for you, you'll get 50% of what the students pay.
If you have not opted for Udemy's promotion, you'll get what the students paid minus administrative, promotional, and handling fees. In both cases, students can request a refund within 30 days of the purchase.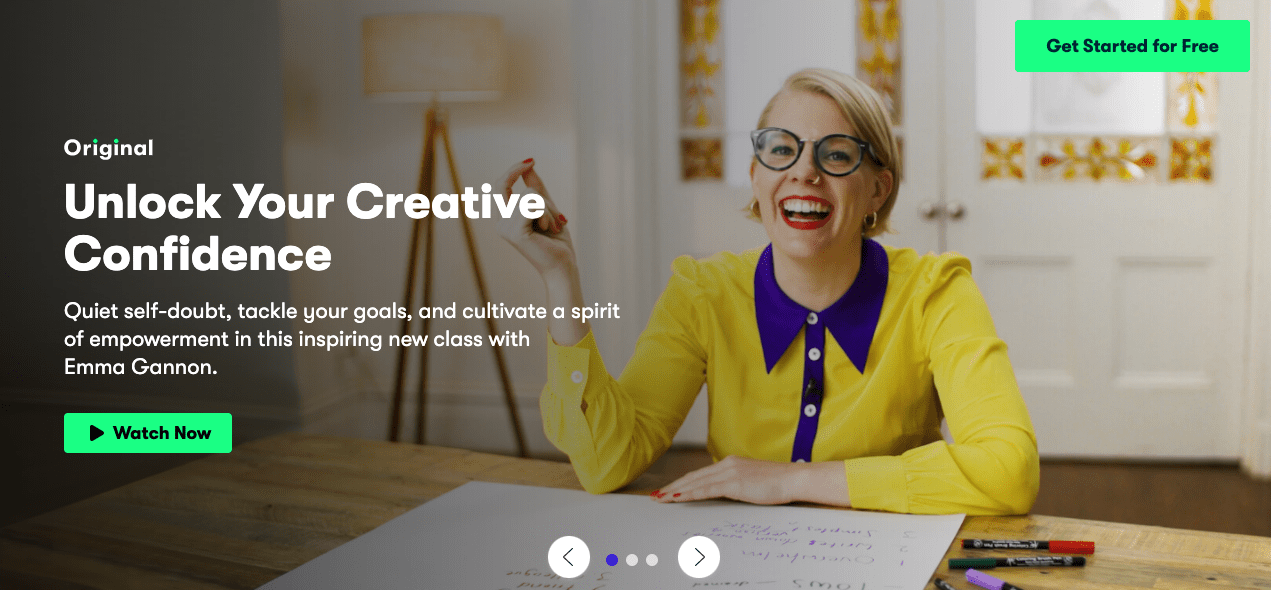 Skillshare is quite different. You don't actually know how much you get paid until you receive the payment to your PayPal account. That's because Skillshare operates under a subscription model.
This means that students don't pay for individual courses but they pay a monthly fee for a Premium Membership which includes unlimited access to the entire catalog of Premium classes. So each month, Skillshare distributes royalties based on the number of minutes watched in your classes.
But usually, it's about $0,05 per premium minute. More interesting, though, is a referral program where you get paid for every student you bring to Skillshare that signs up for a Premium Membership via your referral link. If you're a teacher, you'll get $10, if you're just an affiliate, you'll get $7, so it's really interesting to become Skillshare teacher.
Podia, Teachable, and Thinkific
Unlike educational marketplaces like Udemy and Skillshare that actively promote your content, teaching services like Podia, Teachable and Thinkific work on a different model. They are something like a PaaS (Platform as a Service) where you get the necessary tools to create your online content, but the pricing and the whole promotion of your content is up to you.
These platforms don't usually offer listings of available courses (even though Teachable recently introduced Discover beta) which does this to some extent.
When it comes to promoting your courses, you're on your own because you run the whole marketplace in a sense. Imagine having your own Udemy within Teachable where you promote courses, set prices, and rules. That's exactly how these teaching services work.
The advantage of this approach is that nobody tells you how much you can ask for a given course and you're in control of reviews as well, which means that you're not in vain when it comes to hurtful reviews from competitors. This is sadly quite frequent on Udemy and Skillshare.
The disadvantage is that you have to pay a monthly fee for hosting your courses on these platforms regardless of whether you sell something or not. If you're not successful with promoting your courses, you can easily end up with big expenses without any income to cover them.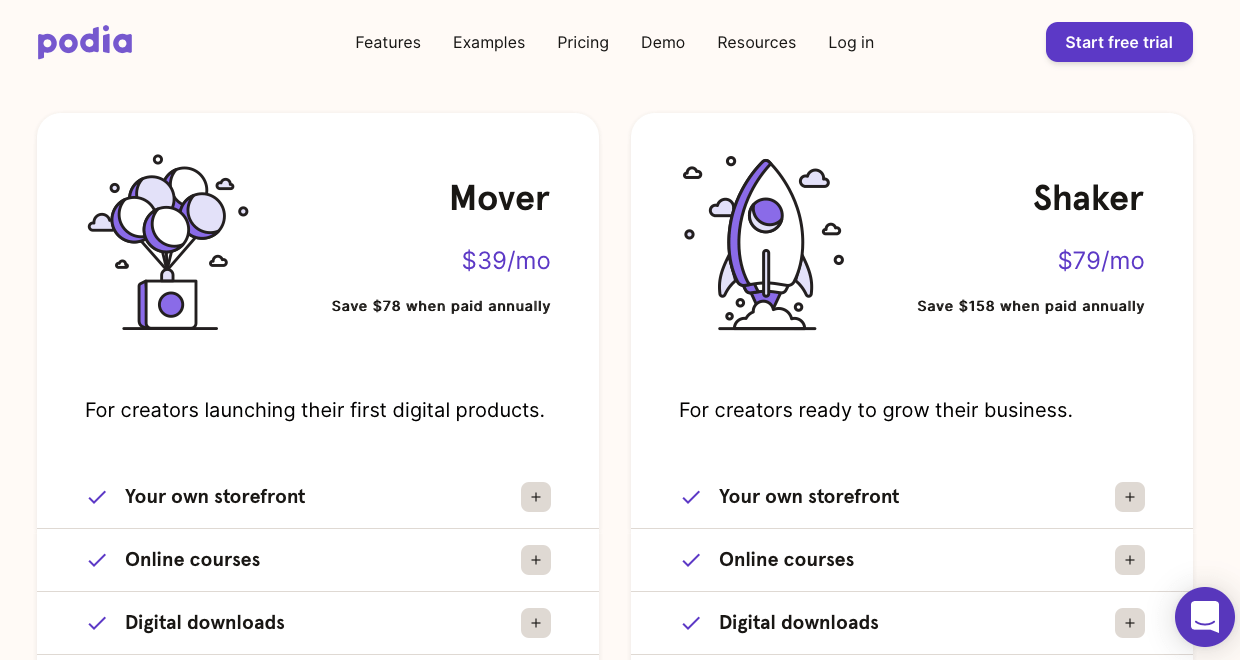 Podia offers just two plans, Mover for $39 per month, and Shaker for $79 per month. The main difference is that with Shaker, you can offer monthly or yearly Membership subscription to your audience, run a blog withing the platform, place embedded buy buttons on any website or landing page on the internet, and even build your own affiliate marketing program so your affiliates can promote your courses.
Podia also offers a free 14-day trial with access to all features. They don't ask for your credit card and you can cancel anytime.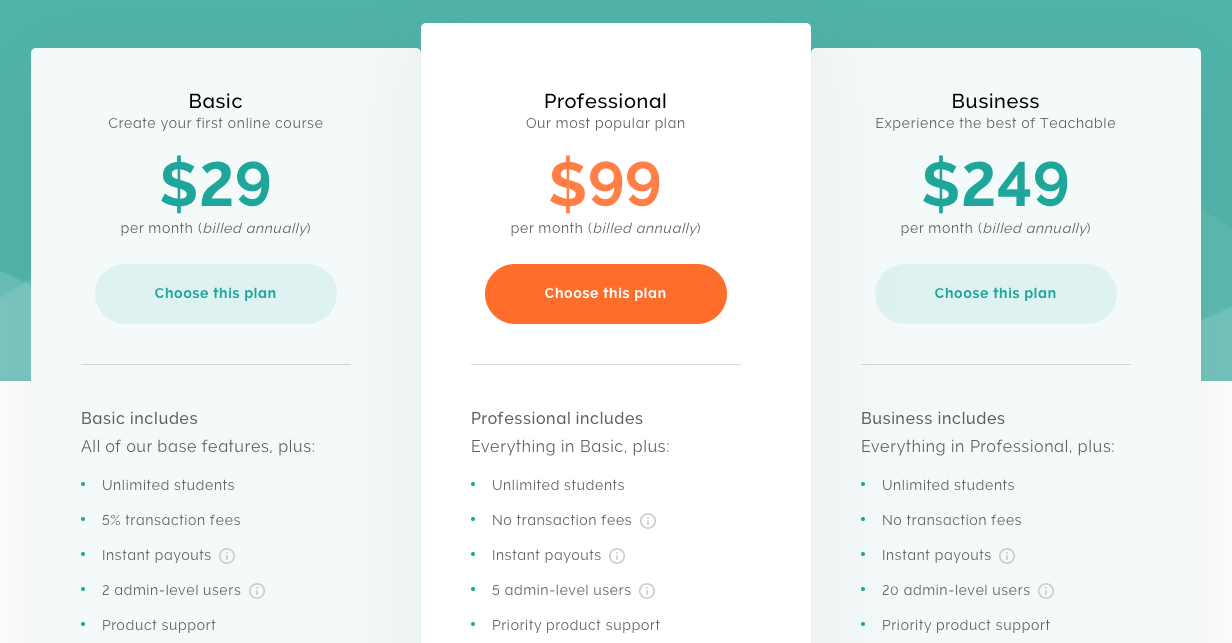 Teachable offers three plans. Basic for $29 per month, Professional for $99 per month, and Business for $249 per month. With the Basic plan, Teachable asks for 5% of the transaction fees, so depending on the volume of your traffic, this can get pretty expensive pretty fast.
Also, they will keep your money for a whole 30-day period before they will send it to your PayPal account. This all means that they want to push you to the more expensive plans. Professional and Business plans have an unbranded website, but that's pretty much the whole meaningful difference.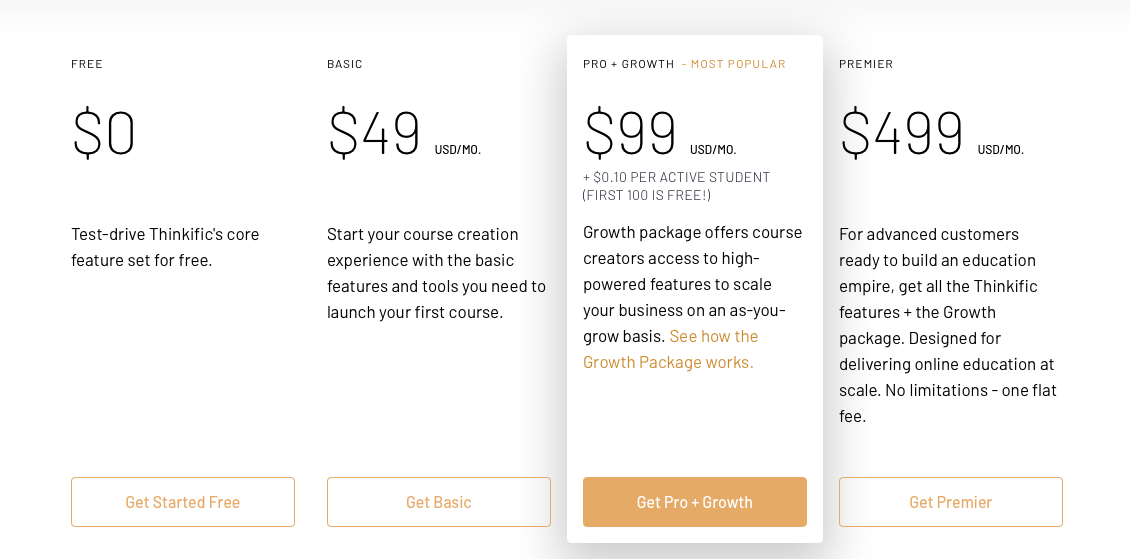 Thinkific is very interesting because it offers a Free plan to test-drive its core feature set for free. This is a very clever strategy because they hope that once you'll see its potential, you'll opt for one of the paid plans.
As expected, a Free plan is quite limited, though. You can upload online 3 courses, but if you're just starting, this might be a great deal, because you'll get instant access to your funds, you can upload audio, video and PDF content and you can even use quizzes and surveys. Overall, for beginning instructors, this is probably the best deal of all three platforms.
There are also three paid plans, the Basic plan for $49 per month, which will give you unlimited courses, discount coupons, and custom domain, the Pro-Growth plan for $99 per month, which will add the ability to remove Thinkific Branding and finally the Premier plan for $499 per month which is designed for delivering online education at scale. Nothing for beginners.
| Name | Free Plan | First-tier | Second-tier | Third-tier |
| --- | --- | --- | --- | --- |
| Podia | No, offers a 14-day trial | $39 | $79 | – |
| Teachable | Yes, but obscured | $29 | $99 | $249 |
| Thinkific | Yes | $49 | $99 | $499 |
Learning Management Systems (LMS)
The third option is to have your own installation of LMS, usually on top of WordPress, but there are even some stand-alone solutions.
This is more like an IaaS (Infrastructure as a Service) solution where you manage not only the content, its pricing and promotion, but you need to take care of the underlying technical aspects as well. You need to install and maintain the whole platform including security, GDPR compliance, and so on.
One of the most popular LMS solutions is LearnDash which is a premium WordPress plugin that allows you to turn a WordPress site into your own online educational platform where you control absolutely everything. You can even translate it to a foreign language if you feel like it.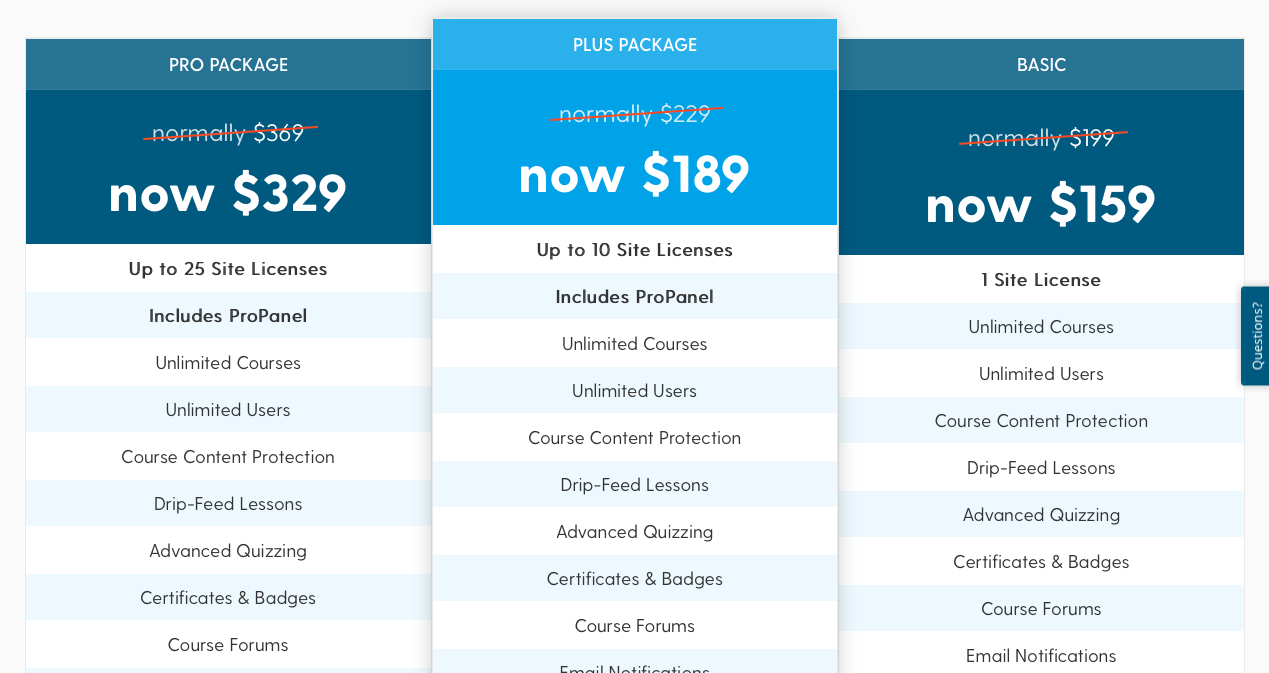 Unfortunately, there's no free plan, so you have to pay for the plugin even before you sell your first course. That's OK if you're confident enough, have already decent traffic, or simply don't mind paying some upfront cost.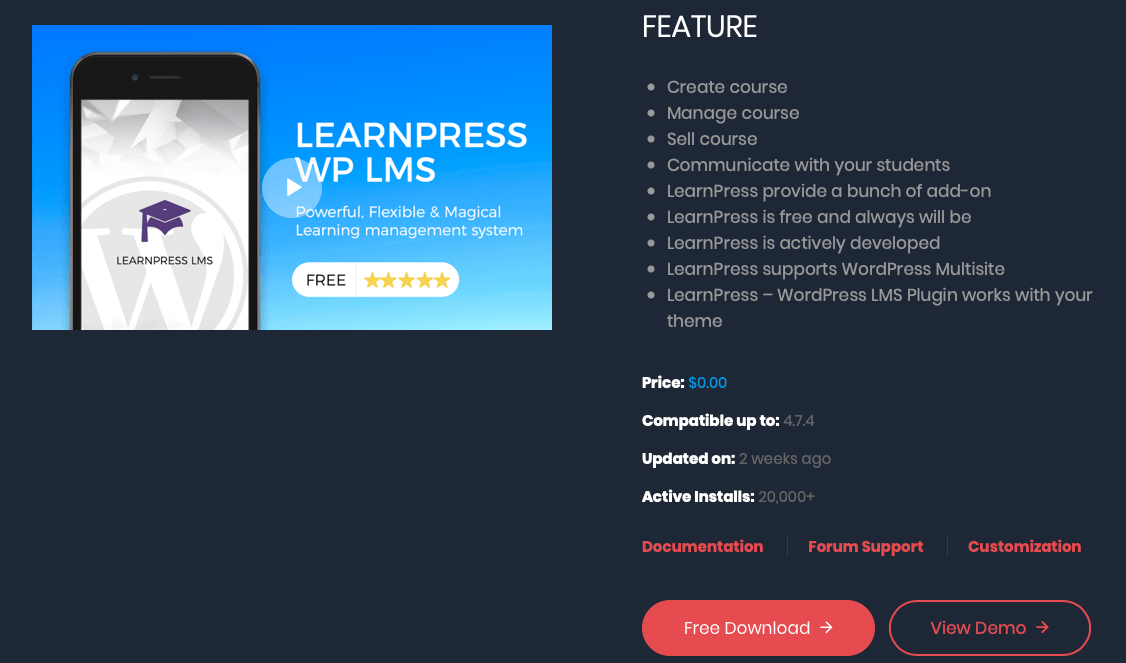 Another one is LearnPress which even offers a free albeit quite limited version. It's actually a pretty good deal for beginners because it allows you to build a decent online course website and pay for extended features only if and when you need them.