Before you start writing your blog, you need to decide what platform to use. There are many options and in this article, I will show you their advantages and disadvantages.
Free blogging platforms have one big advantage and it's the price. It might be quite appealing for beginning writers on a tight budget to choose a free blogging platform and start creating content right away without any upfront cost.
In general, free blogging platforms are business as anything else, so they need to cover their cost somehow. They often restrict you with what you can change regarding the layout and features and most of the time, they also have some kind of banner placed on your blog.
Disclosure: Please note that some of the links in this post are affiliate links for products I use and love. This means if you click on such a link and take action (like subscribe, or make a purchase), I may receive some coffee money at no extra cost to you. This helps me create more content free of charge for you. And, as an Amazon Associate, I earn from qualifying purchases. Thanks for your support!
1. Medium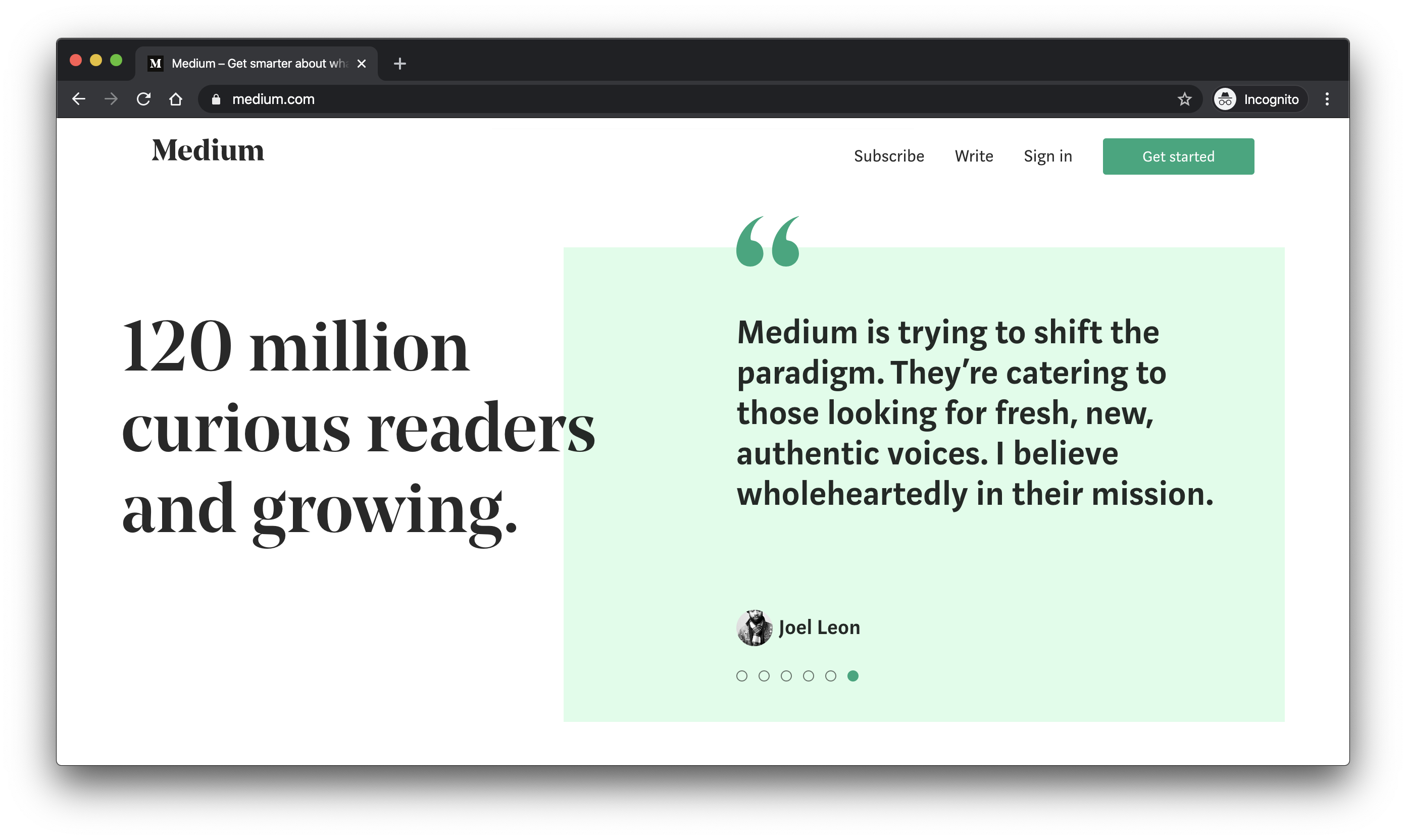 Medium states that it's a platform built for people, quality, original ideas, clean reading experience, engagement & depth, and viewpoints. It tries to differentiate itself from advertisers, sponsored content, banners, clickbait, and pageviews.
It connects readers with writers in a pretty unique way. As a reader, you'll pay a $5 monthly fee for unlimited access to free and premium content. Also, you can directly reward individual stories and authors you love by giving them points.
This means that readers can directly support the authors and compensate for the value they provide by writing content.
As a writer, you have two options. You can create free content for anyone interested, or you can join the Medium Partner Program and get paid when Medium members read your stories.
How you get paid
You write some quality content about something that matters to you.
You turn on earning settings when you publish your story.
When your story meets Medium's editorial standards, you get recommended to readers interested in relevant topics.
When subscribing members read your story, you'll earn money.
Each month, Medium will deposit your earnings into your bank account or debit card.
You keep writing more stories to expand your audience.
Unfortunately, Medium doesn't support PayPal and you need to Stripe account. First, you need to check if Stripe is available in your country.
Then you need to sign up, fill out your credentials, bank account and submit proof of identity. Once your account is reviewed, you can start receiving payments.
How to start writing
You can start writing right away even without joining the Medium Partner Program. You won't get paid for your content, but you have a chance to attract some readers anyway which is a good start. Make sure to check the How to Start Writing on Medium article for more details.
Pros
free hosting
a well-established online platform with millions of monthly readers
members of the Medium Partner Program get paid for their content
supports Grammarly
publications for specific content-related articles
unlimited storage space
Cons
can't use own domain
can't change the default design
no control over your content
SEO ranking for Medium, not your blog
very basic analytics
Verdict
Medium.com is a great choice for budget-constrained beginning bloggers who can't afford the upfront cost of web hosting services. However, if your blog becomes famous, Medium gets all the fame and your work rises and falls with the Medium platform.
2. Weebly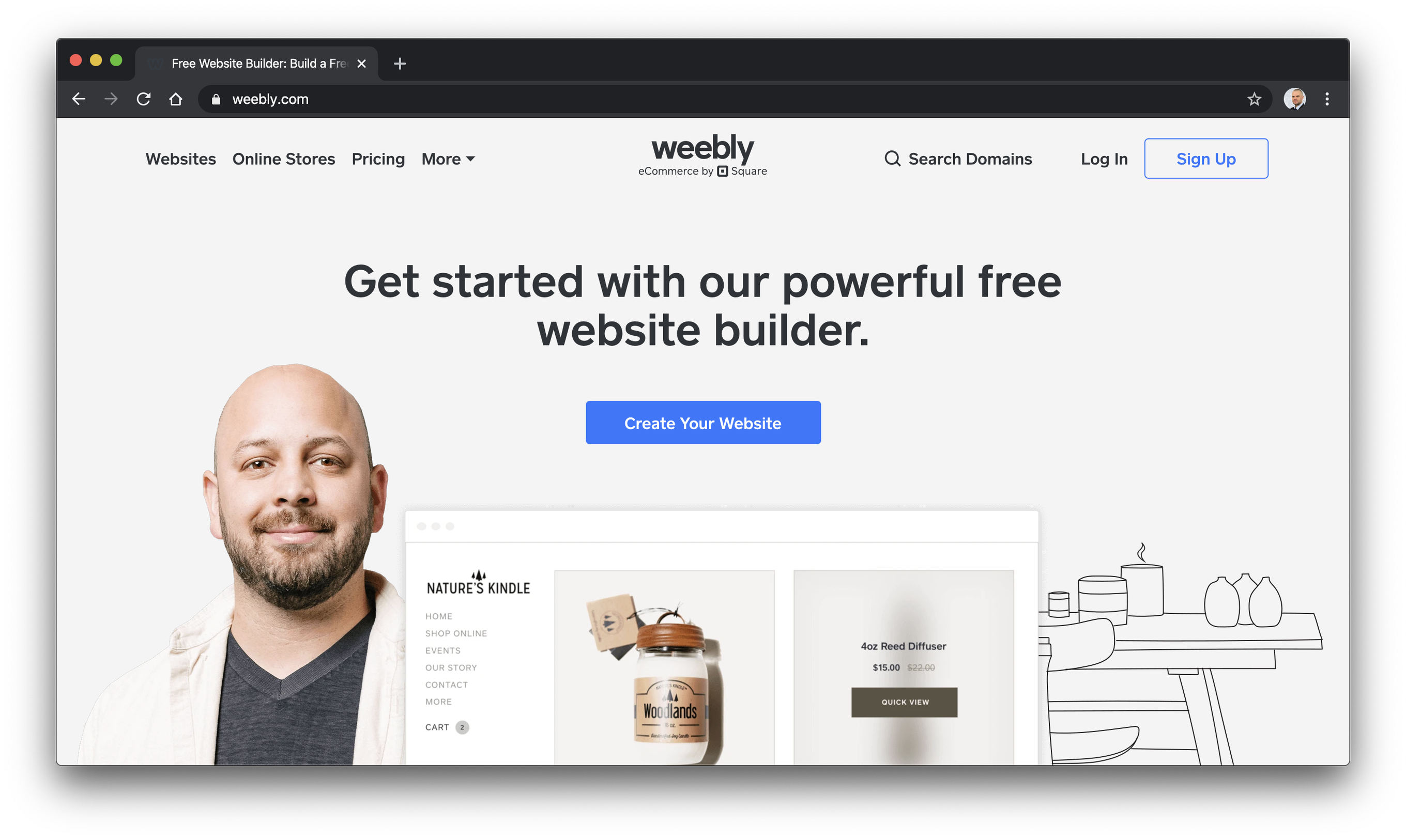 Weebly offers a user-friendly website builder and hosting. In 2018, it was acquired by Square, the producers of payment software and hardware.
Weebly offers to tiers of services:
for websites
for online stores
Beginning writers can start with a free plan which offers Weebly-branded domain name, 500MB storage and SSL certificate. It also provides SEO, landing page and the contact form.
The main idea is that as you grow, you move to a paid plan. To connect your own domain, for example, you'll need to pay $5.00 monthly (when paid annually).
How to create a new blog?
Once you sign up for a free plan, you can create a new site.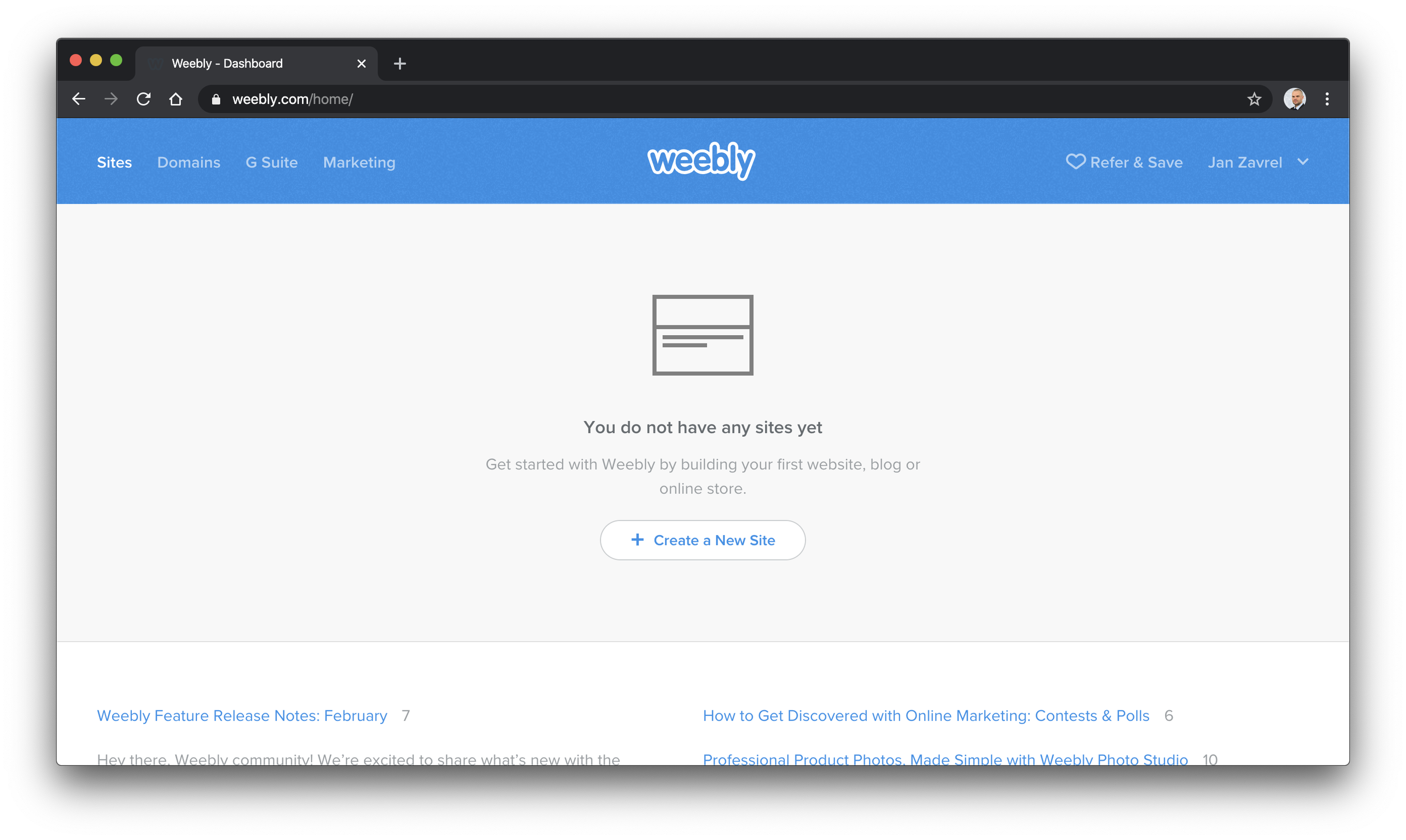 You can choose a simple site or you can opt for a website with an online store.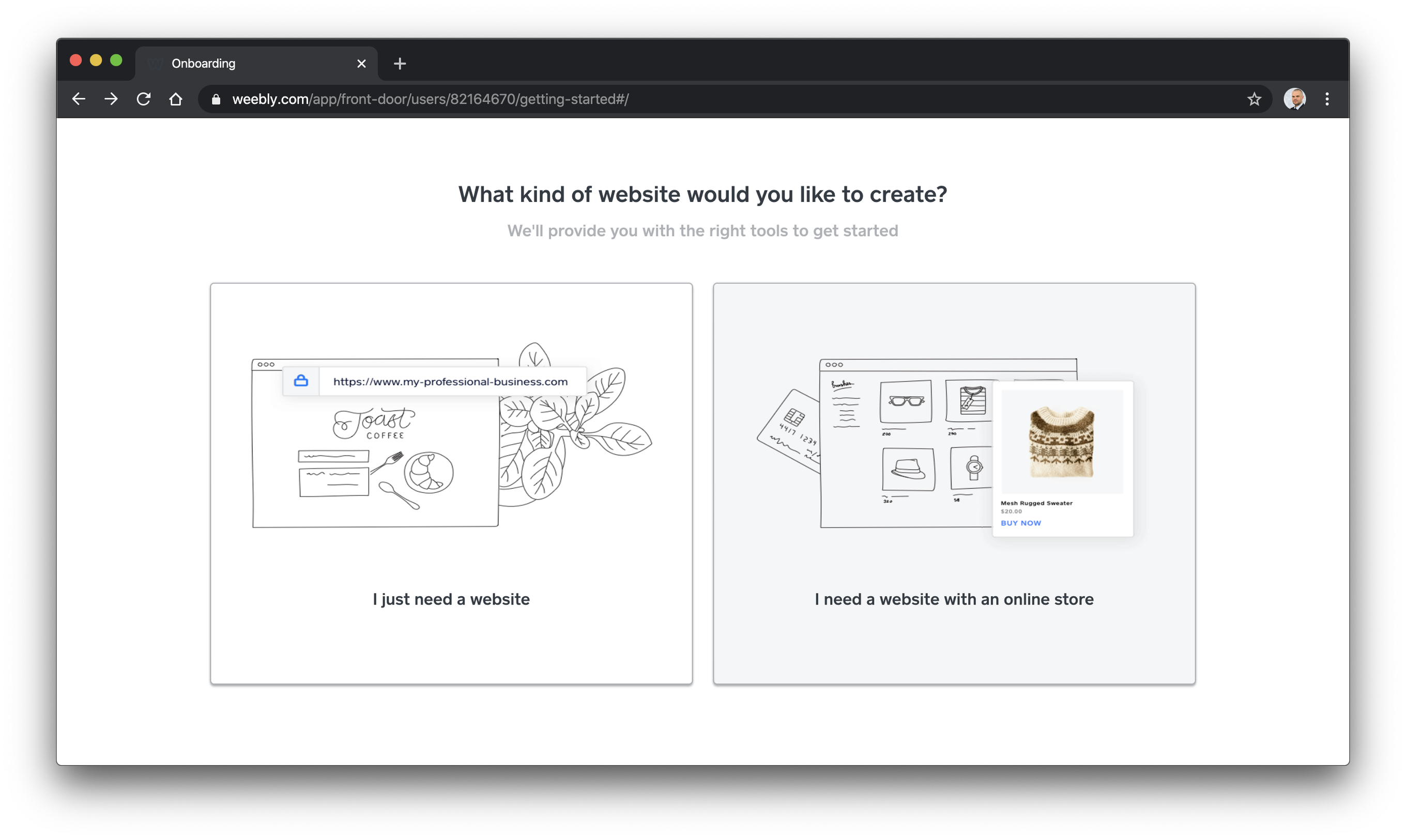 Next, you'll need to choose a theme, the offering is pretty limited though.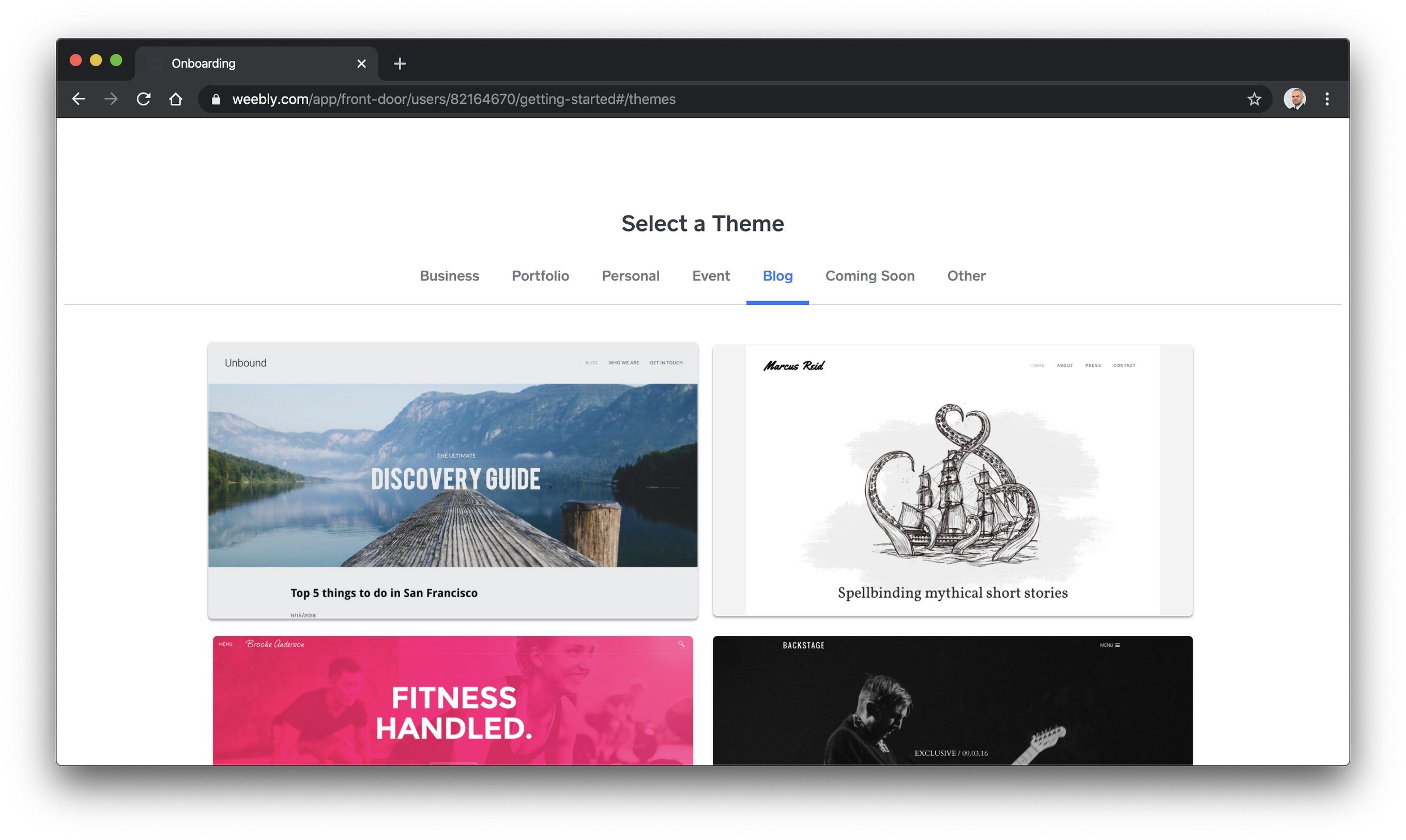 If you're happy with the preview, you can start editing by clicking the button at the top-right corner.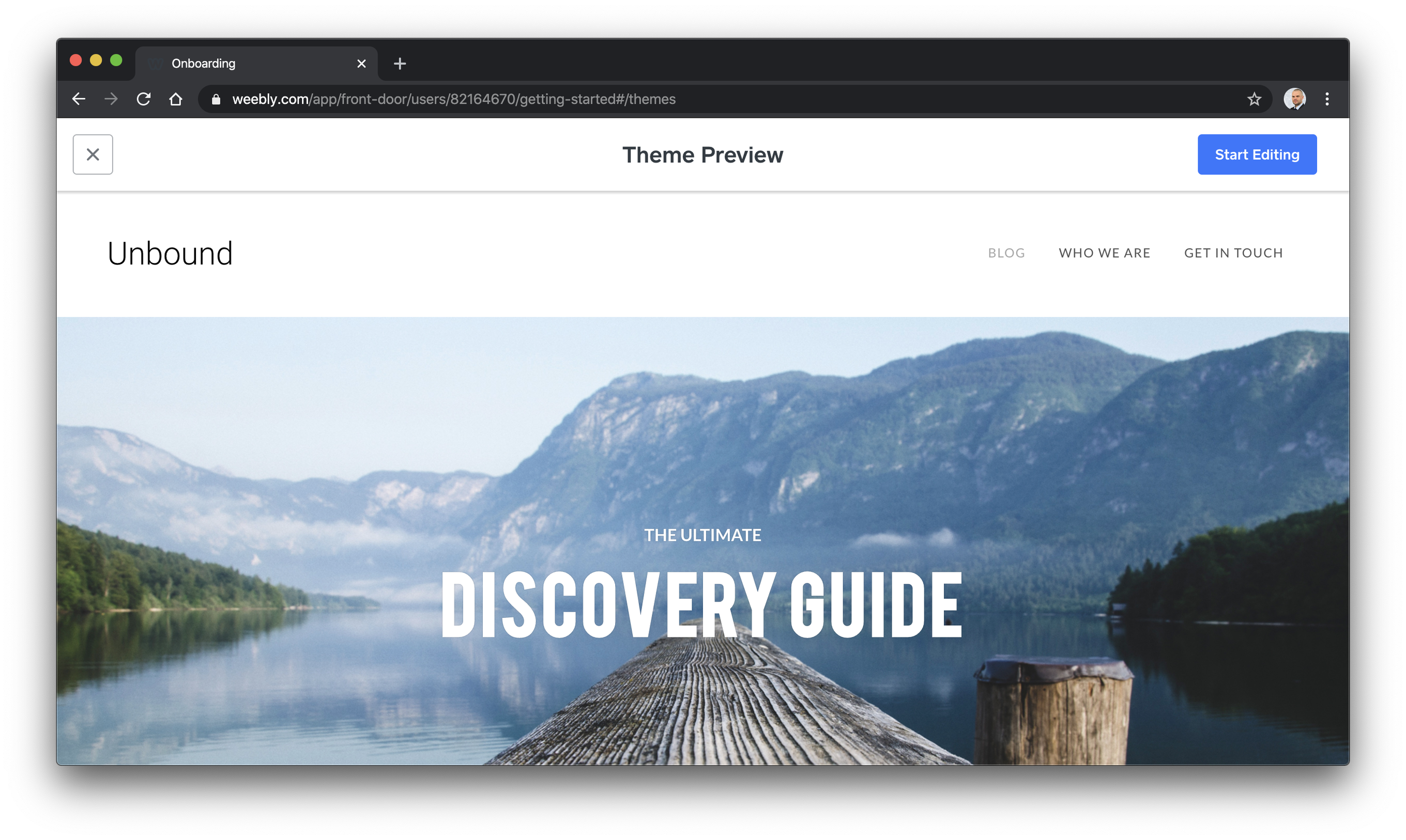 Weebly will offer to connect your domain name, but remember that this is a paid feature. If you don't want to buy a domain or transfer the one you already own, just click the X at the top-left corner to get to the editor.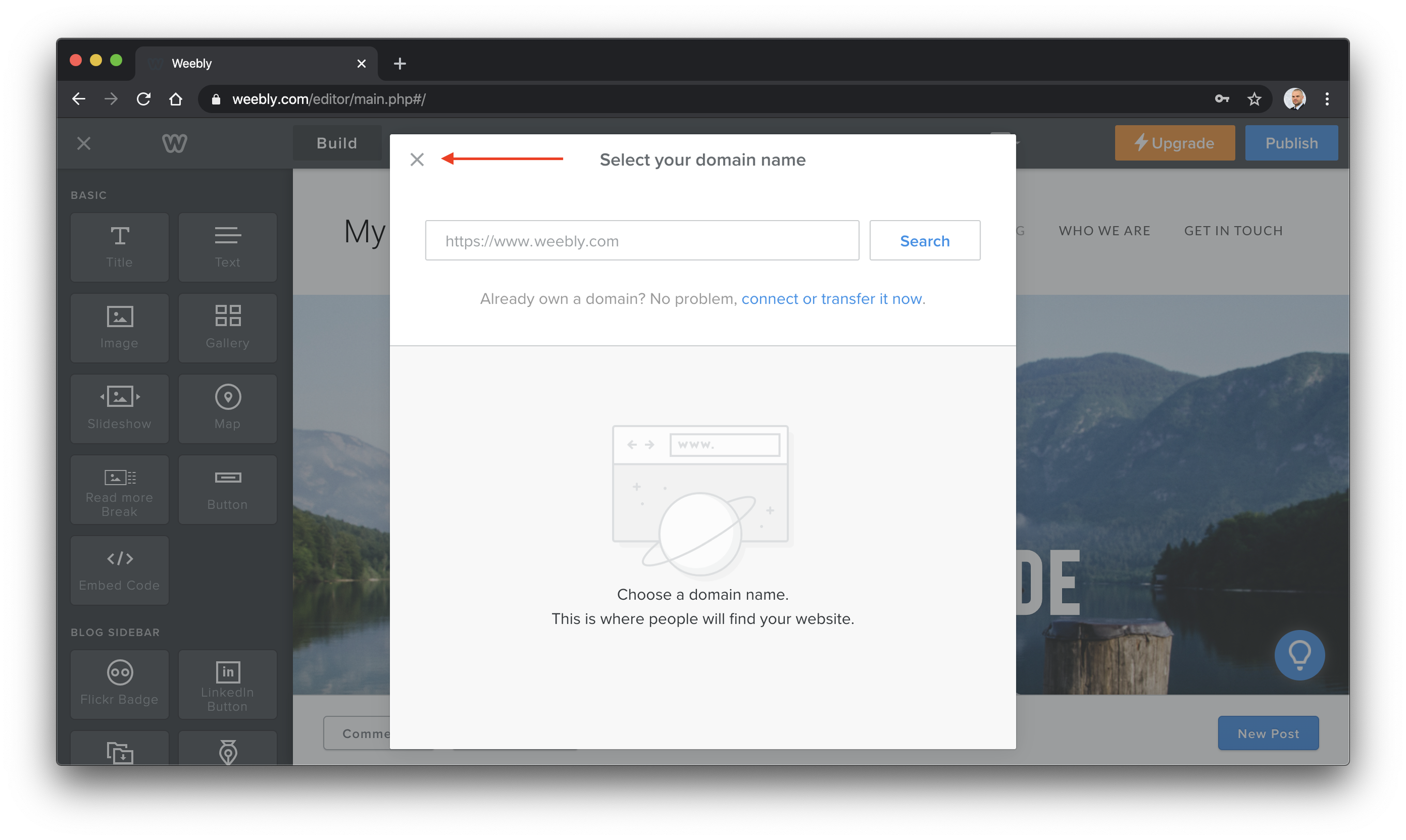 To start writing, just hit the New Post button at the bottom of the page.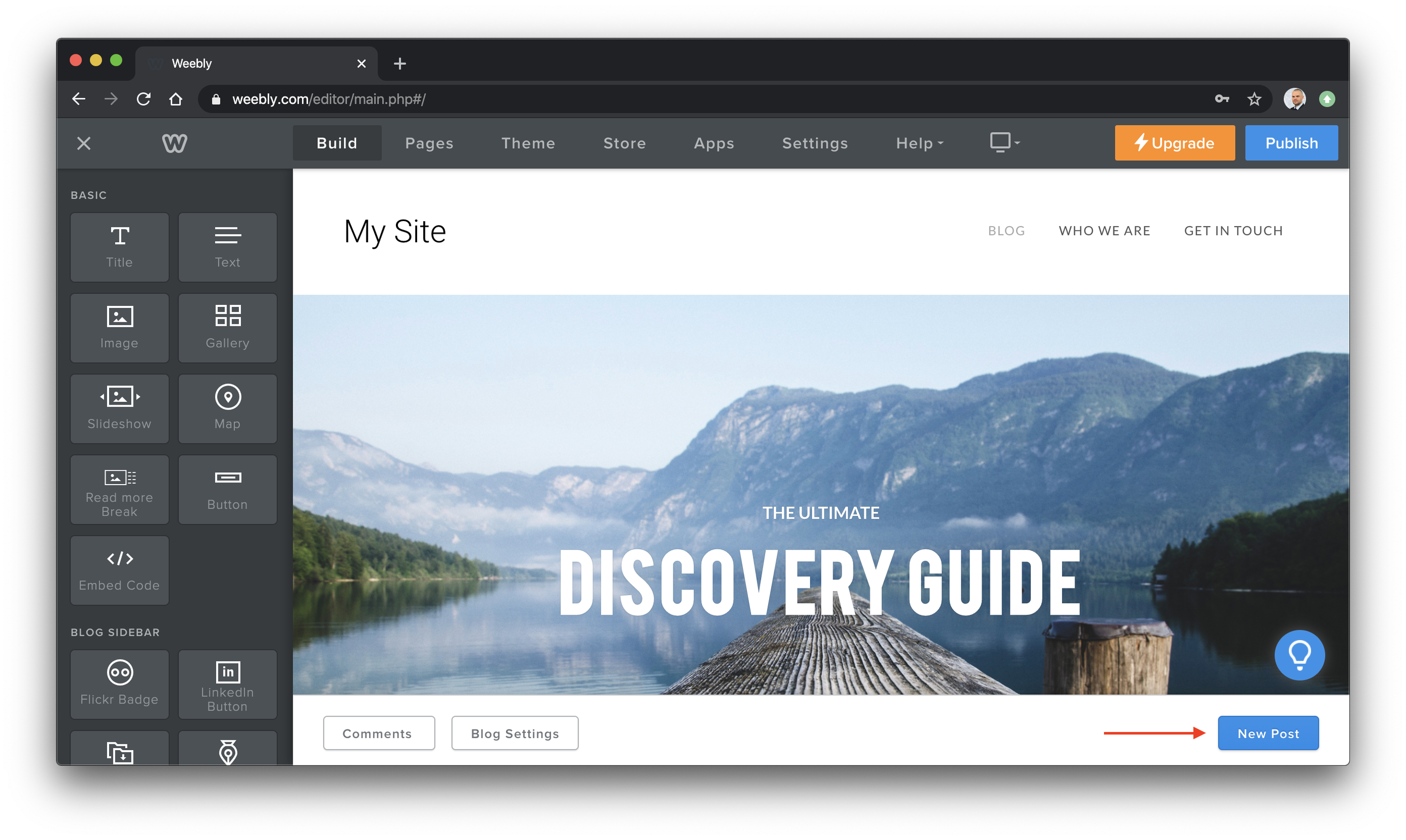 Weebly editor works with elements. This is quite similar to the new Gutenberg editor in WordPress, however, Weebly seems to lack behind a bit.
How to start writing
To start writing a text, you need to drop the Text element on the canvas first.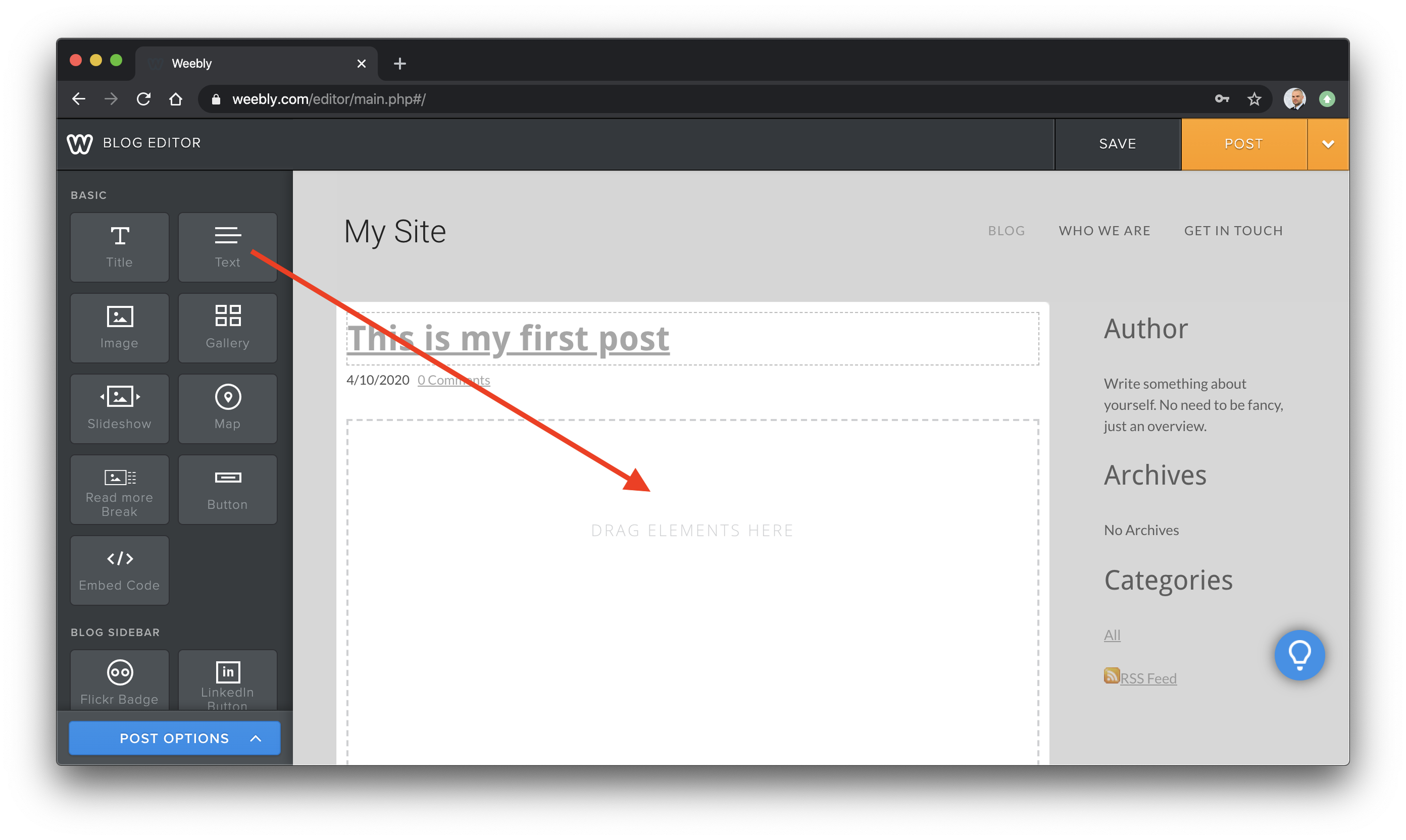 Also, you can't easily drag & drop images from your desktop. You need to drop the Image element first and then upload the image by clicking the icon and selecting the image.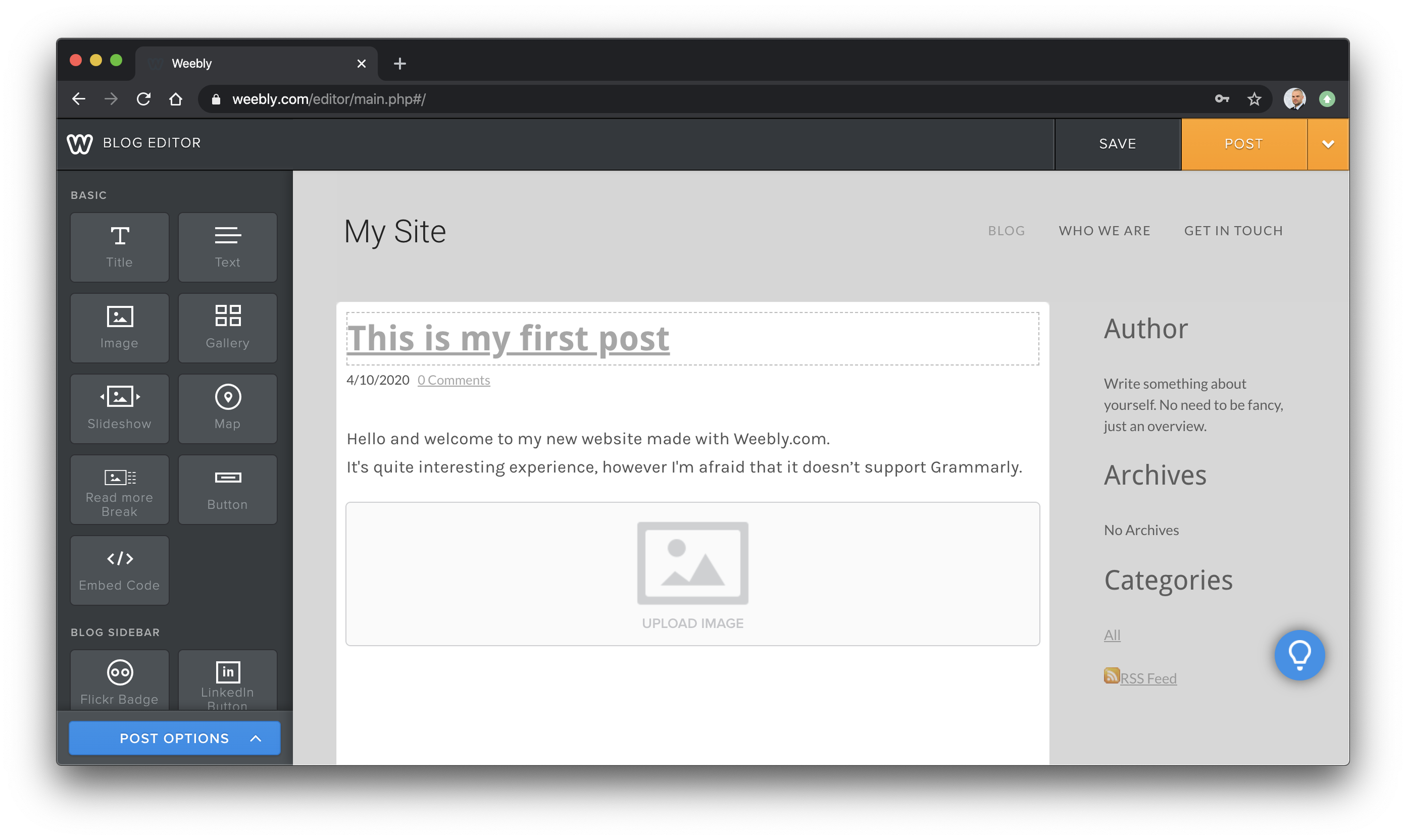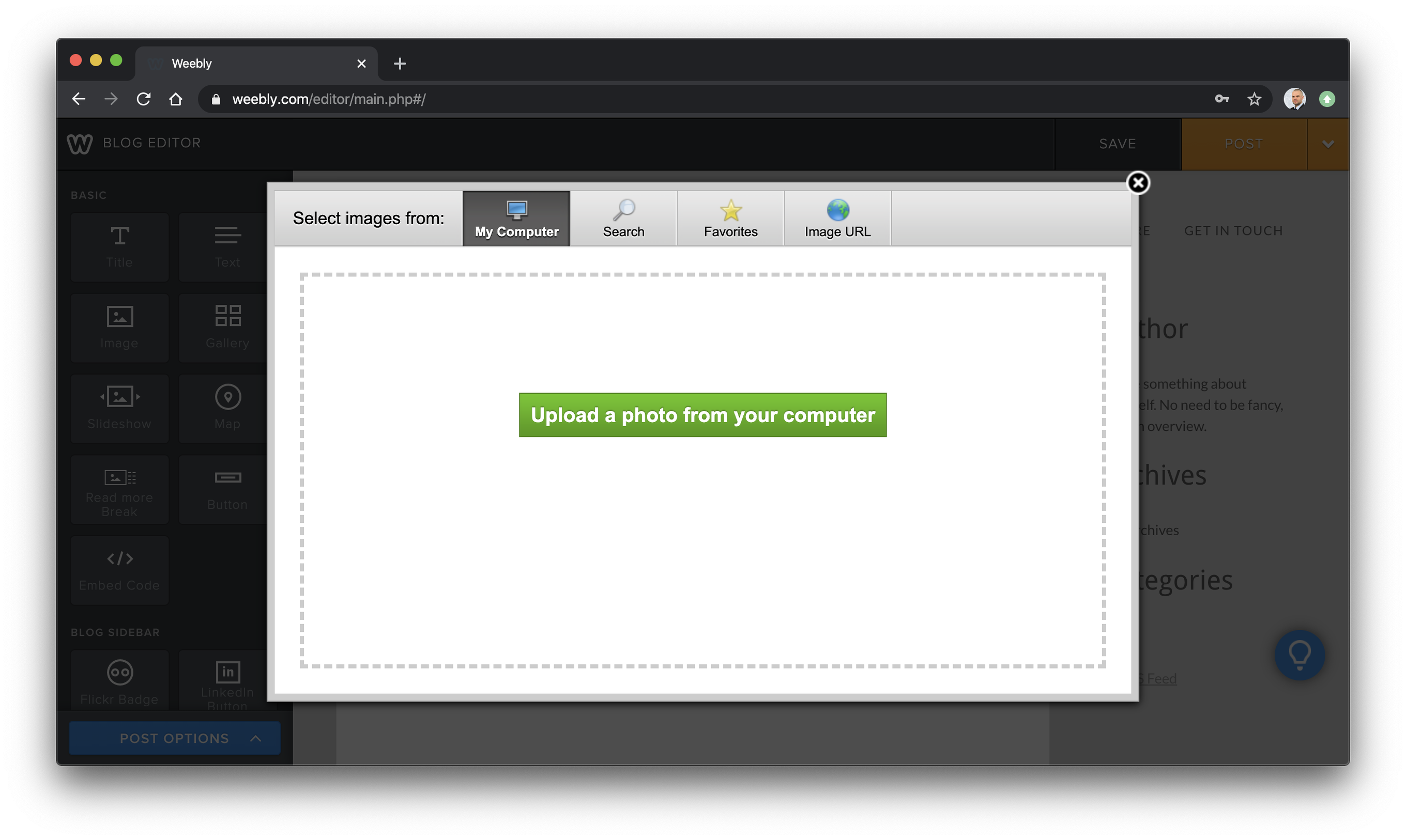 This is, unfortunately, a very time-consuming workflow. Especially if you're used to creating screenshots on Mac and quickly dragging them right into the editor.
Another problem is that the editor doesn't support Grammarly.
Pros
free hosting
free SSL certificate
SEO-ready
can change the layout
Cons
can't use own domain
doesn't support Grammarly
complicated text editor
only 500 MB storage space
Verdict
Weebly offers some nice layout choices but its complicated text editor without Grammarly support makes it a poor choice.
3. Webnode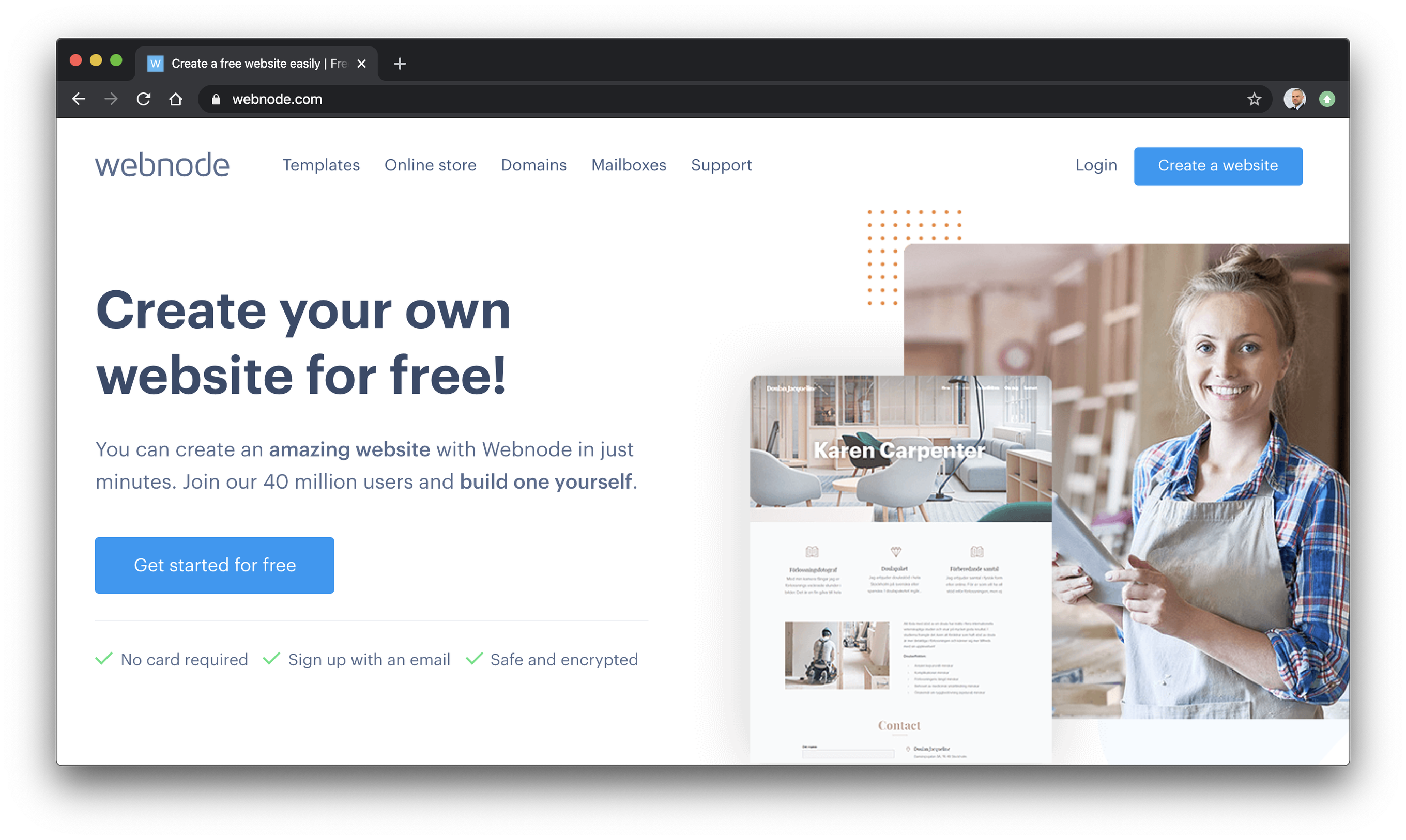 Webnode is another web-based service that lets you create a free website. You can make changes to your website even on the go with a tablet or mobile phone. Webnode offers over a hundred customizable templates you can choose from.
How to create a new blog?
Creating a new blog is very easy with Webnode, just click the Get started for free button.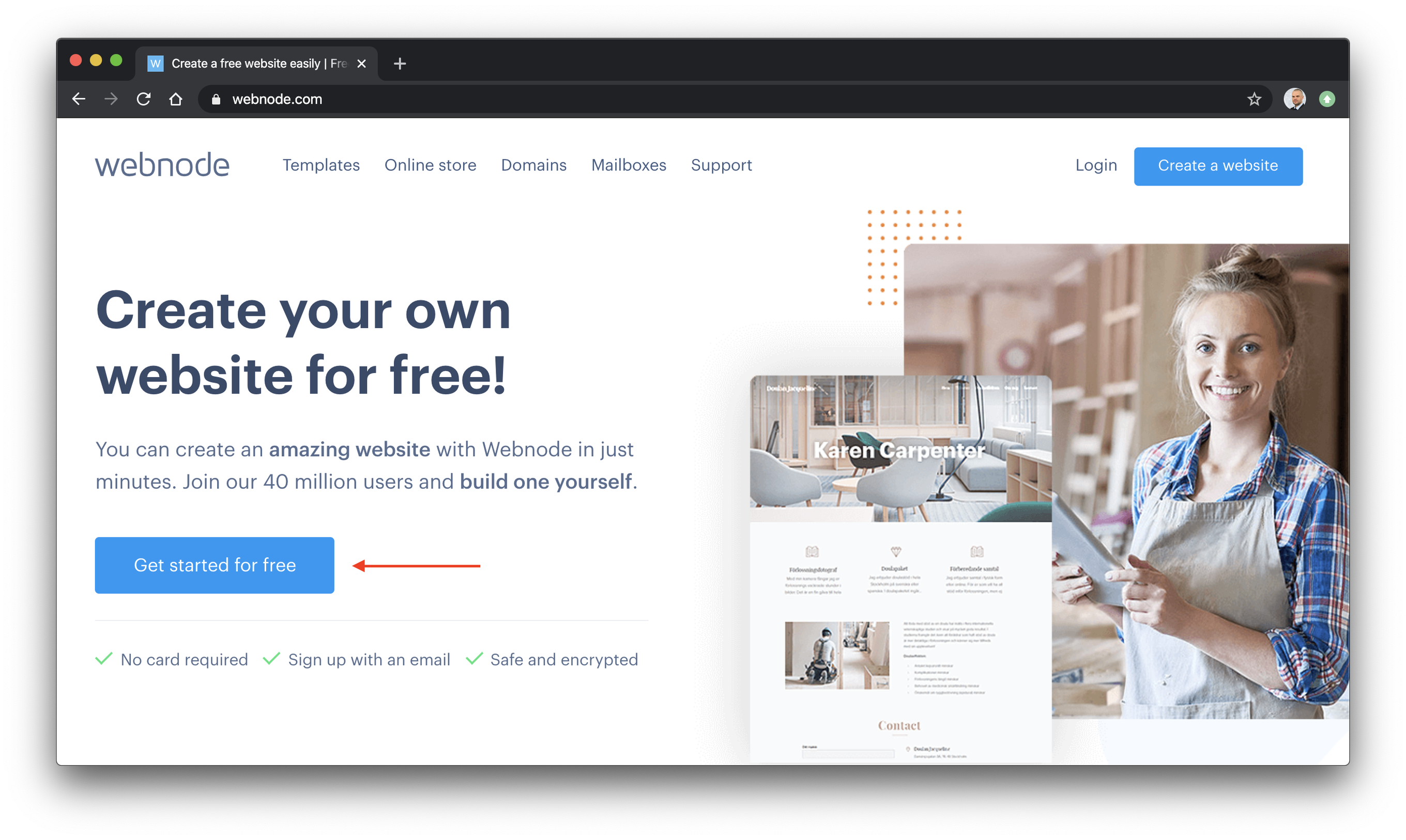 Next, you'll need to enter the name of your website, email address and password.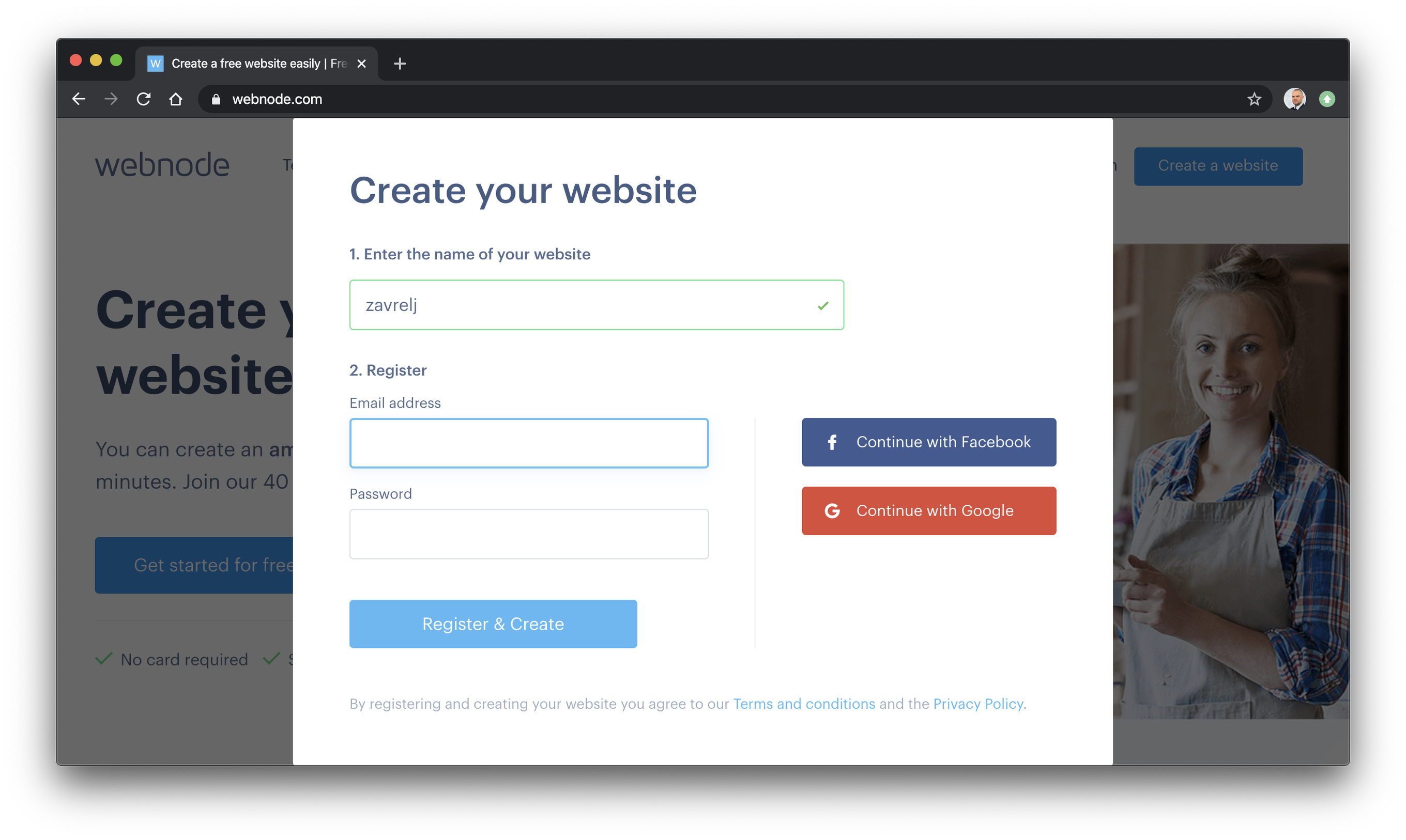 In the next step, you have to choose whether you want to create just a website or the whole online store. Let's start with website.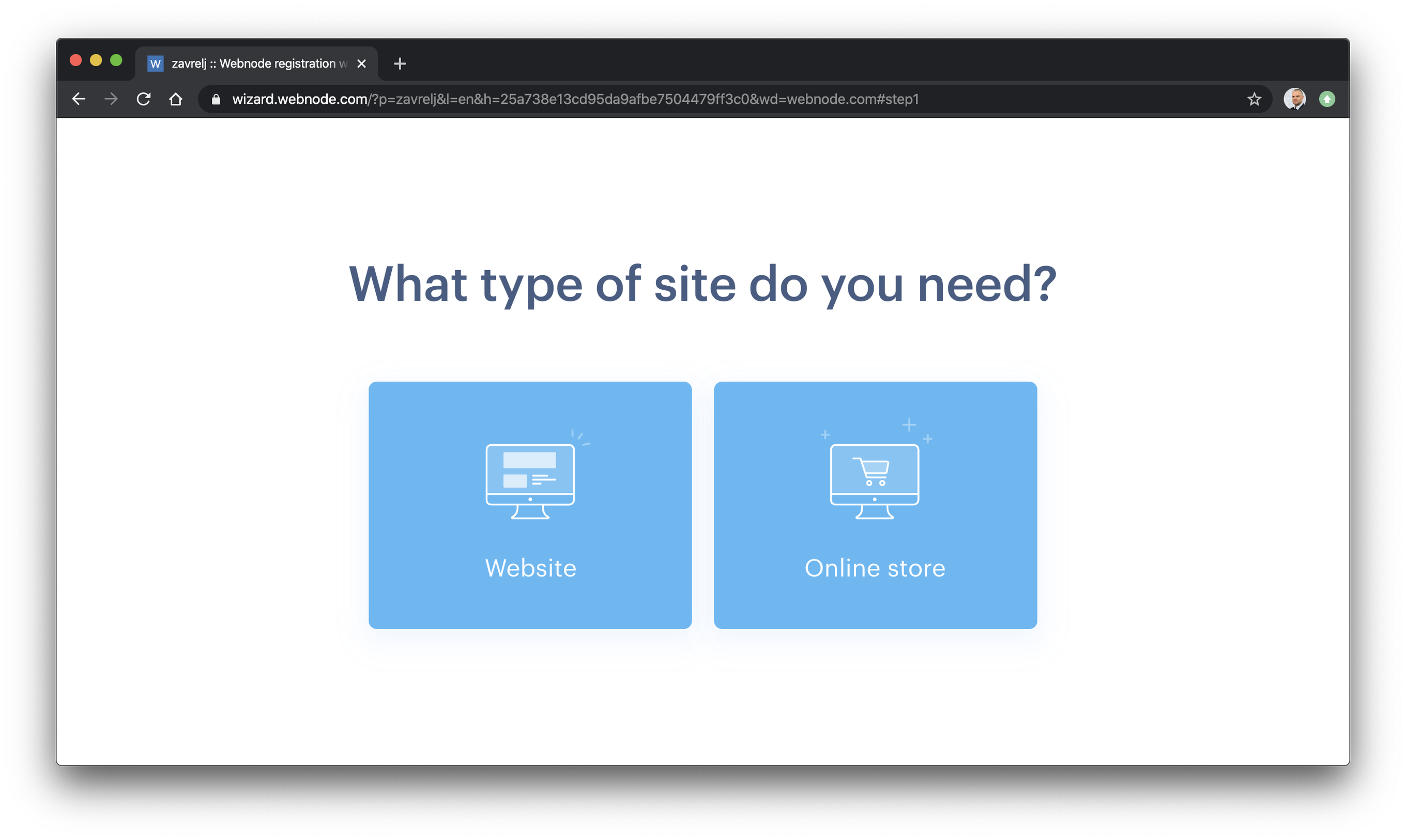 In the next screen you'll be asked to choose the template for your new website, click the Blog link in the list to filter just templates suitable for blogs.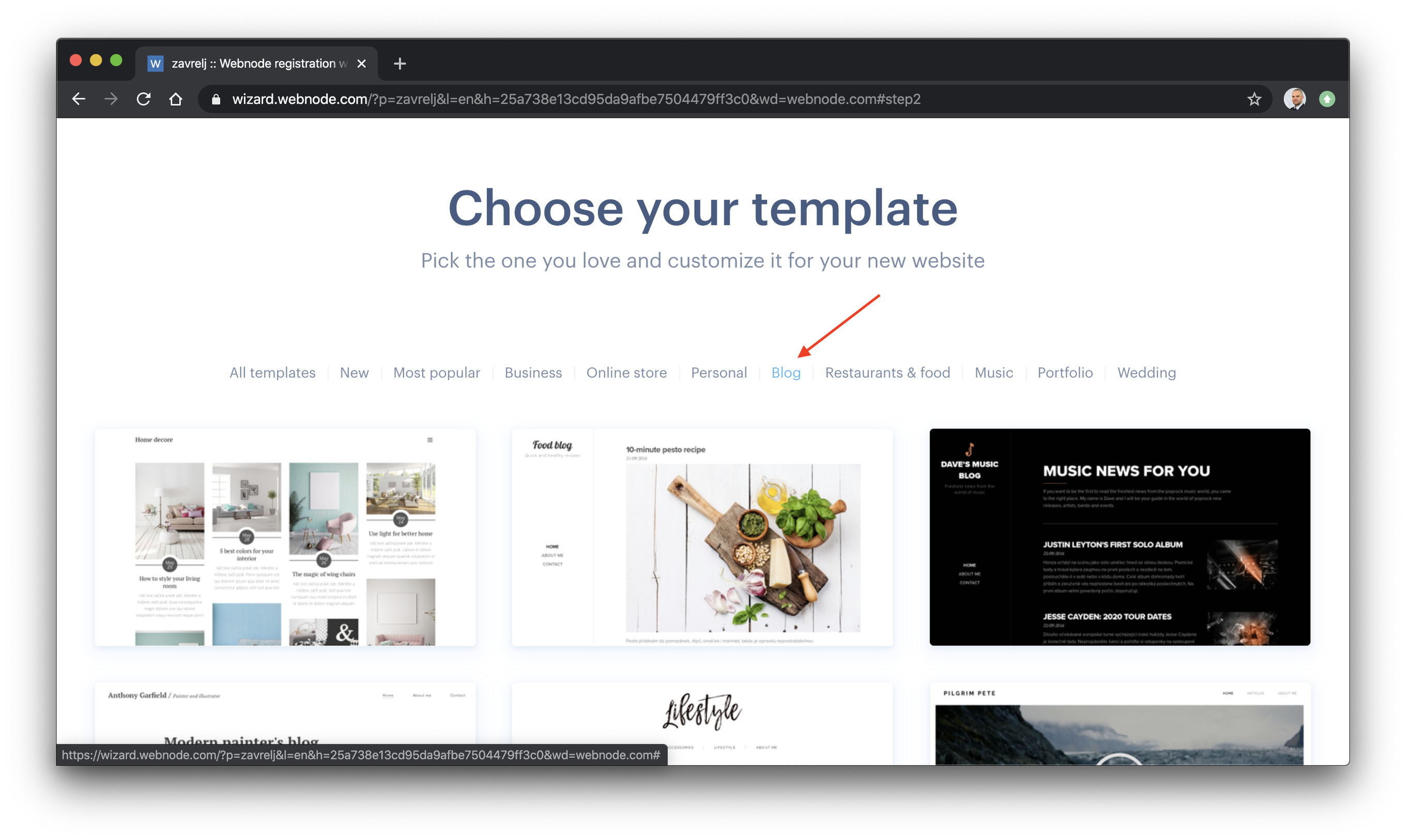 You can preview the template to have an idea what it looks like.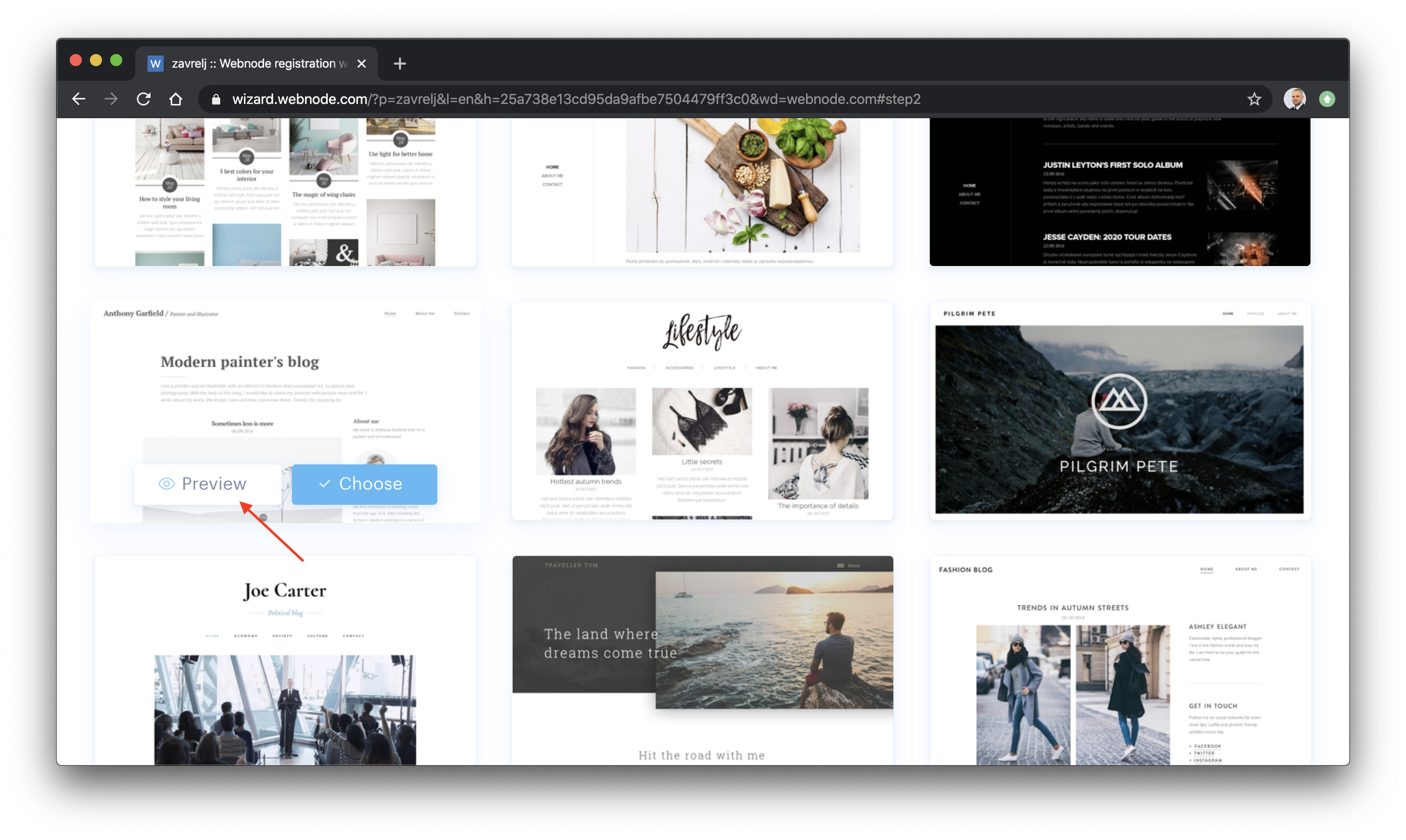 If you're happy with it, just click the Choose template button at the top-right corner.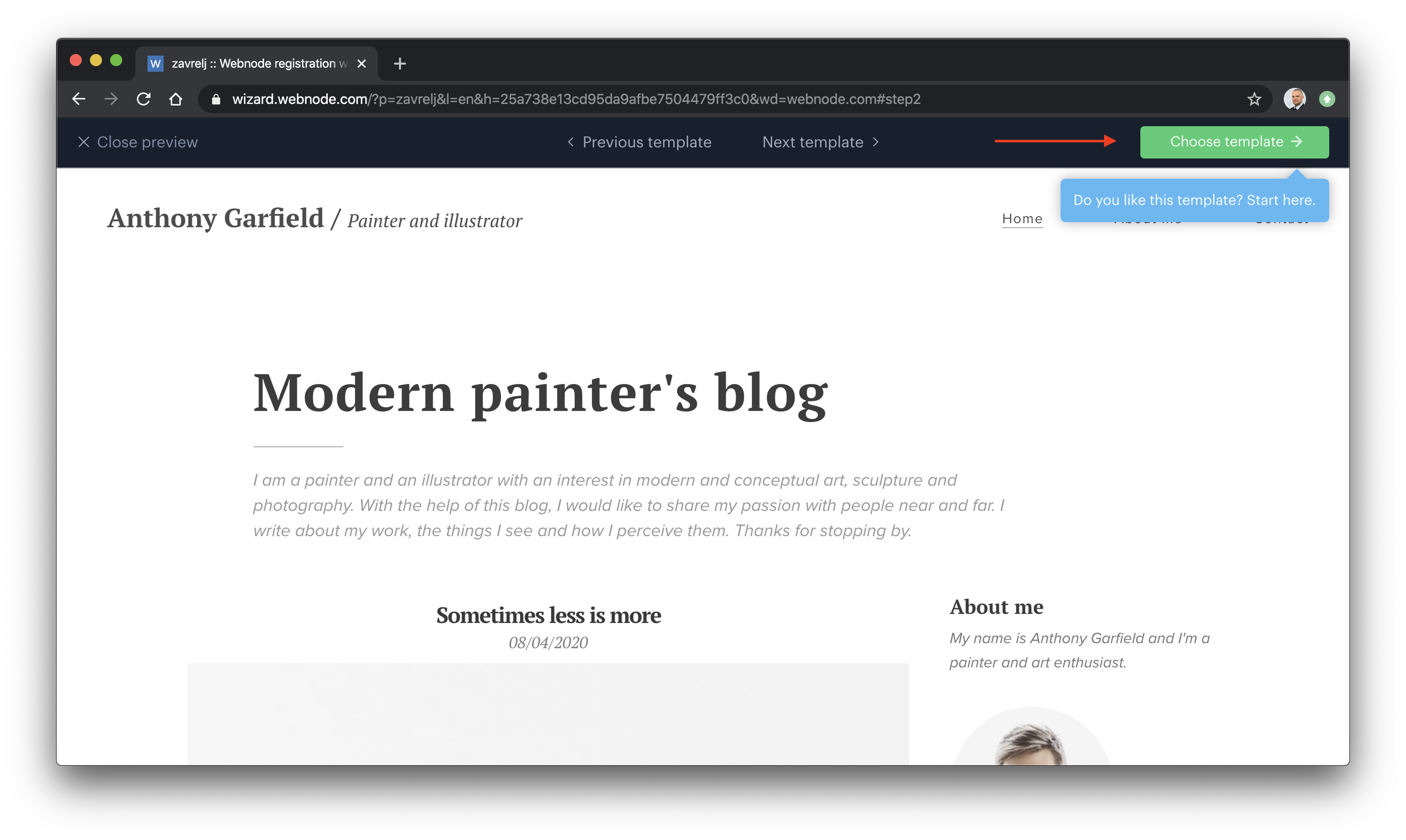 Once your new website is ready, you can start making some changes.
Check this short video where you'll learn how to customize your website.
How to start writing
The whole layout is very intuitive and if you're familiar with Medium.com, you'll feel right at home.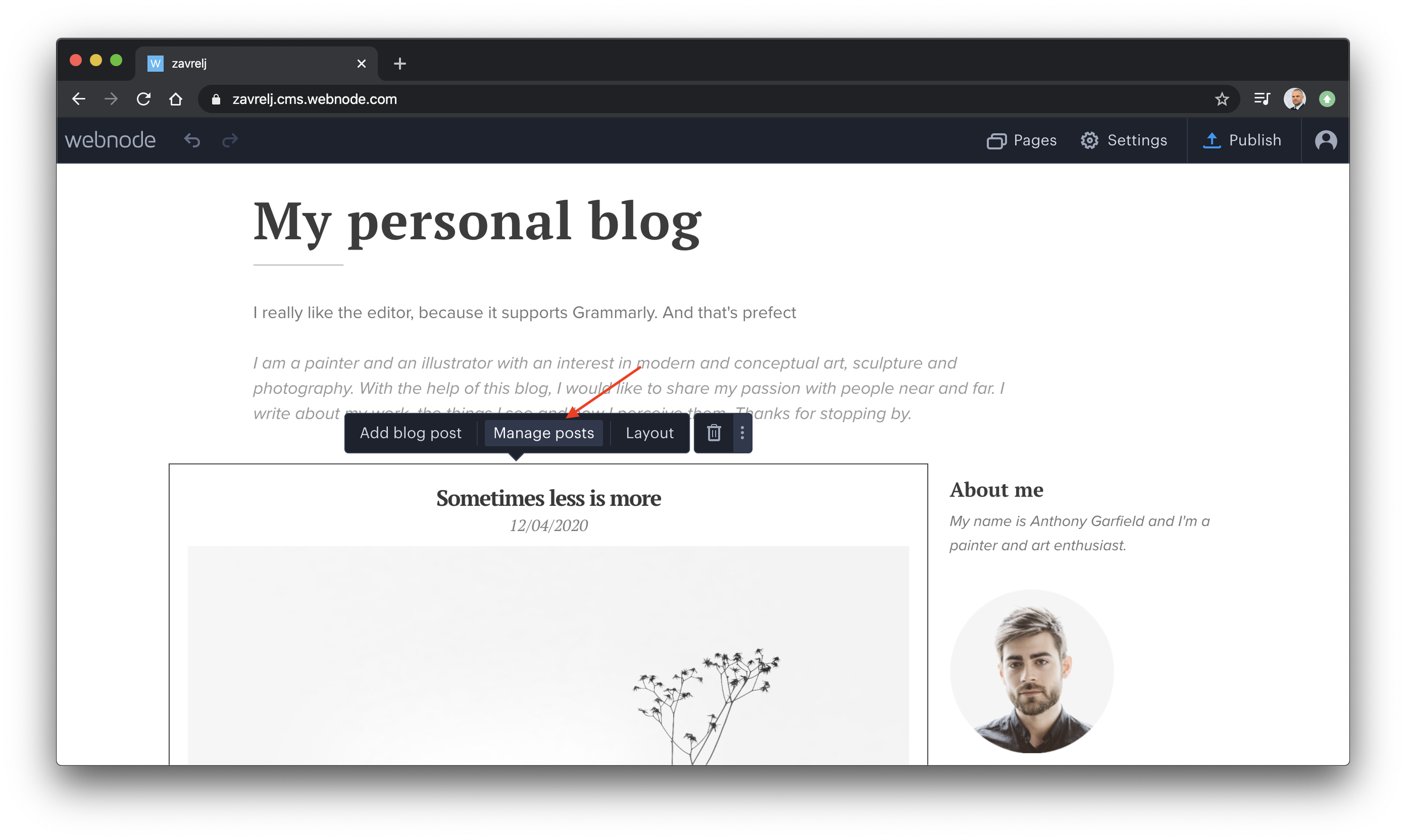 To add a new post, you'll just click the button which appears in the contextual menu once you click the list of posts.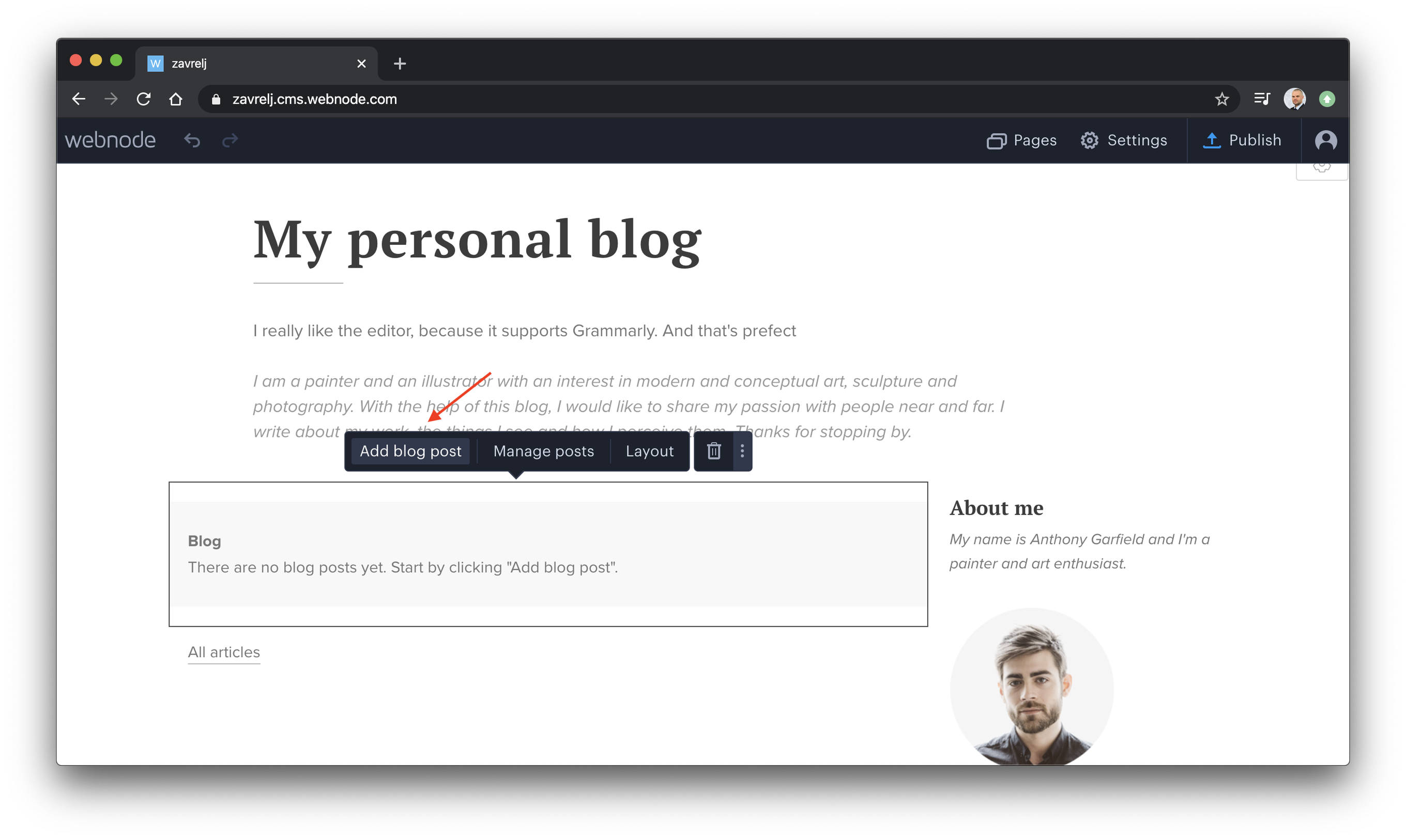 Writing experience is very good as there's nearly no distraction and the panel with tools is very minimalistic, which is a good thing.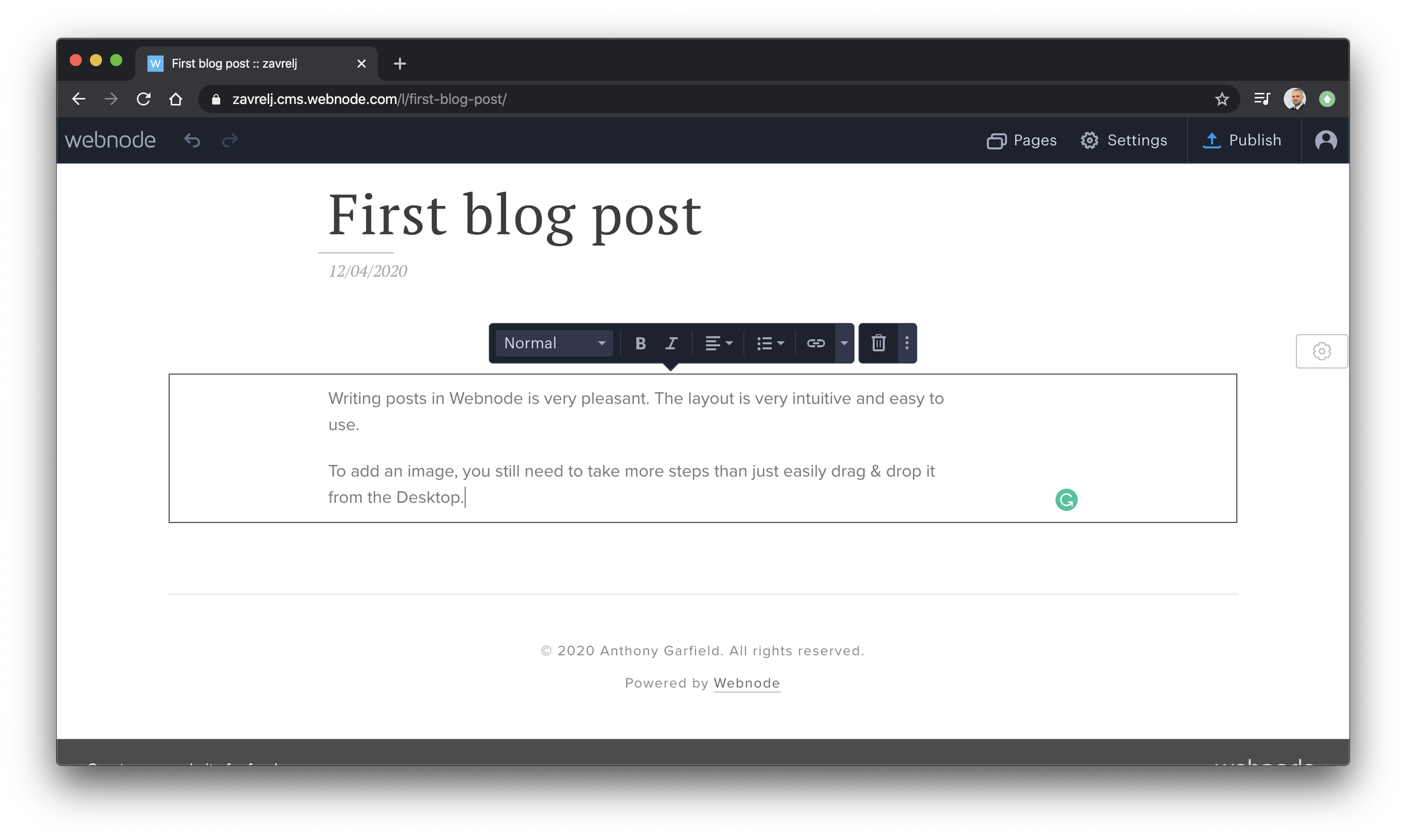 To add a new element, like image or video, to your post, you'll just click the tiny plus button.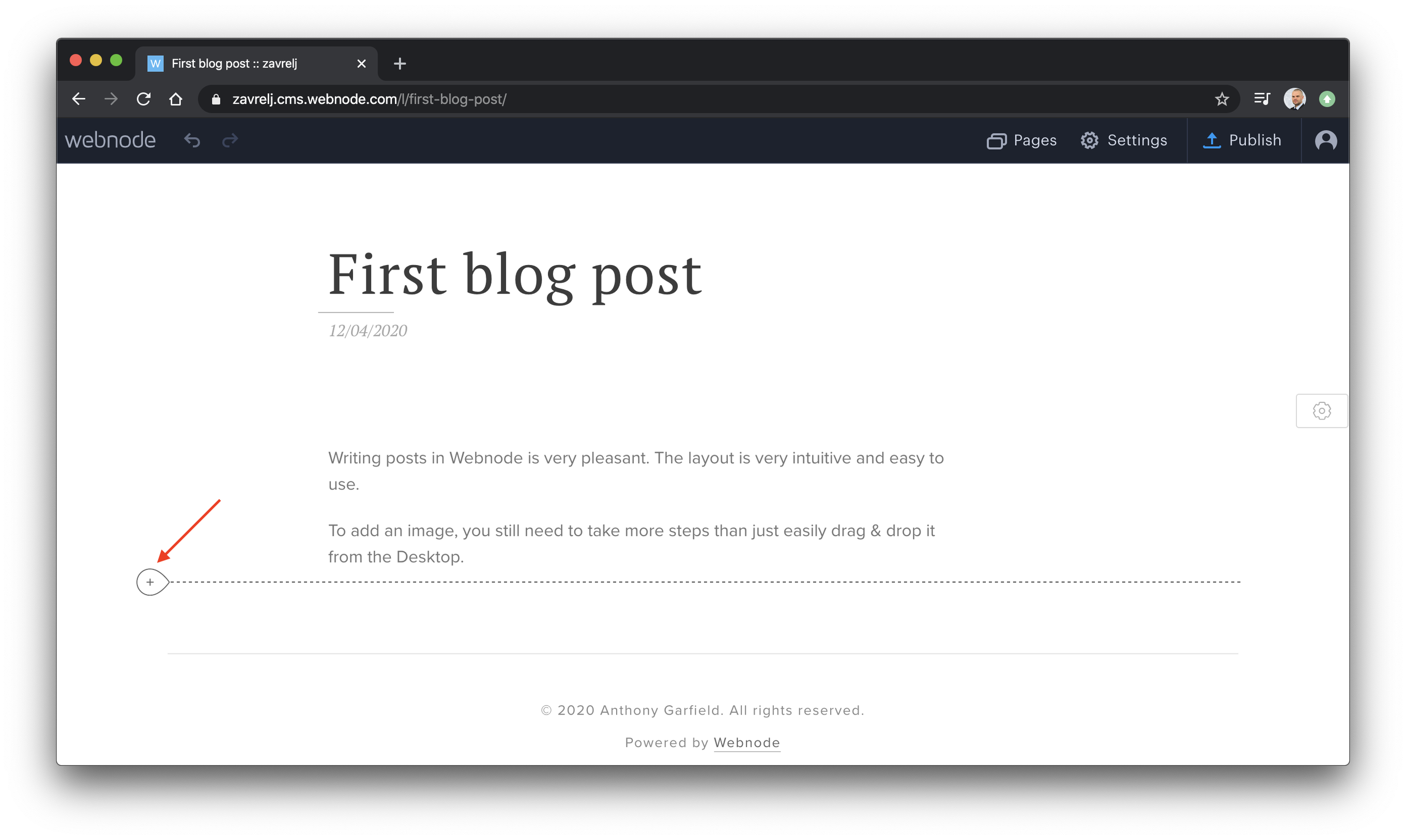 Then you can select the element from the menu. Really, this feels like Medium.com editor on steroids.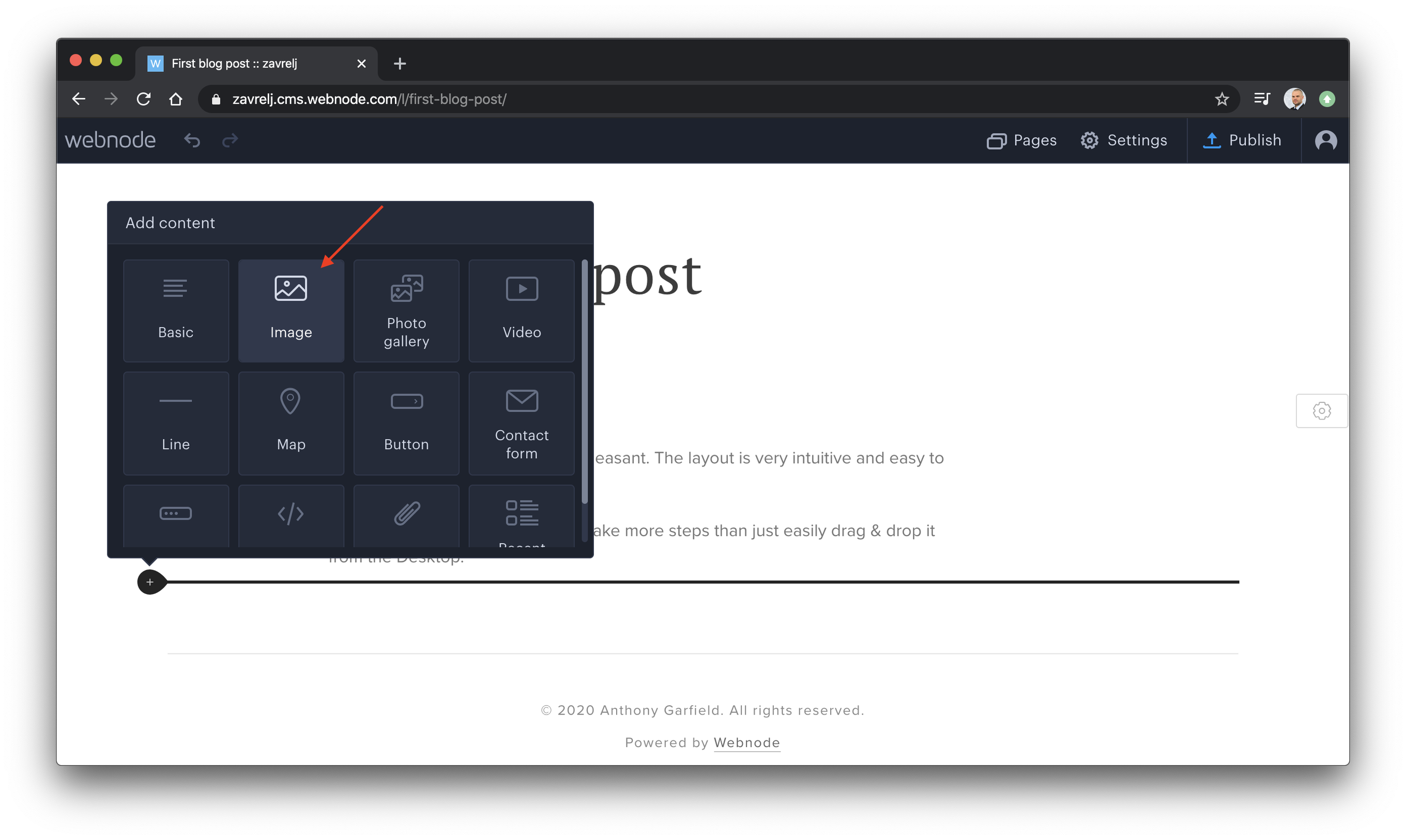 Unfortunately, you can't simply drag and drop the image from your Desktop which is a huge time-saver and one of the reason why I still consider WordPress.com and its editor the best solution currently available.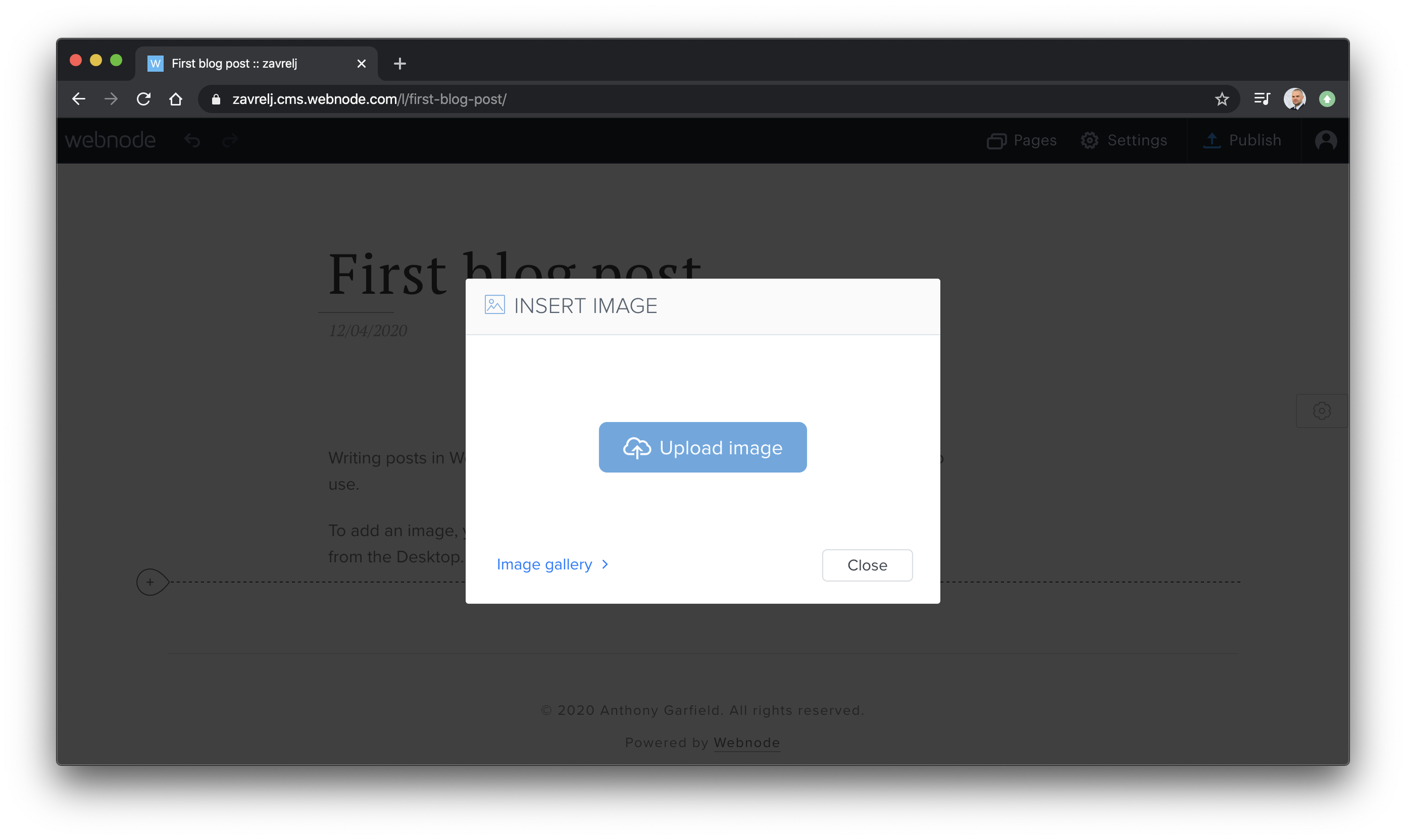 I really like the implementation of Grammarly.com, however, it works similarly to Gutenberg editor in WordPress, which means that you can check only one paragraph at the time, not the whole blog post.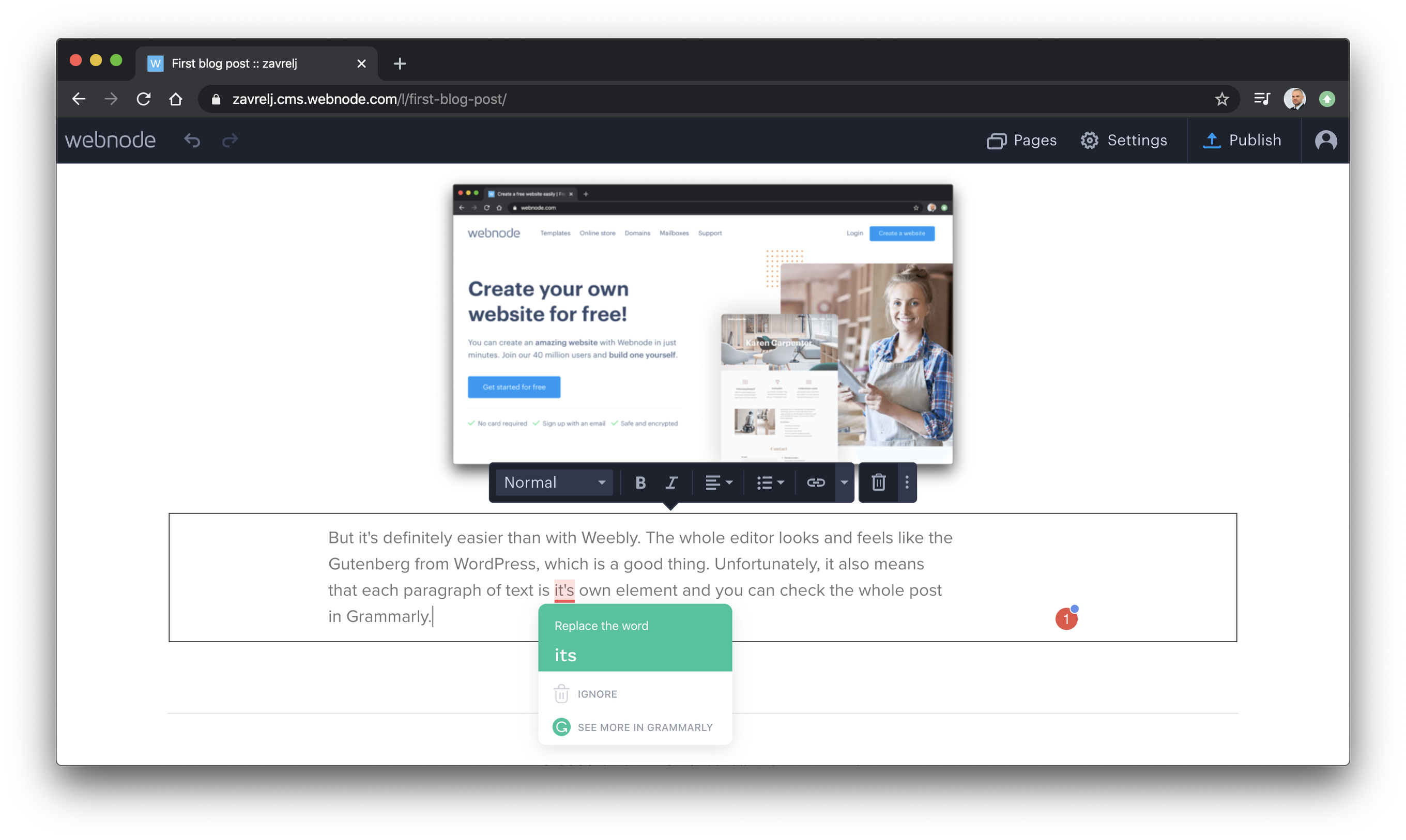 With free plan, you don't get much storage, though. That's why I suggest you don't upload images to the platform, but use links to other media storage like Cloudinary.com for example.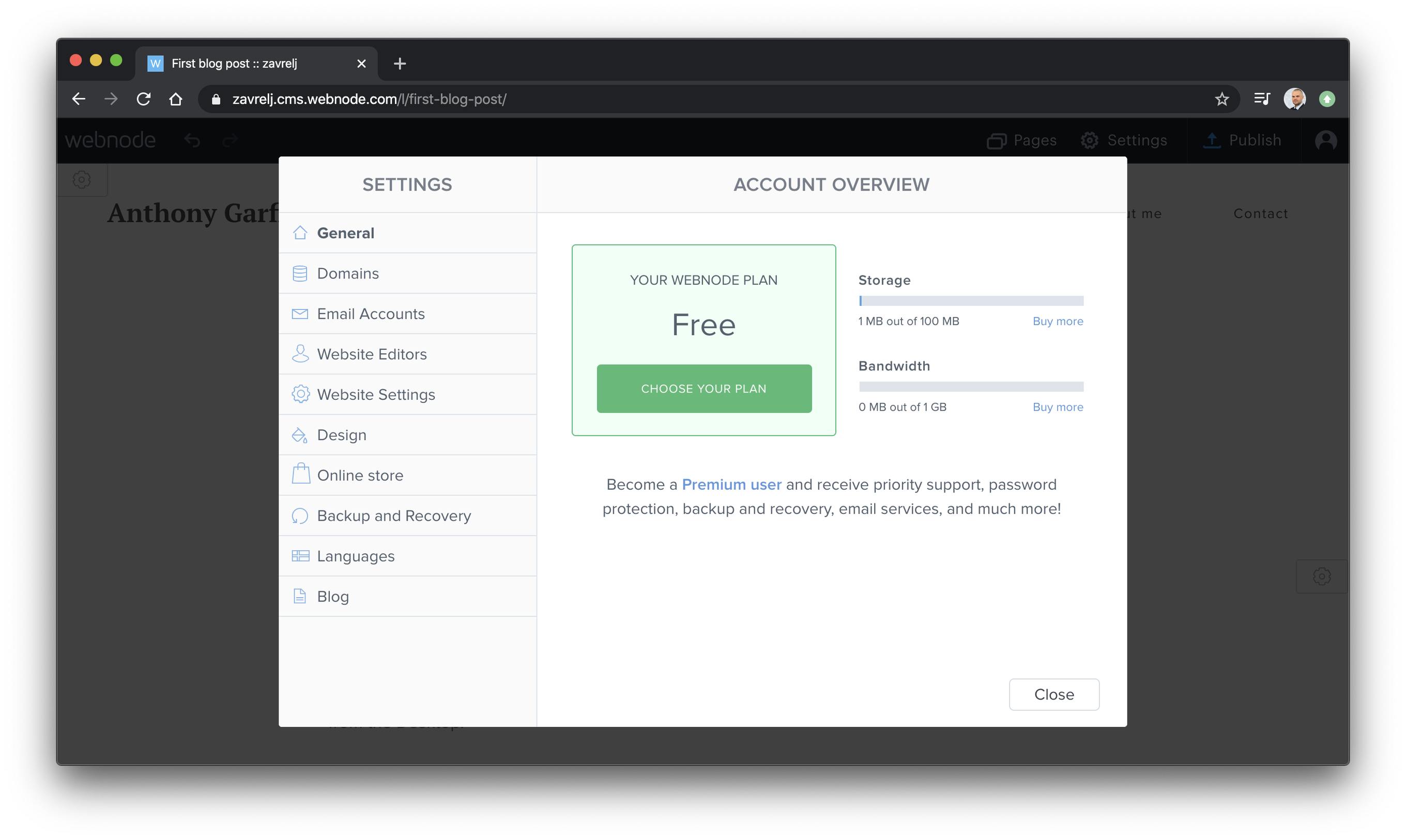 Overall, Webnode feels good, and especially Medium users could really appreciate its easy of use.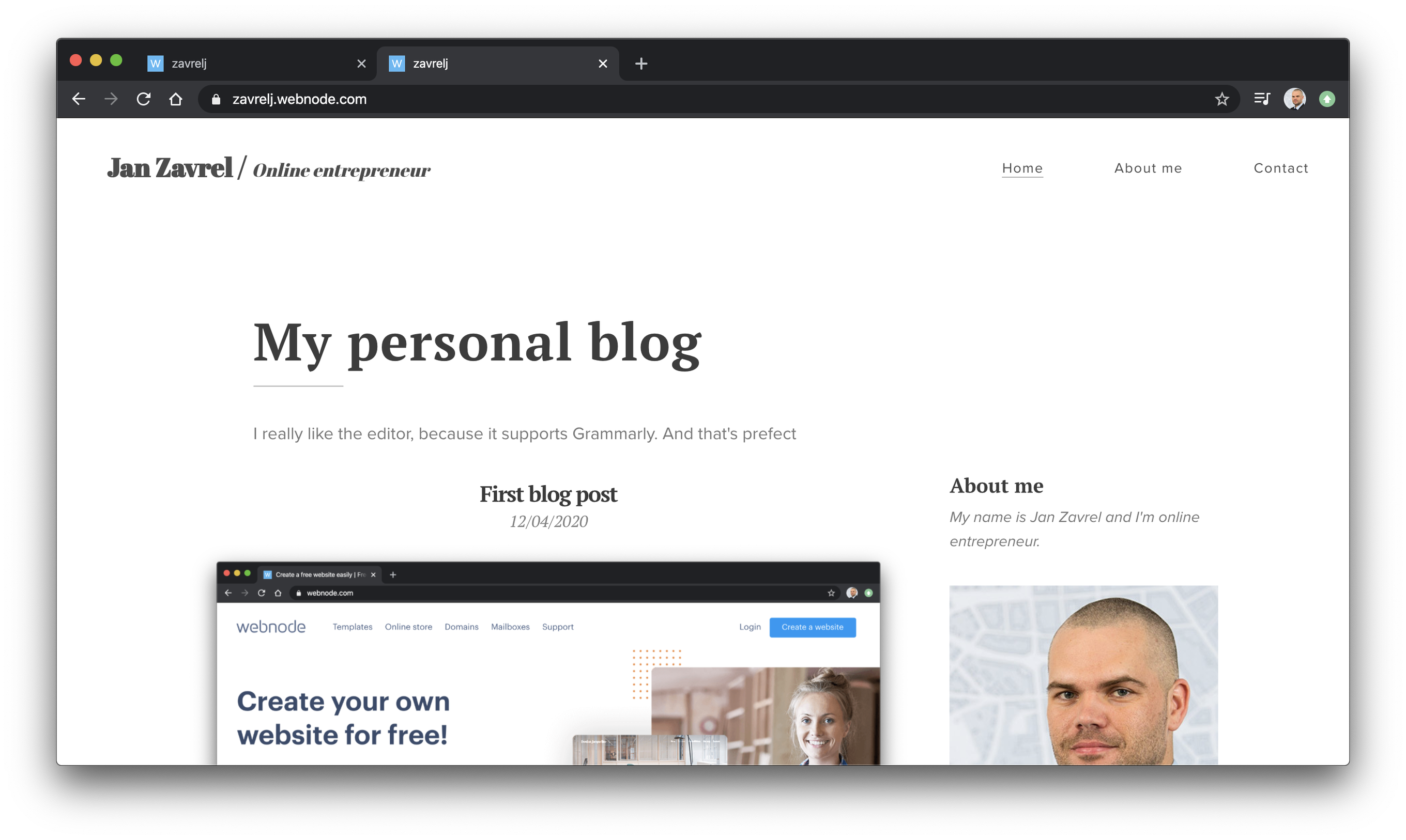 Pros
free hosting
free SSL certificate
easy-to-use editor with partial Grammarly support
can change the layout
Cons
can't use own domain
very limited storage on free plan
can't use drag & drop for images
only 100 MB of storage space
Verdict
Webnode.com feels like Medium.com on steroids yet it's still easy to use. However, there's only partial per-paragraph Grammarly support and very limited storage on free plan. It's a good choice for total beginners who might appreciate its intuitive layout and navigation.
4. WordPress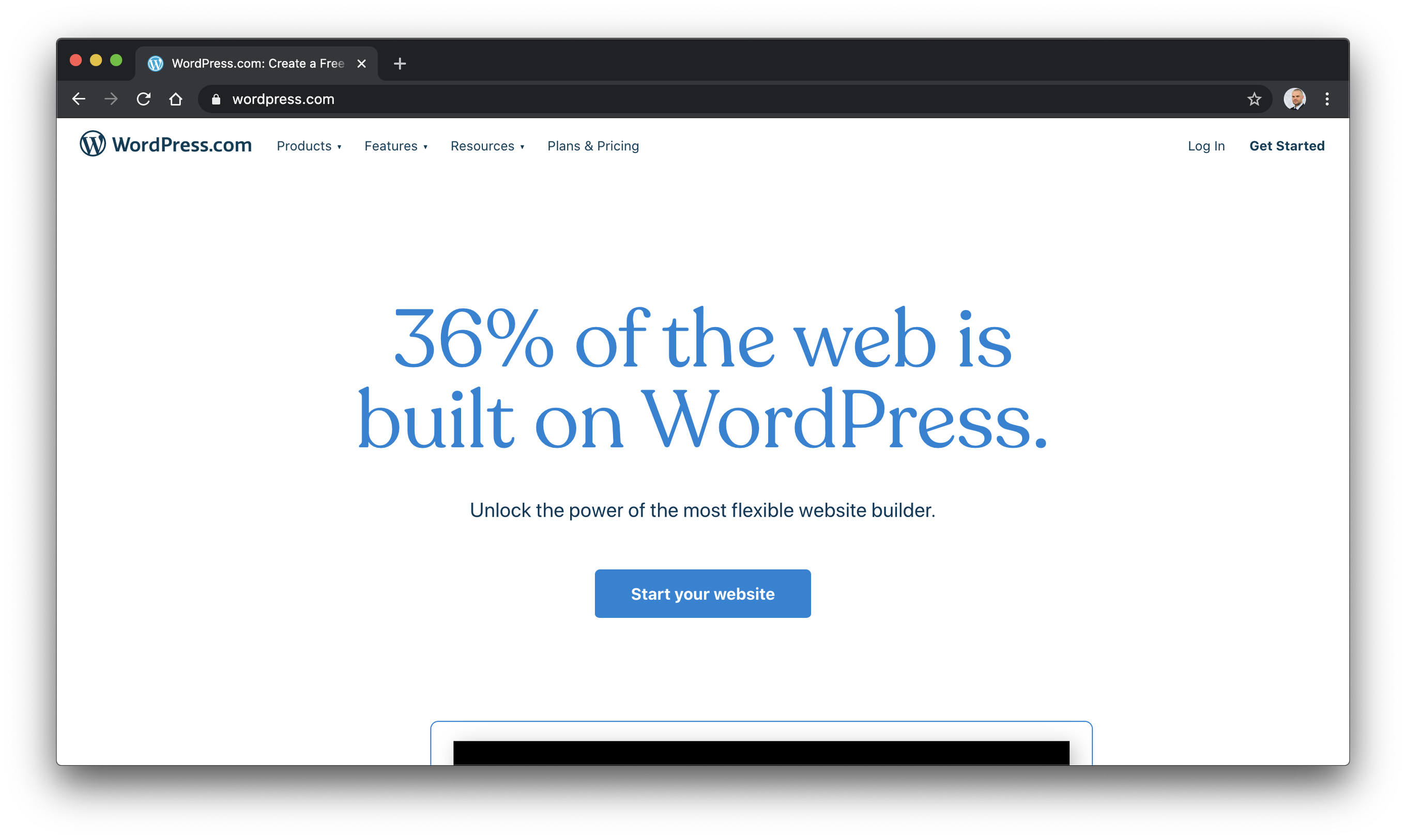 WordPress is a blogging services backed by Automatic, the company behind the most famous CMS.
Unlike WordPress.org which offers the software you can download for free, install on the hosting of your choice and modify as you like, WordPress.com offers an easy-to-use solution without all the hassle which comes with choosing the right web hosting and managing your own WordPress installation.
On the other hand, to keep WordPress.com reliable, it's somewhat limited with what you can modify.
How to create a new blog?
WordPress.com is trying to get you to their paid plan, so starting for free is less and less obvious each year. To start with free account, you need to scroll all the way down on the landing page and click the Start with Free button.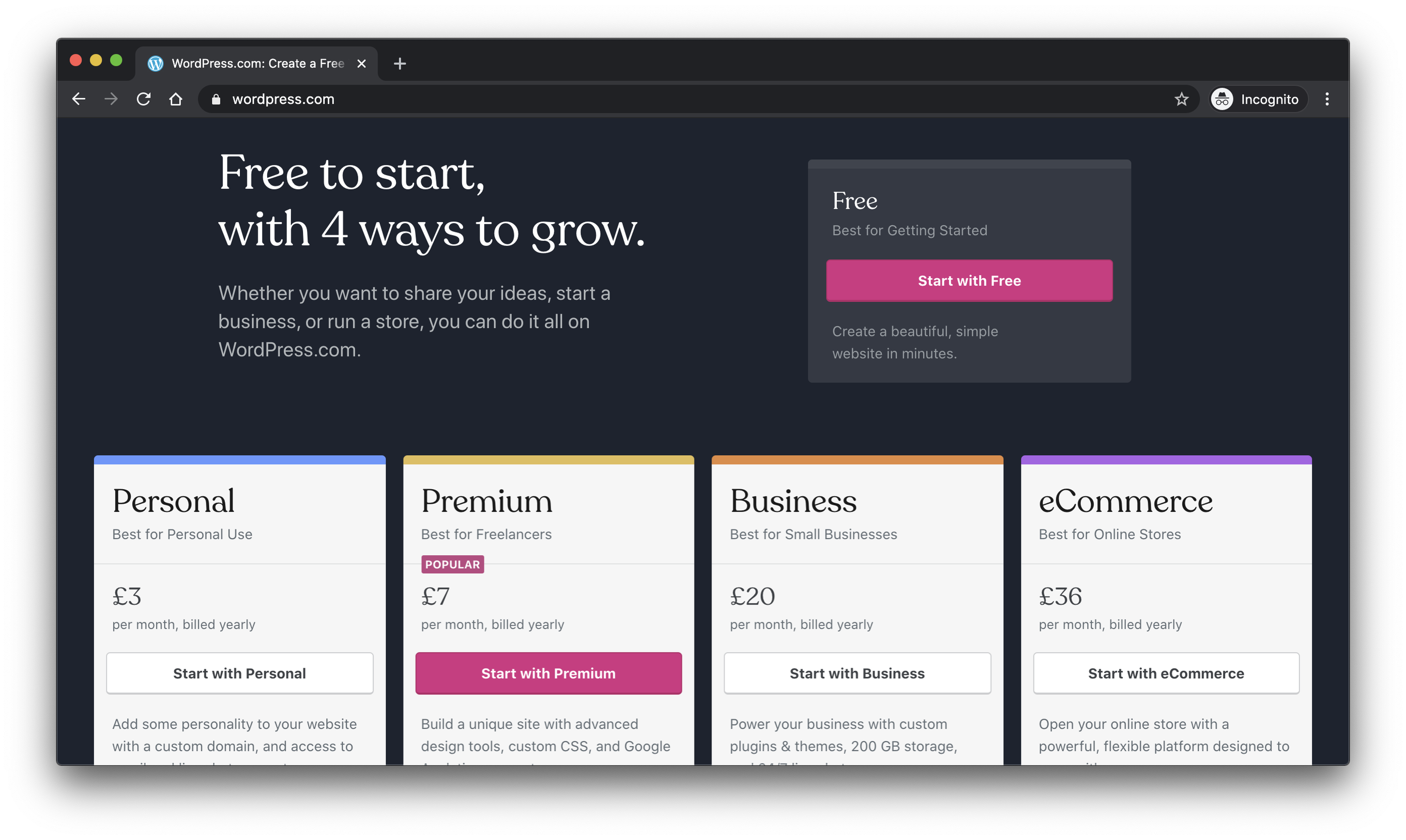 Next, you need to fill out the simple sign-up form.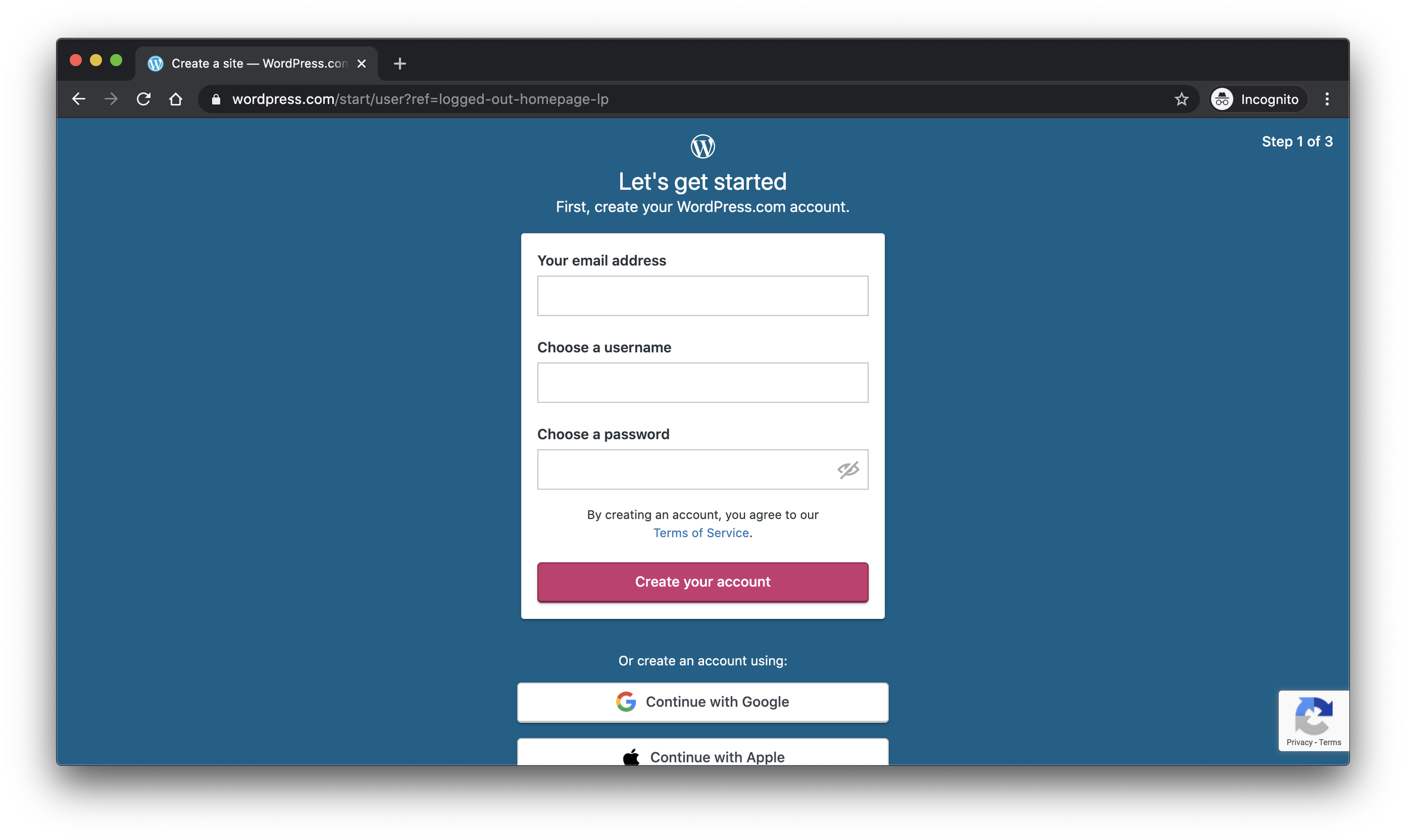 In the next step, you'll be asked for your site address. Don't worry, you don't have to buy a domain, just select the free domain hosted on WordPress.com.
As you can see, it's pretty ugly. That's another way how WordPress wants you to choose one of their paid plans with custom domain name.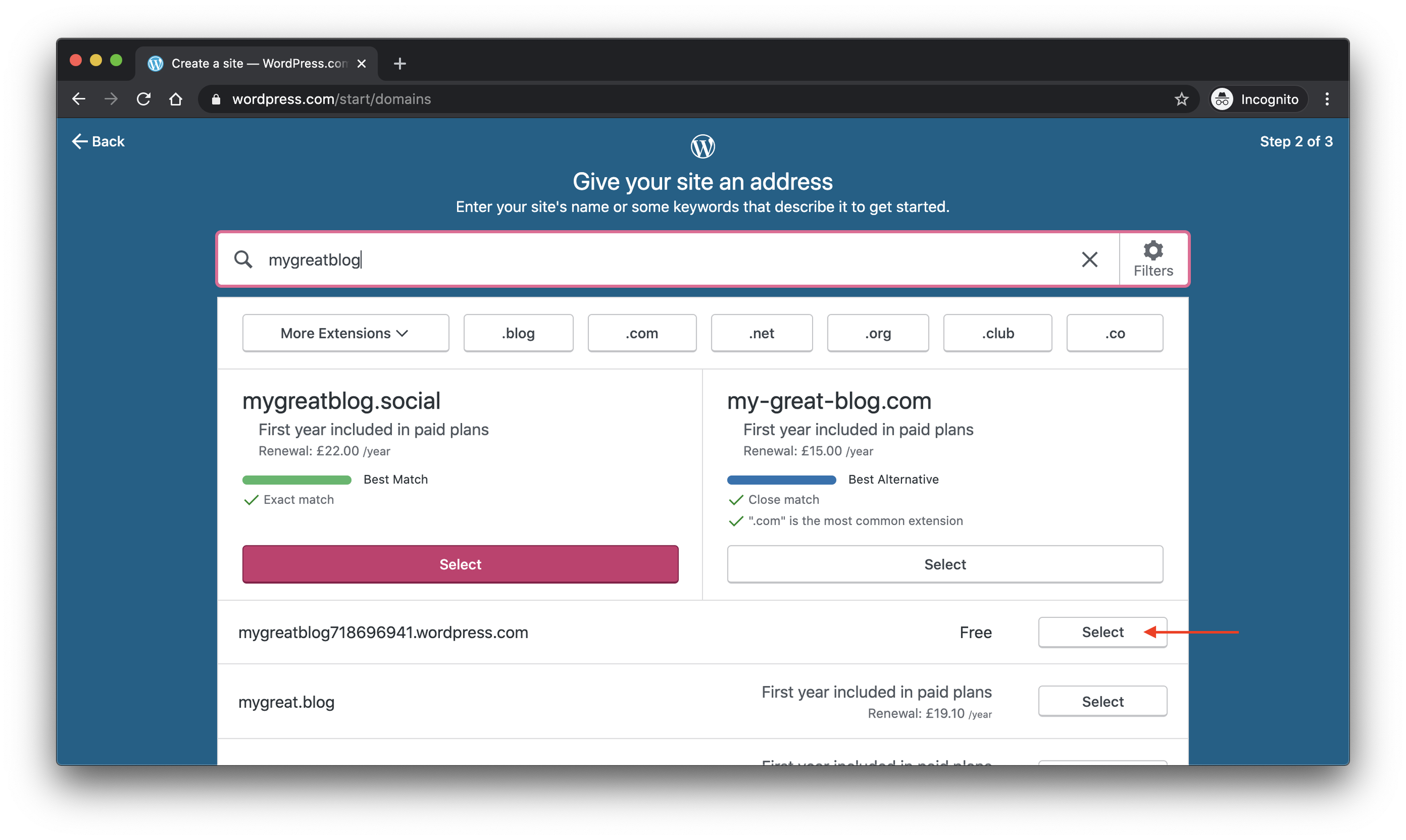 And once again, in the next step, you'll see the available paid plans. Just click Start with a free site link.
You'll be presented a welcome screen of the dashboard where you need to set up your site.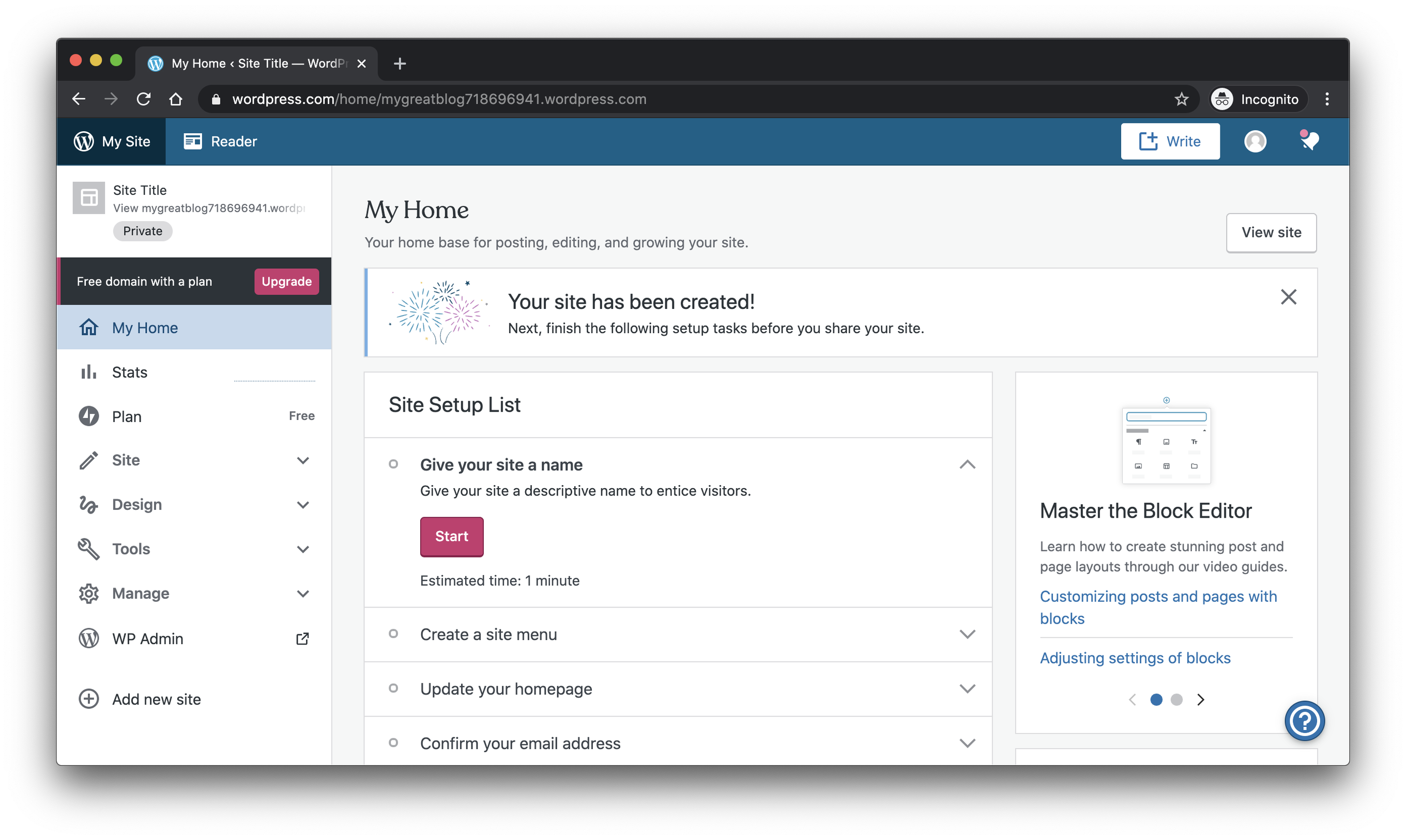 Just click through this. It's very intuitive and WordPress will guide you with hints along the way.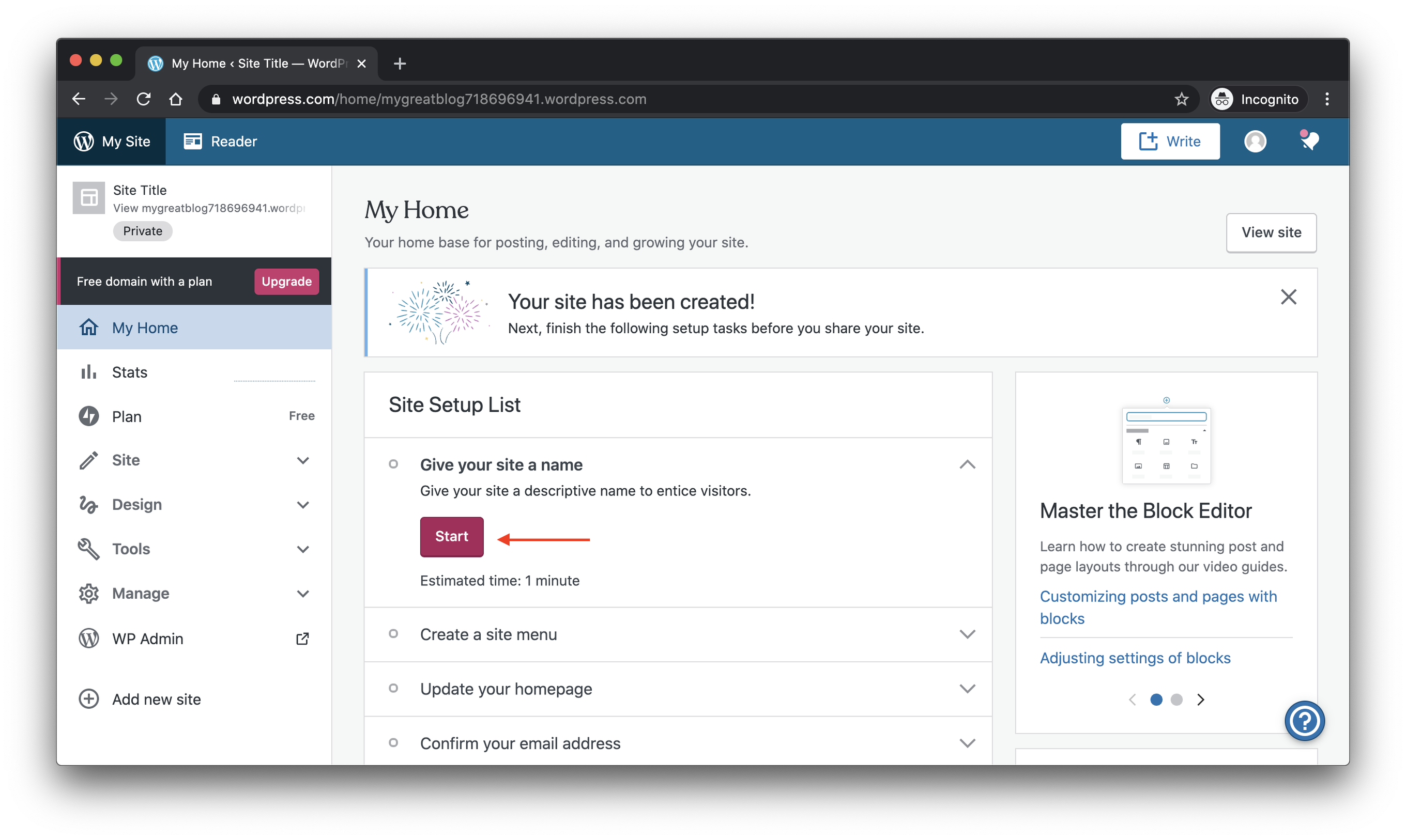 Choose the site title and continue with next steps.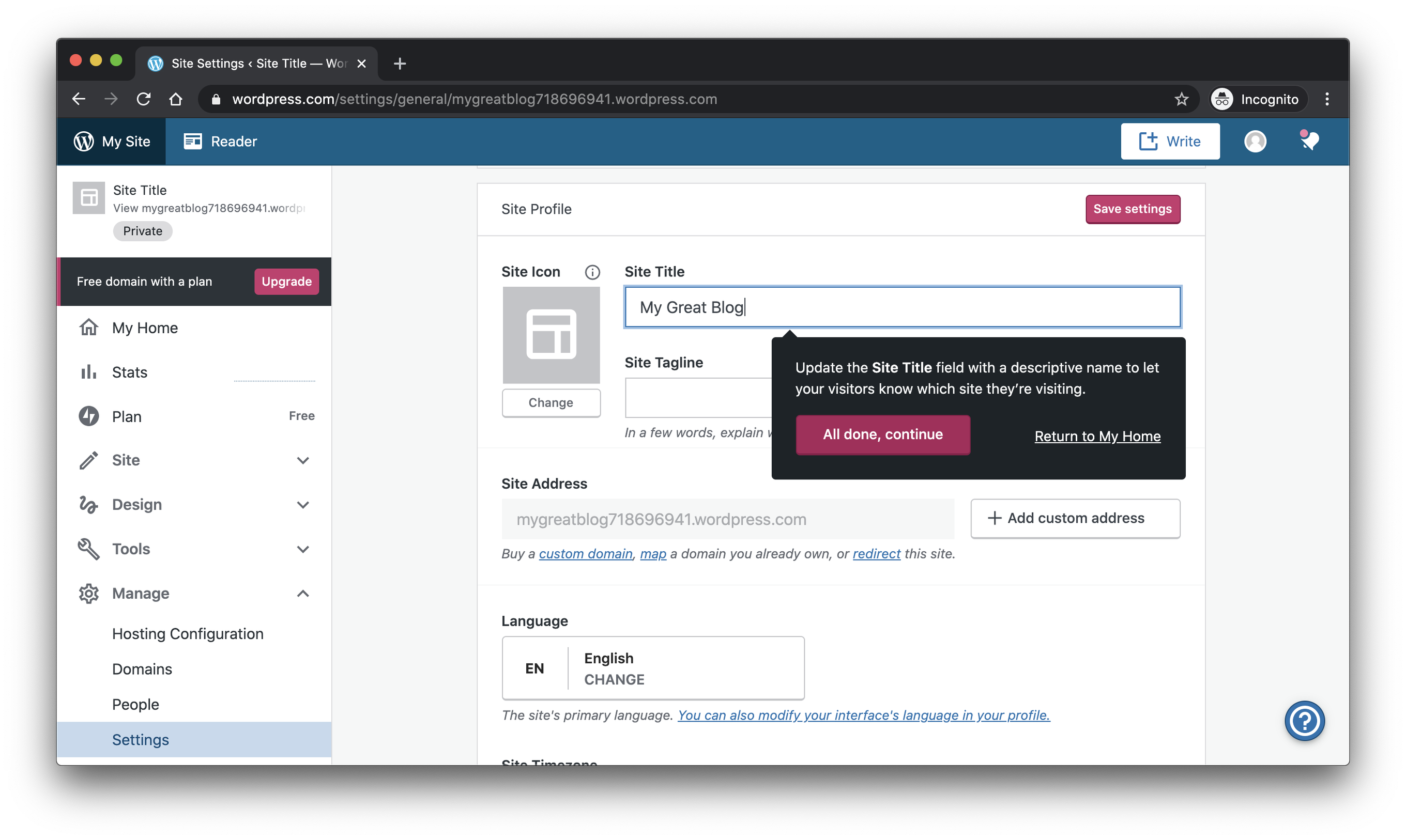 As you can see, everything is nicely explain so you'll know what to click and why.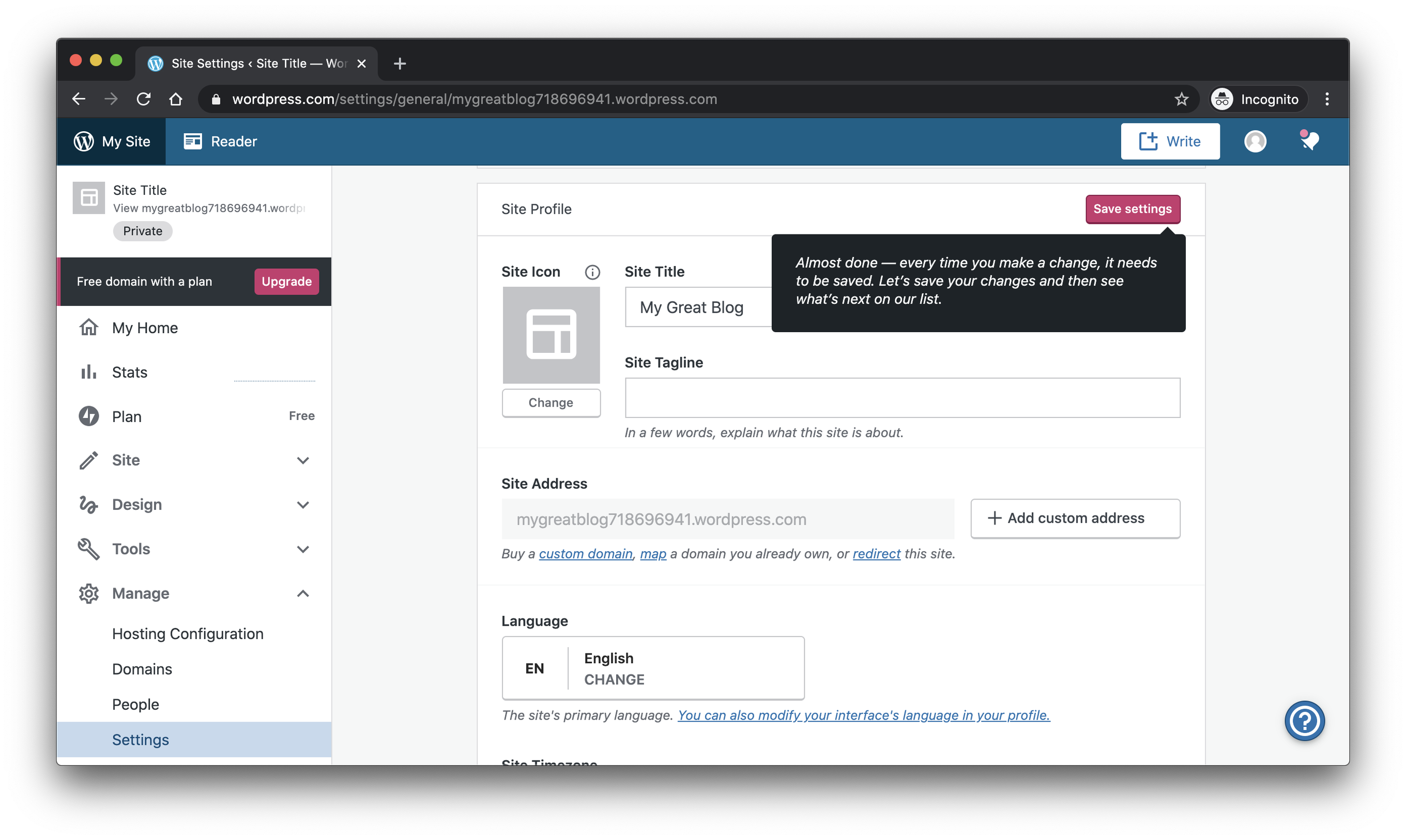 Follow all the steps to create a menu, update your homepage, confirm email address and finally launch your site.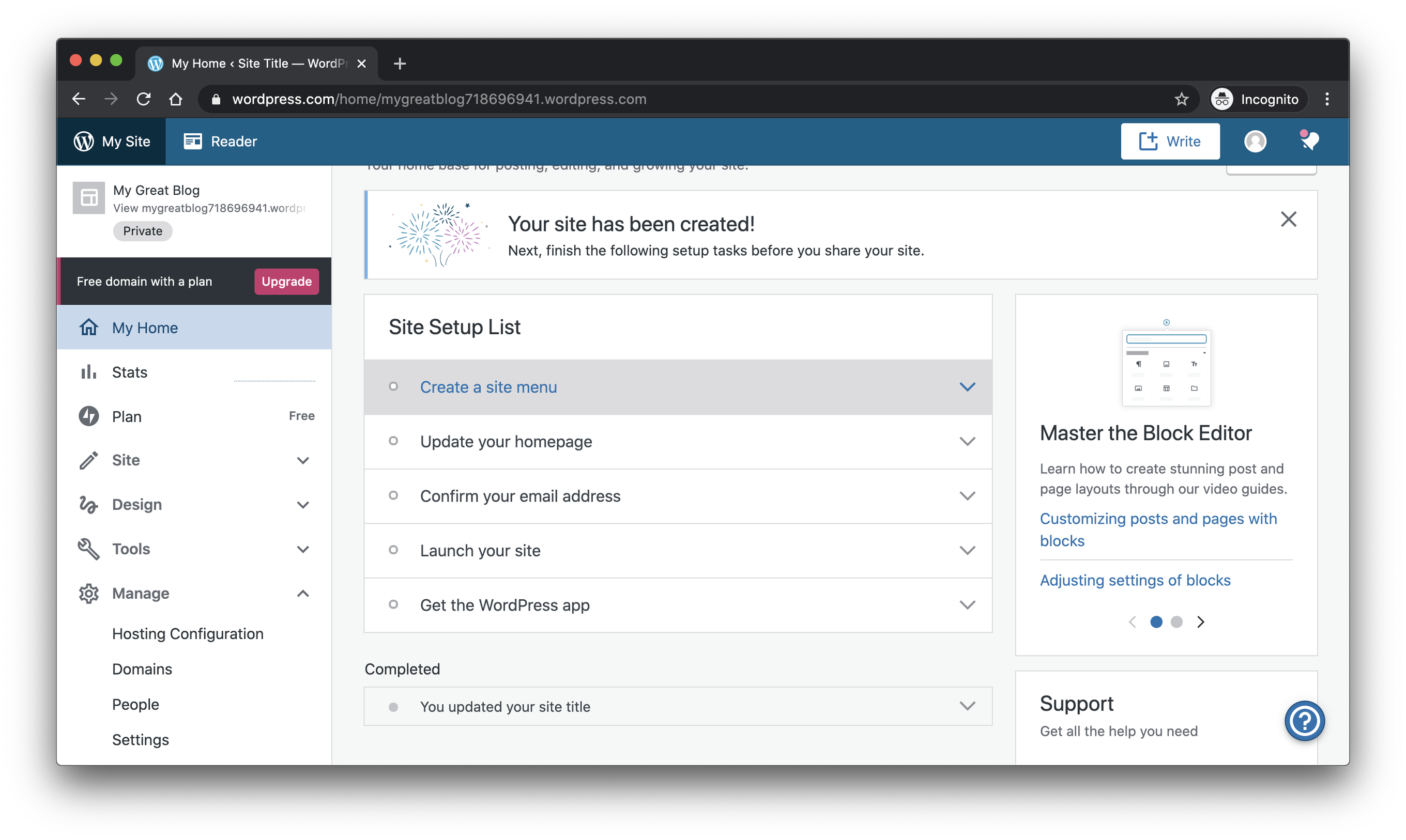 Once you're ready to launch your site, WordPress.com will try it once more to sell you a domain name, just Skip Purchase.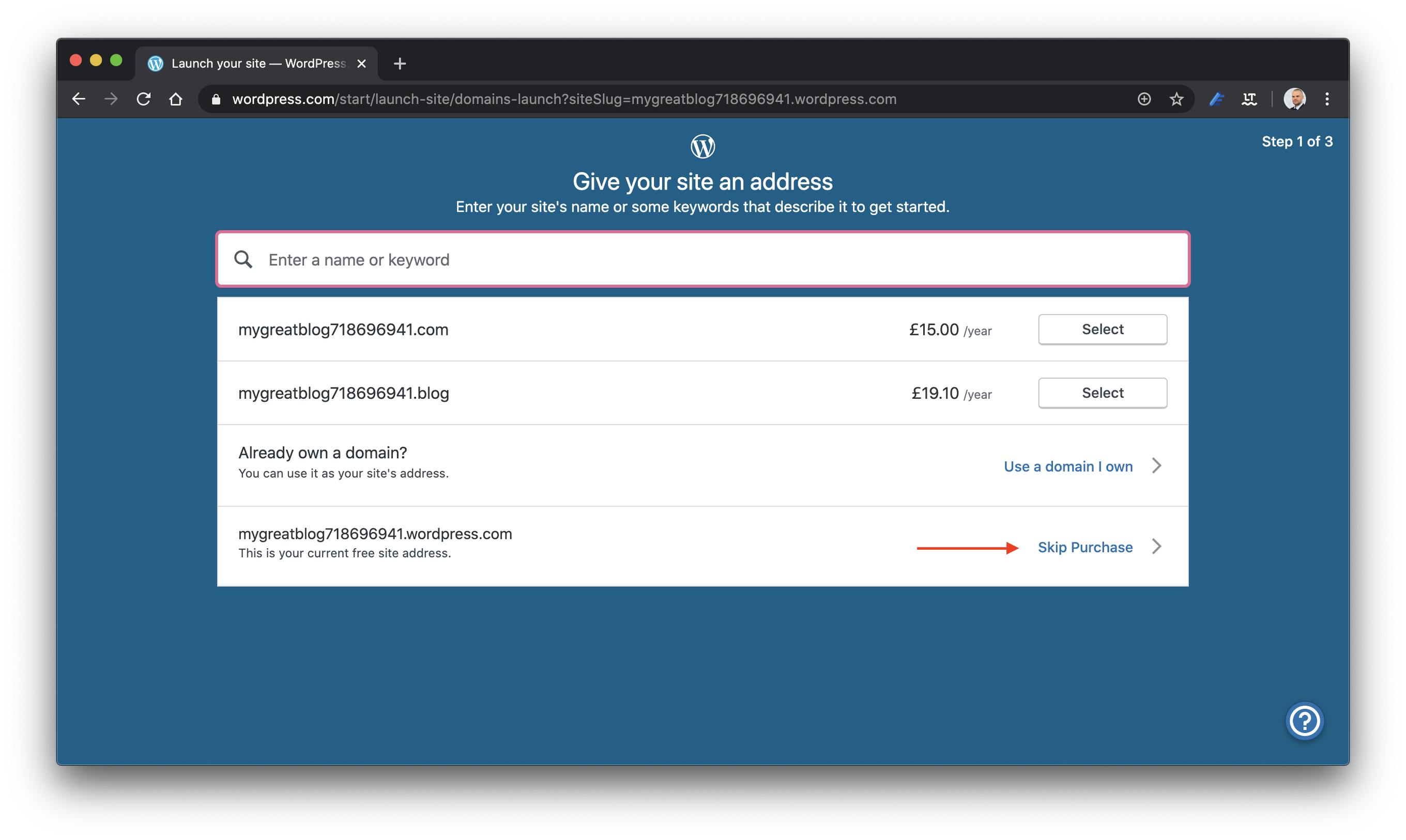 Now you can visit your site by clicking the Visit site button.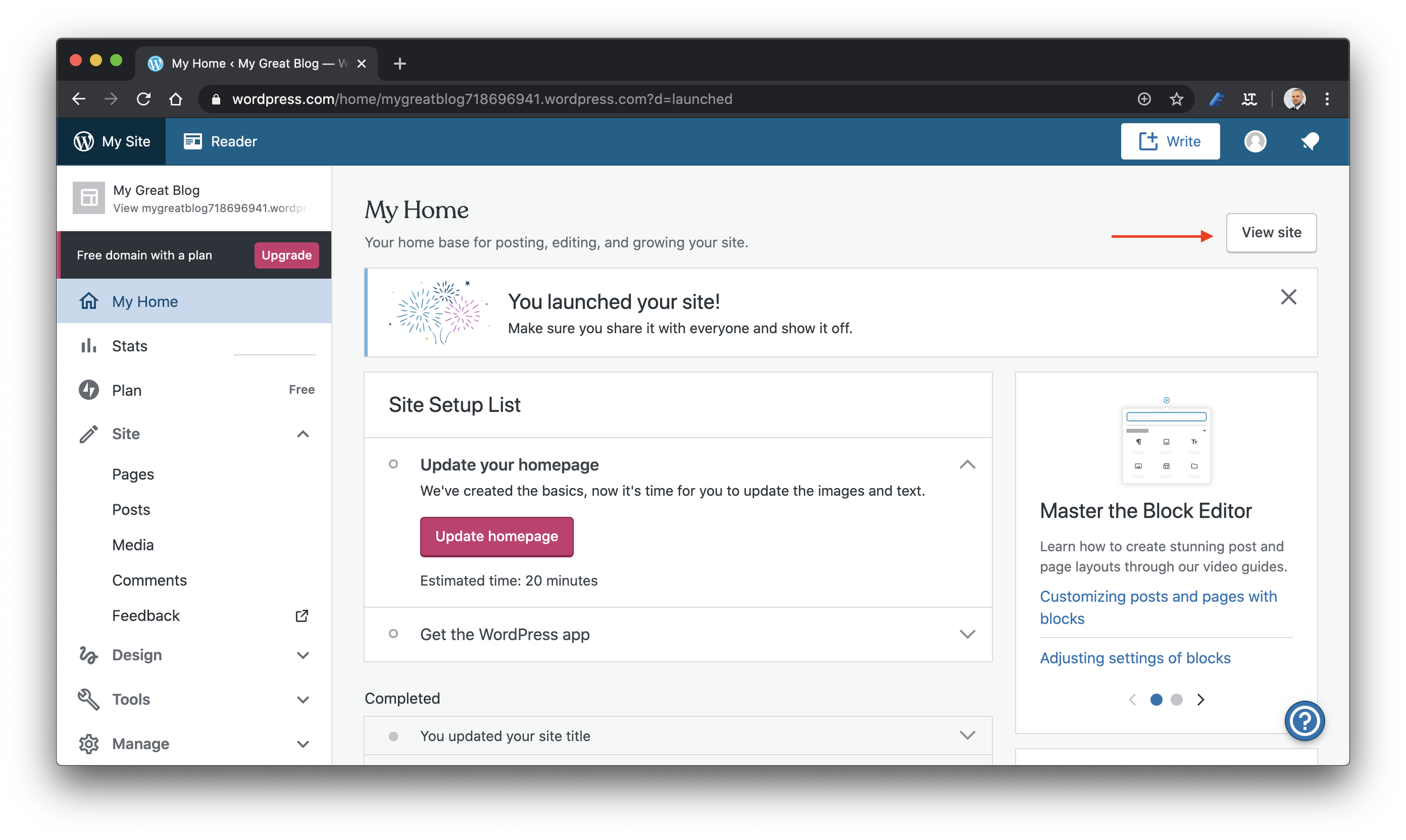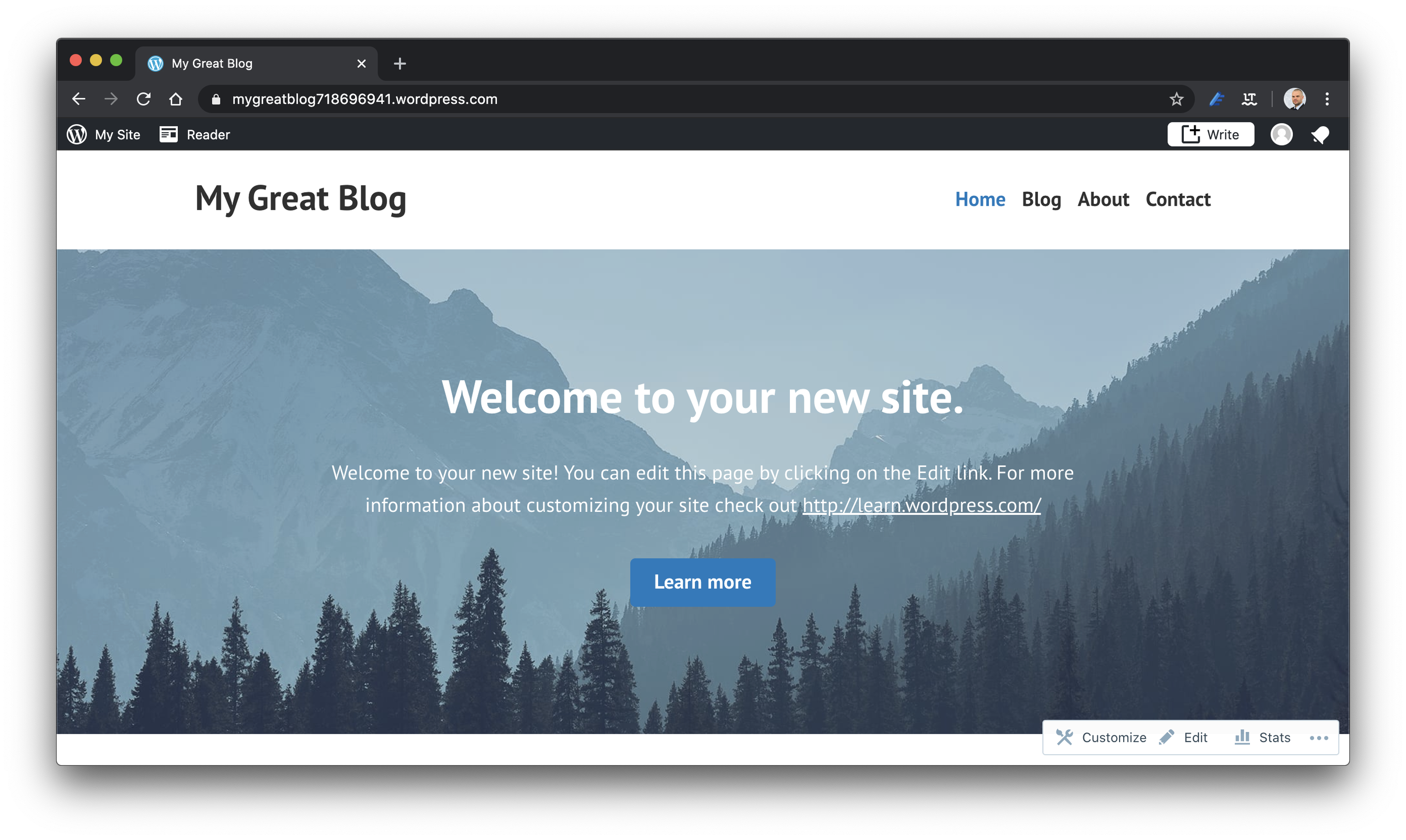 How to start writing
Once you're done with setup, you can start writing your first post right from the landing page provided you're logged in by clicking the Write button at the top of the page.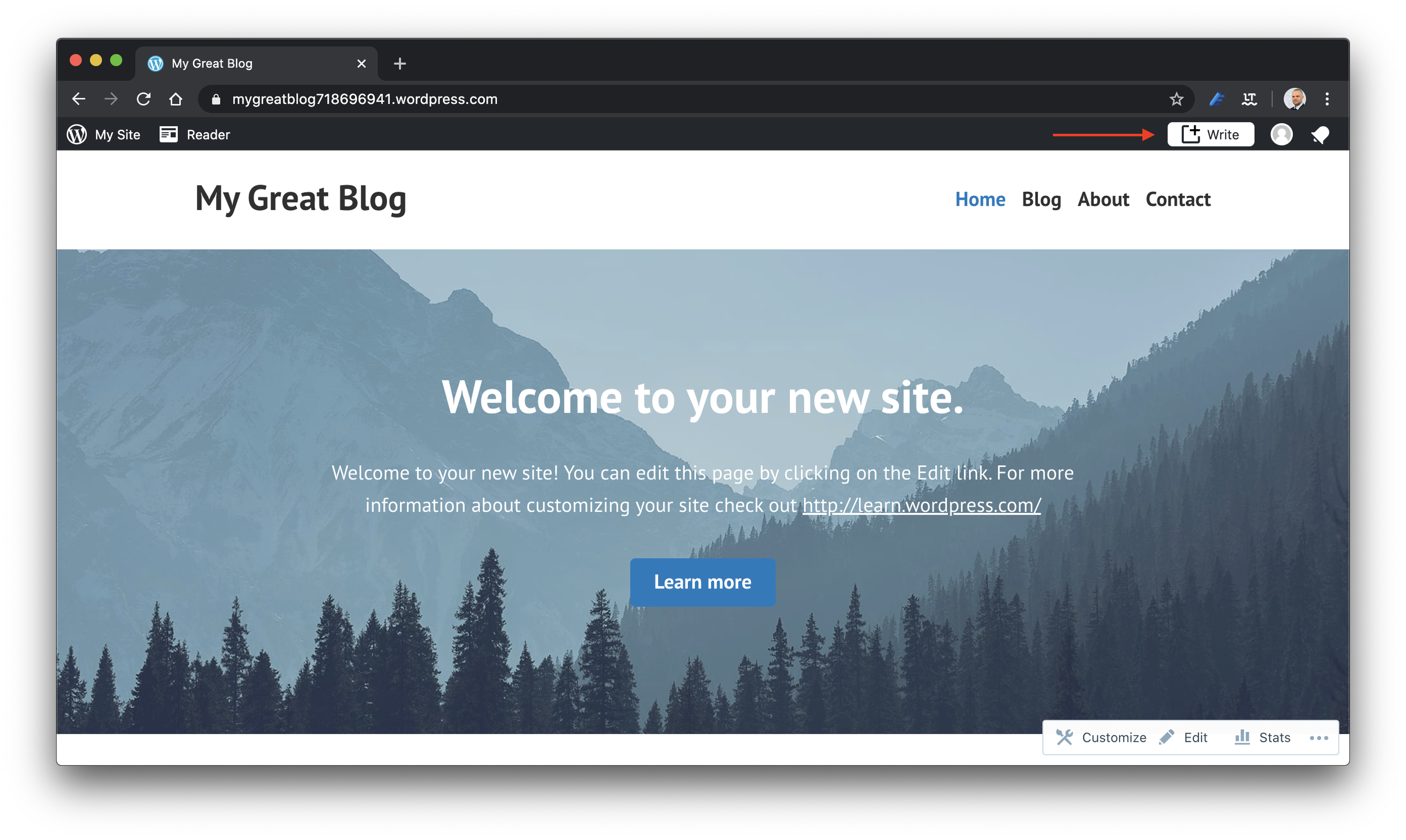 If you're on dashboard, just navigate to Site -> Posts in the left pane and click the big Write button at the top-right corner.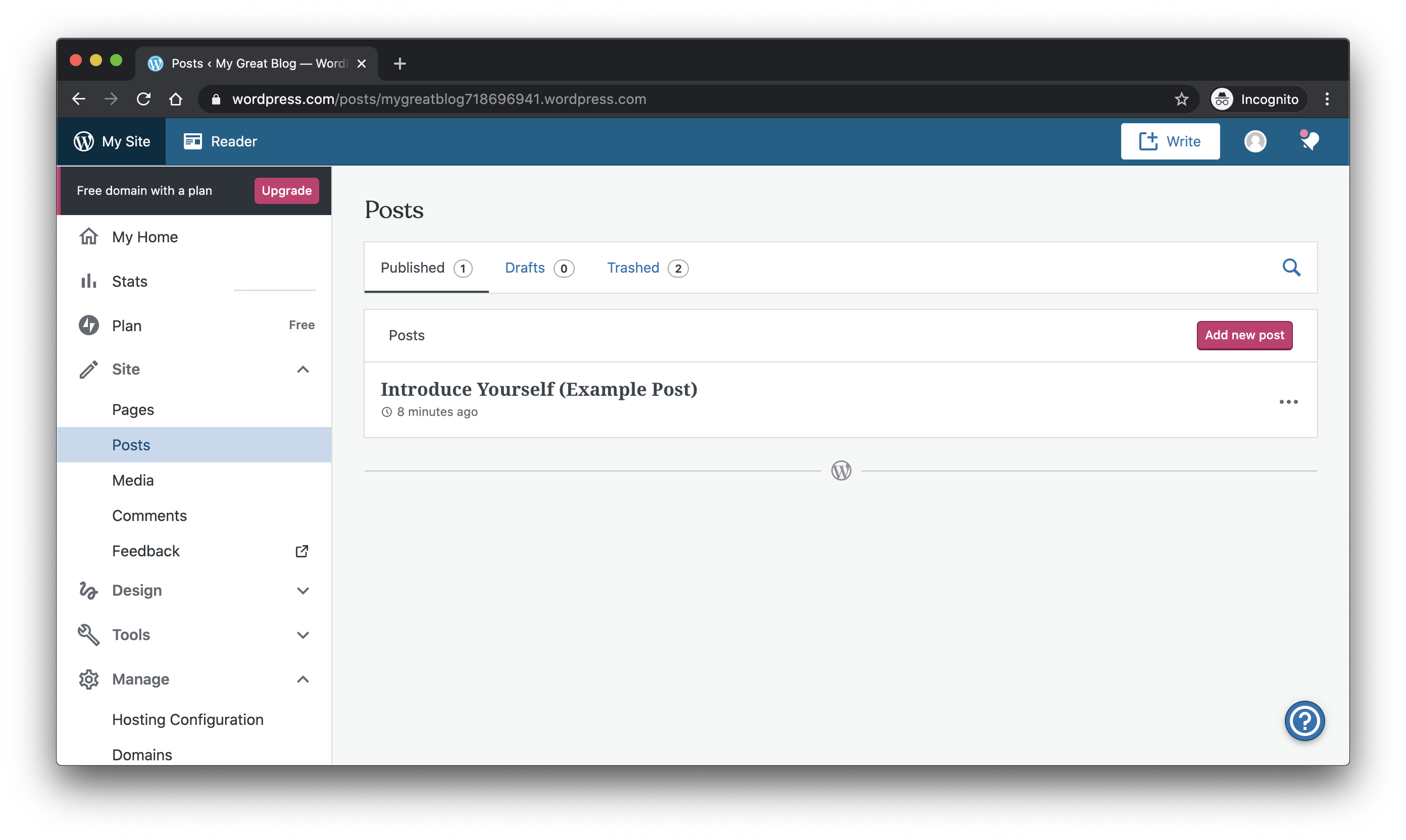 New WordPress accounts are forced to use Gutenberg editor which means that you're not able to use Grammarly proofreading because Grammarly isn't supported by Gutenberg. That's a sad reality.
On top of that, you can even use JetPack for proofreading because this feature has been discontinued.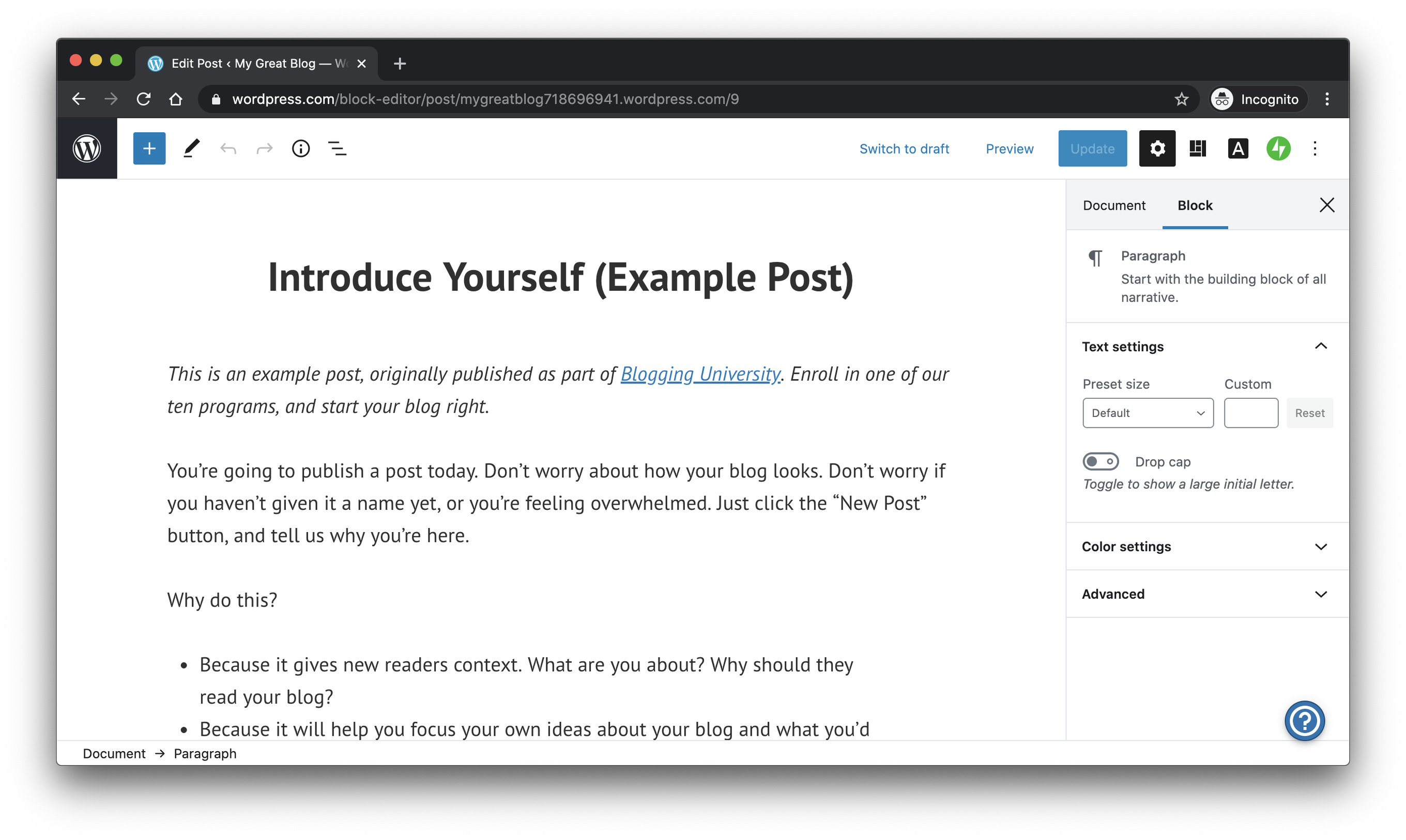 However, you can use LanguageTool instead. It seems to work just fine, even though only per paragraphs, so you still need to click individual paragraphs to get grammar checks.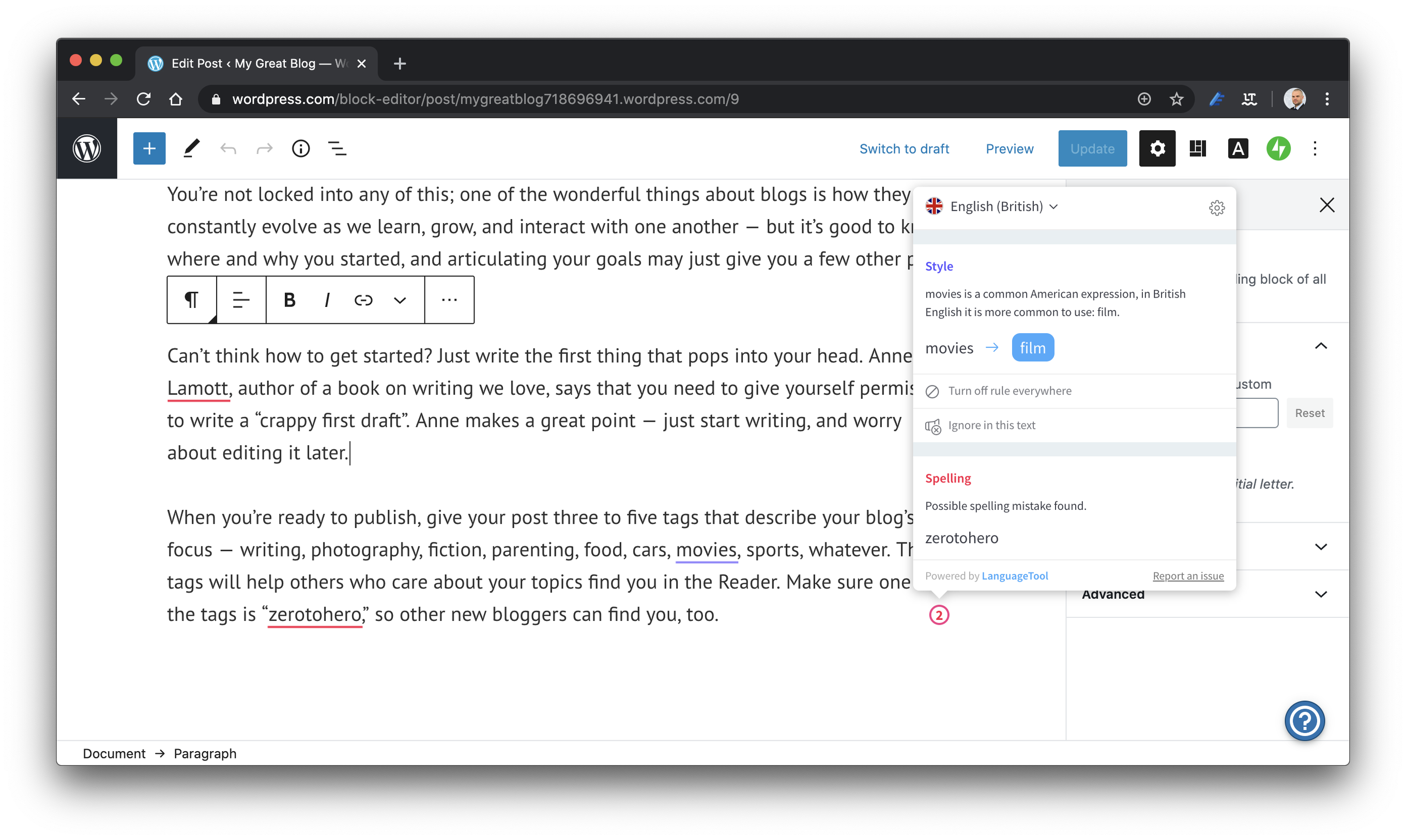 On the other hand, this might work just fine, because you can check the paragraph as you write it and then continue with another one.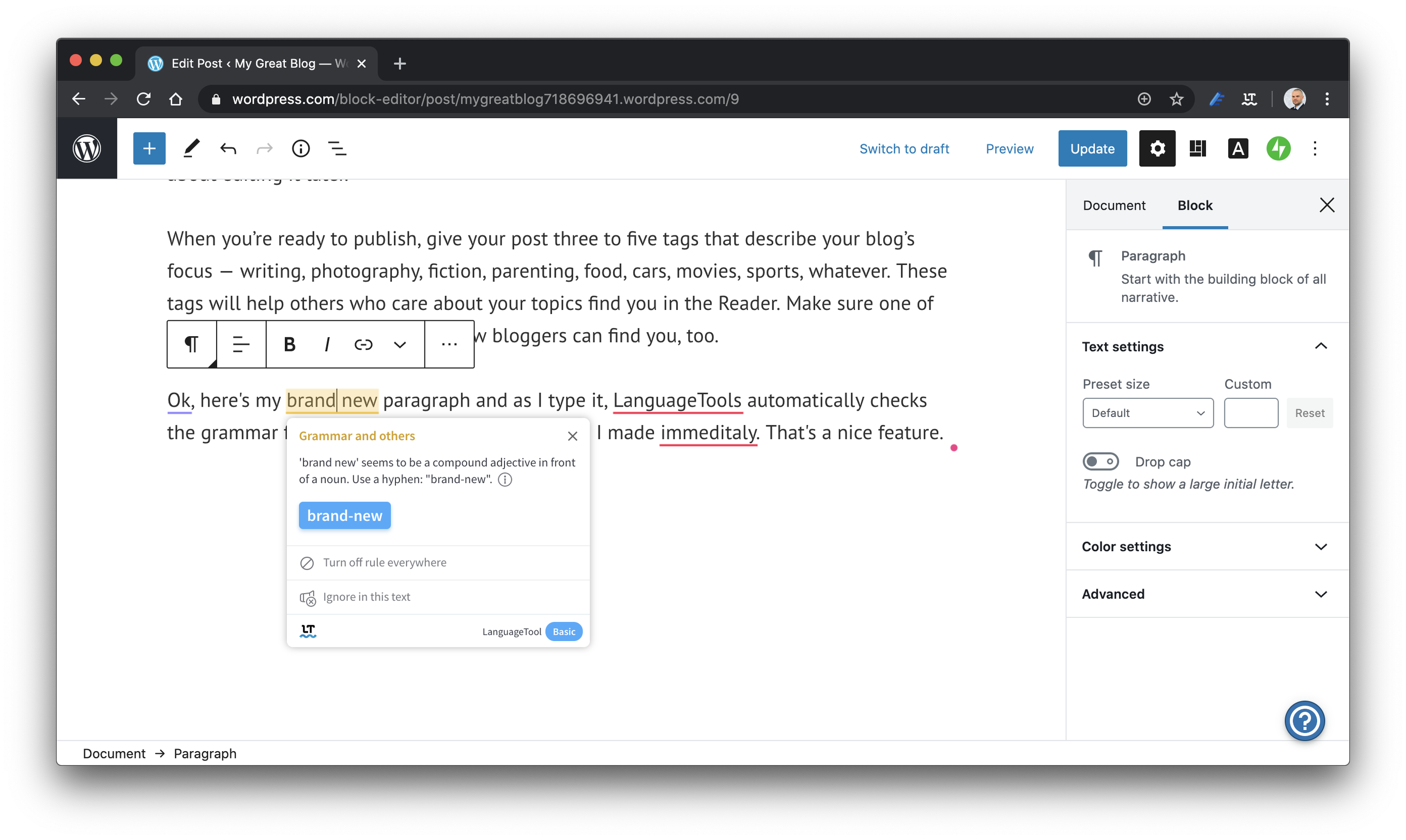 Adding images to WordPress with Gutenberg editor means two more steps unfortunately. First, you need to add new element by clicking the plus button at the top-left corner. Next, you need to select image which will create a placeholder in your post.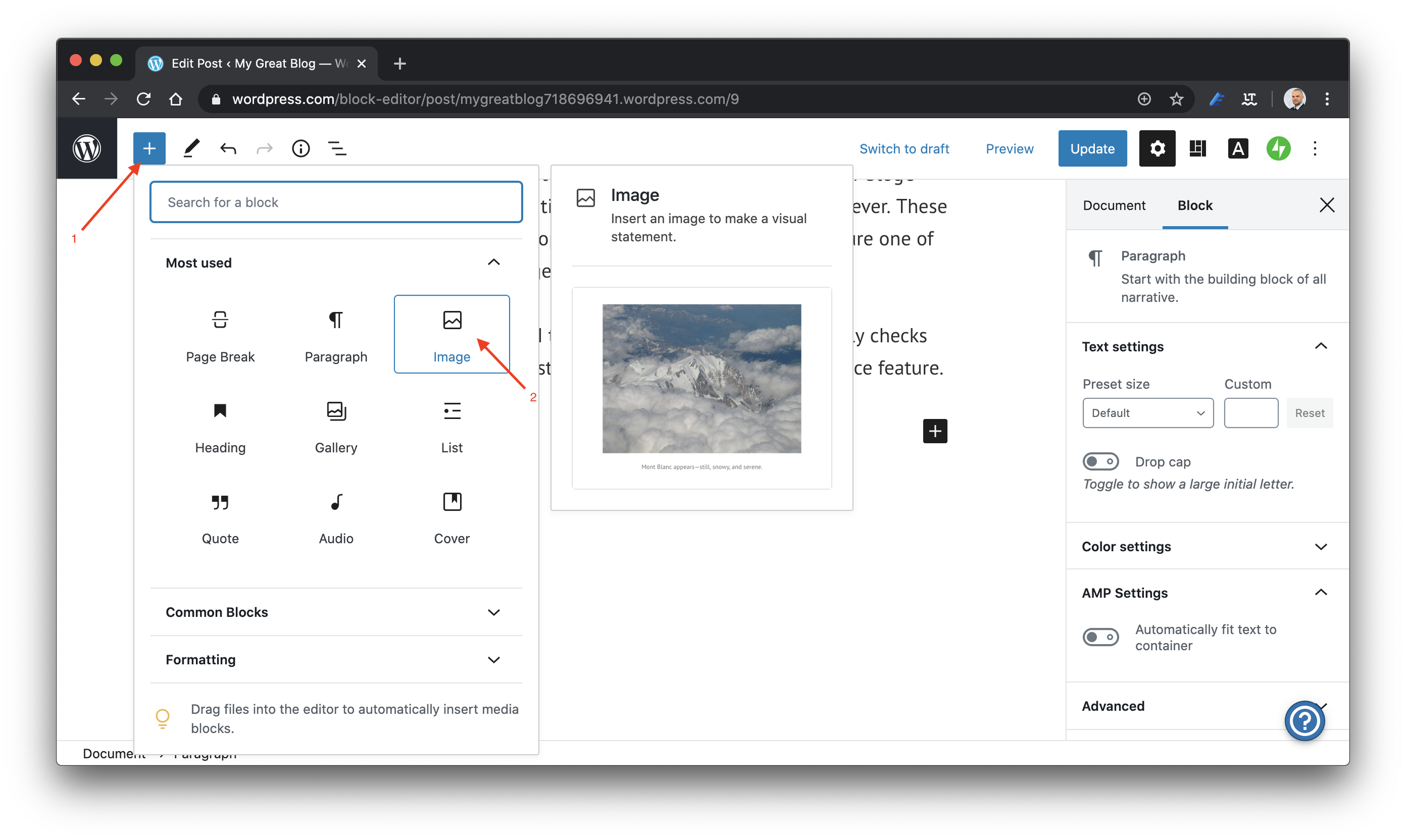 Only then you can drag & drop the image from the desktop onto the image placeholder.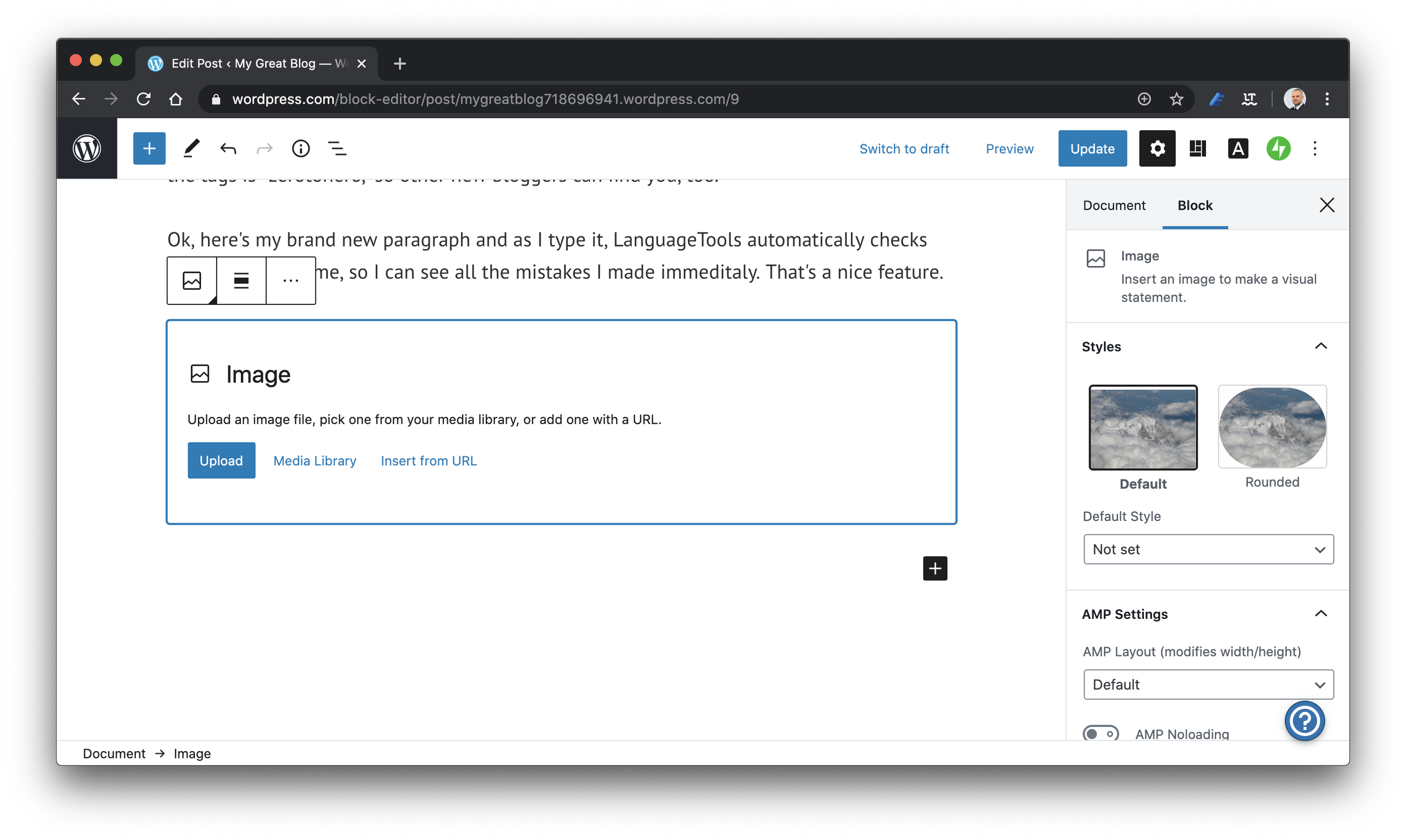 Pros
free hosting with Jetpack essential features
free SSL certificate
can choose from dozens of free themes
drag & drop for images, albeit complicated
3GB of storage space
Cons
can't use own domain
doesn't support Grammarly
Verdict
WordPress is a big name. If you opt for WordPress.com free service, you'll end up in the good company with huge community support without all the hassle that comes with running your own installation.
On the other hand, you're quite limited when it comes to plugins and the new Gutenberg editor makes some tasks like proofreading and adding images more complicated than Classic editor which is not available for new accounts at all.
Still, WordPress is a good choice for beginners and for $3 per month, you'll get free custom domain for the first year, 6GB of storage space and removed WordPress ads.
Yet, when you compare this offer with the current Hostinger offer, you'll see that with own WordPress installation, you'll just get much more bangs for your buck.
The final conclusion
There are many free blogging services these days, but most of them offer free plans only to lock you in and once you outgrow the typically stripped-down features, you will hopefully stay and pay because you wouldn't want to spend time by moving away all your content.
If you want to start blogging and you have no money for any of paid services, start with Medium.com in combination with a free WordPress.com plan.
If you can afford at least few dollars each month for paid hosting, keep posting on Medium.com but buy some affordable web hosting service. Most of them will offer free custom domain at least for the first year, like Hostinger.
If you want to start building your own blog, make sure to check the How to Build a WordPress Blog article where I explain everything step by step.