You can have the fastest web hosting from Kinsta, you can have the most beautiful, mobile-friendly and SEO-optimized WordPress theme from StudioPress, you can even have a keyword domain, but it's all for nothing if you can't write the content that your visitors will actually want to read.
Anybody who wrote some meaningful content will tell you, that it takes time, practice and effort to become a great writer and produce interesting and traffic-driving articles. But if you want to learn how to start today, you've come to the right place.
I have written many books and published dozens of articles on my multiple websites and I've learned some important rules that are applicable to all kinds of blog posts regardless your specific market niche.
There are few areas you must master to write a perfect blog post that will captivate your readers' attention.
You need to understand your blog's audience, you need to create intriguing or even outrageous post titles that your visitors can not help but click, and most importantly, you need to structure your blog post correctly.
If you're just starting and don't have your blog yet, stop right here and read How to Start a Blog where I explain exactly what to do to get you up and running. Don't worry, this article will wait here for you 🙂
Disclosure: Please note that some of the links in this post are affiliate links for products I use and love. This means if you click on such a link and take action (like subscribe, or make a purchase), I may receive some coffee money at no extra cost to you. This helps me creating more content free of charge to you. And, as an Amazon Associate, I earn from qualifying purchases. Thanks for your support!
How to Write a Perfect Blog Post (Free Step-by-Step Tutorial)
Let's start with the ugly truth. It's getting harder and harder every year to promote your posts and grow traffic to your blog.
Past are times when Google and social networks helped you with this effort. These days, Google sends less traffic to third-party websites because it wants to keep visitors on its own properties.
On top of that, major social platforms like Facebook, Twitter, and Quora are actively fighting content that contains links outside their platforms.
The result is that most blog links published on social networks get less than 3 social shares no matter how many friends or followers the author has.
It's been shown that if you place a link to a blog article in your Facebook post, then Facebook will restrict the reach of that post as it contains an outside URL.
It makes perfect sense, because Facebook wants its users to stay within its network and the last thing it cares about is your website and sending traffic to it. Unless, you pay for it.
And don't forget that each day, there are almost 5 million new posts published that compete for reader's time. Simply put, your average post just won't cut it anymore.
These days, you need to craft genuinely helpful, well-researched and transformational content to win eyeballs.
I didn't mean to scare you by what I wrote above, I just want you to understand how crucial it is these days to stand above the rest by providing immense value for readers.
Don't see it as a threat, though, but rather as an opportunity and challenge to create the best content available in your niche!
Before we will dive into my guide about how to write a perfect blog post, if you're totally new to blogging, you might want to start with my ultimate guide to how to build a WordPress blog.
Also, you should look around the web and find the best web hosting provider for your blog.
Digital.com offers a comprehensive list of 10 best hosting providers along with Pros & Cons for each of them.
Once you have your blog up and running, you can come back to learn how to impress your readers and drive traffic with quality content.
1. Get to Know Your Readers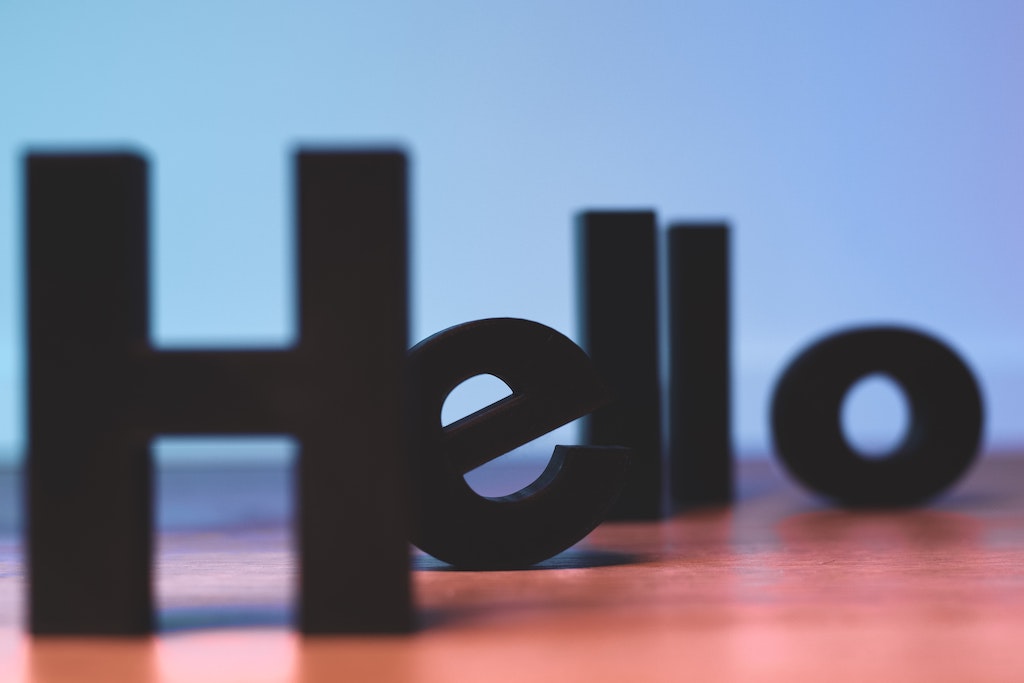 Source: Unsplash
Let's start with the concept that most bloggers still struggle with. Your main goal when writing a blog must be to deliver value to your readers. It doesn't matter what you want to write about, but what they want to read about.
On the other hand, it's also important that you enjoy your writing, otherwise you won't stick around long enough to see any meaningful results of your hard work.
Find a common ground
That's why it's crucial to find a common ground, something your readers wants to know about and what you also want to write about. It's like when you meet someone for the first time and try to break the ice.
You both naturally try to find the common interest as quickly as possible before the silence gets too awkward. Dog lovers mastered this art of communication, because they can talk for hours even as total strangers.
Build a long-term relationship
Some bloggers still believe that the best strategy is to search for popular keywords and then put together a post that goes after those keywords.
This is a short-term tactic that might work in some circumstances, but I suggest you build a long-term relationship with your readers, so they will happily come back to your website, because they will want to hear from you specifically, not from some random guy who managed to guess the right keywords.
Another reason for cultivating a genuine relationship with your audience instead of executing short-term content hacks is that search engines are getting much more clever every year, so they can recommend only the trustworthy and reputable content to their users.
There are five general categories of ideas that you might choose from when writing your blog posts, these are:
posts that teach your readers new skills
posts that inspire your readers and call to action
posts that inform your readers about updates
posts that entertain your readers
posts that promote your business
Whichever you choose, always try to answer these questions before you start writing a post:
What goals do my readers have?
What are their long-term needs?
What kinds of problems can I help to solve for them?
What my own struggles I can share with them?
What skills can I help them acquire?
Learn what your readers need
Your ability to uncover the topics your readers are searching for is at the core of writing a perfect blog post. Here are three ways you can use to learn about your readers' needs:
Research questions on Quora.com: Enter a topic into search field to see dozens of relevant questions.
Use autocomplete feature of search engines: Start typing words into search field to display suggestions based on millions of related searches.
Run a survey or poll: This one is only suitable once you have a sufficient amount of readers, that you're able to address directly via email or your social media accounts.
2. Write an Appealing Post Title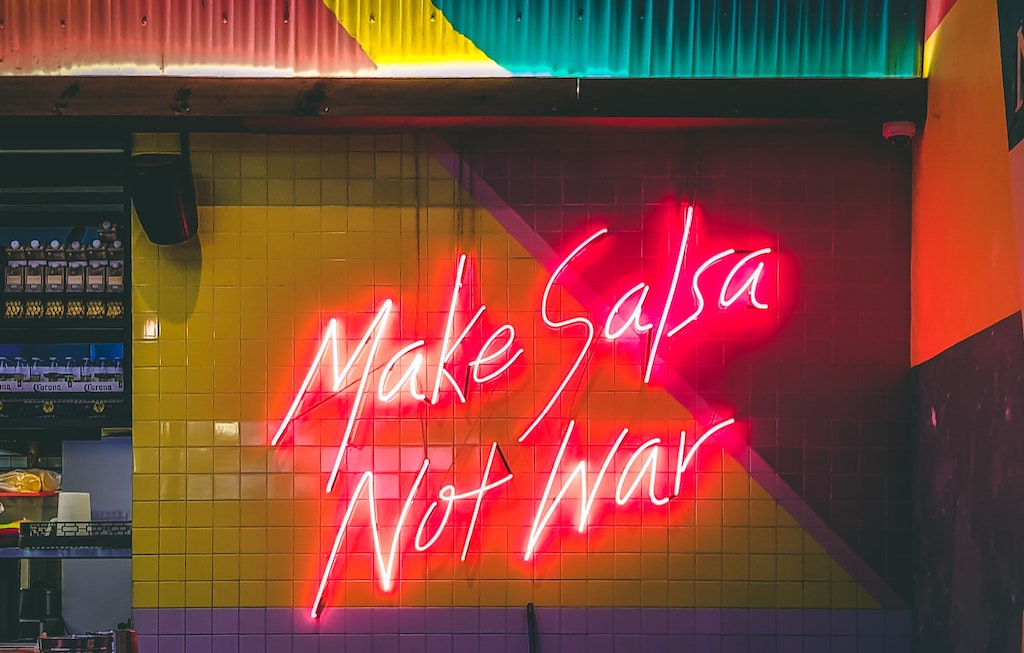 Source: Unsplash
Post title, or headline, is the first thing your readers see and helps them decide whether they want to click on it and read the post, or simply move on unimpressed.
That's why it's very important to master the skill of writing strong, appealing or even outrageous post titles that will represent and promote your posts in search results and on social media.
Start with a working title
Most beginners spend a lot of precious time by trying to craft the perfect headline even before they wrote a single sentence of their new post. This is very unfortunate, because the content itself can help you a lot after you read your finished article.
So instead of staring at a blank page for hours, start with some working title that you will change later. You will probably change the title many times anyway, so there's no need to get it right at first try.
Create a simple and short permalink
Another aspect to consider is a permalink, the fixed URL address from which your post is accessible. The best strategy is to always start with a very simple title that will make a short permalink.
For example, the permalink of this post is: how-to-write-blog-post. It's slightly different from the current title of the post (How to Write a Perfect Blog Post), but it doesn't matter as long as the similar meaning.
I can decide to update the post later and change the title by adding "in 2021" or "This Year" at the end, but the permalink will stay the same, so the URL address will stay valid and functional.
On the other hand, if I included "in-2021" in the permalink, I couldn't change the URL later, because it would result in broken links, and I couldn't change the title by adding "in 2021" either, because the title would contradict the permalink address.
Basic elements of captivating post title
If you really struggle with captivating titles, here are some ideas to help you out. These elements are widely used by all big blogs, so they should work for you as well:
Include the current year in the title
This simple addition will communicate to your readers that your post is new and relevant for the current state of things, it also stands out in search results as readers usually look for content that's not too old and thus might be obsolete.
As I already pointed out above, though, including the current year works only with general permalink, so make sure that your permalink does not include the year.
Include "This Year" in the title
Not as strong as the current year expressed in number (like "in 2021"), but this approach has two advantages: a) You don't have to update the title each year, b) You can include the phrase "this-year" in your permalink.
Include the main keyword in the title
It's not always possible, but if you can squeeze the main keyword into the post title, it's helpful for your visitors and search engines as well.
On the other hand, most SEO tricks seem to be less important each year as Google is getting increasingly better at seeing through all these tactics, so the safest bet is simply quality content.
Experiment with subtitles
Once you have your main title ready, try to add a subtitle in parentheses. You can use secondary keyword or some unique indicator to help your potential readers understand what they can expect from your post.
My featured article's title is How to Build a WordPress Blog in 2021 (With SSL & 2FA). The subtitle here further reveals the content.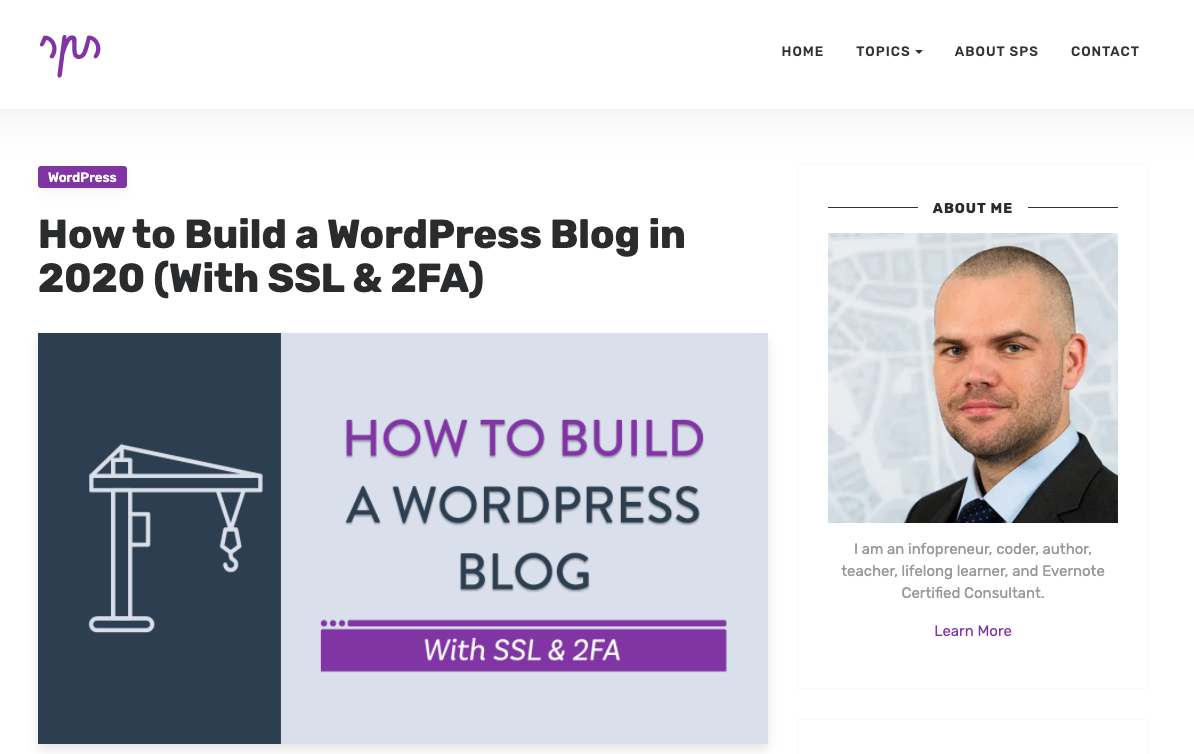 Take advantage of reader's curiosity
We are all curious and there's no way around it. It's a natural human characteristic and you can exploit it by teasing just the right amount of information about your post in the title without giving away everything. In other words, your post title should be exciting to retweet and share on Facebook.
Use a compelling featured image
It might sound strange, but featured image is actually an important part of the post title because most social media use it to create a media-rich snippet. That's why it's important to make sure that your featured image goes well with the title and the content of your post.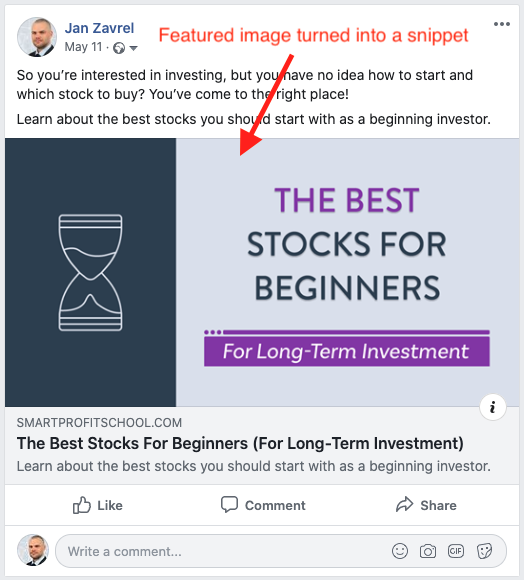 Some bloggers (me included) create their own featured images with specific layout, font face and color palette. This approach has two big advantages over random stock photos:
Custom-made featured image makes your post stand out and grabs the attention of your readers.
People prefer images to text while scanning Internet. We are simply better with pictures because our brain can process them quicker than a text.
Here's an example of my custom-made featured images created with Figma: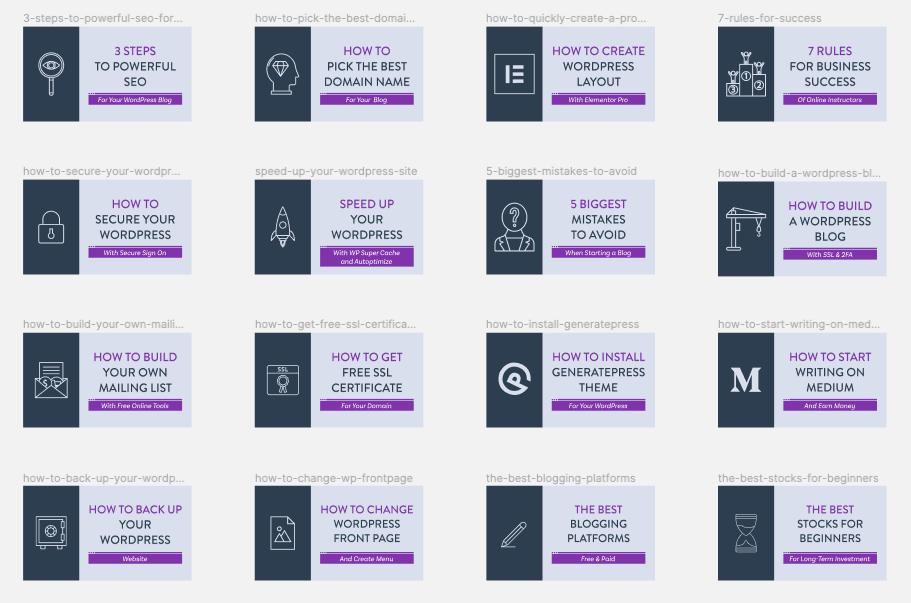 3. Make Your Post Mobile-Friendly and Well-Structured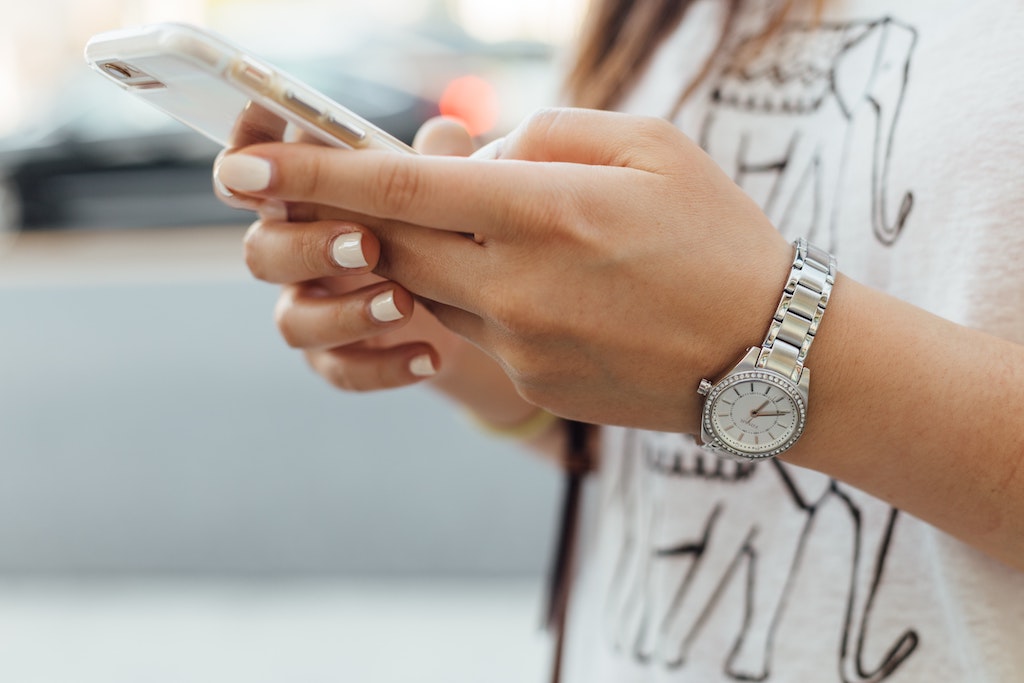 Source: Unsplash
It's a simple fact that we live with our phones attached to our hands these days. There's no way around this.
Gone are times when you could focus solely on desktop experience and mobile device were able to display only few lines of text.
These days, many people (and thus even your potential readers) doesn't even own a regular desktop computer or laptop, and if they do, they probably consume most of the web on smartphone anyway.
That's why it's crucial to make sure that your content is easily digestible on mobile device first.
Responsiveness & accessibility
Responsive design is the easiest way to deliver your content to different screens like regular desktop computers, laptops, tablet and smartphones.
The biggest advantage of this approach is that you create your content once and the rest is up to your theme of choice which will shuffle and hide elements based on the screen size of the device your reader is using.
Every modern WordPress theme like GeneratePress, Elementor or Astra will do the job for you automatically, but you might still want to consider transforming your text-based content into alternative forms to cover the needs of all consumers.
For example, I like to give my readers an option to watch the video if they for whatever reason don't want to read the text.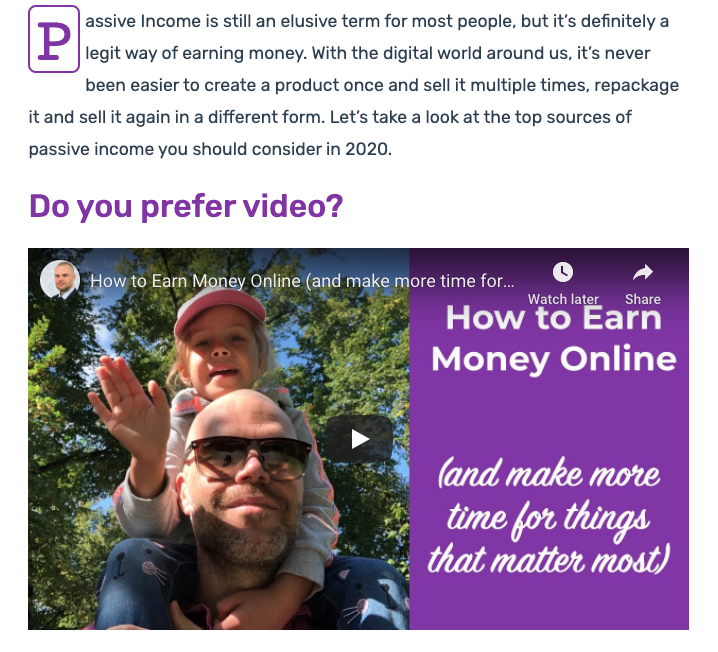 Some bloggers recommend turning your posts into podcasts or infographics as well. It's a great idea if you want to make sure that even people with reading difficulties can benefit from your work.
Content structure
A well-structured post is quickly scannable which is especially important for long posts. People almost never read everything from the first to the last word, instead they tend to quickly scan the content and pick what interests them the most.
This technique is called the skim reading and its goal is to quickly get a general overview of the material.
That's why it's important to write your articles with this in mind because if you manage to truly understand the behavior of your readers, you can better decide how to write your blog post and what is the ideal layout.
It's been shown that scannable and well-structured material has better usability compared to a traditional formatting with large blocks of text known from books.
The second big reason to craft a well-structured post is to boost your place in the SERP (search engine results pages).
Google's goal is to help everyone find the information they're looking for and its algorithms are getting better at identifying the absolute best content for readers.
Here are some basic tips to improve the structure of your post:
Create introductory paragraphs: You should have at least two paragraphs of introductory content that explains why the reader should care about your post.
Use headings throughout your content: You'll increase readability and skimmability of your post if you break it up with headings into chunks of about 300 words and keep each paragraph under 4-5 vertical lines of text
Write in simple language: It's worth considering the fact that two-thirds of Americans read at a fourth to eighth-grade level. Shorter sentences in active voice make your post easier to digest and understand. You can use Hemingway, Readable or Grammarly to instantly assess the grammar and readability of your text.
Include internal and external links: Use at least three internal and one high-authority external link in your post. Internal links keep your readers engaged on your blog while high-authority external links should offer further relevant information about the topic.
Use images: Try to place at least three images per article or a minimum of one image per 500 words, whichever is more. Don't forget to add the alt text, it's an important piece of information that signals to search engines what your post is about.
4. Be Authentic and Tell a Captivating Story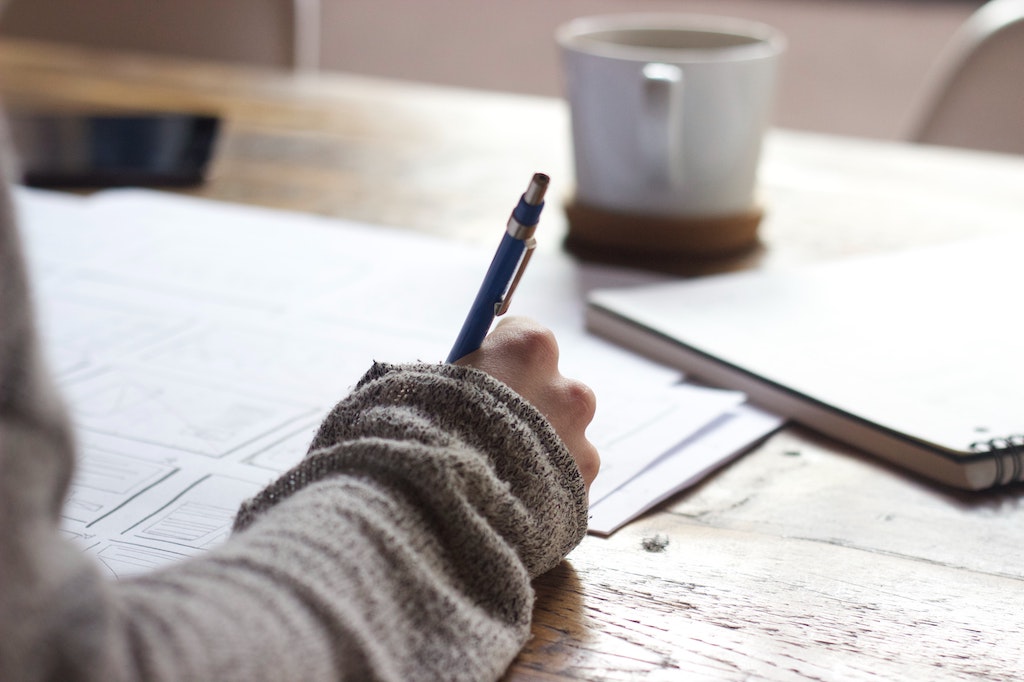 Source: Unsplash
In history, it was quite complicated to acquire scarce information. It took thousands of years from oral tradition to first printed books, and even at the beginning of this century, the main source of relevant and trustworthy information were libraries.
This all quickly changed with the advent of Internet and these days, we struggle with the opposite problem.
We have too much information available and it's increasingly harder to find honest, authentic and relevant sources.
People are getting more and more skeptical with all kinds of messaging, fake news, paid influencers and marketing tactics.
Trust is earned, not bought
In order to create a genuine connection with your readers, you need to earn their trust by providing authentic content. Being authentic gives you extra energy you would otherwise consume by faking it.
This will help you to differentiate your blog from others who prefer short-term wins by using sleazy tactics just to keep readers on their websites for some advertising money.
According to CM Commerce, there are 3 main benefits of being authentic:
Engagement: Authenticity encourages building strong and long-term relationships with your readers thus transforming them from a passive audience to active advocates.
Elevation: Authenticity also elevates your brand by making it influential and unique. Your readers are able to associate you with the benefits you are providing.
Emotional connection: Walking the talk helps you with building trust. Your audience can unravel your personal or business secrets with a few mouse clicks anyway, so it's better to be transparent and honest.
Radical transparency
Social media are full of successful people who constantly advertise their victories while hiding their failures. This approach makes it difficult to create a real connection for the rest of us, because it seems so hard to connect with someone whose perfect.
It's far better to get real, open yourself up, own your mistakes and become more approachable and likeable. Don't fake it, don't use special terms to sound credible, talk like a human and write the way you actually talk.
I know from my own experience that this is incredibly difficult if English isn't your native language. Nevertheless, English is the fastest spreading languagein human history, spoken by one in every four of us, so it's definitely worthwhile to work on your writing skills.
Here are some tips for total immersion in English in your native environment:
Set English as your primary language on your computer and mobile devices so you're forced to read English every day
Watch Netflix in English language with English subtitles
Read English books and listen to English audiobooks
Write English content regularly, articles, books, your personal notes, comments, everything counts
The more you practice your reading and writing, the better you'll eventually become, so keep at it, ideally every day.
Captivating story
We humans evolved as story tellers and listeners. Oral tradition helped pass knowledge, skills and experience to future generations, and we are hard-wired to enjoy and appreciate interesting and inspiring stories.
Good stories are also easier to remember than a bunch of number or list items.
The best content should be informative and entertaining and when you make it also authentic and unique, you'll set it apart from the rest of the run-of-the-mill generic posts.
This will help you create strong connection with your readers who will want to come back to you for more.
Every great story should have basic characteristics based on Campbell's book The Hero with a Thousand Faces. A hero usually ventures from mundane activities into an unknown world where he's forced to win the fight.
Then he returns to his known world transformed by experience and equipped with wisdom to share his knowledge with others.
To make your story similar to hero's journey, you should consider these main suggestions:
Make it simple to understand: It's hard to keep track of a complex story by both the reader and the writer. Keeping it simple helps you to convey your message.
Make it exciting and memorable: The more exciting story you manage to tell, the more memorable it becomes. Unique situations are always easier to remember.
Stir emotions with conflict: Conflict is an integral part of great story because it helps to create emotional reaction.
Use strong characters: Choose a hero or a villain but always have a strong character that your readers can either love or hate.
5. Use Figures and Numbers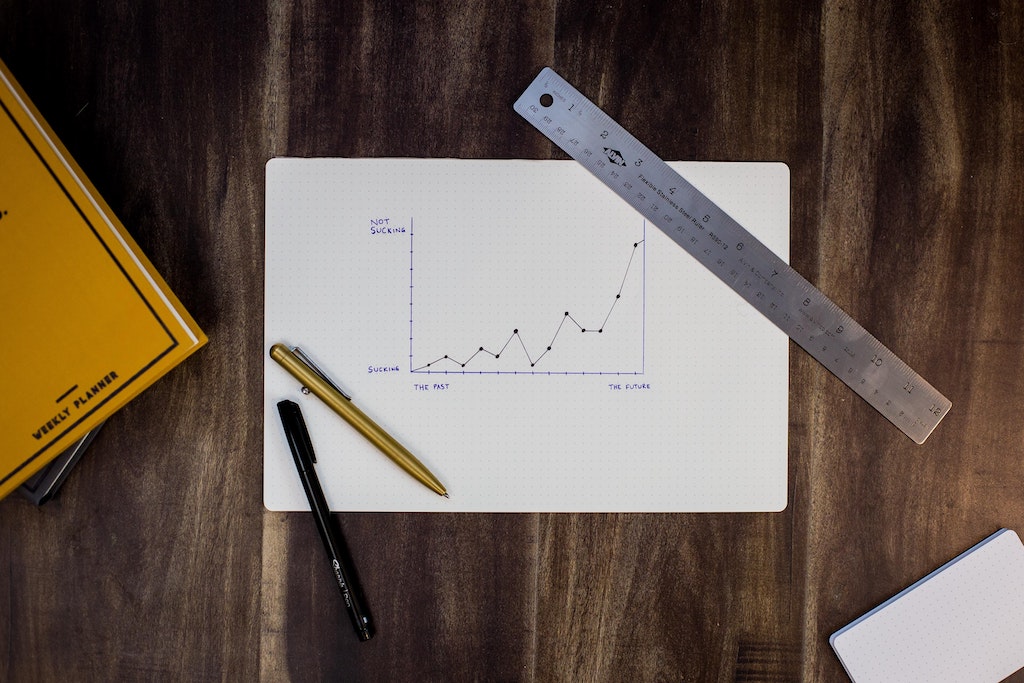 Source: Unsplash
You should always backup your claims with hard data. This helps you stand out and increase your credibility not only with your readers but also with search engines. Quality content with resources ranks higher in search results and increases your domain authority.
Creating digital content isn't necessary always about crafting original things nobody has ever seen before. More often, it's about repackaging what's already available and delivering it in a more exciting and digestible form.
One example would be comparisons of similar products or services that can help your readers with a difficult decision, especially if it involves a considerable amount of money.
I'm fully aware that starting a new blog involves a difficult decision about web hosting, so I wrote an extensive comparison of the best hosting plans suitable for WordPress including hard data like pricing, speed and storage space offered with each plan.
6. Provide Quick Answers
Have you noticed that when you search for something on Google, you'll get sometimes a direct answer instead of the just a list of links?
These enhanced search results which provide additional information are called featured snippets. To form these snippets Google uses structured data contained within the HTML code of your blog.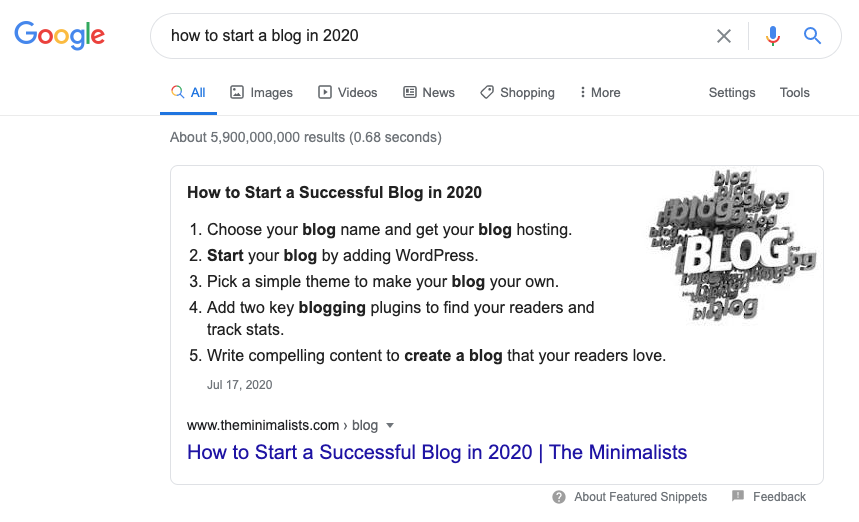 Google's algorithm is constantly evolving to provide the best experience for the users, so they want to come back with their next search. This over time resulted in three major types of these featured snippets, also known as zero-search results:
a paragraph which includes the answer right inside the box, often with corresponding images
a list (like one shown above) which offers tips or steps to requested solution
a table, usually providing some kind of comparisons
a video, as embed YouTube video playable right inside the result page
This new way of consuming content offers new opportunities for you when writing your blog post. Noticed the list of hyperlinked menu at the very top of this post? That's exactly how you should encourage Google to create featured snippet in the form of a list.
On top of that, each link points to the corresponding section of the post and I also included the same list in the sticky sidebar. This is primarily for readers because it allows them to quickly move to another section without scrolling all the way up to locate the main list.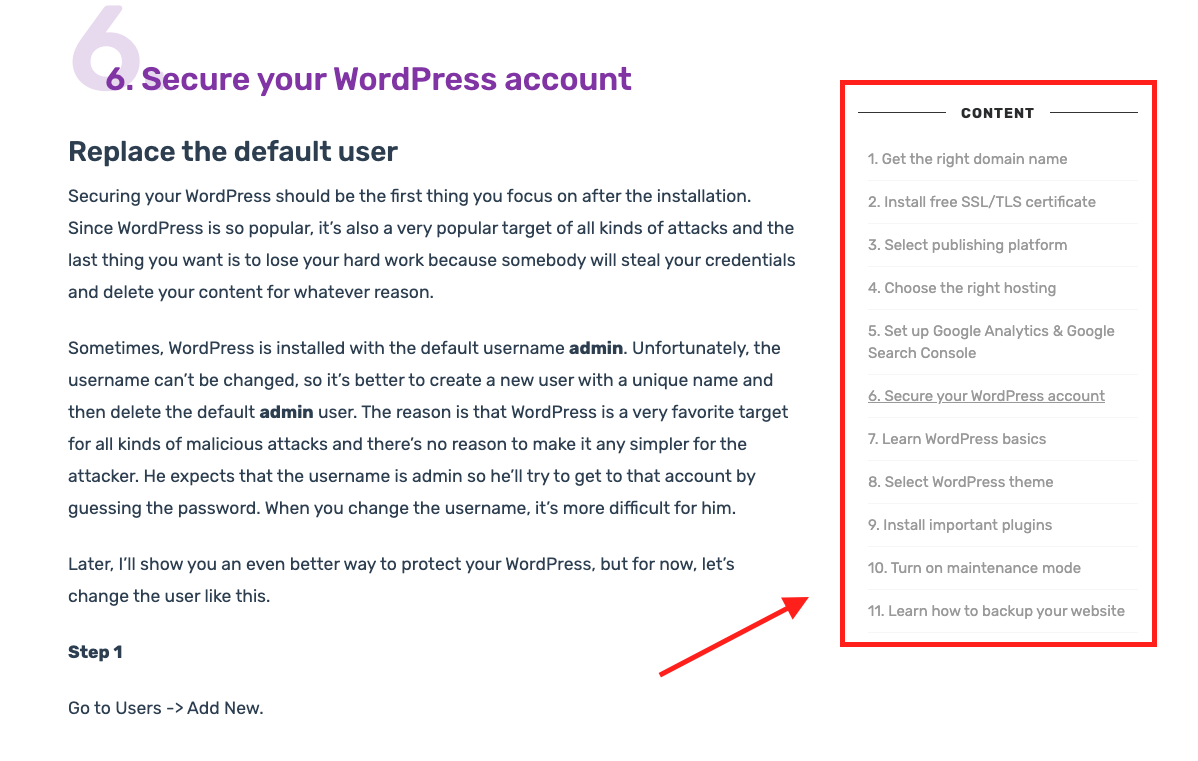 Another important feature of your blog post are summaries that will give your readers an option to click the question in order to reveal the answer.
Some questions and answers might be uninteresting or too obvious for a specific reader so there's no use in showing them in the main text.
It's better to keep the hidden so only those interested will reveal them on demand: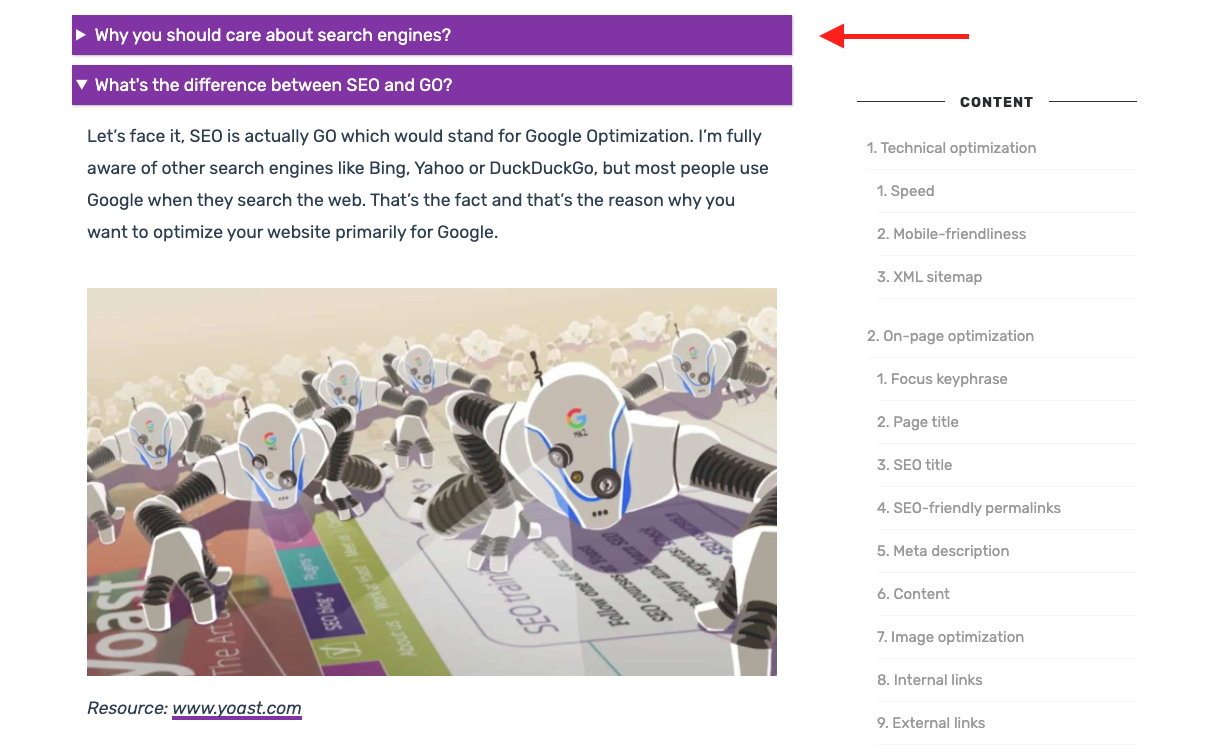 Conclusion: How to Write a Perfect Blog Post to Impress Your Readers and Search Engines
Even though the competition in blogosphere is getting bigger each year and it's increasingly harder to rank in search engine results, there's still one huge opportunity and it's authentic, well-structured, and mobile-friendly quality content.
Don't try to grow your audience by short-term sleazy tactics. Take your time and craft a perfect blog posts that will help you build long-term relationships with your readers. Give them the best content available, and they will gladly come back and even recommend your work to others.