Despite the fact that the quality of blog content is increasing, most bloggers still can't clearly articulate what their blogs are about and why they exist. Their About pages are either poorly written or largely neglected.
This is very unfortunate because a well-written About page can help bloggers better sell themselves to their readers.
Learning how to write an About page is a very important skill that can help you introduce yourself effectively to your readers and tell a compelling story about why your readers should care to consume your content.
In this article, I will walk you through the most important steps of writing a perfect About page and it doesn't matter if you're just starting your blog and didn't write your About page yet, or if you're a seasoned blogger who feels that his About page needs a face lift.
If you're just starting and don't have your blog yet, stop right here and read How to Start a Blog where I explain exactly what to do to get you up and running. Don't worry, this article will wait here for you 🙂
Disclosure: Please note that some of the links in this post are affiliate links for products I use and love. This means if you click on such a link and take action (like subscribe, or make a purchase), I may receive some coffee money at no extra cost to you. This helps me creating more content free of charge to you. And, as an Amazon Associate, I earn from qualifying purchases. Thanks for your support!
How to Write a Perfect About Page for Your Blog in 5 Steps
1. Choose appealing layout
The first aspect you should consider when creating an About page is the overall blog layout.
Your About page is one of the key pages on your blog, so it should impress the readers, in other words, it must be compelling and attractive. It should always communicate your mission and personality.
This means that you should accomplish these three main goals:
Respect your brand. You might not have realized it yet, but as a blogger, you are your own brand. Your About page should be consistent with the rest of your blog regarding your copy, visuals, branding colors and other aspects of your website that uniquely identify you.
Spice up text with images. To keep your readers engaged, you should balance your text with graphics. Too much text tends to get boring, so you should use a good amount of eye candy while still providing enough education through the text content.
Don't break the flow. Make sure there's a good flow of ideas, especially when you move between different sections. Breaking the flow can lead to distraction and your readers might abandon the page altogether.
2. Make a great impression with the Hero section
Hero is a prominently placed image or photo that presents your blog's most important message. It should help your readers to identify with your vision.
In the hero section, you'll want to focus on these three important objectives:
Greet your readers. Try to speak directly to your readers in a friendly tone and make sure your greetings is personalized based on your target niche.
Explain your value. Explain why it's worthwhile for the visitors to read your content and what it brings to them.
Introduce yourself. Tell your readers in short who you are, what you do and why.
Offer your content-relevant story. Write more about yourself, but try to keep the content relevant to your blog. If you're running a blog about car tuning, it's not relevant to write about your other activities, like fishing, extensively.
Start with a great photo of you
Have you ever considered the main reason why people search for information on the Internet? In general, it's because they try to find a solution for their problem, whatever that might be.
With a great photo, you have an incredible opportunity to position yourself as an authority and a solution provider your readers are looking for. Here's the example of my hero photo: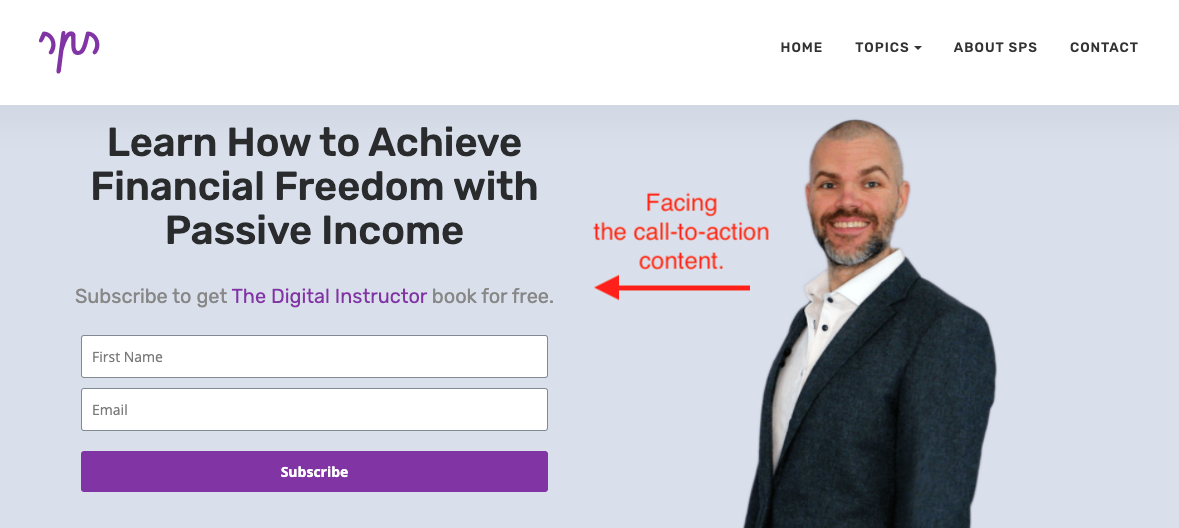 Your hero photo can say a lot about you and it can even work as a trust-building tool. Here are some tips for taking a great hero photo:
Consider where you look. You can look straight into the camera, or you can focus on call-to-action text. The first option makes it feel like you're looking directly on your readers. The second option directs the attention to the call-to-action button or sign-up form. Or you can compromise here, looking directly to the visitor, but facing the form, like in the example above.
Show a big smile. Your visitors can't help but expect friendliness when they see you smiling. Make sure to look friendly on your hero photo by showing your teeth. Your smile should be honest, though, because people can easily detect fake smile.
Don't play, be yourself. There's a delicate line between being yourself and playing a hero. Especially when you shoot a hero photo, it's hard to stay yourself and not overdo it, but it's well worth it.
Prove your authority
There are probably many websites in your niche, so visitors can choose who to follow for information and advice. You need to prove that you're worth listening to and that your advice is trustworthy and legit.
One of the best ways to prove your authority is to show your readers what you have achieved and that you are recognized by others. You can even brag a bit, but most importantly, you should provide links to some of your content, if you have any.
If you're just starting, this might be quite challenging and you simply need to wait until you have something to show. However, make sure to add this section to your About page later, because your readers must know that you've already walked the path you're showing them.
People always look for the advice from someone who's already accomplished what they're looking to achieve.
I don't brag too much about my achievements, but I provide relevant links to my Udemy and Skillshare content, as well as the list of my books and multiple projects. If you have your own digital business card, you should present it too.
3. Propose your value
Every visitor of your website will ask himself a simple question: "What's in it for me?". There are many other activities they can do instead of reading your blog, so you need to give them the right reason to drop everything else and dive into what you have to say.
Ideally, you want to describe the content of your blog in a single sentence prominently placed on the landing page so your readers know immediately what they can expect from you. It clearly conveys what you have to offer and what your audience will gain by following your website.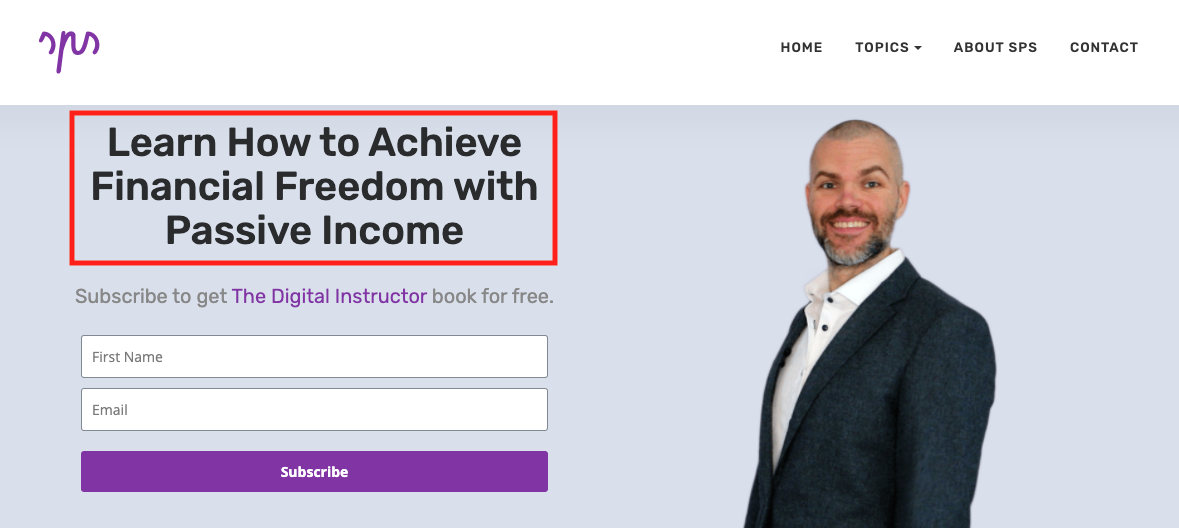 In the screenshot above, you can see my single-sentence value proposition: "Learn How to Achieve Financial Freedom with Passive Income". These nine words help visitors to decide whether my promise resonates with them before even taking a look at my About page. Smart Profit School is a project focused on passive income and people search for ways to earn money to ultimately achieve financial freedom. Here's everything in one sentence.
There are two main reasons why it is really important to articulate your value proposition:
It demonstrates the benefits of reading your content. Readers must be able to quickly find out what they will gain from keeping coming back to your website. There's no better way to express this important message than to put it on a prominent place of your blog.
It sets you apart. You're not alone and the competition is fierce. Your value clearly communicated value proposition helps you differentiate yourself from the others.
4. Tell a relevant story
While it's important to introduce yourself to your readers, you don't want to bore them with irrelevant parts of your life. Try to make your story short and to the point.
You don't have to brag about your achievements, it's better to show your scars instead and talk about your failures. Failures are necessary part of the success and sharing them might help your readers understand this important rule.
Write about why you're doing this. What made you starting your website? What are your dreams and goals behind it? What motivates you? What do you want to achieve?
Make sure to use interesting and fun approach. A bulleted list of failures and achievements won't cut it. People love reading interesting stories, it's hard-wired in us. Try to write it like you would tell it to your buddy, be honest and don't be afraid to make a fun of yourself.
5. Suggest the next action for your readers
By now, your visitors should be quite familiar with you and your goals. Don't expect them, though, to find their way to other content on your blog on their own.
That's why you should use your About page as an opportunity to suggest what they should do next. For example, you can let them know about your most important posts or ask them to connect with you on social media.
Now it's time you start working on your About page! I hope this guide inspired you and gave you some ideas. If you're using WordPress for your blog, you might want to check my Mastering WordPress course where I explain how to create About page with Gutenberg editor.