In this ultimate guide for total beginners, I will show you step by step how to start a blog and grow it from nothing to a million-dollar business.
You will learn how to use WordPress and discover the proven methods to make profits from your WordPress blog.
Successful bloggers earn regularly over $10,000 per month just from blogging. You can be one of them and it all depends on how much time and effort you are willing to put into it.
Disclosure: Please note that some of the links in this post are affiliate links for products I use and love. This means if you click on such a link and take action (like subscribe, or make a purchase), I may receive some coffee money at no extra cost to you. This helps me create more content free of charge for you. And, as an Amazon Associate, I earn from qualifying purchases. Thanks for your support!
Blogging FAQ
Before we dive into details, I want to explain the most important aspects of blogging by answering these frequently asked questions:
1. What is blog?
A blog is an online journal where people frequently publish new content about specific topics. The content of the blog is typically written in a conversational style.
Blogging is a process of regularly updating the blog with new posts with the goal of attracting readers.
Blogging helps you to share skills, ideas, and thoughts and it enables you to easily share the content on the Internet.
History of blogging
First-ever blog was probably created in 1994 by Justin Hall. His Justin's Links website is still active to this day and Justin even retained the original look & feel.
The term "blog" was coined 5 years later in 1999 by Peter Merholz, who shortened the original "weblog" that reflected the process of "logging the web".
People initially started free blogs on free blogging platforms like Blogger because they wanted to share their ideas.
Later, with platforms like WordPress.com, it all became much easier, and blogging became a side hustle and online business.
Looking back to 1999 when only 23 blogs existed on the whole Internet, it's staggering that in 2022 there are over 600 million actively maintained blogs on the web.
Blogging is a vibrant world with lots of opportunities, but you need to learn how to navigate it, so you won't get lost.
According to SEMrush, longer headlines get 5x more backlinks, articles over 3.000 words get 3x more traffic and listicles bring the most traffic and shares.
If your head is spinning now from these terms, don't worry, once you finish this article, you'll know exactly what this is all about.
Anatomy of blog
A blog can include various features, but most modern blogs have this common structure:
header with logo and navigation bar
main content with the list of posts
sidebar with ads, social icons, and popular content
footer with links to important pages like privacy policy, disclaimer, and contacts
Here's an example of typical blog structure with all the basic elements:
Blog elements
A typical blog has two main types of content:
posts (regularly created and updated articles chronologically ordered in a list)
pages (unordered stand-alone content with less updates)
A blog can also contain these additional features:
widgets (a block of content that you can add to header, footer, or sidebar)
comments (reactions of readers typically placed at the bottom of the post)
media (mostly images and videos placed in the posts and pages)
links to internal content of the blog or to other websites
2. Why should I start a blog?
There are many different reasons why it's a good idea to start a blog and it doesn't have to be just about making money.
Here are top reasons people and companies are starting new blogs every day:
to inspire your readers and influence them in a positive way
to improve your writing skills and develop a unique style
to acquire a new knowledge through the act of building a blog
to build your brand and grow online reputation
to gain a trust by providing quality and valuable content
to make a living by generating passive income
to meet new people by exposing yourself to blogging communities
3. Why is blogging so popular?
There's a quite simple answer to this question. Blogging is so popular because there is increasing demand for new content produced in the form of blog posts.
One would think that with over half a billion of blogs worldwide and nearly 40 millions of active bloggers in the US alone, the whole blogging market is already saturated.
The truth is that roughly 410 millions of internet user are reading over 20 billions of blog posts every month. This staggering number suggests that blogging is far from dead.
According to OptinMonster, 77% of internet users worldwide are reading blogs and, in the US, they prefer blogs over emails three times more.
Unlike corporate website and advertisement campaigns, blogs are consistently among the most reliable sources of online information. People seem to trust the authors of the blogs and follow their recommendations.
4. Isn't it too late to start blogging in 2022?
Blogging is here. It's extremely popular and it's not going anywhere. So, if you find a niche you are passionate about, it is not too late to start this year or next year.
According to recent survey, blogs are the most popular format among content marketers because producing blog posts help them achieve their marketing goals.
If you want to educate, share personal experiences and ideas, give professional advice, or even advertise your brand, blogging is an amazing outlet for you.
5. Can I still make money from blogging in 2022?
Yes, Ryan Robinson, is one example of successful bloggers who make considerable amount of money and there is no reason you can't be the next one with enough perseverance, discipline, and quality content.
Another great example is Adam Enfroy, who started his blog in 2020 and managed to grow into a million-dollar business in only couple of months.
So, it is possible to make money from blogging in 2022, however, be prepared for an extremely hard work.
6. Can I start a blog without any experience?
Yes, you can! Blogging is no longer for people with technical experience who understand web technologies.
You don't need to know more than how to fill out forms and use buttons. With the right hosting and blogging platform, blogging is quite straightforward even if computers are not your cup of tea.
I created this ultimate guide for total beginners and made it quite easy to follow and understand, so don't worry. I will walk you step by step through everything you need to know to start your blog today.
7. How much does it cost to start a blog in 2022?
This heavily depends on your technical skills, willingness to learn new things and how much time you have.
If your budget won't allow to pay for hosting, you can start your blog for free, with some limitations regarding features like comments and some plugins.
If time is your primary concern and you want to start writing as soon as possible, then quality web hosting will cost you around $150 per year, plus domain name for around $10 per year.
In any case, I will give you some ideas and recommendations, so you won't spend more than you absolutely need to.
All right! Now that you have the answers to the most pressing questions about blogging, let's jump into the details of starting a blog in 2022!
10 Easy Steps to Start a Blog in 2022 and Make Money:
To help you getting started a blog, I prepared these 9 easy-to-follow steps. Please, don't skip and follow them carefully to create a strong foundation for your new blog.
I carefully reviewed each step and put there only the most important things you absolutely can't afford to miss.
Step 1: Choose a profitable niche
Do you know why 99% of the new bloggers quit only after few months after starting a new blog? They don't understand how to choose a profitable niche.
They pick a niche that is too broad, or they pick a niche that's simply wrong. If you want to avoid this situation, read following lines carefully.
What is a blog niche?

A blog niche is a specific topic you write about for your target audience.
Why do you need a blog niche?

Because if you stick to a single niche, you are guaranteed that readers interested in one post will be interested in your other posts as well.
5 Tips for Picking a Money-Making Niche:
1. Choose a topic you enjoy writing about
Let's start with a bit of brainstorming here. Sit down and think about your hobbies or what you like to do in your free time. Can you imagine writing a blog about it?
If you can't come up with anything right now, don't worry and try these tips by Bloggingwizard:
Look at the objects in your room or house, things that you own
Think about what you like to do daily
Go through the websites you frequently visit
What kind of articles do you like?
How about the popular products you ordered recently?
Once you have at least few ideas, it's time to validate them. For that, you should consider three factors:
Passion: pick a topic you're passionate about
Readers: pick a topic people want to read about
Money: pick a topic with money-making opportunities
Ideally, you need to find a topic, which has all these three characteristics:
without readers, you're not going to build an audience and earn money
without passion, you will struggle writing content on regular basis
without products that you can sell, you won't earn any income
2. Focus on a single topic
Pick a single topic and try to narrow it down to limit competition. If you select a niche that is too broad, you will have to compete will millions of blogs covering the same topic.
It's far easier to succeed with extremely narrow niches. Don't worry, you will still get a lot of readers if you create exceptional content for a relatively narrow niche.
Niche down as much as possible to build authority blog in small niche with less competition.
Click To Tweet
Here's an example:
making money is extremely broad topic with huge competition
making money online is a bit narrower but still too broad
making money online with affiliate marketing is narrower still
making money online with WordPress affiliate programs sounds much better
making money online with WordPress hosting affiliate programs is even more specific
making money online with WordPress managed hosting affiliate programs is more specific still
Can you see the pattern? Niche down as much as possible to build authority blog in small niche with less competition.
3. Identify your readers
Think about it. Why people use Google and other search engines? Because they try to find a solution to their problems. Your goal is to offer that solution with your blog post.
To offer the best solution for your readers, according to Treefrog you need to take these 7 steps:
Learn who your readers are: their age, income, gender, values, interest and location
Determine what your readers want to accomplish: saving time, building a business, helping others, protecting their family
Idenfity what problems may get in their way: lack of time and money, bad advice or strategy
Understand how their problems make them feel: overwhelming responsibility, lack of experience
Offer a clear solution to your readers' problems: your products and services must eliminate frustration
Outline the steps your readers must take to solve their problems: create a strategy, discuss your plan, schedule a call
Describe a successful outcome: explain how your solution will change their life
4. Use Pat Flynn's 7/7/7 exercise
Pat Flynn, the founder of Smart Passive Income is the author of the so called 7/7/7 exercise which will help you uncover a list of ideas that could become the basis of your business.
You need to brainstorm ideas in three categories:
Problems you want to solve
Passions that drive you
Things you are afraid of
The point of this exercise is to have a framework for generating powerful ideas. Some of them could eventually turn into working business models.
Watch this video where Pat describes the whole exercise in action:
5. Use the "3 Questions" method
Bloggingwizard suggests that you try honestly answering these three questions:
Will I love writing about this one year and 50+ posts from now?
Are there other people who want to read about this topic?
Can I make money from this niche?
The first question forces us to face the harsh truth that consistently blogging about a specific topic is hard work. There's a risk that after the initial excitement of starting a blog has passed, you won't be interested in this as much or at all.
The second question is important to figure out whether there are any other people except you who want to join you. If you want to write just for yourself, forget about blogging and start a diary instead.
The last question focuses on money. If there is a topic you can stick with, and if there is an audience interested in this topic, will it also make you money?
We will cover the money-making potential of blogging later, but if you still struggle with your niche after putting all these tips to work, here are 50 niche ideas to get you started.
34 Niche Ideas for Your Million Dollar Blogging Business
You're welcome to feature this image on your own blog, just link back to this post, please 🙂
Choosing the right niche for your blog is not an easy task. Take your time and don't rush it. You're risking that you won't be able to stick with blogging if you choose the wrong niche.
On the other hand, if you just want to start blogging right away, pick any of the niche ideas listed above that interest you. It's better to start blogging about a topic you might abandon later, than not to start at all.
Remember that blogging consistently takes practice which you gain only by actually writing your blog.
Step 2: Choose your publishing platform
Once you have your target audience and blog niche, it's time to decide on what kind of publishing platform you want to use for blogging.
In this step, you will learn what publishing platforms are available for bloggers and you'll get a chance to pick the one that will suit you the best.
Static or dynamic website?
There are two main ways you can create and most importantly publish your content. You can use a regular CMS (content management system) like Drupal, Joomla, or WordPress, or you can choose a static site generator and create a static website hosted on GitHub and deployed on Netlify or Vercel.
It's all about one simple question: Who's generating the content of the website?
If it's you on your own computer then the result is a static web. If it's a web server running somewhere at the datacenter of your hosting provider then the result is a dynamic website.
A static website means more manual work for you, but you can host them for free and on top of that, they are generally more secure and extremely fast.
What is a static website?

A static website is a website created with static generator. Static generator is a software that runs on your computer. Once your website is generated, you can upload to the Internet and that's it.

The main advantage of static website is security and speed. On top of that, you can have it hosted for free thanks to services like GitHub, Netlify or Vercel.

The main disadvantage is a rather complicated process of updating the content of the web.
The second option is a dynamic website, which is easier to set up for beginners, but it needs a database and a web server to run. A a decent hosting for your dynamic website is not for free, and you must take care of security as well as optimize your website for speed.
What is a dynamic website?

The main difference between a dynamic and a static website is how they are created. Dynamic website is created by the script from the data stored in the database.

To generate a dynamic website, you need a web server which costs money. That's why you need to pay for hosting services.

The advantage of dynamic website is the ease of content creation.

The disadvantage is a need to take care of security and speed.
What's better? Static or dynamic website?
Unfortunately, there is no definite answer to this question. Both approaches have their advantages and disadvantages. I personally tried both, and I run static websites and dynamic websites as well.
| Static website | Dynamic website |
| --- | --- |
| You don't need a paid hosting, you can host your website on GitHub for free. | You need a paid hosting with a special web server that can generate the content dynamically. |
| Very fast. | Speed depends on the quality (and the price) of the hosting service. |
| Very secure. | Security depends on the quality (and the price) of the hosting service. |
| You need some advanced technical skills. | You don't need any special skills. |
| Limited support, smaller community of users. | Great support from large community or users. |
| Complicated solutions for comments below articles and for searching inside the content. | Comments and search work out of the box. |
The main differences between static website and CMS.
Whichever way you choose, you should always consider good content management system or CMS.
What is CMS?

CMS is a web application that allows you to easily create the content for your website without writing a single line of code.
You can create both static and dynamic websites with CMS. In case of dynamic website, CMS generates individual pages directly, while in case of static website, content creation is decoupled.
If you want to create dynamic websites and choose WordPress for example, it will generate pages for you automatically and you can use it to write and update your content as well.
In case of static websites, you can choose the generator like Jekyll, Hugo or Gatsby and use the with CMS like NetlifyCMS, Forestry or Sanity.
WordPress
If you want to start a blog, but don't want to spend hours with setting things up and learning new technologies like GitHub repositories or Markdown, it's probably a good idea to join those 40% of web creators who use WordPress as their publishing platform.
Even though you would have to pay for hosting service, you'll get a solid system with a large community of users, so you'll always quickly find a solution to any problem.
I personally decided to build this blog on WordPress platform running on Cloudways for these reasons:
I want to focus primarily on writing content, not fixing technical issues
I want to be able to change the theme and layout instantly with just a few clicks
I want to see immediately how the final post will look like
I don't want to tackle with GitHub and static site generators
I want the ability for my readers to search inside the content of my blog
I want to have comments under my articles
These are things you can not easily achieve with free static websites, and I believe it's worth every penny you pay for hosting services to get them.
WordPress.com vs WordPress.org
To make it all a bit more complicated, there are two flavors of WordPress:
WordPress.com
WordPress.org
But I will tell you right from the beginning that the second option is better.
This means that you should absolutely avoid WordPress.com and get a quality hosting provider who will run your own WordPress installation for you.
Yes, you can download the installation package from WordPress.org, but there's no reason to do it.
Gone are times when you had to install WordPress manually, these days every decent hosting provider will install it for you automatically.
So now's the time to pick the right web hosting and that's what we will discuss in the next step.
Step 3: Pick web hosting and register a domain name
You can buy you domain name and web hosting separately, but since most hosting providers offer a new domain as a part of their deals, it might be better to consider option and save some money with a single purchase.
That's why the second step in starting a blog is to pick a suitable domain name while you sign up for a web hosting plan.
What is a domain name?

A domain name is an address on the Internet where people can find your blog by typing that address to the web browser.
Why do you need a domain name?

Because with your own address you decide what people will find there. As long as you pay for it, a domain name is yours and nobody can take it from you.
10 Quick Tips to Choose the Best Domain Name
A memorable domain name that's relevant, easy to remember and type is what we are looking for when starting a blog. It's important to understand that the domain name is the first thing people will see when they visit your blog.
Not only that your domain name will define your brand and help you make a good first impression, but it will also impact your SEO. That's why it's important to think about it and try to find the one the fits your niche perfectly.
To make the whole process of choosing a domain name easier, I put together these 9 tips you can use to pick the best domain name for your blog:
1. Keep the name short and relevant
Your domain name should be short, relevant, and memorable. Ideally, it should consist of only one word, but two or three words are fine if you keep it under 20 characters. Anything longer makes it hard to remember for your potential readers.
2. Avoid third-level names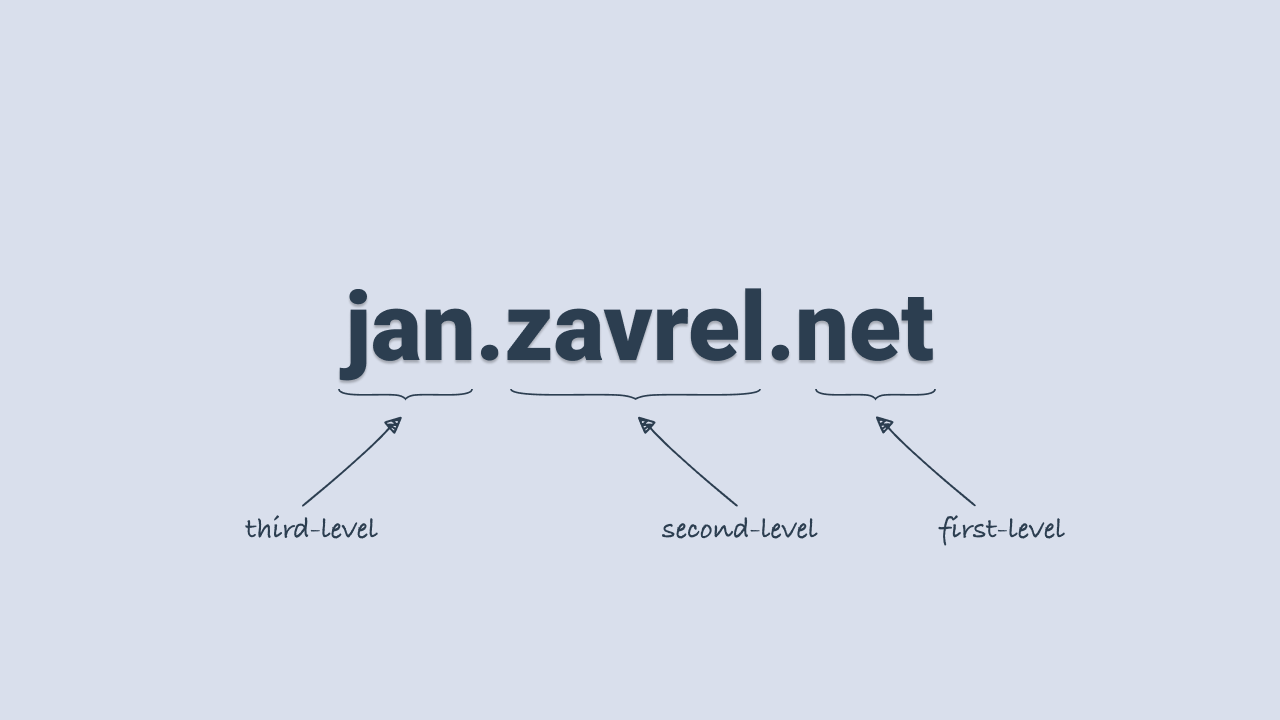 There are three basic levels of the domain name:
third-level name means that you don't have your own domain but use a domain that belongs to someone else, like yourname.blogspot.com or yourname.medium.com
second-level name means that you have your own domain that you regularly pay for, this is what you want
first-level name or TLD is the domain extension like .com or .net
Never start your blog with the third-level name like yourname.medium.com because even though it's free, you don't control this domain name.
Once the service like medium.com comes out of business, your blog will disappear as well.
Always buy your own second-level domain name like yourname.com to make sure that you are the owner of your domain name as long as you pay for it.
3. Avoid numbers and hyphens
Numbers and hyphens in domain name are a bad idea because they are usually used by spammers. You don't want your domain to be associated with such kind of behavior so make sure that there are no numbers and no hyphens in your domain name.
With numbers, you need to explain how they are written. Is it 4season.com or fourseasons.com? This kind of confusion is unnecessary, so avoid it right from the bat.
4. Avoid double letters
Double letters make it hard to pronounce your domain name and they make it prone to typos. I struggled with this aspect when I was looking for the domain name for this very blog. Millionairereport.com didn't sound right so I opted for the playful modification with just on re instead of two, hence millionaireport.com
5. Use keywords from your niche
This is a well-known tip, and you can see its application almost everywhere. Can you describe your niche with one word? Great! That is your keyword, and you should register a domain name that contains this keyword.
As an example, I have a blog about online business and passive income. I was lucky enough to secure a domain name smartprofitschool.com for it. Another example is codewithjan.com, my blog about programming that contains the keyword code.
Blogs about WordPress notoriously have a wp shortcut somewhere in the domain name because it works as keyword too, like wpbeginner.com, wpcrafter.com, or even my own todaywp.com.
6. Make the name easy to spell
You might want to share your domain name when speaking to someone. For such situation, it's a good idea to choose a domain name that can be pronounced and spelled easily.
This is even more important if you are planning to use your domain name for a business email address like info@todaywp.com. Any listener must be able to understand the name as you spell it.
7. Check if the name is available
Domain names have their own value, short, memorable domain names that include famous keywords are usually already registered.
Once you get an idea about your domain name, go to registrar like Porkbun and type the name into the search bar to find out if it's available for registration or if it's already taken.
8. Always prefer the .com extension
Even though there are dozens of fancy domain name extensions like .blog, .io or even .photography, the oldest .com, .net and .org are still considered the best choice because they are the most credible of all.
The .com domains are also the most memorable. If you omit to mention the extension when sharing your domain name with someone, they will automatically type the .com domain.
Unfortunately, everybody is aware of this fact and the .com domains are hard to find. If the .com variant is already taken, you can choose .net instead. For services, you can use .io, but always prefer the .com extension if available.
Again, I was extremely lucky to grab smartprofitschool.com and todaywp.com, these are my most precious jewels.
9. Use domain name generators
If you are struggling with ideas for your domain name or if it seems that every name you try is already taken, consider domain name generators like DomainWheel.
This free service uses AI to give you instant ideas and helps you get the best domain name for your blog in three easy steps:
Enter one or several keywords. It can be any mix of letters or actual word.
Pick a domain. Choose from various blog names from your input.
Register new domain with domain registrar.
10. Grab it while you can
Make sure to act fast once you find the domain name that suits your needs. There are 144 million .com domains and there are over 100.000 domains registered each day.
Great domain names are rare to find and if you don't grab them while you still can, be sure that some else will.
Since domain names are relatively cheap, it's better to be safe than sorry. Just buy the domain name for 1 year so you can let it expire if you change your mind later.
How to Choose the Best Web Hosting for Your Blog in 2022?
What is a web hosting?

Web hosting is a service that makes your blog accessible over the Internet so other people can reach it, read it and leave comments.
Do I need a web hosting?

Yes. Without web hosting, nobody can see your posts. You might be able to use your home network to publish your blog to the Internet, but this is quite difficult and not very secure.
How much does it cost to buy web hosting?
What is a shared web hosting?

Shared web hosting means that you share resources with other websites, thus, you get less performance but also cheaper price. Not all shared hosting is the same, though. A decent shared hosting providers are Bluehost, Dreamhost and SiteGround.
What is a managed web hosting?
3 Steps to Select the Best Web Hosting for Your Blog
To select the best web hosting for your blog, you need to answer these three questions:
Do I need a professional WordPress support?
If you're tech-savvy, chances are that you will find it quite easy to navigate through WordPress interface without the need of professional help.
I published a comprehensive WordPress Guide for total beginners that will walk you through all the basic aspects of WordPress publishing. This might very well be all that you need.
However, there might be a situation, when you really need a Pro to help you quickly, like when your blog is hacked. In such case, cheap online support that usually comes with shared hosting isn't the best choice.
To lower the cost of the hosting, cheap hosting providers can't afford real WordPress professionals, let alone developers and you'll probably end up with a student who is only a few steps ahead of you.
Do I need automatic backups and updates?
Managed hosting providers manages your WordPress for you. This usually includes regular and fully automated backups and recovery of your whole website in case something bad happens.
Managed hosting providers will also take care of all the updates for you. This includes the updates of the core WordPress platform, plugins updates and themes updates.
Do I want to focus just on content creation?
It all boils down to a simple question. Did you start a blog to create a great content that will help your readers solve their problems or did you start a blog to spend most of your time by technical stuff, security features, updates, and manual backups?
If you want to focus just on content creation, it's probably better to pay more for managed hosting and let the professional take care of technical aspect of your blogging platform while you take care of the content.
If you don't mind taking care of the updates and backups and if you're tech-savvy, you'll be fine with cheaper hosting.
In any case, performance should always be your top priority, so make sure to choose the web hosting that's fast and delivers your website with optimization techniques in mind.
10 Best Web Hosting Plans for WordPress in 2022
I regularly update my list of 10 best web hosting plans for WordPress which I published on my WordPress-focused website TodayWP.com.
I explain in detail the real differences between managed and shared hosting plans and compare them by these criteria:
reliability (uptime)
performance (loading speed)
security (backups and updates)
support (response time and skills)
If you want to select one of the best web hosting currently available for your WordPress blog, make sure to read that article.
Step 4: Give your blog a fast and modern look
It's no surprise that Google cares about the speed of websites. Speed and loading times are one of the most important factors of page ranking.
This means that the speed of your blog has a profound impact of SERP position, but it also defines the overall experience of your readers.
Internet users have a very short attention span and they won't wait for too long until your blog is fully loaded.
If you choose a bad theme that will slow down your blog, it can hurt your Google's ranking, but more importantly, people will stop visiting it.
That's why it's very important to consider the speed of the theme by testing it on a real blog that contains at least dozens of articles.
Vanilla version of the theme without any meaningful content can be very fast, but it will slow down as soon as you add some images, plugins, and other content. This is what you have to avoid.
How to choose a fast theme for WordPress
A fast WordPress theme must meet these three criteria:
It must be programmed by a professional who understands the highest programming standards and uses modern web technologies
It should be really light-weight and implement all the visual elements with the speed in mind
SEO must be the most important priority
It's always for the best to start with minimal theme with the least features and visual elements. Such theme will ensure fast page speed.
How fast should your blog load?

People are less patient and that's why your blog must load very fast. Readers demand content instantly. This is extremely important in case of mobile devices where every second wasted means a customer loss.

Your blog should load as fast as it's technically possible, but it should never take more than 4 seconds. Yes, you read that right! After 4 seconds, your reader is already gone and will probably never return to your slow website.
What else determines the speed of your blog?

Focus on the size of images, the quality of hosting and the number of installed plugins.

Before you decide to change your theme, make sure you solved the problems mentioned above. It may be that your theme is absolutely fine, but you just use too big images, or you have your blog hosted with cheap and slow provider.
How can you tell whether a specific WordPress theme is fast or not?

First, your theme of choice must be optimized for mobile devices so it must be based on responsive design approach. Its overall size should be small. It should not contain any images in high resolution, animations or any other useless eye-candy effects. These only make the theme slow.
17 fastest WordPress themes
Here's a list of the fastest WordPress themes that I personally tested and consider the best you can currently get. If you want to learn more about them, how I tested them and what results I got, make sure to read this article.
If you don't have time to go through them all, I will save you time and tell you that the fastest of them is Blocksy which I also picked for this blog.
Step 5: Set up About and Contact pages
Most bloggers are not able to specify what their blogs are really about and why they have decided to start blogging.
When you take a look at their About pages, they are mostly neglected or they contain the default text that comes with a WordPress theme.
That's very unfortunate and it can eve hurt your content if you miss the opportunity to craft the About page.
On the other hand, if you explain your readers who you are and what is your motivation, it can help you build long-term relationship with your audience.
If you struggle with the content for your About page, make sure to read this article where I explain how to write a perfect About page in 5 steps.
Contact page is another important part of your blog and it should contain at least a simple form where people can leave a message for you.
I really like Formspree, but if you like to stay within WordPress, then WPForms plugin might be the best option for you.
Check this video where I explain how to easily create simple contact form with Formspree:
Step 6: Secure your blog
You've probably heard that WordPress is a favorite target of hackers and maleficent attacks. Let's learn how to secure your blog to prevent these threats.
Securing your blog means that you need to focus on these three aspects:
Make sure that your blog is accessible only via secured HTTPS connection
Get rid of default admin user and create a unique username
Enable two-factor authentication for your administration dashboard
Get HTTPS and SSL/TLS certificate
Using old and insecure HTTP protocol will negatively impact your position on SERP (Search Engine Results Page).
Most modern web browsers will actively discourage users to access websites that are served via HTTP protocol.
These are the reasons why it's extremely important to have SSL/TLS certificate installed on your domain.
If you choose quality web hosting provider, you'll have this covered automatically, because SSL/TLS is usually a part of a hosting plan.
You will find this out easily by clicking the tiny lock icon in front of your URL address in the browser. Here, you should see that your domain has a certificate and pages are delivered via secured HTTPS protocol.
If you find out that you don't have a secured connection, you should immediately ask your hosting provider what's wrong.
Good provider should install SSL/TLS certificate for your right away and for free, but some providers are still trying to make money on this feature and want you to pay for it. In such case, consider moving your website to better hosting provider.
Create a Unique Username
To secure your WordPress administration section, you need to change the default admin user. Since you can't rename this user, you need to delete it and create a new user with administrator role instead.
This is quickly done in two easy-to-follow steps.
1. Add New User
Sign-in to your WordPress dashboard, go to Users, click All Users and locate the Add New button at the top of the page.
Choose any username you want, it can be any kind of text, even your email address, but it's for the best to use something that's hard to guess, something not connected to you in any way.
Use some really strong password. Ideally something randomly generated by a password manager like 1Password.
Finally, don't forget that the Role of your new user must be set to Administrator so he has access to everything.
When you're done, hit the Add New User button at the bottom of the page.
2. Delete Admin User
Once you have your new user created, you can log out from the administration panel and log in again with your new username and password.
Go back to the list of all user, locate the admin user, hover the mouse pointer over its row and click the Delete button.
Finally, choose that you want to attribute all content to your new user and confirm deletion.
That's all. Just these two steps and now it's far harder for the attacker to guess your username.
Enable Two-Factor Authentication
Now you need to further secure your account with two-factor authentication or 2FA. If somebody gets to your username and password, it still won't be enough for him to log in to your WordPress unless he also has your mobile phone with a unique one-time code.
Setting up 2FA is a bit more complicated than changing the default user, but it's well worth it and I created a detailed tutorial which will guide you through each step.
Step 7: Connect your blog to Google Analytics and Search Console
Google Analytics and Search Console are great (and free) tools that will help you make Google aware of your website.
They will also give you some important optimization tips and let you know if there's anything you need to fix.
I already wrote two detailed articles, so don't hesitate and dive in:
Step 8: Write your first SEO-friendly blog post
You've probably already heard that content is the king. You can have the most beautiful and fast blog, but without the content that people actually want to read, it's all for nothing.
Unfortunately, writing meaningful and attractive content isn't always easy. It takes time and practice to craft interesting and traffic-driving articles.
I have written many books and published dozens of articles and I've learned some important rules along the way.
Most importantly, you need to:
Get to know your readers
Write and appealing post title
Make your post well-structured
Be authentic
Use figures and numbers
Provide answers
Here's my article where I discuss all the aspects of perfect blog post, so dig in.
Step 9: Promote your blog and attract readers
Great domain name, fast and reliable hosting and even SEO-ready theme won't cut it if nobody knows about your blog.
Don't take me wrong, these are all very important things, but if you fail to get your content in front of your audience, it's all for nothing.
To help you with your blog's success, I put together these 15 proven ways to promote your blog:
Step 10: Start making money from your blog
Making money does not have to be the end game, but it's still nice to have some side income.
If you want to make money from blogging, you should consider these tips:
Use affiliate marketing and place affiliate links to your content
Use banner ads
Write sponsored articles
Write quest posts for other blogs and link back to your website
Use landing pages to sell digital products on your blog
There are many ways to monetize your blog, but you absolutely need to start with amazing content that will attract readers.