Your domain name is how your readers find your website so it's essential to have the right domain name. As your brand recognition increases, your domain name will be shared both online and offline, so if you choose it poorly, it will have a big negative impact on your future efforts.
If you're just starting and don't have your blog yet, stop right here and read How to Start a Blog where I explain exactly what to do to get you up and running. Don't worry, this article will wait here for you 🙂
Disclosure: Please note that some of the links in this post are affiliate links for products I use and love. This means if you click on such a link and take action (like subscribe, or make a purchase), I may receive some coffee money at no extra cost to you. This helps me create more content free of charge for you. And, as an Amazon Associate, I earn from qualifying purchases. Thanks for your support!
What makes a good domain name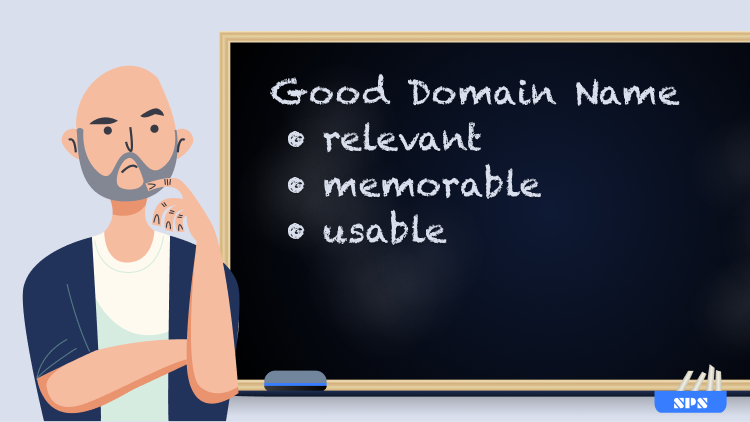 A good domain name must meet these three important criteria. It must be:
Relevant
Your domain name should be relevant to your business or activities in general. It can be your business name, your own name if you're building a personal brand, or it can be even a bit broader if you're not sure yet about your target audience.
Sometimes, your business name can be too long for a domain name, in such case, it's perfectly fine to creatively shorten it, but you must remain on brand.
For example, let's say your business name is Los Angeles Online Marketing Education. That's an awfully long name for a domain, so you can shorten it to the domain name lamarketing.com.
The more relevant your domain name, the better, even for SEO, so take your time before purchasing your domain.
When I started my programming website, I wanted something broader because I didn't want to be limited to only one programming language like JavaScript.
I also wanted to make sure that the domain itself will communicate the content to my readers without even seeing a single page. So, I came up with codewithjan.com which met these requirements nicely.
Memorable
Before sophisticated search engine algorithms came into play, all SEO experts recommended memorable domain names because they expect the users to manually type the URL into the address bar.
Later, address bar became a search field and these days, rarely we type the specific domain names at all. We tend to search the content based on keywords.
With that said, memorable domain name won't hurt, but don't expect that this alone will win you eyeballs. People don't remember the phone numbers of their relatives anymore, so they won't remember your website either.
As I already mentioned, your domain name should be short with common top-level domain like .com, .net, .io, and so on.
Usable
Usable domain name should increase a visitor's ability to arrive at your website. This means that you should avoid hyphens, special characters, and third-level names (explained below) that might hamper your chances.
It's also important that your domain name fits nicely into ads and plays with logo and marketing materials.
If your domain name is prone to typos, you should consider buying the typo domain as well and redirect users to the original name. For example, if you have the same characters next to each other, users might drop one of them, like in case of firsttrade.com users can land to firstrade.com by omitting the second "t".
You might also consider buying multiple variations of the same second-level name to prevent others from registering them. Let's say you register wordpressguru.com, why not get wordpressguru.org and wordpressguru.net as well?
Domain names are pretty cheap these days and you can redirect all visitors to your primary domain with .com TLD.
Similarly, if you use a number in the name, it's advisable to buy the version where the number is spelled out, like 1direct.com and onedirect.com.
What if the domain name is unavailable?
In such case, you might contact the owner to find out if he's will to sell it and what is the cost of purchasing it.
So, these are the basic tips in a nutshell, but if you want to dive deeper, keep reading.
As you probably understand by now, your blog name is a particularly important starting point that can make you either a successful blogger or a failure. Good domain name tells your readers about you and the topics you're writing about.
It might also help them decide right away whether they're interested or not in your content. If your website is your digital home, then the domain name is its digital address.
Name levels
I won't get into many technical details, but the domain name is basically a friendly representation of the IP address. IP addresses are generally extremely hard to remember, and that's one of the reasons why domain names came to life.
It's easier to remember my domain name smartprofitschool.com than the IP address 104.27.156.244. They will both lead to the same content, but we humans are usually quite good with stories and quite bad with numbers.
That's why Smart Profit School name tells the story without even reading the single line of its content while 98.45.66.15 tells nothing at all.
There are three basic levels of the domain names and since you'll probably encounter terms like third-level name, I want to make sure that you understand what it means.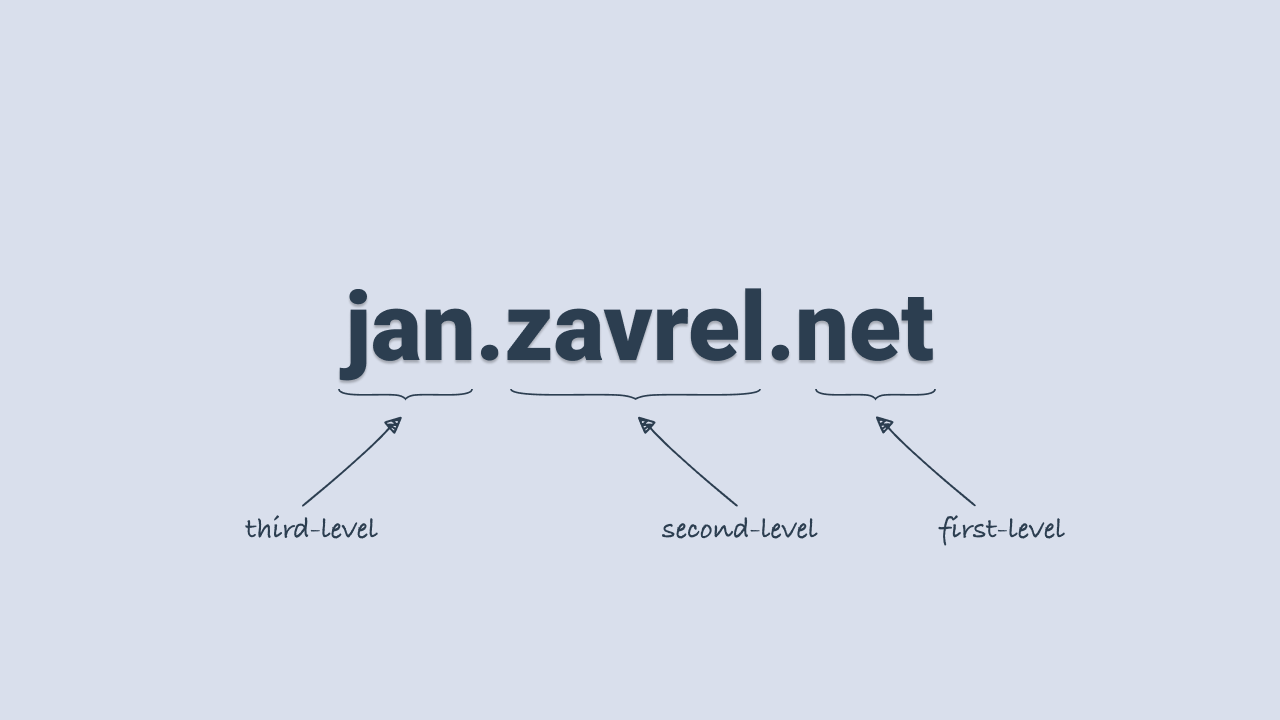 Third-level name
Some services offer free hosting along with a free domain name, but you should be careful. You want your own second-level domain name. What these services are usually offering is a third-level domain name.
For example, if you don't have your own domain name, Blogger.com will provide you with the domain name in the format: yourname.blogspot.com
Even though you might be initially happy with this, you need to remember, that this address will disappear along with the service once it comes out of business. You don't own this domain name, Blogger (or in this case Google) does.
Second-level name
A second-level domain name is not for free. You must pay for it, but you will be the owner of the domain name, and nobody will get it from you as long as you pay a yearly fee for the ownership. Prices are cheap, so there's no reason not to own a second-level domain name these days.
You can buy generic .com domain for just $2 per month which is cheaper than most coffees at Starbucks. Just give up one coffee a month and pay for your own domain instead.
Remember, you want to build a long-term relationship with your customers, and your own domain is an important part of this.
To buy a second-level domain name, you need to find a registrar who will do all the technical stuff for you. I personally use Porkbun.com for all my domains because it comes with domain privacy protection free of charge.
This means that no one can find out where you live based on your records publicly available via WHOIS services.
If you're not happy, you can always transfer your domain to different registrar later. Remember, it's your domain and the registrar provides only a maintenance for it.
First-level name
That brings us to a first-level domain also known as top-level domain or TLD which actually means just the domain extension like .com, .net, .org or national domains like .us, .de, .fr and so on. Obviously, you can't buy the first-level name, but it's a part of your second-level name.
Choosing the right name
When you land on the page of the registrar, the first thing he will need to know is your desired domain name so he can check if it's available or if it's already taken. Your domain name must be unique, there can't be two same domain names, ever.
And here comes the most difficult part of the whole domain name registration process. You need to decide what domain name you want to use. You can use a domain name based on your own name or on your business name or something entirely arbitrary.
This is a crucial decision, because over time you will build a business around your domain name, so you should choose something you can be happy with for a long time. Changing the domain name later is usually quite expensive and time-consuming if you think about all marketing materials and links you would have to update.
Keyword domain
Keyword domain means that you deliberately choose a domain name that includes the main keyword you want to blog about. To give you a few examples, let's say you want to start a blog about delicious food, in such case a keyword domain name would be something like foodblog.com or bestfoodjournal.com.
As you can see, the exact keyword "food" is included directly in the domain name.
It's been an undisputed fact for a long time that keyword domains rank better in search results. It might be true in the past, but these days according to Google, there's no significant difference between domains with and without a keyword in the name.
Nevertheless, when I was looking for the domain name for this blog, I took keywords into consideration. This blog is about teaching people how to make money online. Teaching goes well with school.
Money goes well with profit. I tried many different names but most of them were already taken as I expected. Luckily, I came up with Smart Profit School and the domain name with .com first-level was available, so I immediately grabbed it.
I still believe that keyword domain name makes sense because it immediately signals to a potential reader what is the main topic of your blog. As an example, when you search for ways to make money online, is it more relevant when the article is hosted on smartprofitschool.com or zavrel.net?
Which link would you click as first because you would think that the content would be more related to your query?
Market niche
It usually helps if you already have a specific focus and market niche in mind. Say you want to specialize in fitness, you should niche down to define your audience because teaching about fitness, in general, won't have much value.
Once you have your specialty, like for example "bodyweight training at home," you can try different combinations of this specialty until you find the domain name you like.
There's a risk, though. If you're not sure what exactly you are going to teach about, this niche-based name could limit you in the future. There's no shame in not having a laser-focus idea at the very beginning and many famous bloggers and online entrepreneurs solved this by using their own name.
So if you're just feeling around and looking for the right opportunities to grab as they come, the market-based domain name might not be the best idea and you should use your own name instead.
Blog content
Once you have your market niche, you should think about why you want to blog. Most of the time I hear about passion, but that's not enough. You need something more motivating, something that will get you through the phenomenon of Hitting the Wall.
I say you should treat your blog as a business. Do it because, in the end, you want to profit from it. If you like the process and enjoy building your online audience, that's even better.
Identify your reader
It's especially important to find the right crossover point between what you want to write about and what your reader wants to read about. It's not always easy but remember that you need to get to know and understand your potential readers so you can deliver primarily the content they like, not the content you like.
The content you like to write about belongs to your personal diary, the content your reader likes to read about belongs to your blog.
The content you like to write about belongs to your personal diary, the content your reader likes to read about belongs to your blog.
Click To Tweet
From this point of view, naming your blog is the same thing. The domain name should appeal to your audience, but it should represent you at the same time.
Your reader has his needs and it's up to you to identify them and to deliver the solution. Identifying the needs of your reader is pretty simple because you don't even have to ask him. He's probably already voiced it online many times.
So, you need to check Facebook groups, online communities, and other blogs in your niche to pinpoint the most pressing issues your reader wants to solve.
The optimal length of a domain name
According to Kevan Lee's article, the optimal length of a domain name is 8 characters and these are some characteristics the best domain names have in common:
it should be short
it should be easy to remember
it should be easy to spell
it should be descriptive or brandable
it should not contain hyphens and numbers
it should have a .com extension
As Google's algorithms are getting better every year, some of these tips should be safely ignored as they will have probalby very low impact on your blog's success.
It can also be pretty tough to nail down the length as dot-coms are getting snatched up very quickly. If you craft a great domain name, but you can't secure it with the .com extension, you'll be fine with alternatives like .net, .blog, or .io.
It's still advisable, though, to avoid exotic or country-based extensions.
My experience
I started my online presence with the vision that I will program iOS applications. I'm from the Czech Republic, which is also known as Bohemia, so I came up with the name Bohemiapps as a combination of Bohemia and apps. I was lucky because this domain name was available, so I registered the bohemiapps.com domain and created a simple static website.
But then I discovered Udemy and Skillshare, created my first course and started to teach online classes. Bohemiapps wasn't a good fit for this new activity. Especially the "apps" part was confusing when I used it for promoting classes about how to make money online by teaching.
So I came up with the new name for this activity, and it was Smart Profit School. I wanted something that could grow with me, something that could fit with online teaching, but wasn't limited to it. Smart Profit School is an excellent choice in this sense because there are many other ways of making money.
Finally, I realized that when I decide to move to entirely different business, I would have to come up with yet another brand because, because for example, fitness can't be a part of Bohemiapps or Smart Profit School brand.
And then I got the idea that I will promote myself with my own name as Zavrel Consulting. My personal website can be about anything, all my activities can nicely fit there. That's how I ended up with zavrel.net domain which is the central hub for everything I do.
This short story should demonstrate that the right choice of the domain name is critical. Do it wisely so you avoid what I have gone through.
If you know that you will specialize just in one market, build your brand for this market only. The advantage here is, that you can sell the brand and the whole business later if you feel like it. In my case, Smart Profit School could be sold as a brand, unlike Zavrel Consulting.
On the other hand, if you're not sure yet where your online business will take you, a personal brand is a safe bet, and it can work especially well if your legal name is quite unique. In such case, there's a big chance that your desired domain name will be available in the exact form you want it including the top-level domain name you like.
Choosing the right extension
Regarding the extension of your domain or the so-called top-level domain name, I recommend using only generic names like .com, .org or .net. You should avoid country-based names like .us or .de unless you want to make it a part of the name, which might give it a nice twist like in the case of del.icio.us.
Country-based names are usually abused this way. I can't say if it's the right or wrong approach, but I would pick a good old .com or .net generic name.
Once you have your idea for your domain name, make sure that it's available, but don't buy it just yet. You need to consider one more thing before you'll spend your money on the domain name – how it plays with social accounts.
Social networks
Go check Facebook and Twitter to find out if your name is available there too. You want something that can be remembered easily, ideally the same name you have for the domain.
Now, what if Facebook and Twitter account is not available for your brand, but the domain name is? That depends on how much you plan to use social networks in your marketing. In my opinion, the safe bet is to look for another brand name rather than using some mixture of your brand and random numbers for social networks accounts.
If you struggle to find a brand name that is available for the domain and Facebook or Twitter as well, you need to employ your fantasy a bit more. I am sure you will eventually come up with something unique nobody has used yet.
Just give it some time. Don't rush it only to realize that your chosen name is already used by some successful business. That would cause significant problems in the future.