Everyone will tell you that content is the king, but it's also the most precious part of your WordPress website.
It's all your hard work spent with research and writing. That's why it's important to back up your content regularly.
You never know what can happen, and it's better to be safe than sorry.
When it comes to the WordPress website, you should back up everything.
Not only your posts and pages but all the settings, plugins and custom styles.
If you're just starting and don't have your blog yet, stop right here and read How to Start a Blog where I explain exactly what to do to get you up and running. Don't worry, this article will wait here for you 🙂
Disclosure: Please note that some of the links in this post are affiliate links for products I use and love. This means if you click on such a link and take action (like subscribe, or make a purchase), I may receive some coffee money at no extra cost to you. This helps me create more content free of charge for you. And, as an Amazon Associate, I earn from qualifying purchases. Thanks for your support!
In this article, I will show you some ideas on how to easily back up your whole WordPress website.
You have three main options:
you can trust your hosting provider,
you can use specialized plugins,
or ideally, you can do both.
1. How to Back Up Your WordPress Automatically (Hosting Backup)
Good hosting providers will offer some kind of on-site backup for your WordPress site.
Usually, it's completely automatic and you have access to the list of backups from which you can either download or restore the whole website.
Kinsta Managed WordPress Hosting
Since 2019, Kinsta offers downloadable backups so you no longer need to reach out to their support team or use a third-party plugin.
You're always one click away from a single .zip archive which contains your entire website, that is all files as well as the whole database.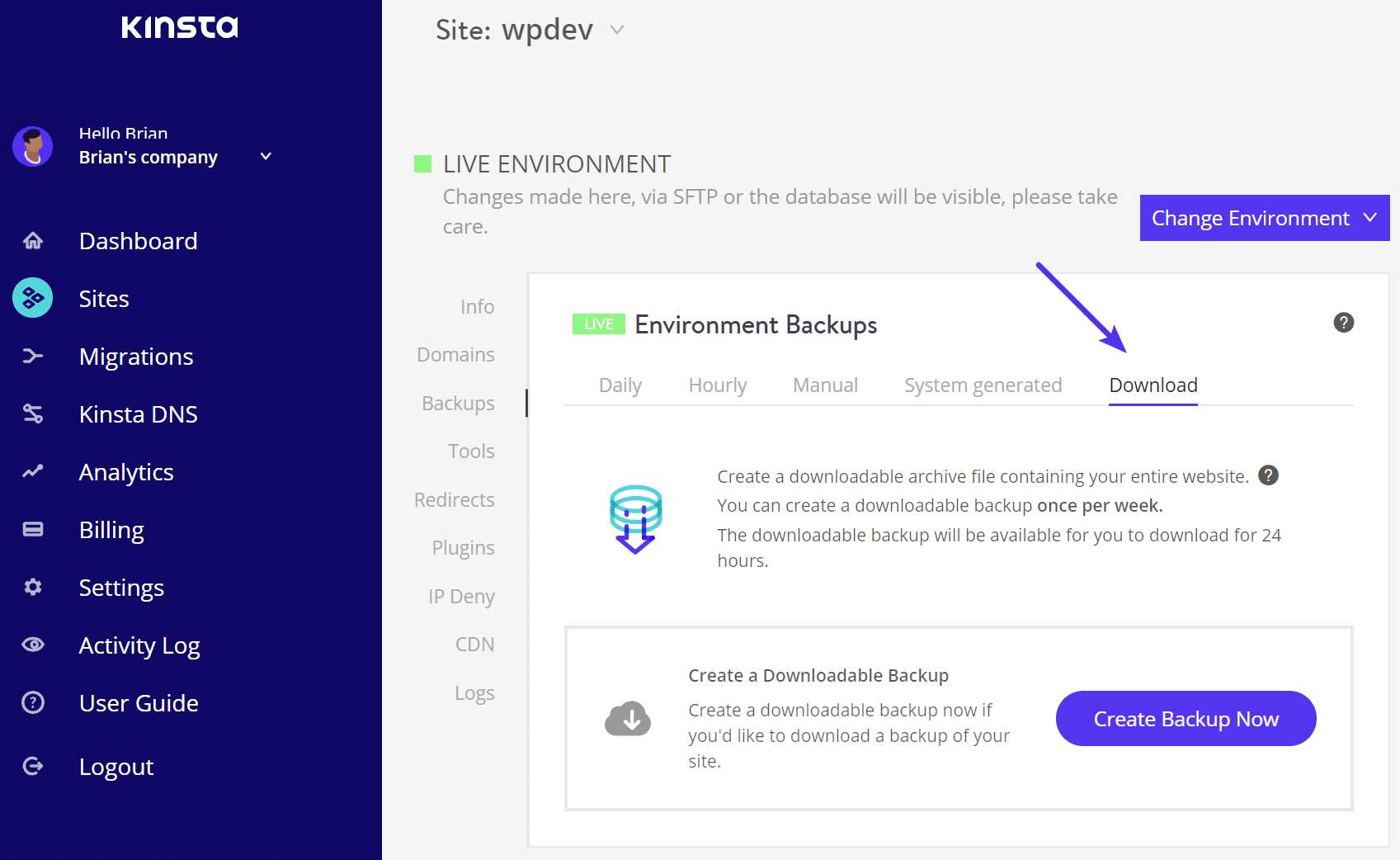 Flywheel Managed WordPress Hosting
Flywheel backs up your entire website every night and you can revert to a previous version in case you broke the site.
You can also download any backup as a zip file.
WP Engine Managed WordPress Hosting
WP Engine allows 40 backups that are available in the User Portal for restore and download.
Older data can be accessed via Support.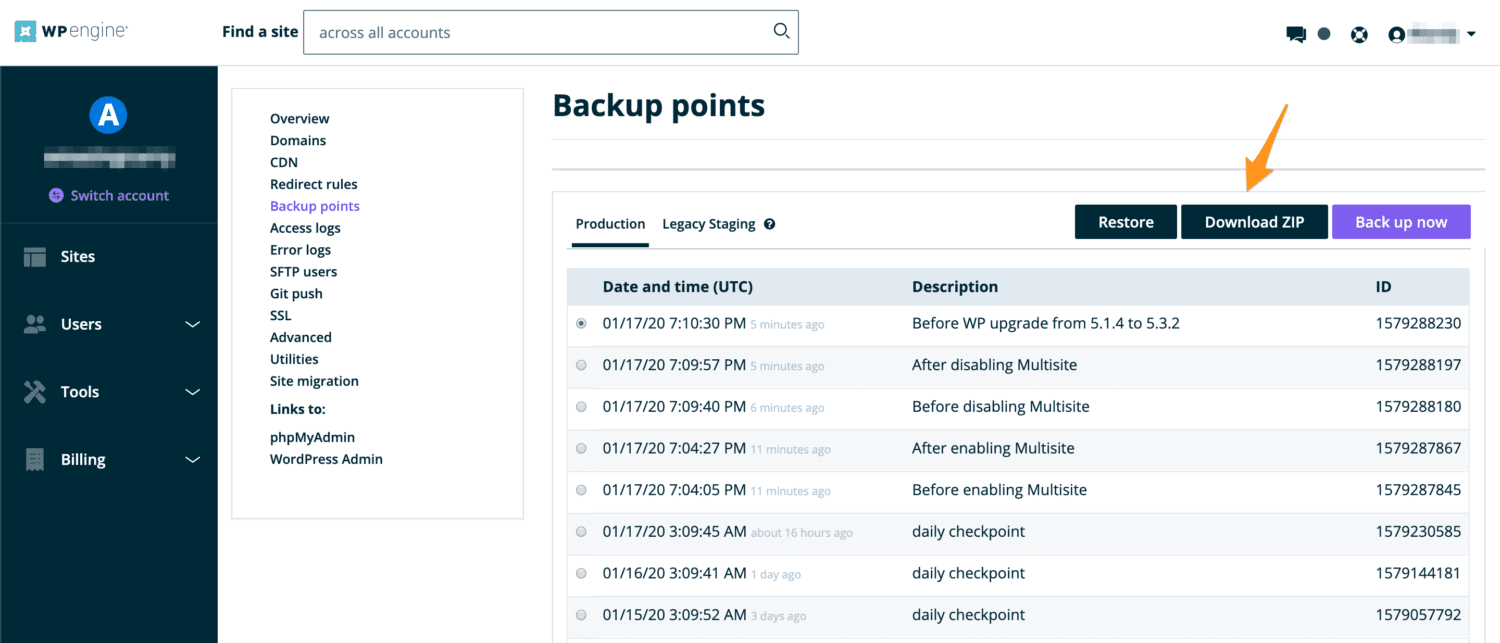 SiteGround Shared WordPress Hosting
SiteGround doesn't have a custom backup system. Instead, it relies on cPanel and Softaculous.
In your cPanel, you should be able to locate the Backup Tool.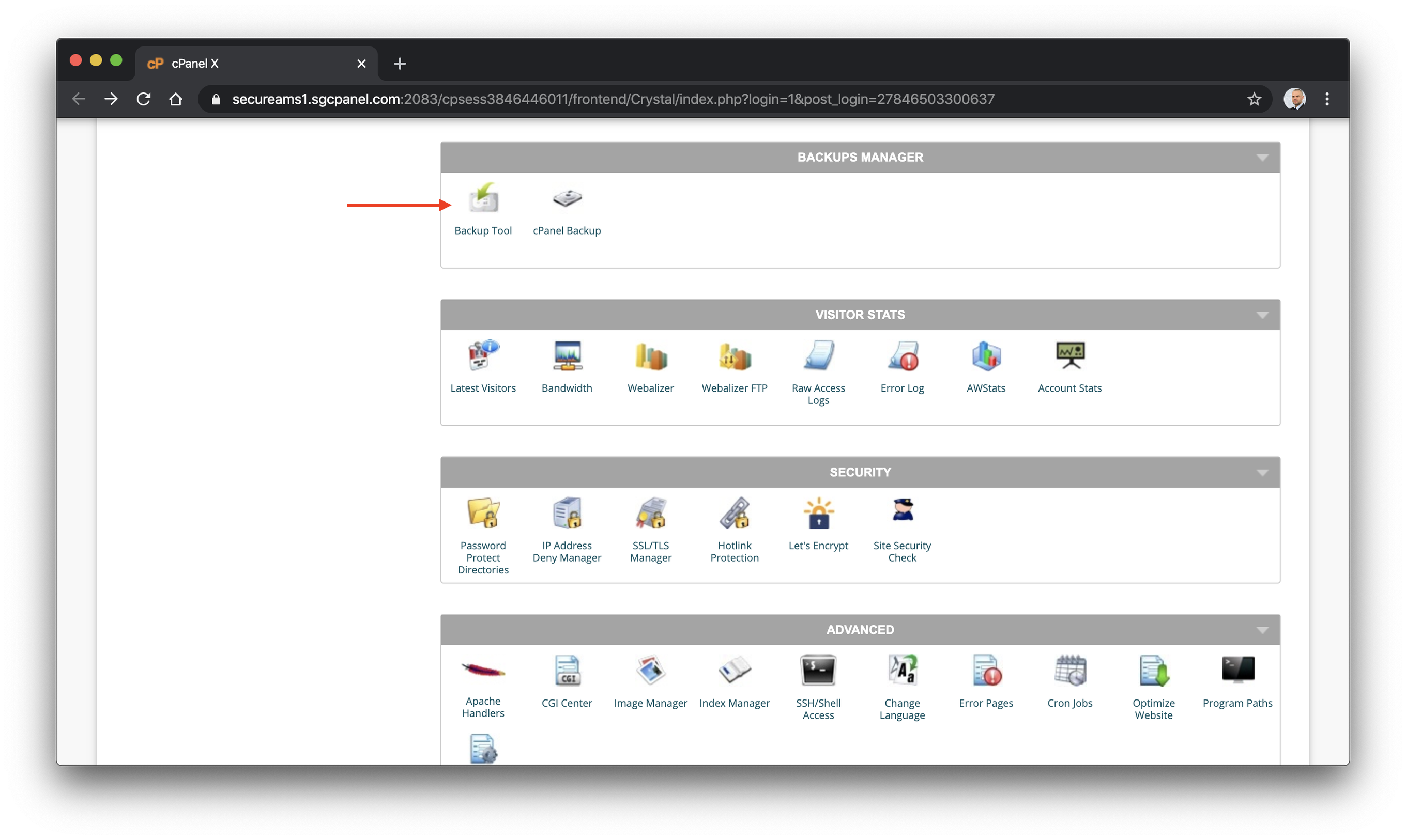 From there, you can select any automatically created system backup and restore either full account or just specific parts like files, databases or emails.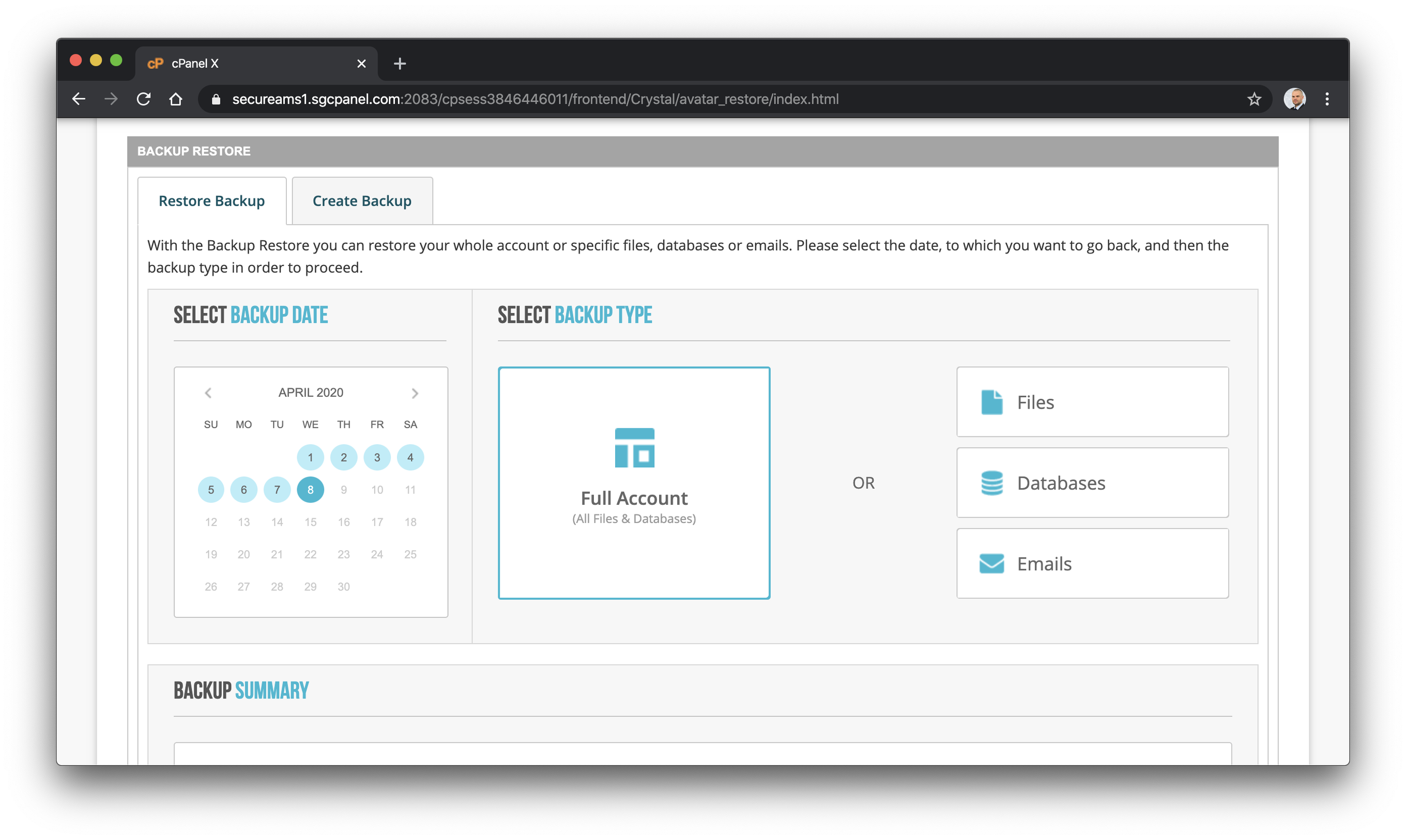 You can also use Softaculous if you installed your WordPress that way. Click on the WordPress icon.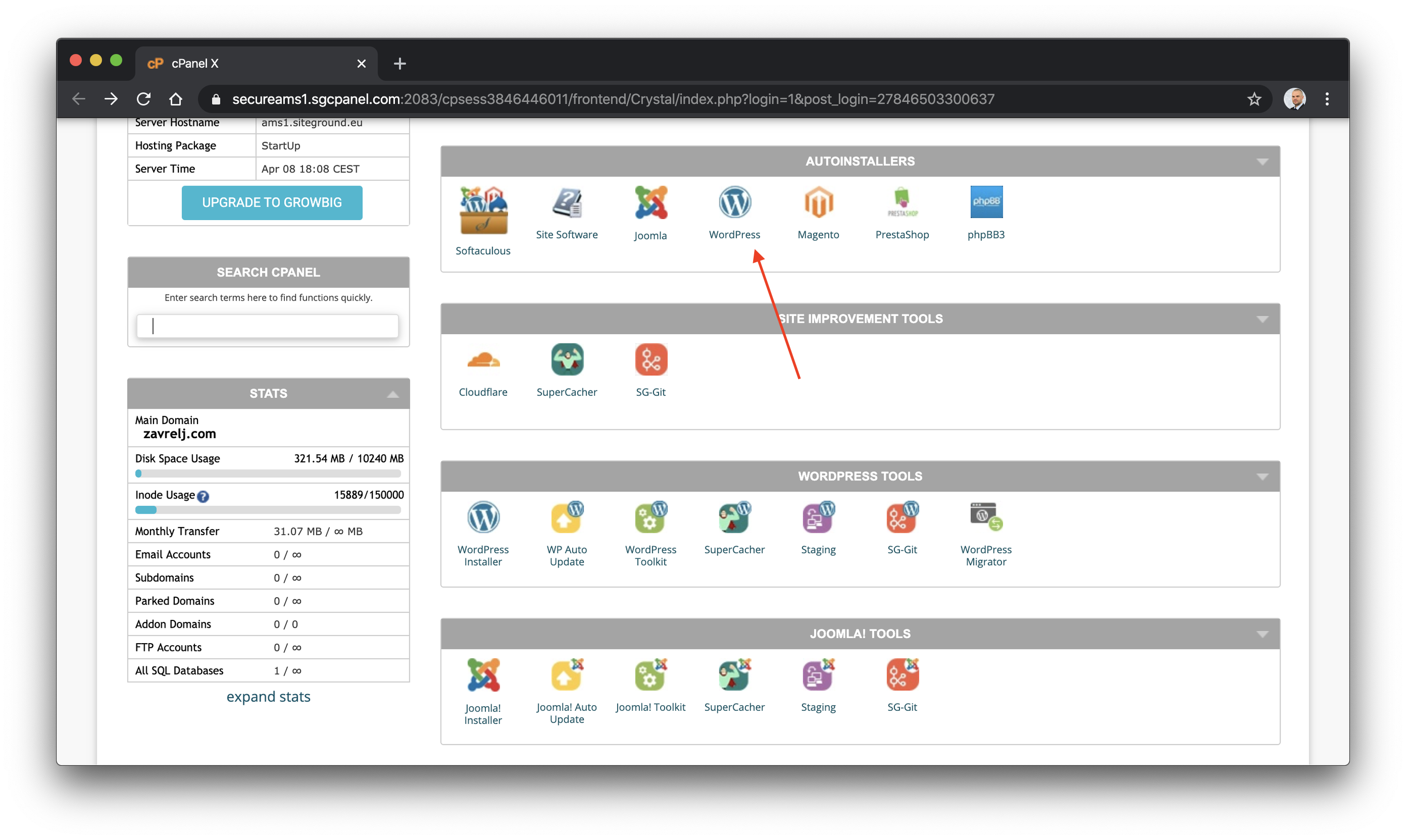 Scroll down to the list of current installations and select the Backup icon.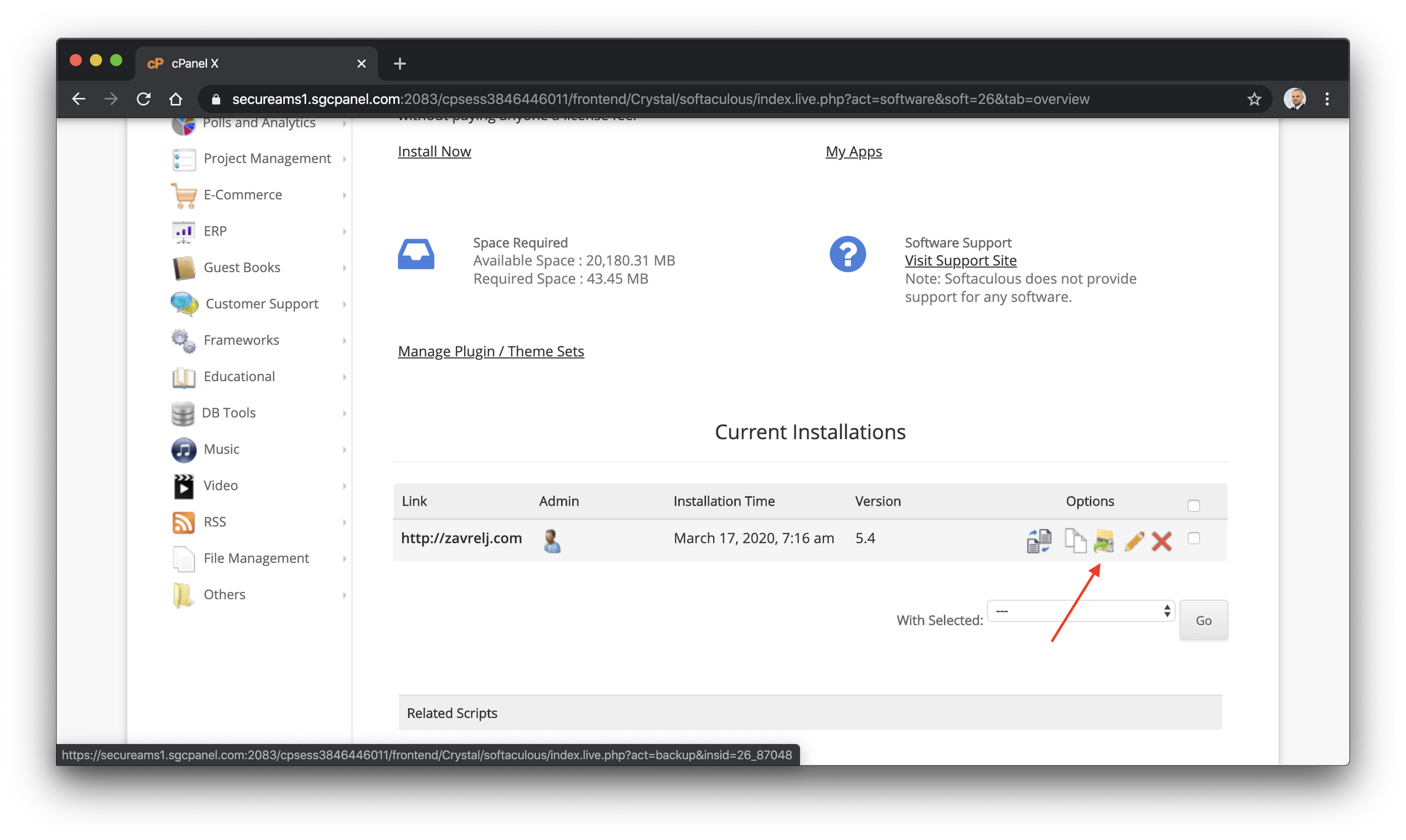 Scroll down and click the Backup Installation button.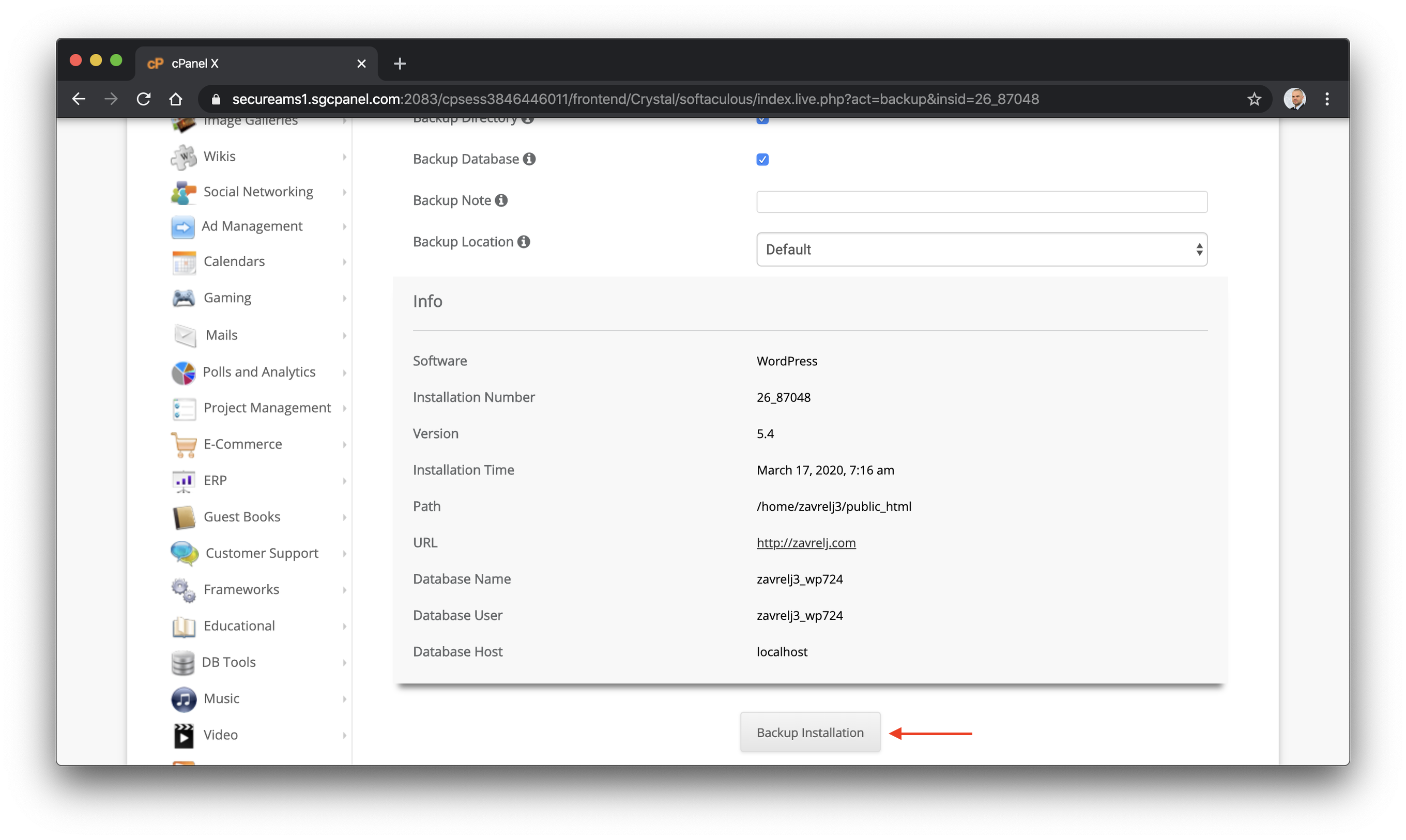 Softaculous will start backing up your website.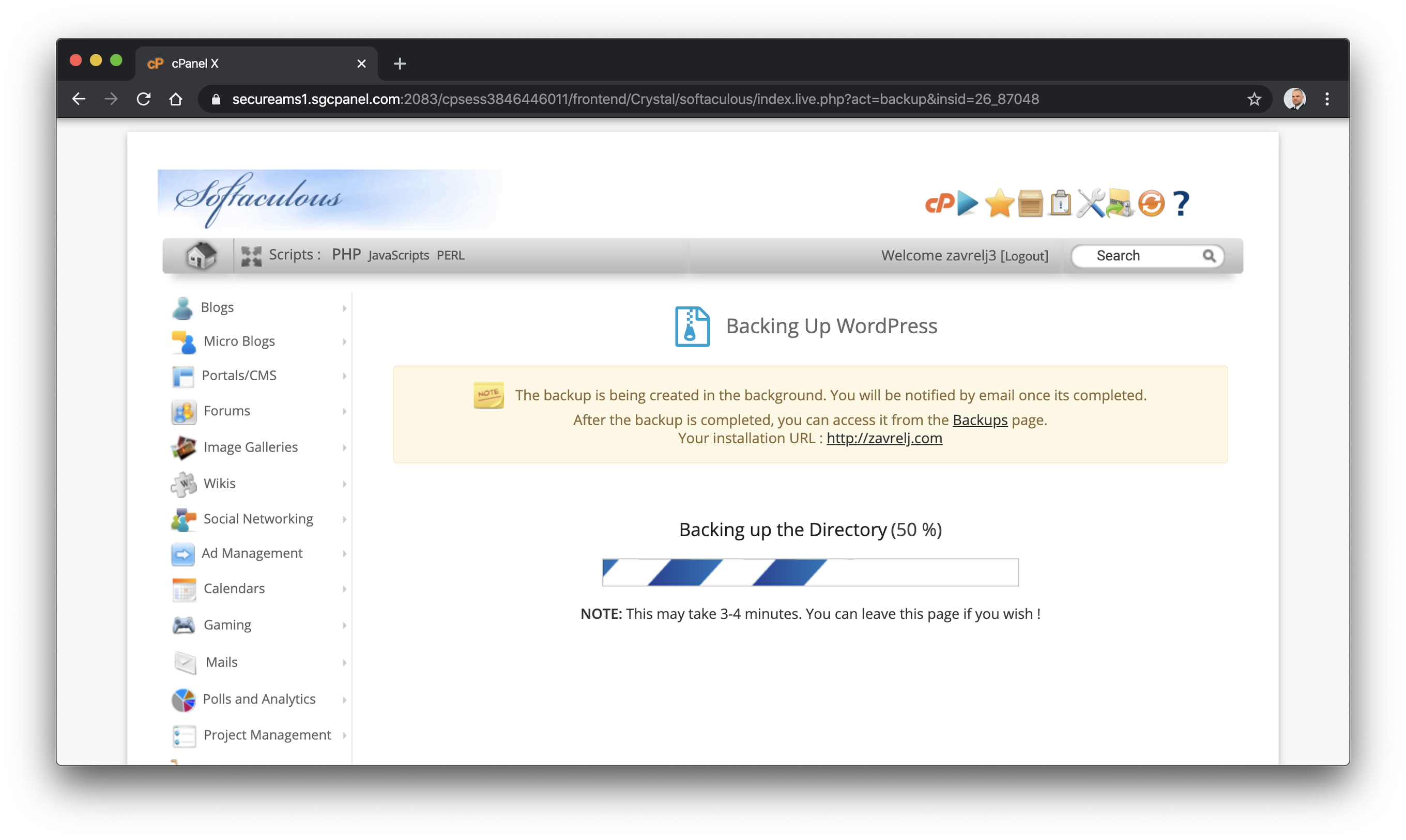 Once your backup is created, you can access it from the Backups page.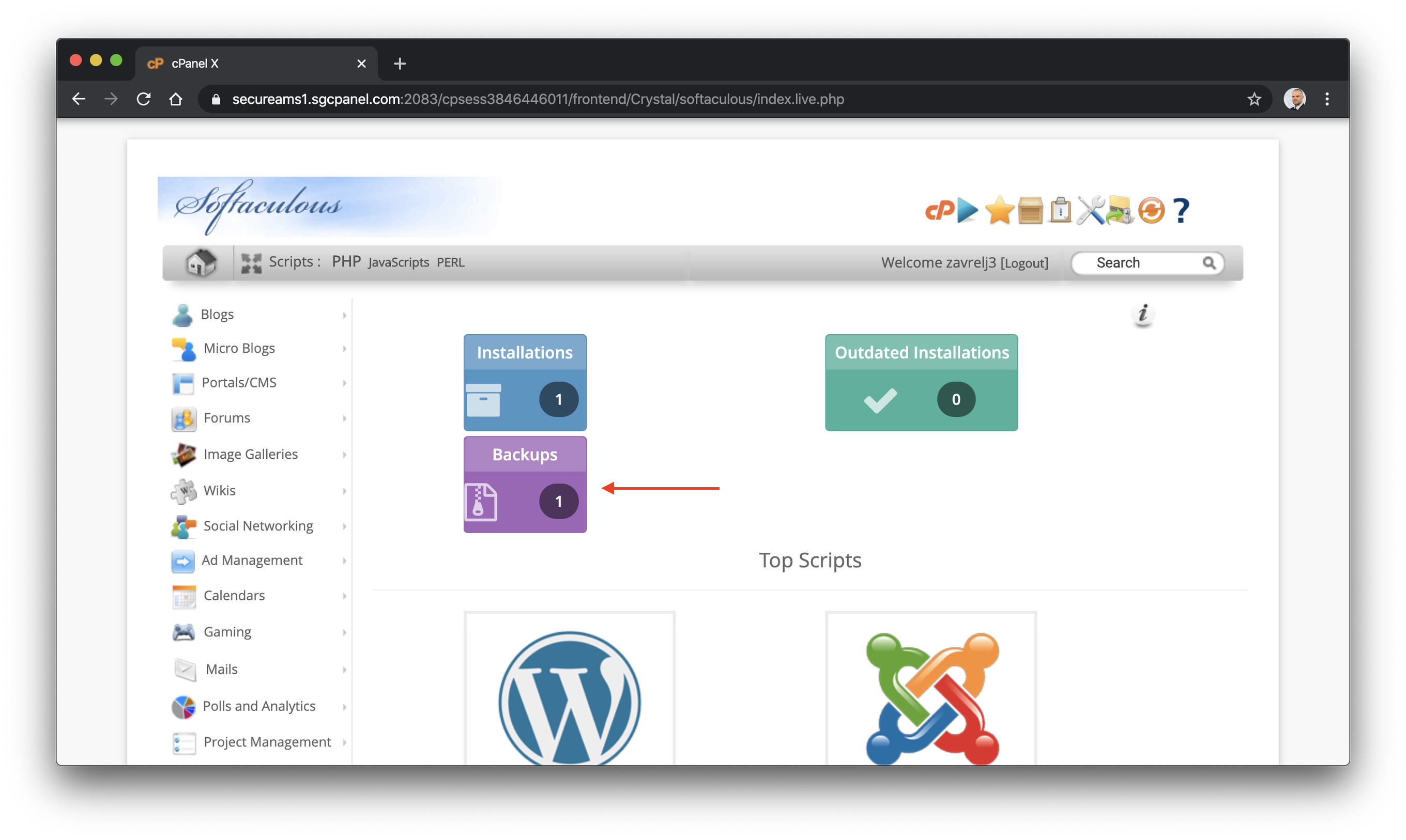 From here, you can download, restore or delete your backups.
2. How to Back Up Your WordPress with Plugins
If your hosting provider doesn't offer automatic on-site backup, you can back up your website with plugins.
Make sure to choose a plugin that offers off-site backups.
That means that your backups can be saved outside of your hosting storage, typically in some cloud service like Dropbox, OneDrive or Google Drive.
Backup files are growing in size as your WordPress website gets bigger and it can quickly use a big part of the hosting storage capacity you pay for.
Unlike hosting backup where you don't pay for that backup storage, plugin backup is to your provider just another file that counts toward your storage quota.
Updraft Plus
UpdraftPlus is a great and easy to use option for off-site backups.
It's regularly updated and it has more than 3.000 five-star ratings on WordPress.org website.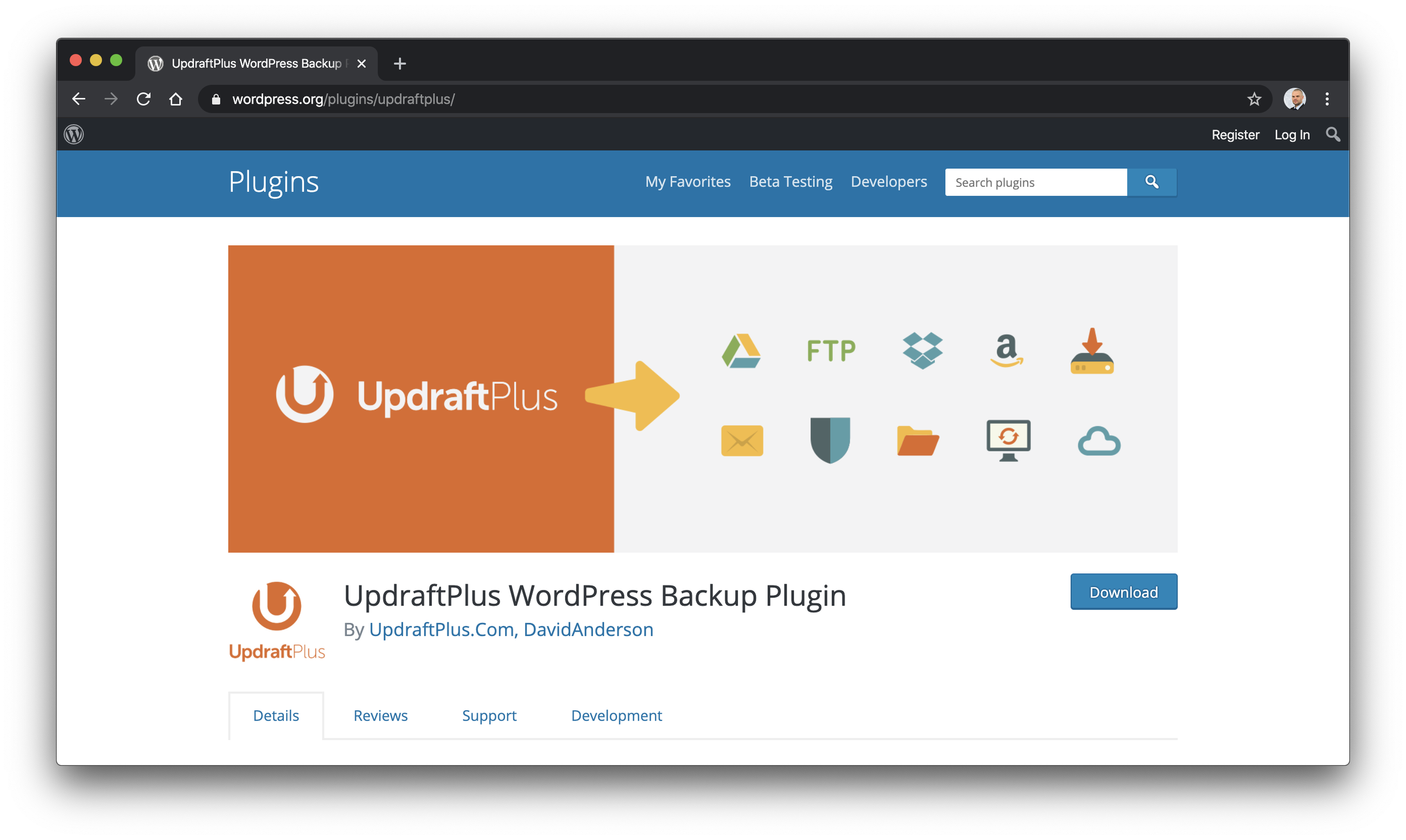 A free version offers scheduled backups into the cloud and one-click restoration.
You can back up your website directly to Dropbox, Google Drive, Amazon S3, FTP or email, and some other cloud storage as well.
However, for some reason, backups to OneDrive, secure FTP and WebDAV are available only in the paid version.
Installing Updraft Plus is very easy.
Just go to Plugins -> Add New: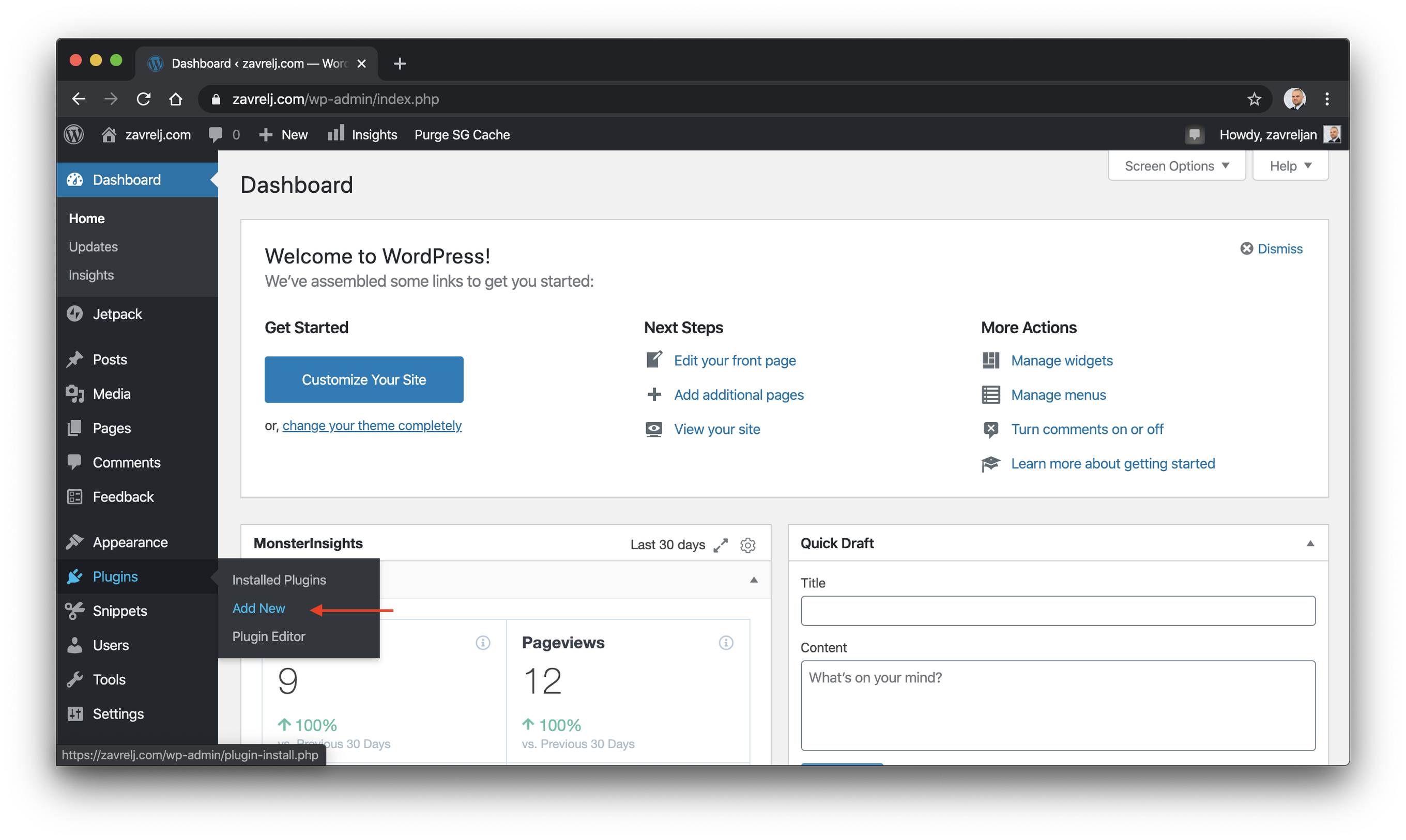 Search for "updraft", click "Install Now" and then "Activate" the plugin: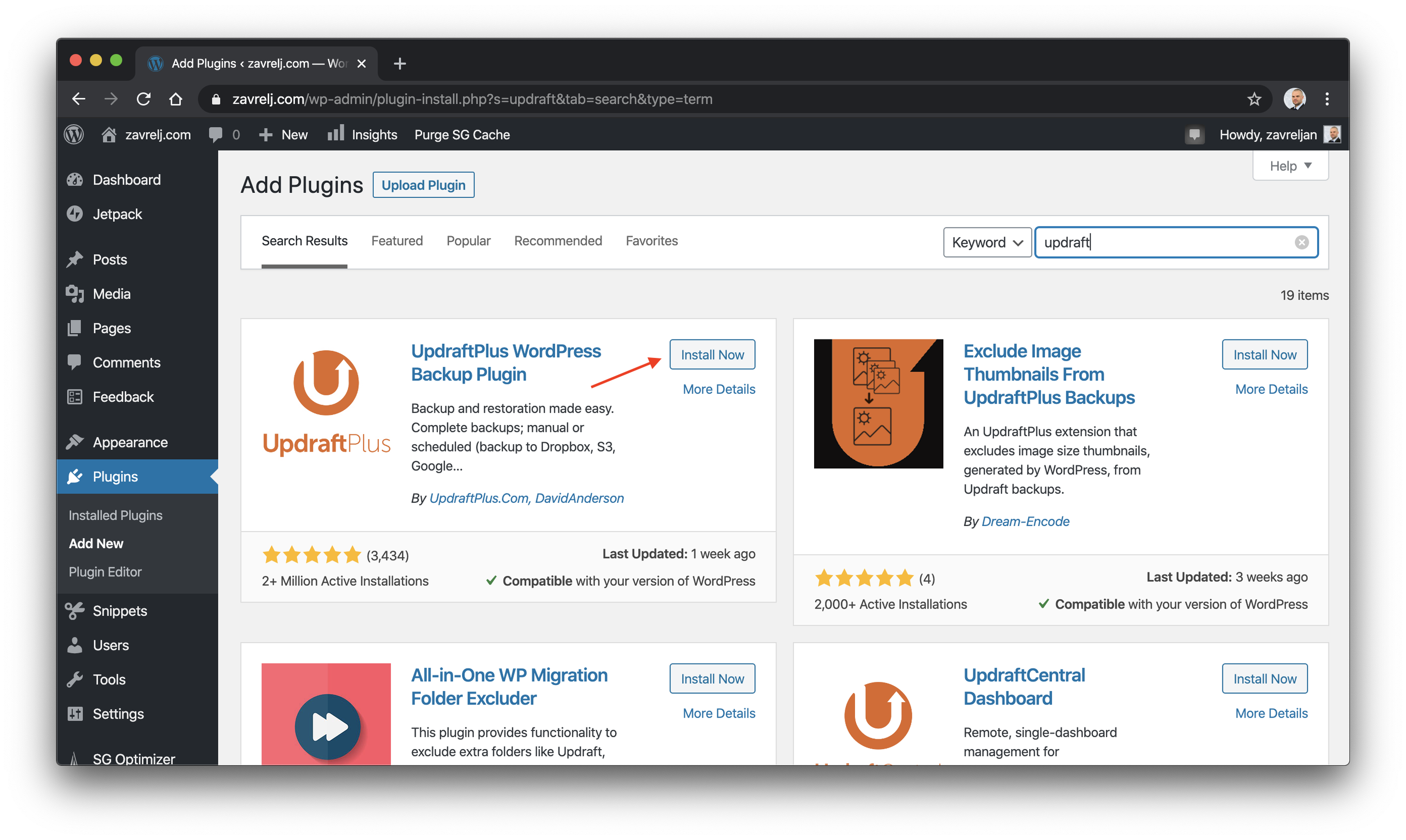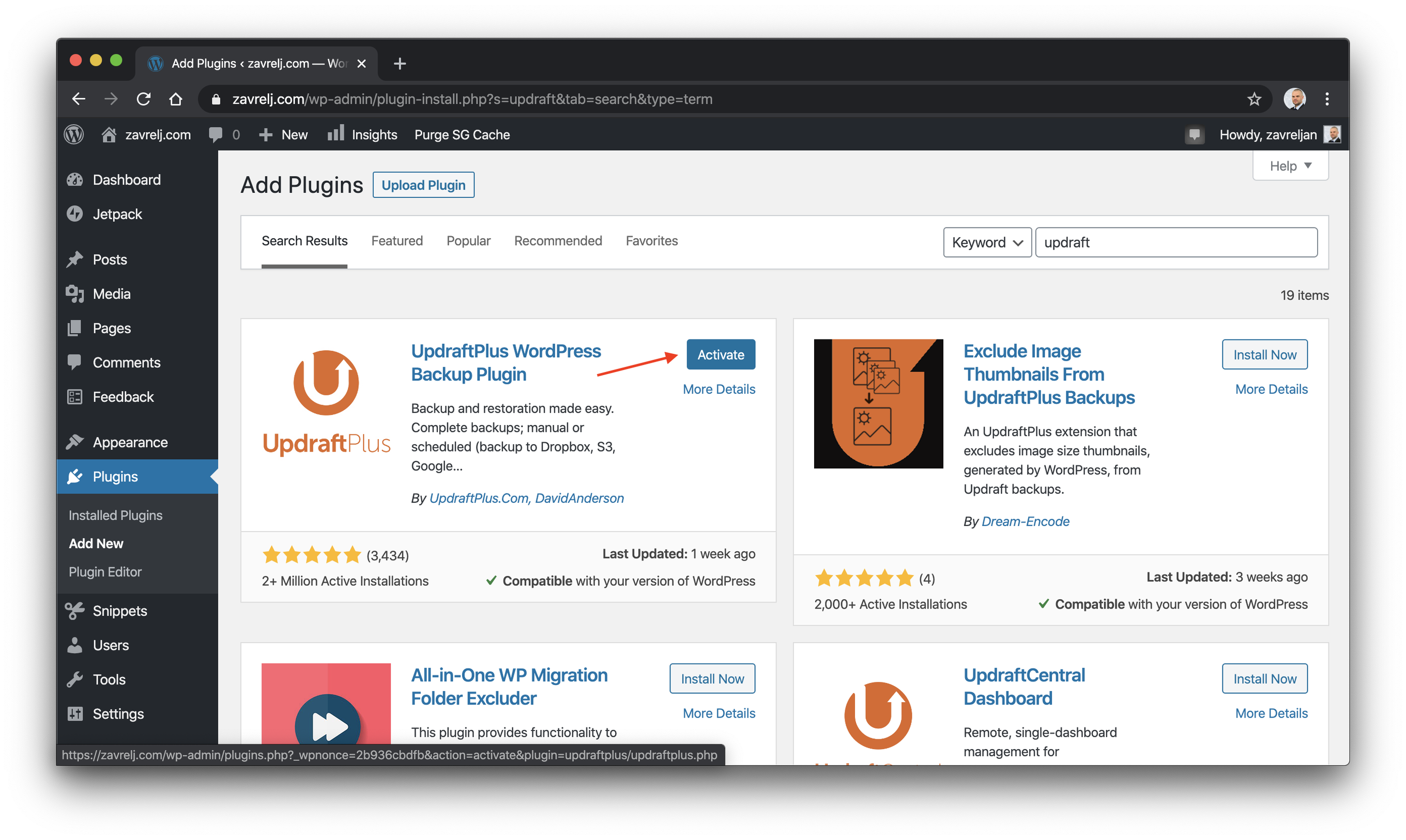 The plugin offers easy to understand step-by-step tutorial which nicely explains all the features.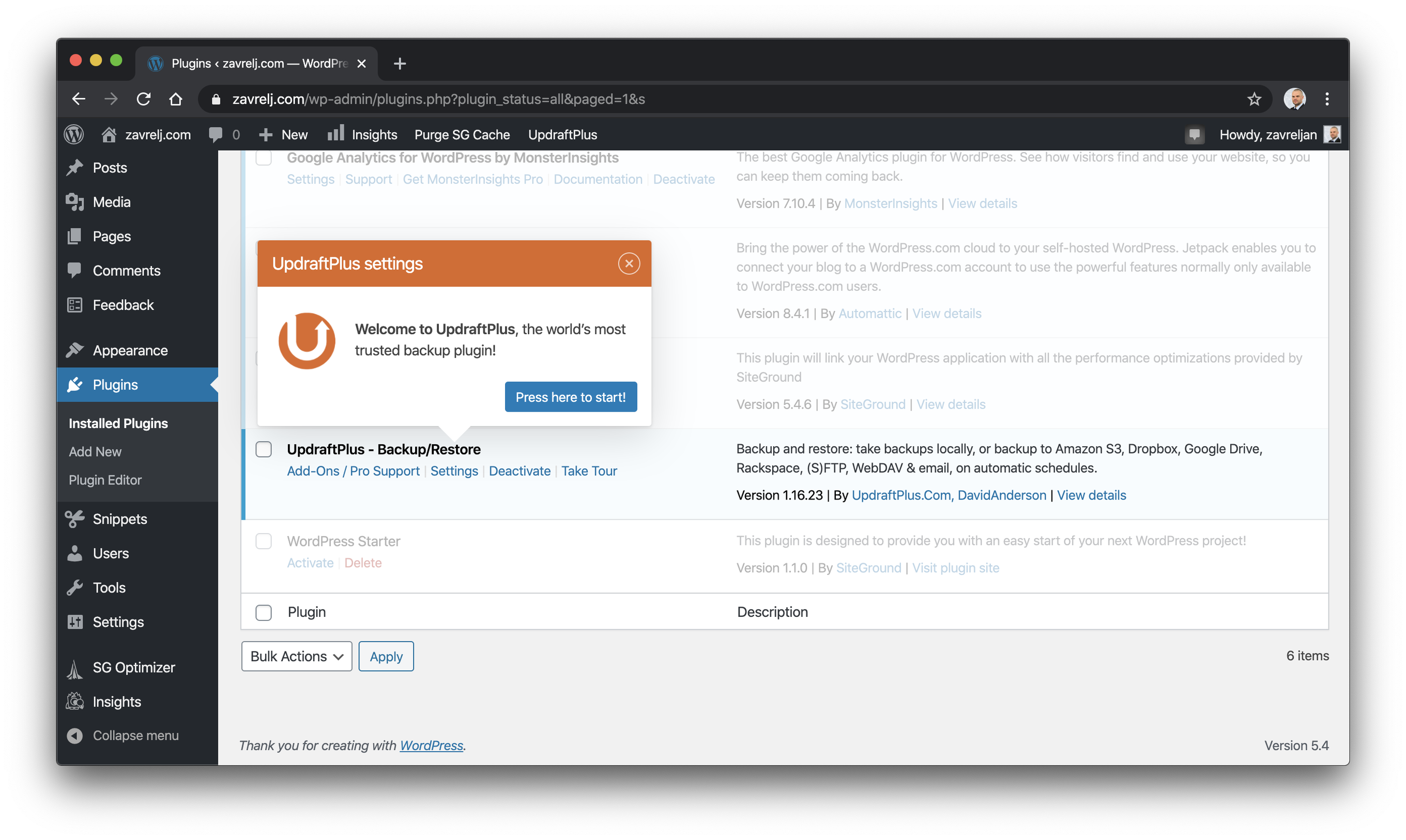 In Settings, you can select whether you want manual backups or scheduled automatic backups.
I suggest you choose weekly backups with 2 backup retentions. That should be enough for most cases.
Of course, this greatly depends on how frequently you add new content to your website.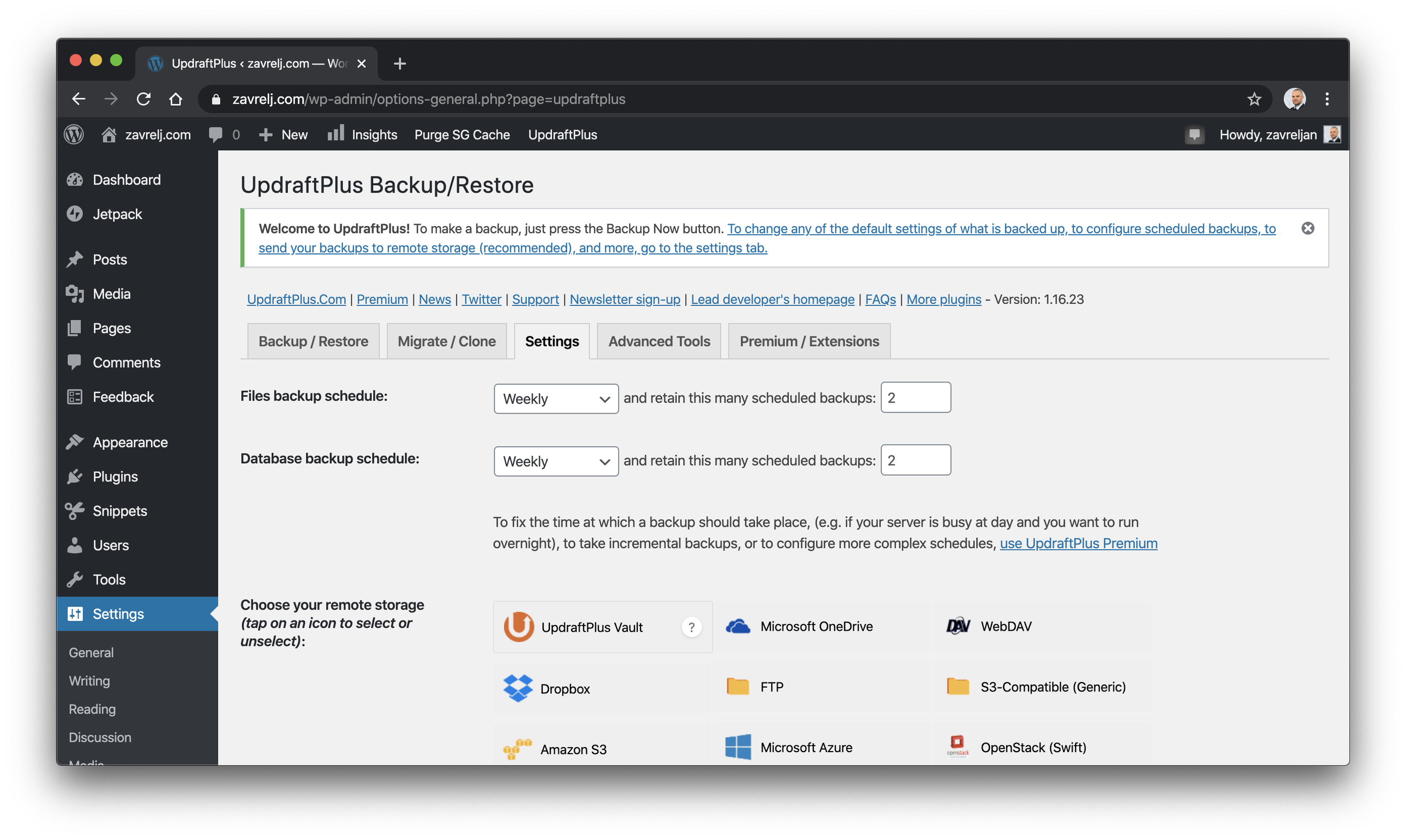 Next, you need to choose where you want your backups to be stored.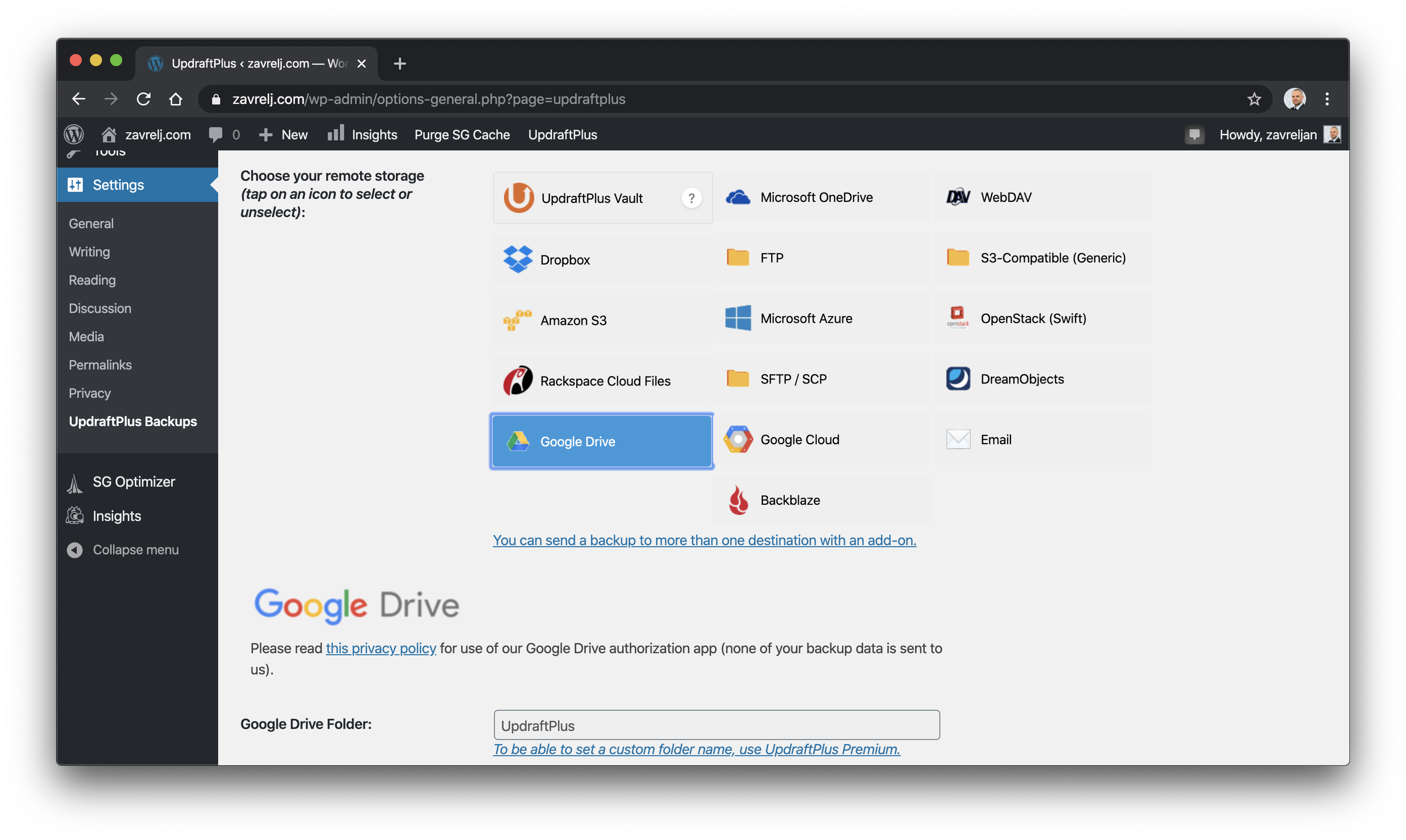 You can select what type of items you want to exclude from the backup to make the resulting file smaller.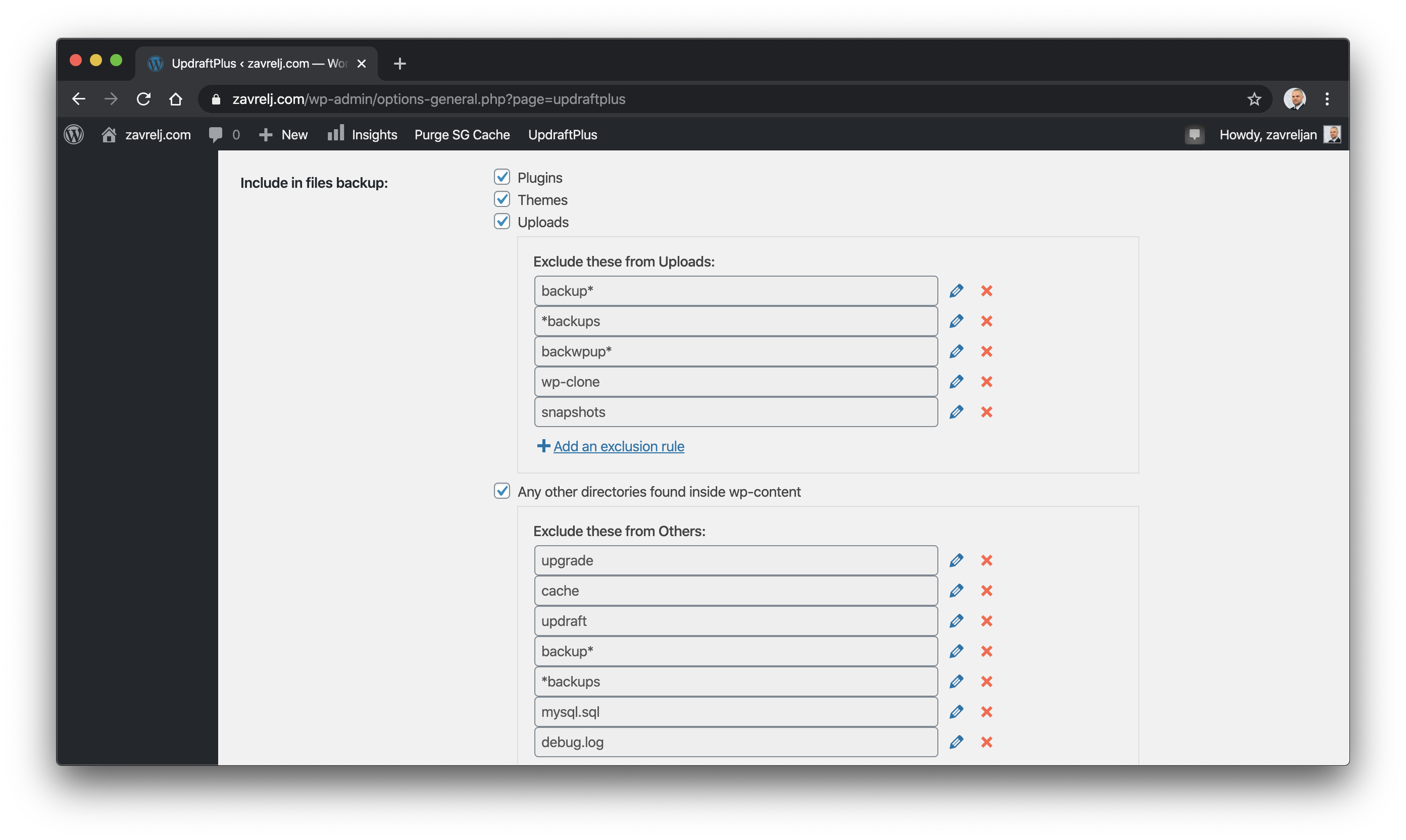 Don't forget to check that you want to send a basic backup report to your email.
This is very handy especially for automatic backups so you know it was completed successfully.
Finally, save the changes.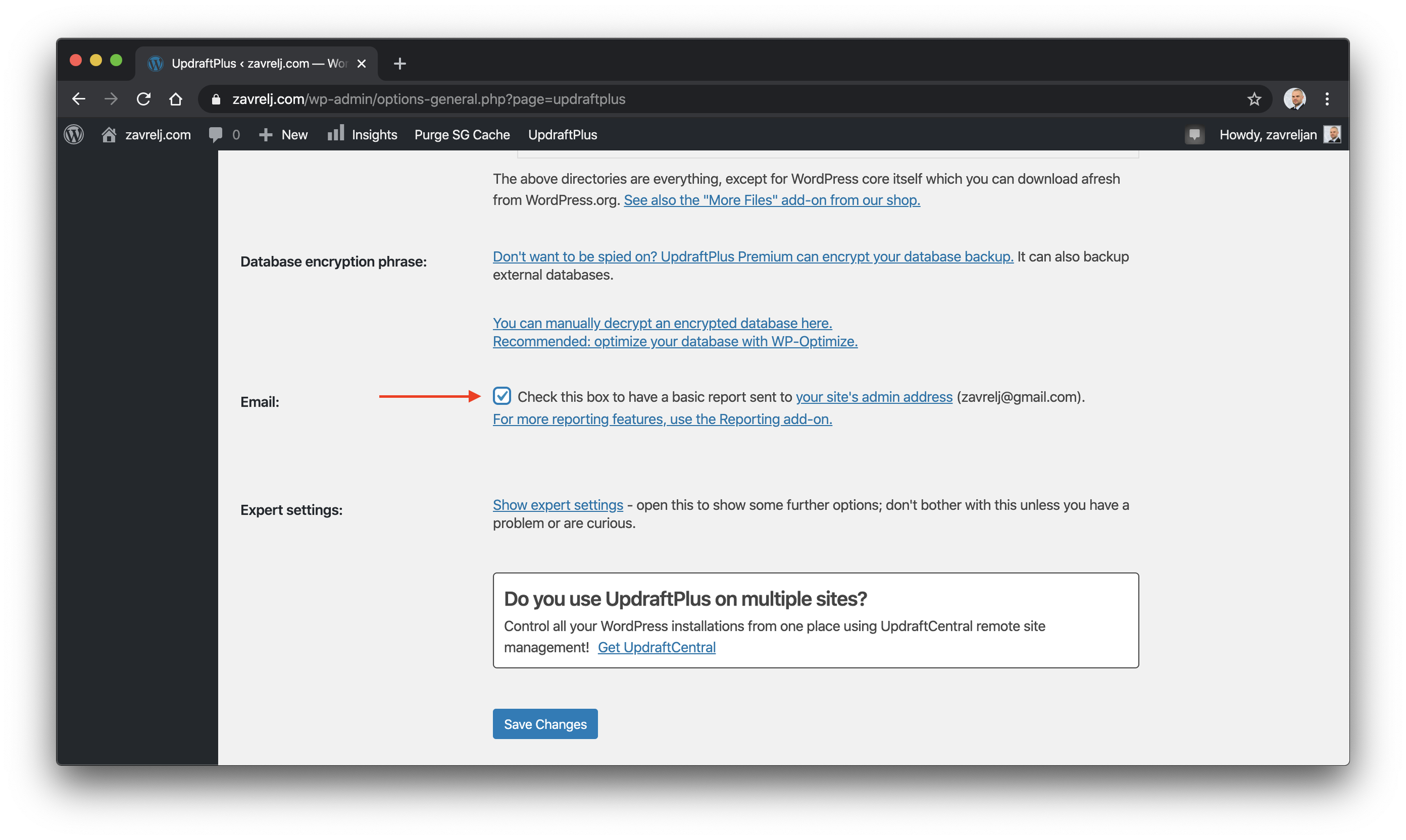 Most of the time when selecting remote backup like Google Drive in this example, you'll need to authorize Updraft Plus, so just follow the link and authorize it to access, view and manage your Google Drive files and folders that it creates.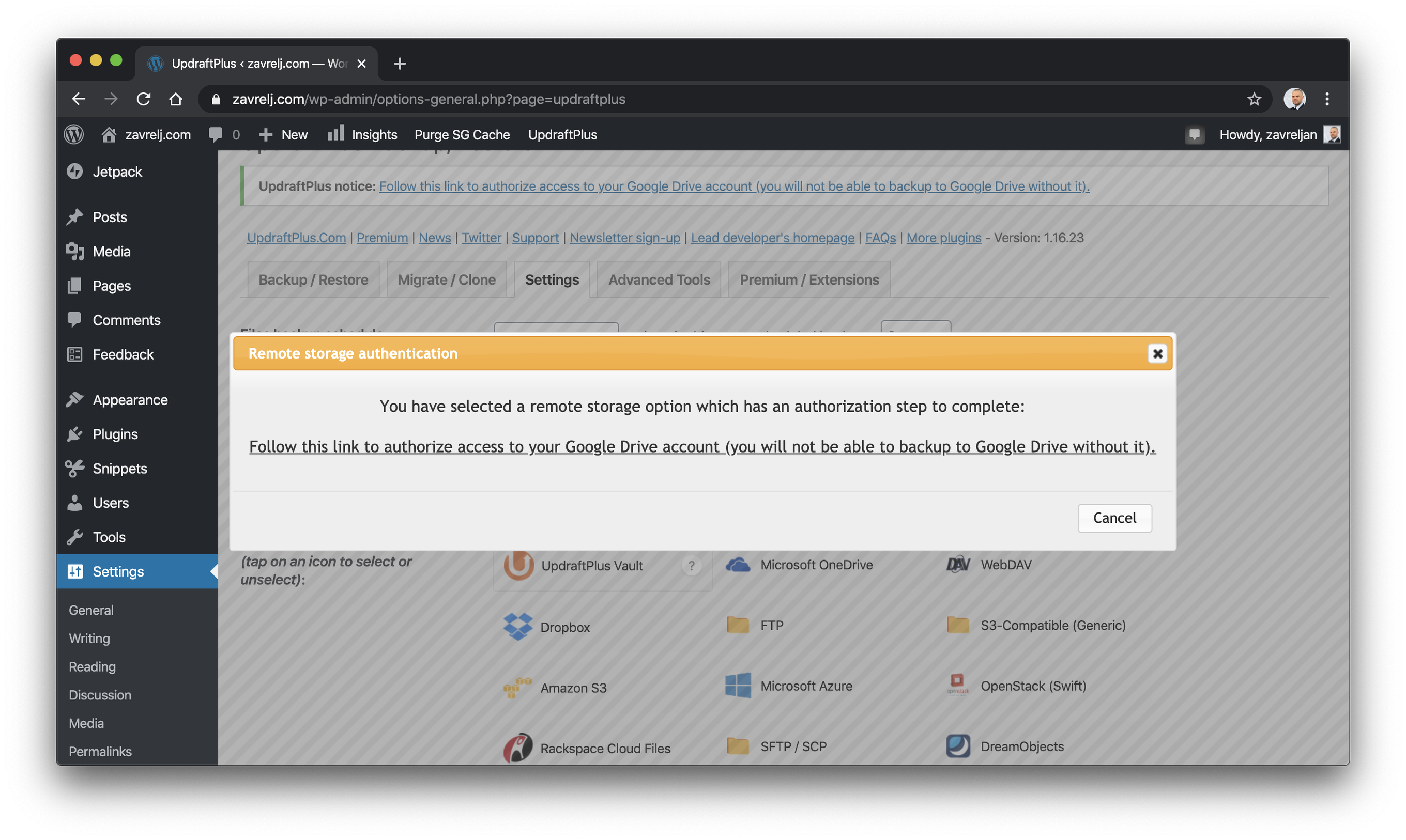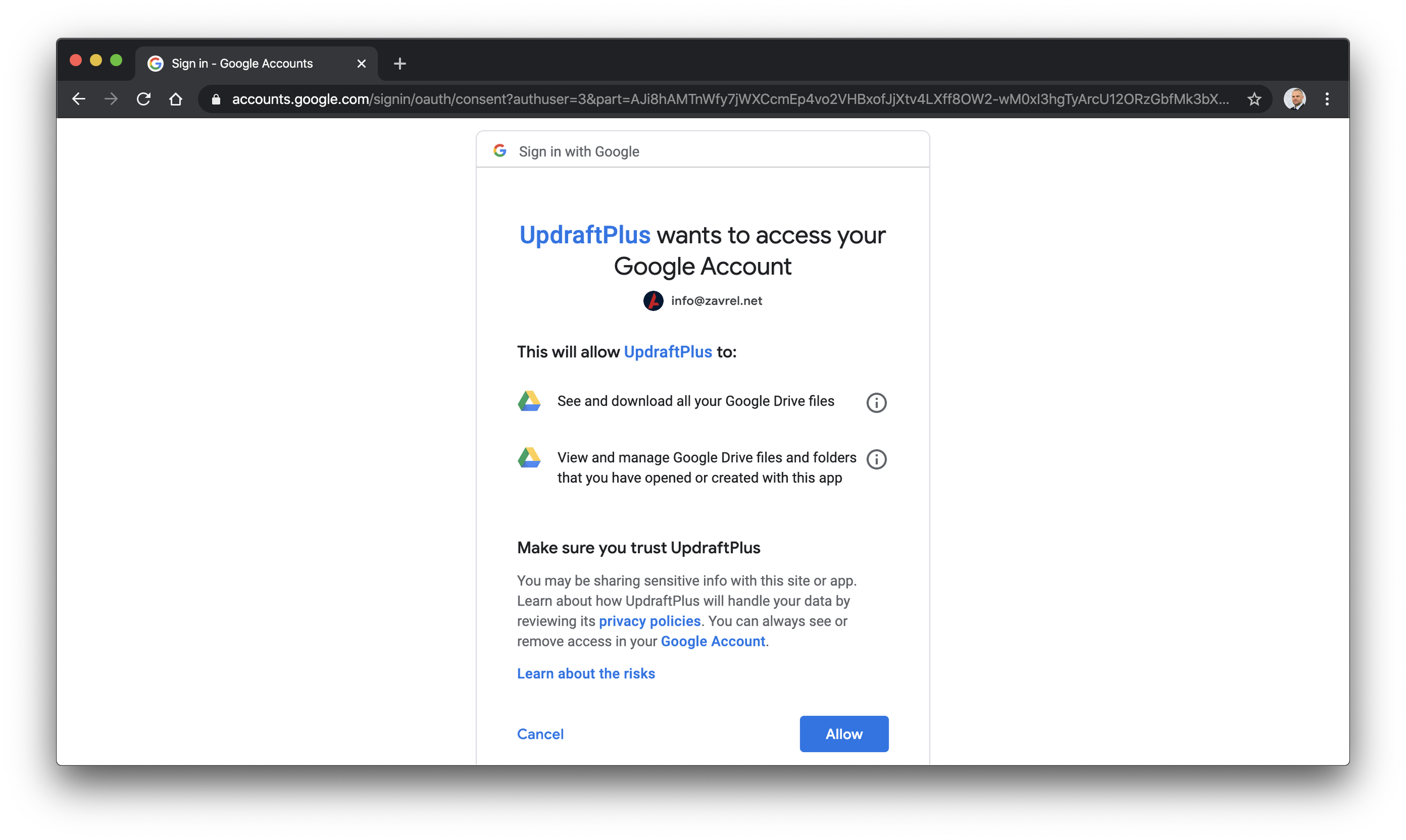 Once authorized, you should see this screen where you just click the Complete setup button.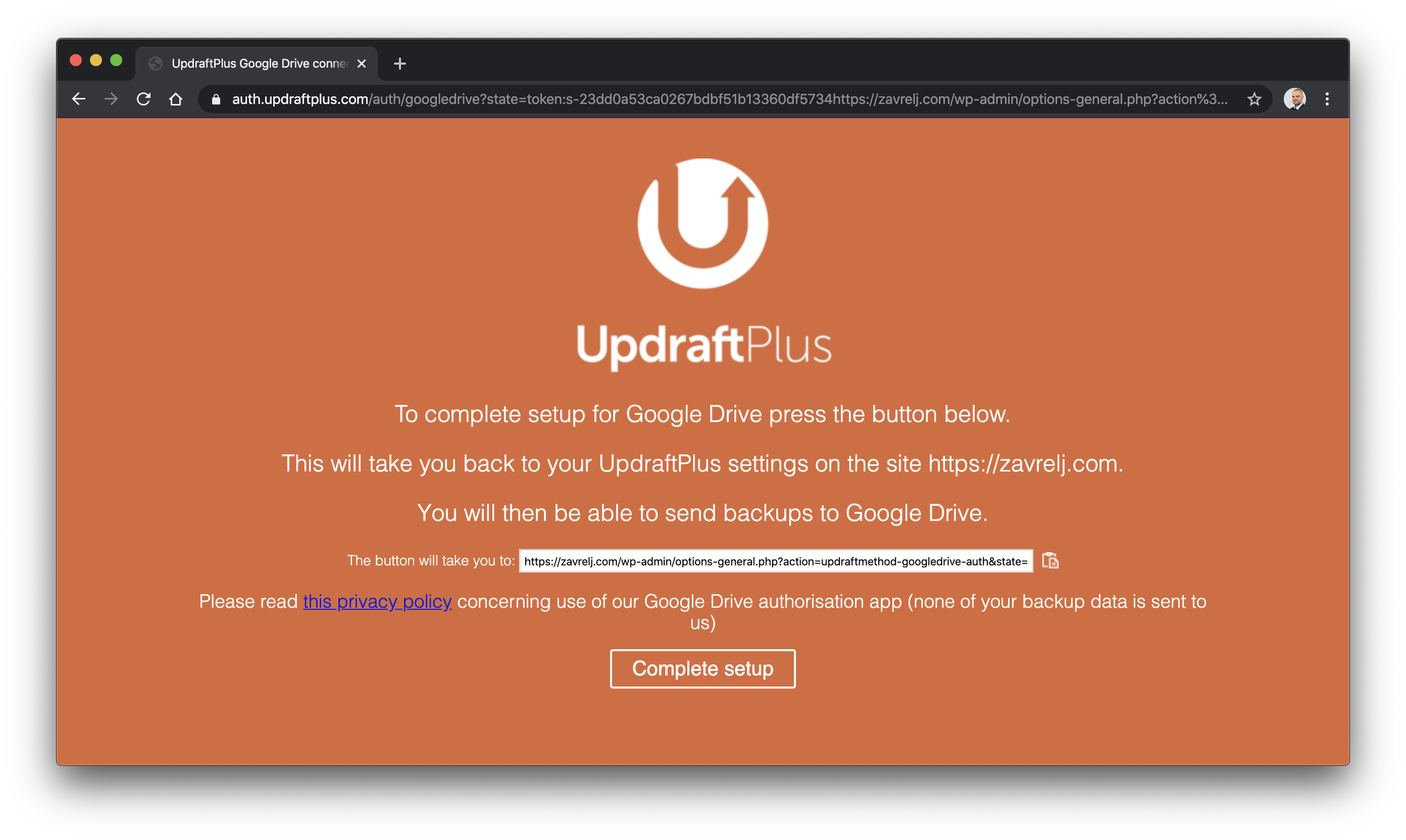 You'll be taken back to your WordPress Dashboard where Updraft already started backing up your website.
Once the backup is finished, you'll find it in the list of existing backups from which you can restore it.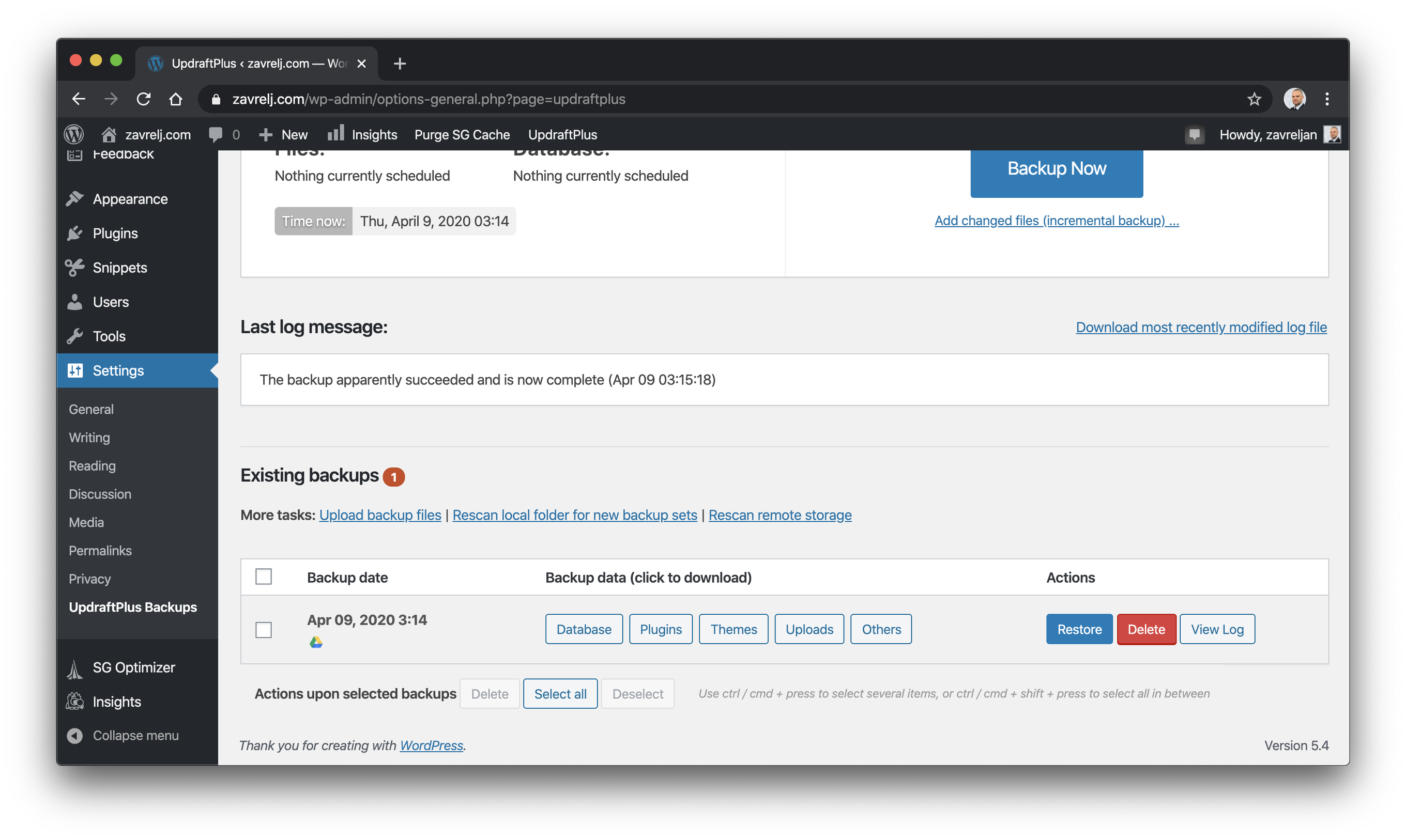 You will also receive a confirmation email.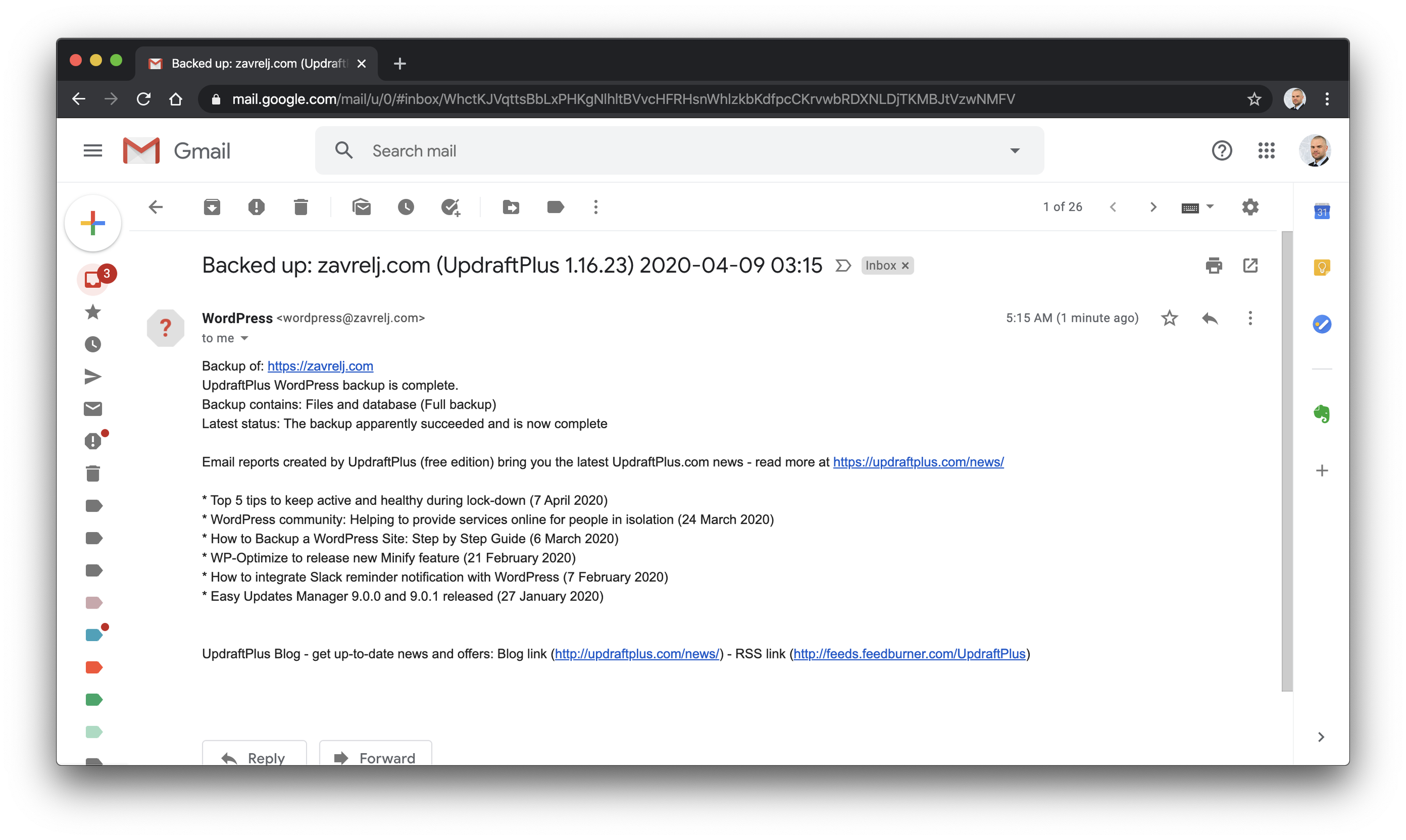 And when you check your Google Drive account, the backup will be there.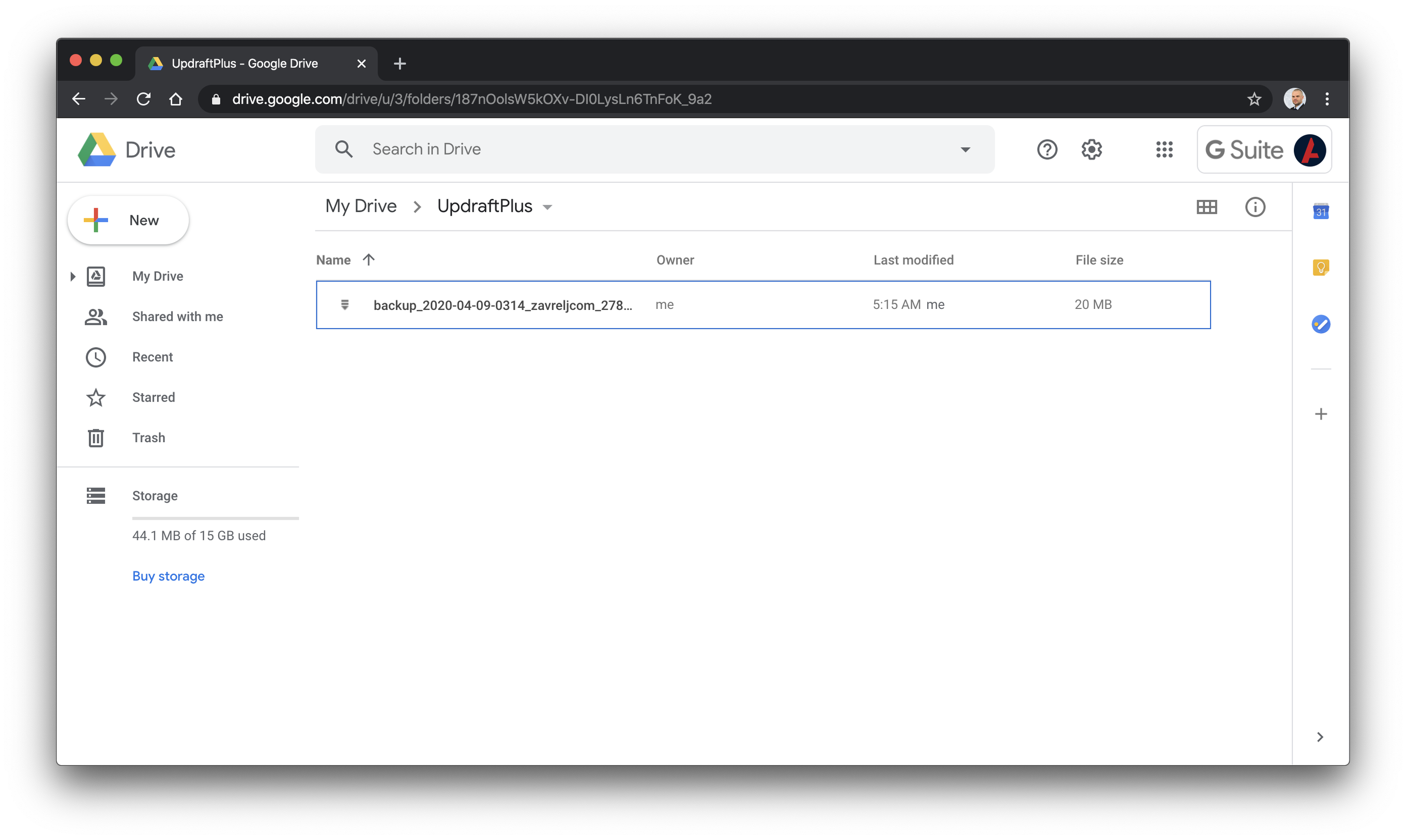 All-in-One WP Migration
All-in-One WP Migration is another plugin that allows you to export your whole WordPress website including the database, themes, and plugins, and upload it to a different location.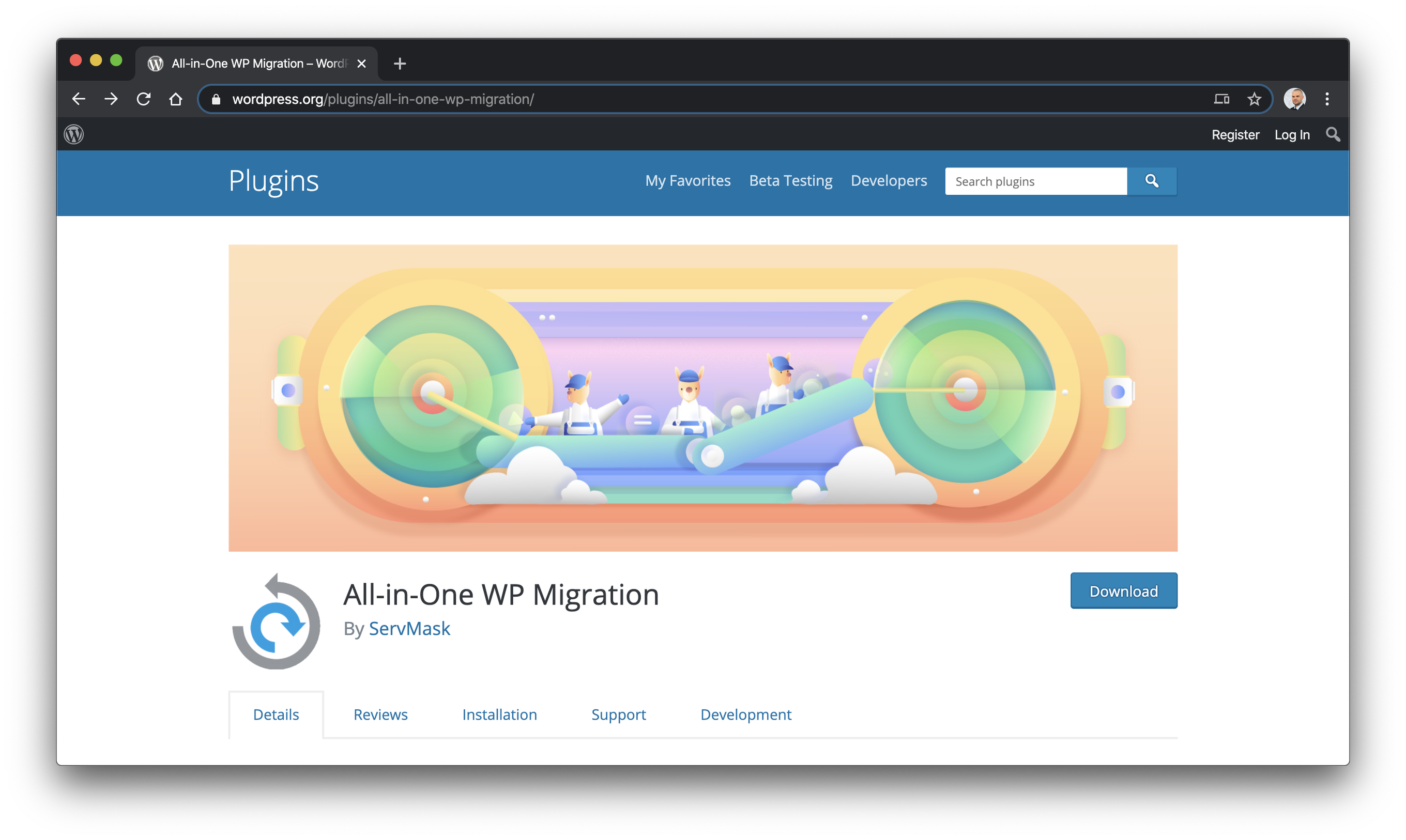 To install All-in-One WP Migration, go to Plugins -> Add New: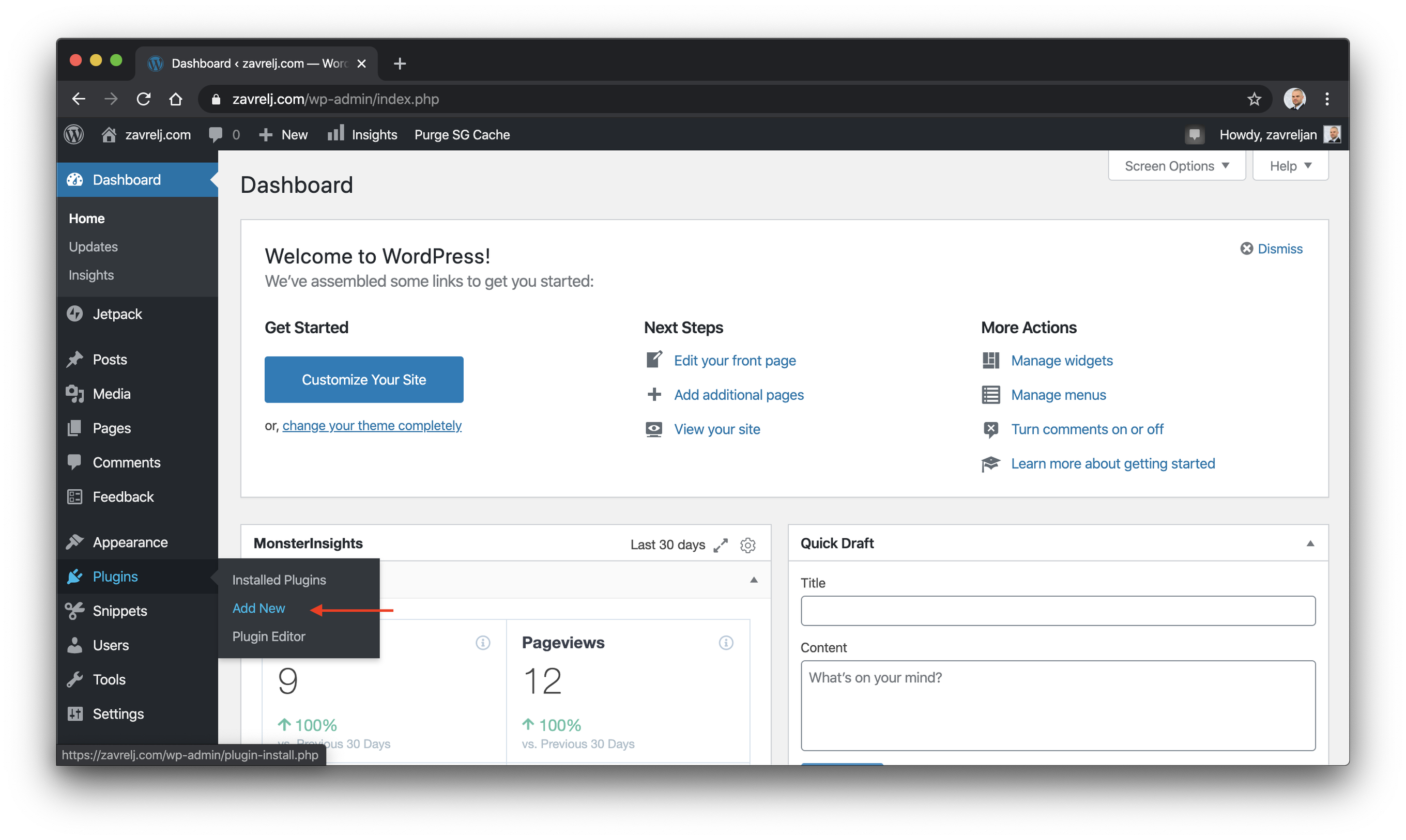 Search for "all-in-one wp" and click the "Install Now", then "Activate" buttons: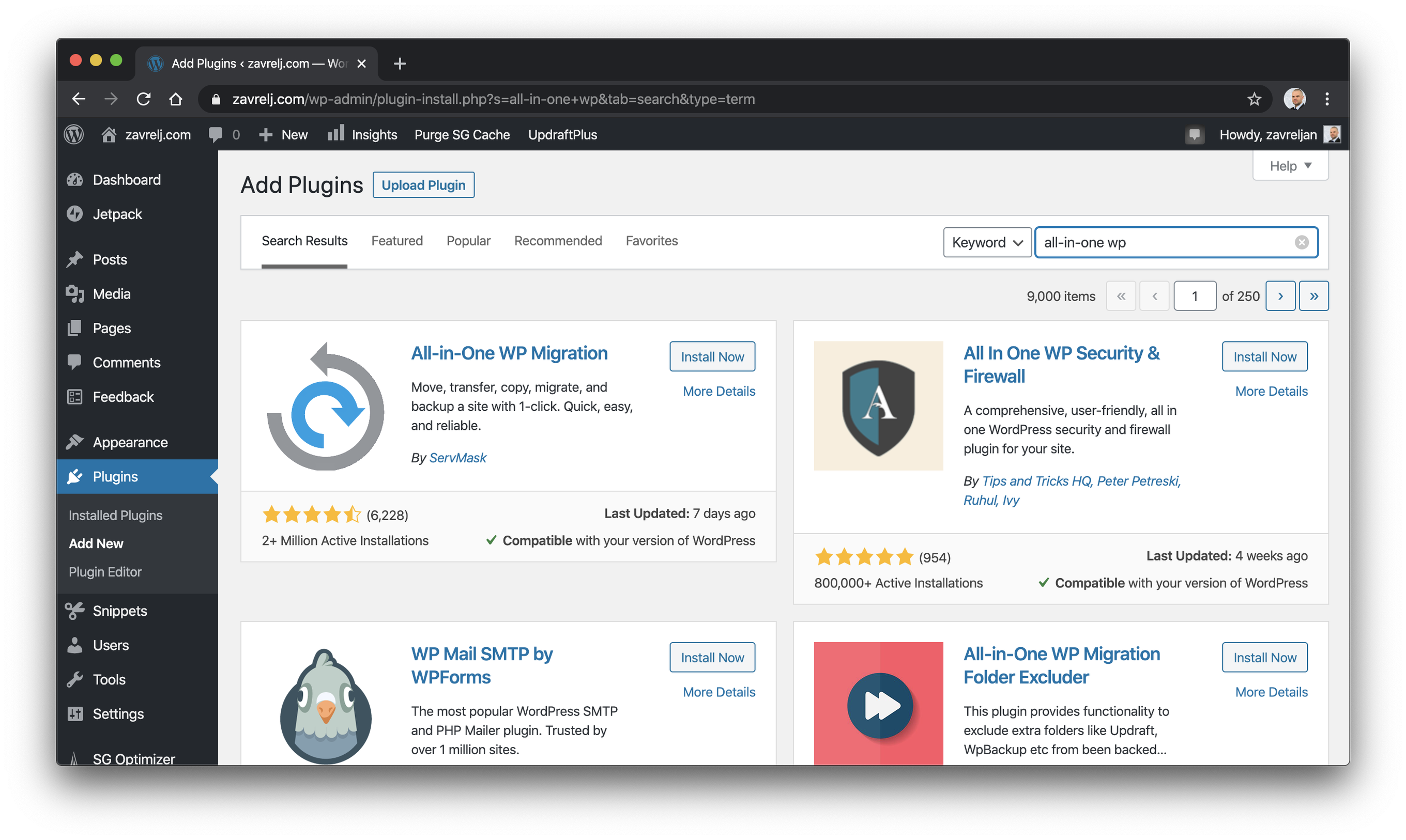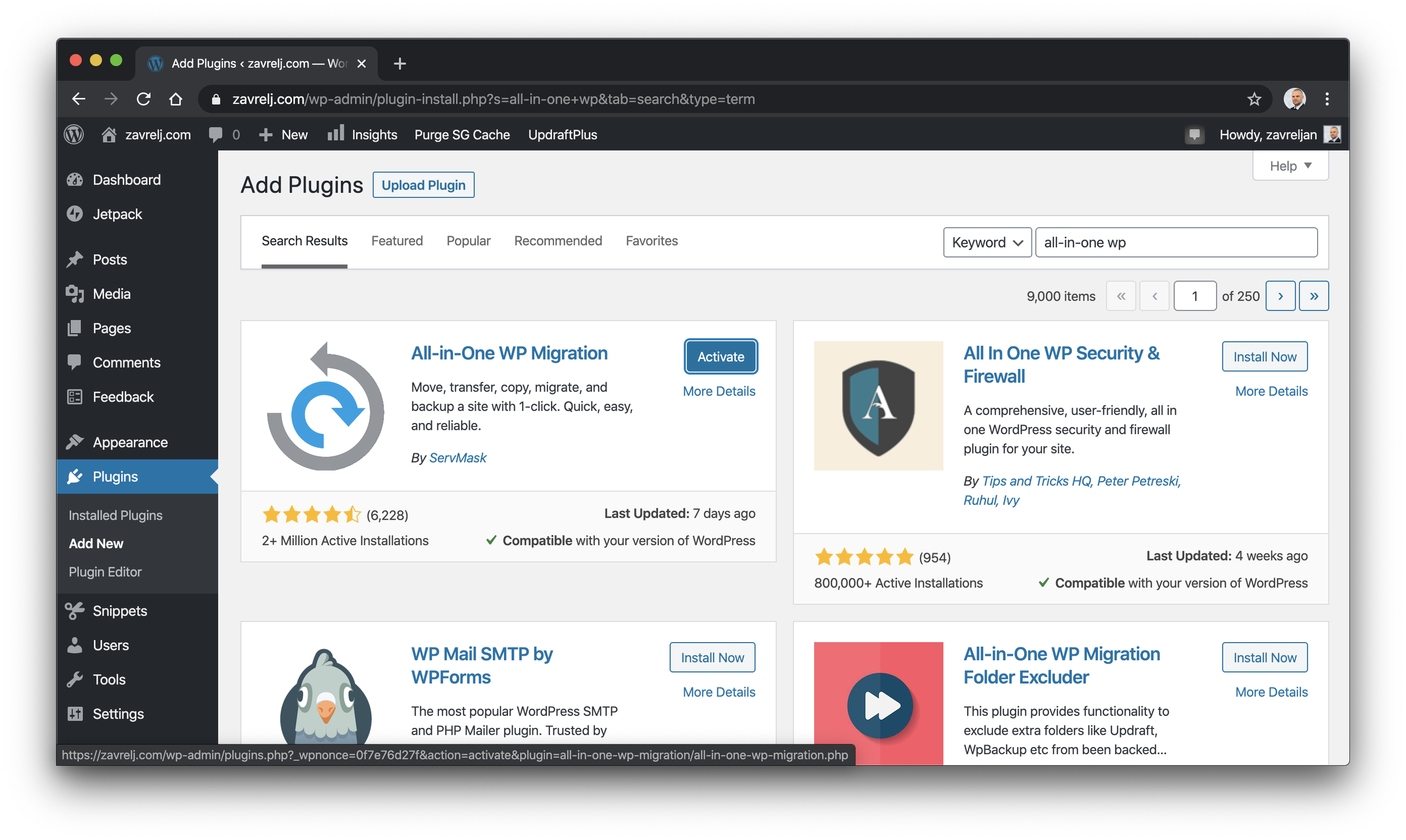 Once it's activated, you'll find a new item in your Dashboard, move your mouse over it and select Backup.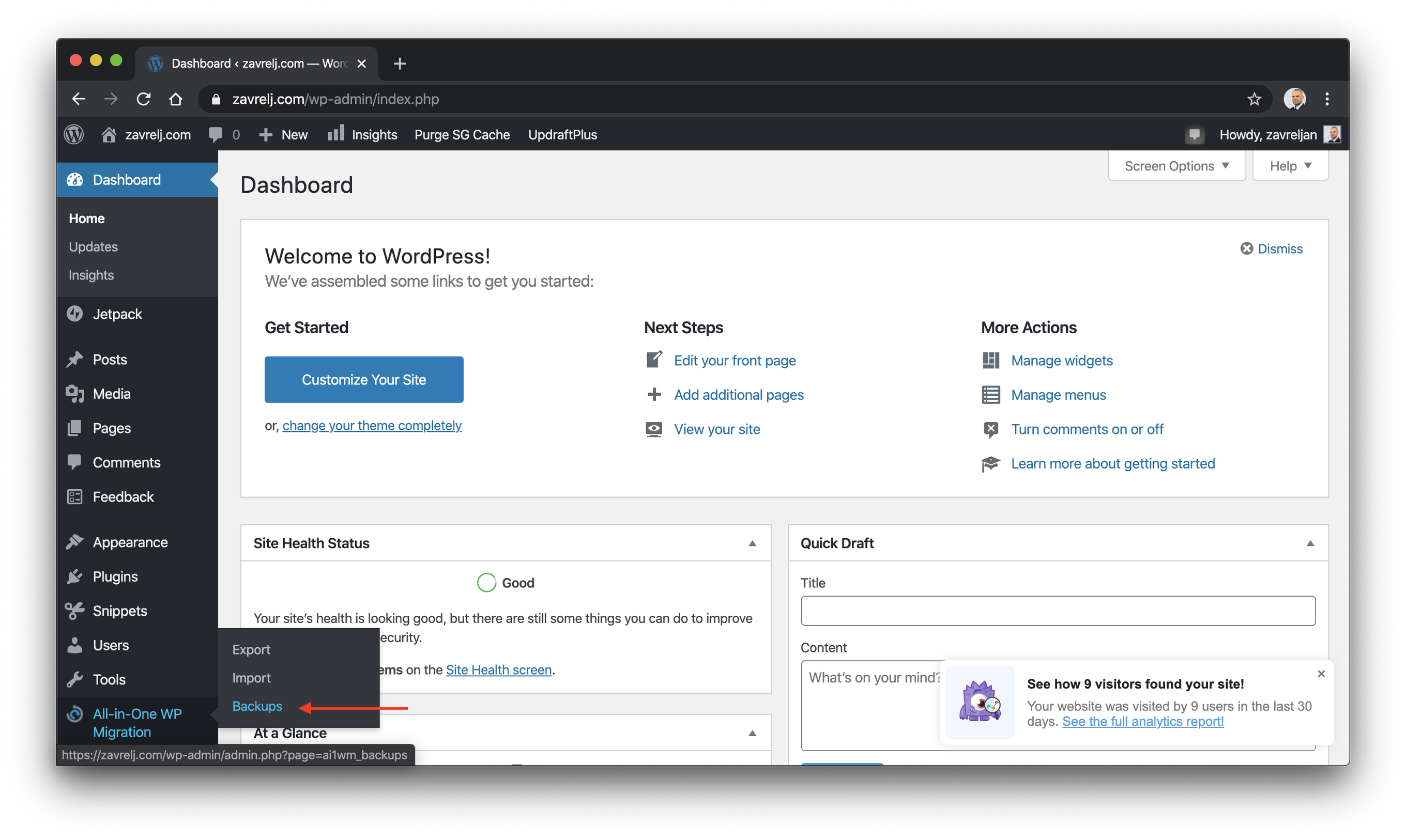 This option will let you backup your WordPress as a downloadable archive file from which you can later restore the whole website. Simply click the CREATE BACKUP button and wait.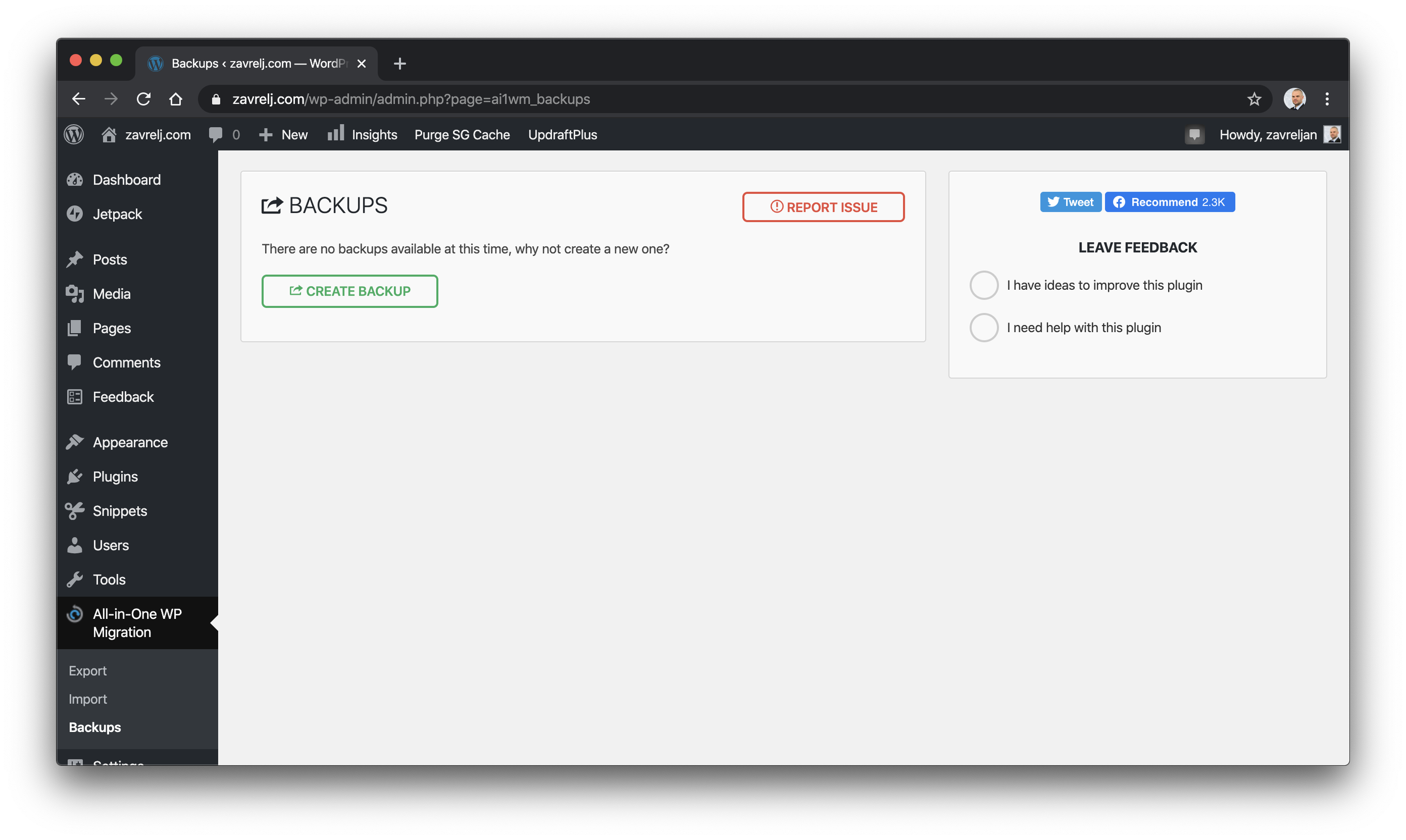 After a while, you'll be offered a file to download.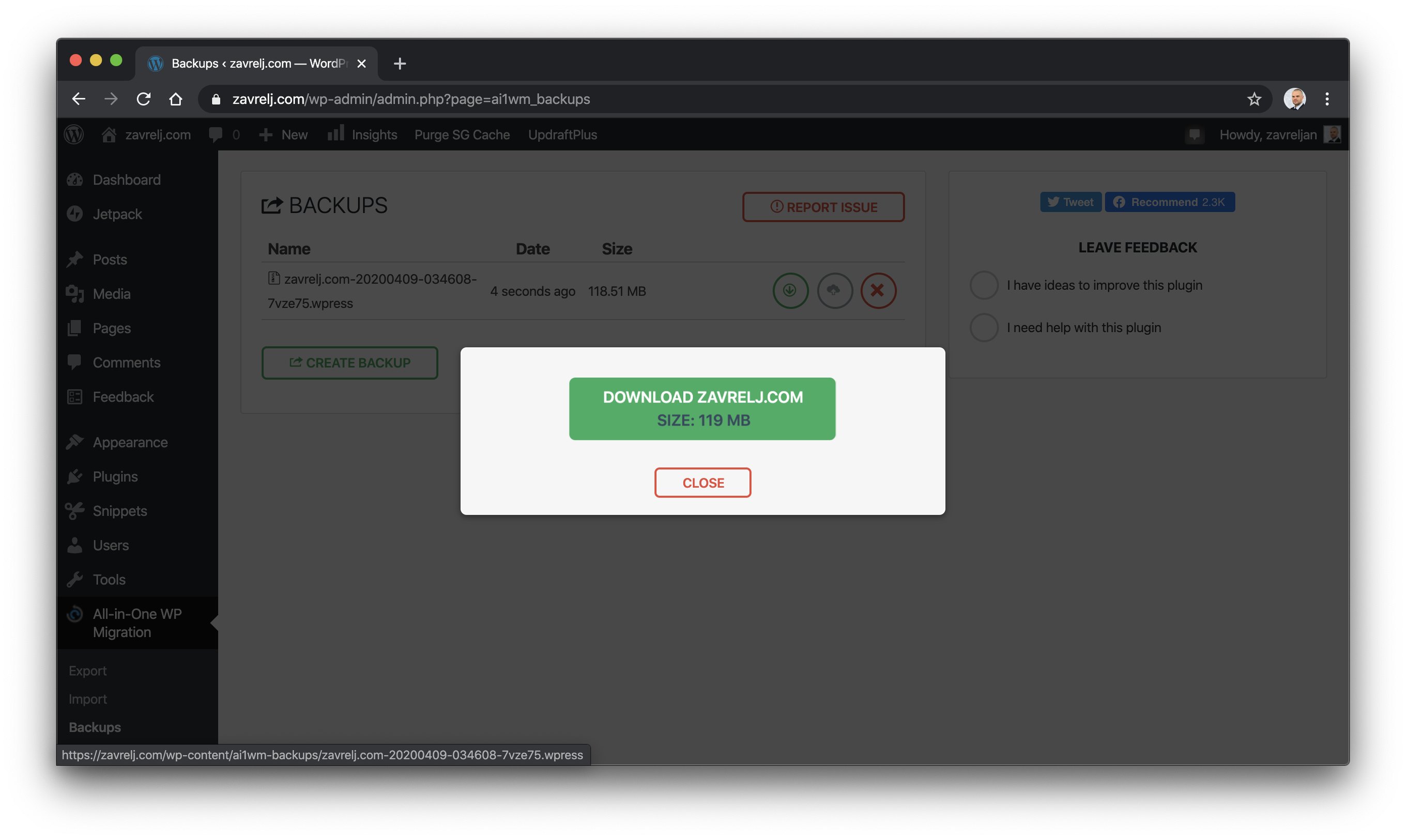 Also, you'll see the backup in the list from which you can re-download it to your local storage or restore your website from it.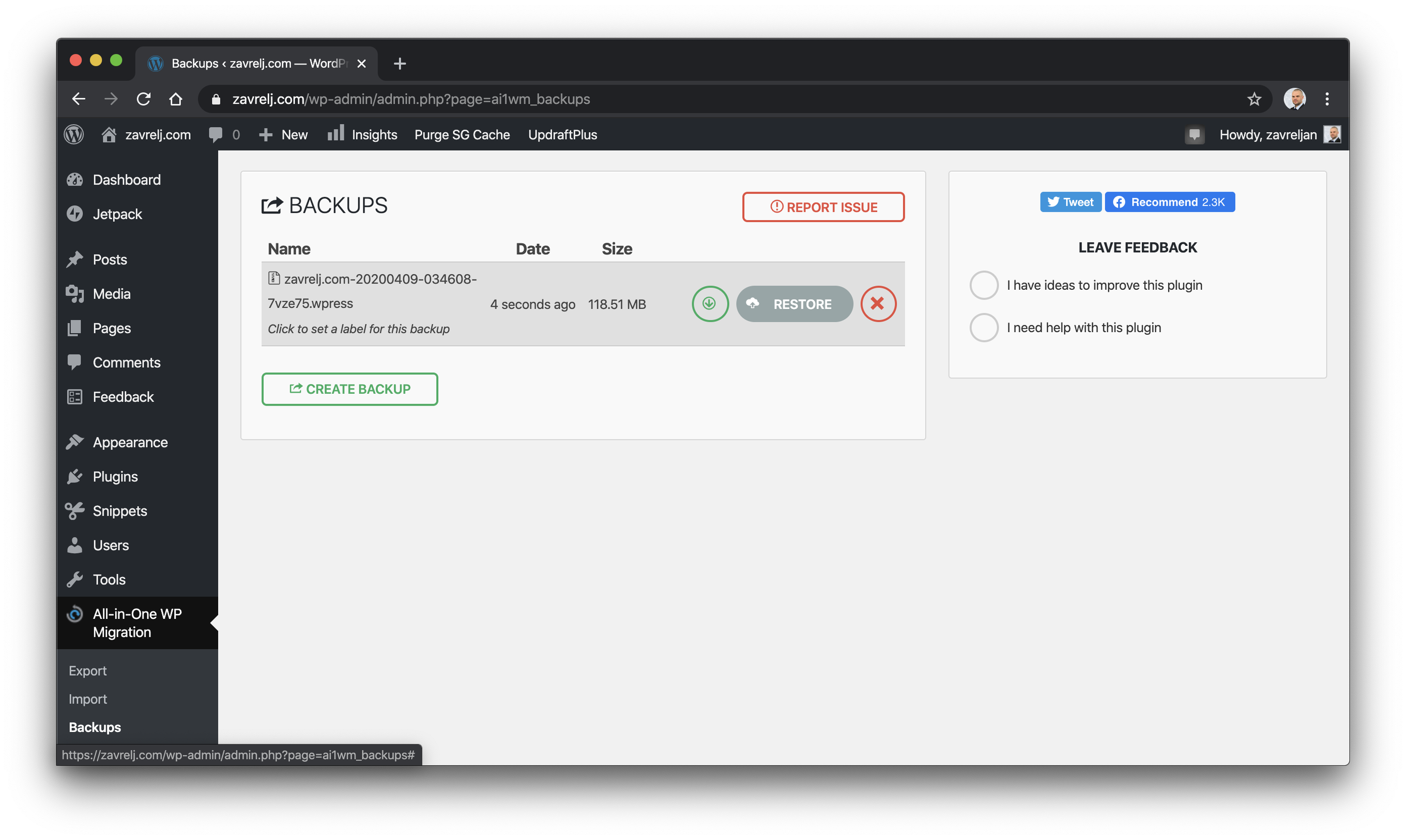 All-in-One WP Migration is a handy tool, but most of the advanced features and size limits are behind the paywall and you need to unlock them by paying for them individually.
For example, if you want to export your website to Google Drive, you'll need to buy Google Drive Extension for $99.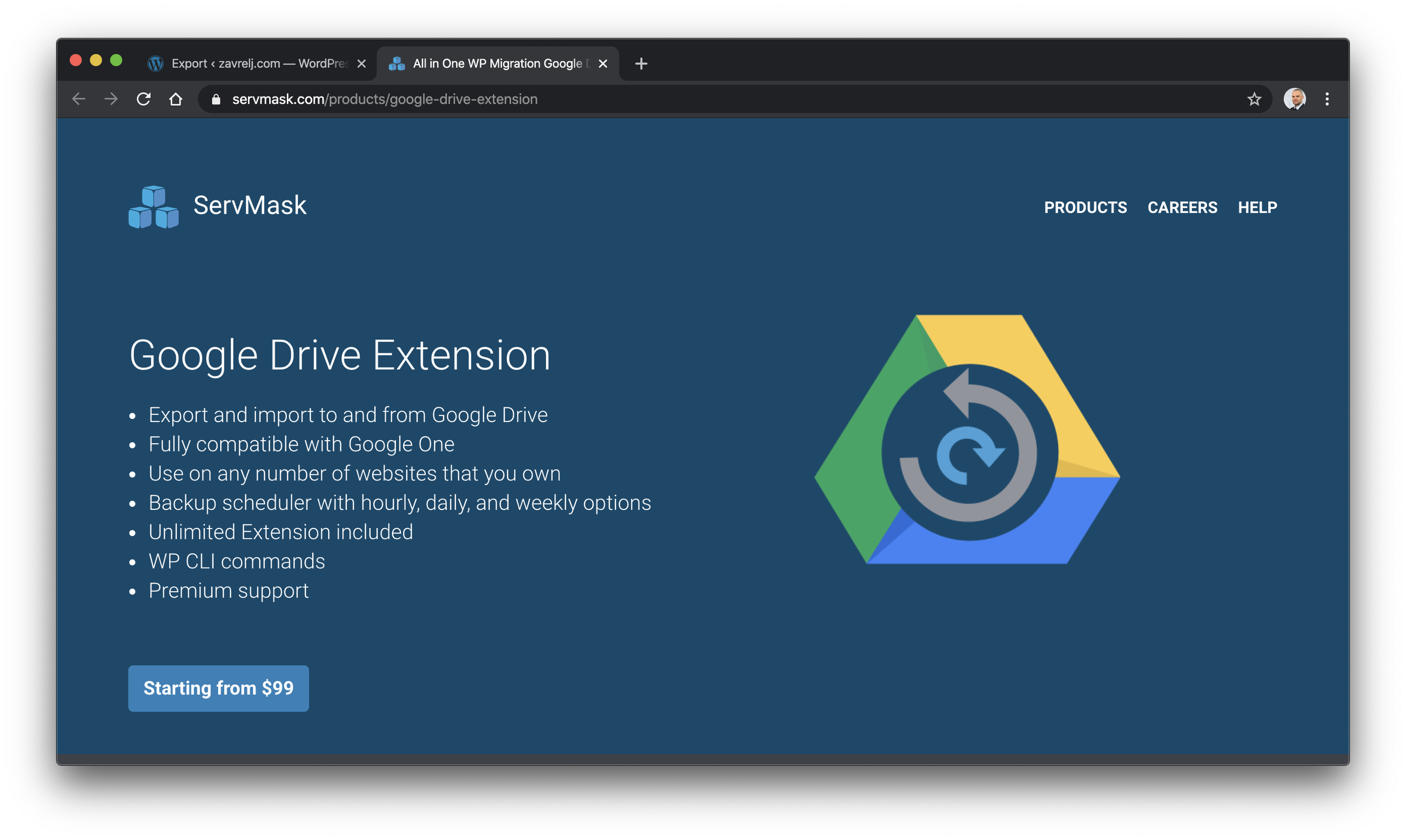 If you want to backup websites larger than 512MB, you'll need to buy Premium version which costs $69.
As you can see, this quickly adds up and from this point of view, I suggest that you stick with UpdraftPlus.
Once you outgrow the Free version, you can upgrade to Premium version starting from $50.40 per year.
Or maybe you'll realize that for that price, you would rather migrate to the hosting provider which offers automatic on-site backups, like Kinsta, WP Engine, Flywheel or SiteGround.
Jetpack
Jetpack offers daily automatic backups with a 30-day archive for $39 per year as a part of the Personal plan.
This can be a viable option, especially if you decide to use Jetpack for its other features.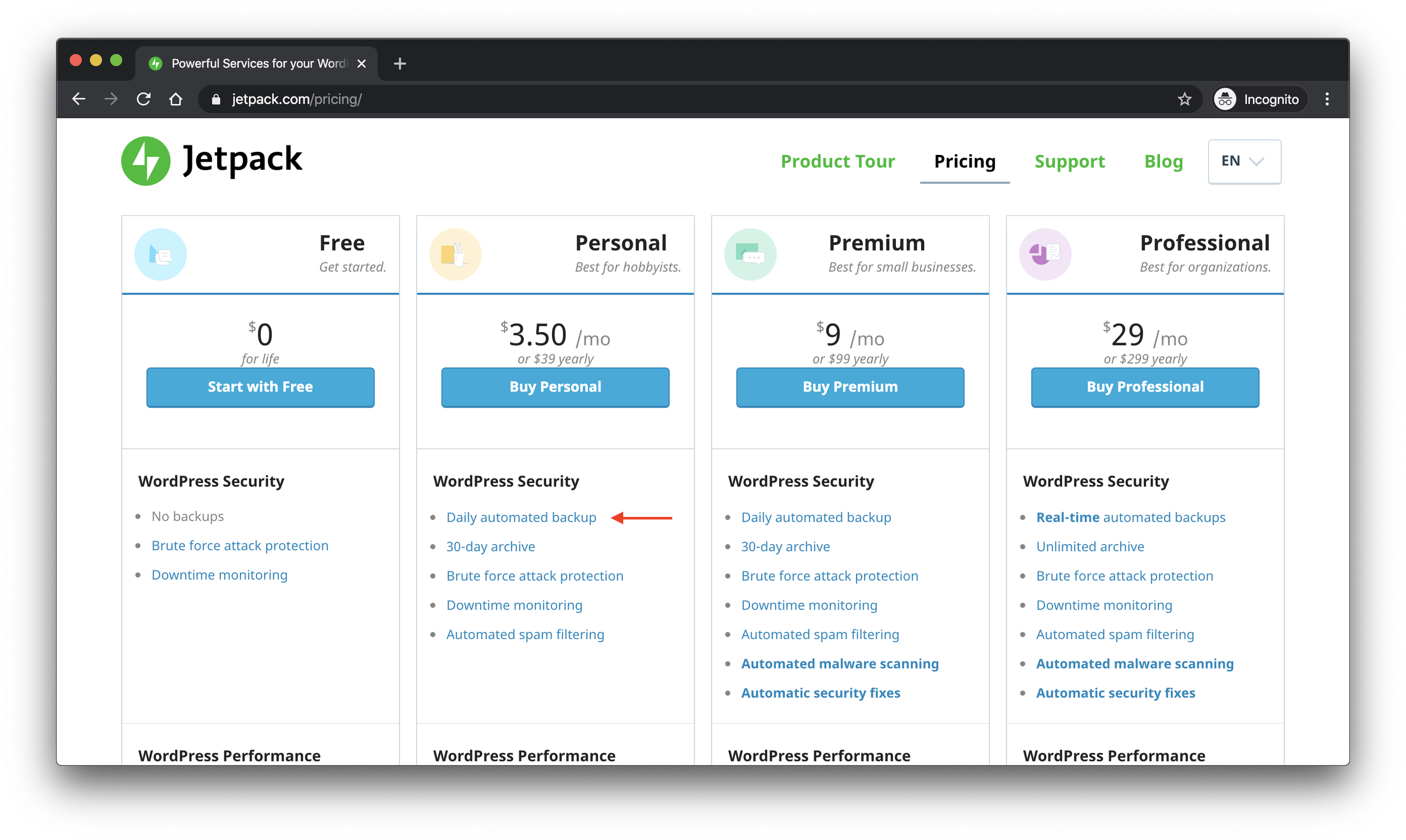 Conclusion
When it comes to backing up your WordPress website, there are many options for a different price. It's always about deciding what's worth your money.
I personally recommend starting with the quality web hosting service which should have some sort of automatic backup as a part of their plans.
It seems that it's cheaper and more reliable in the end.
If you're on a budget, you can always start with cheaper web hosting and deal with backups manually either via cPanel and Softaculous or via specific plugins like UpdraftPlus or All-in-One WP Migration.
Always make sure that you have your backups safely stored and regularly updated.