From day one, you should be able to measure your progress. Google Analytics is a part of the Google Marketing Platform.
It's a free service that will track your visitors and provide you with much important information regarding their location, type of device they use to access your website and so on.
Let's take a look at how to obtain your tracking number which you'll install in your WordPress.
Step 1
Go to marketingplatform.google.com and click the blue button to sign in: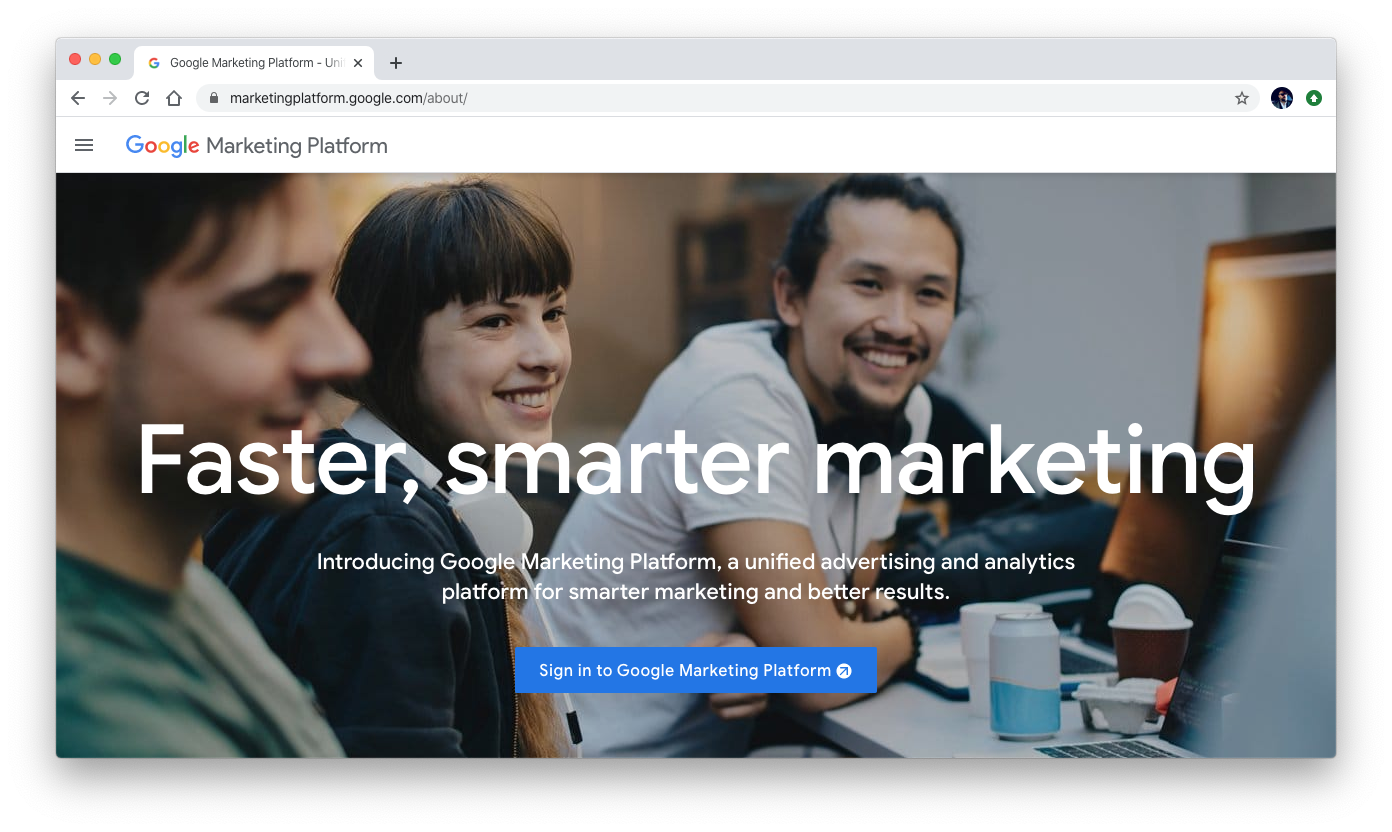 Step 2
Click the Set up button under the Analytics: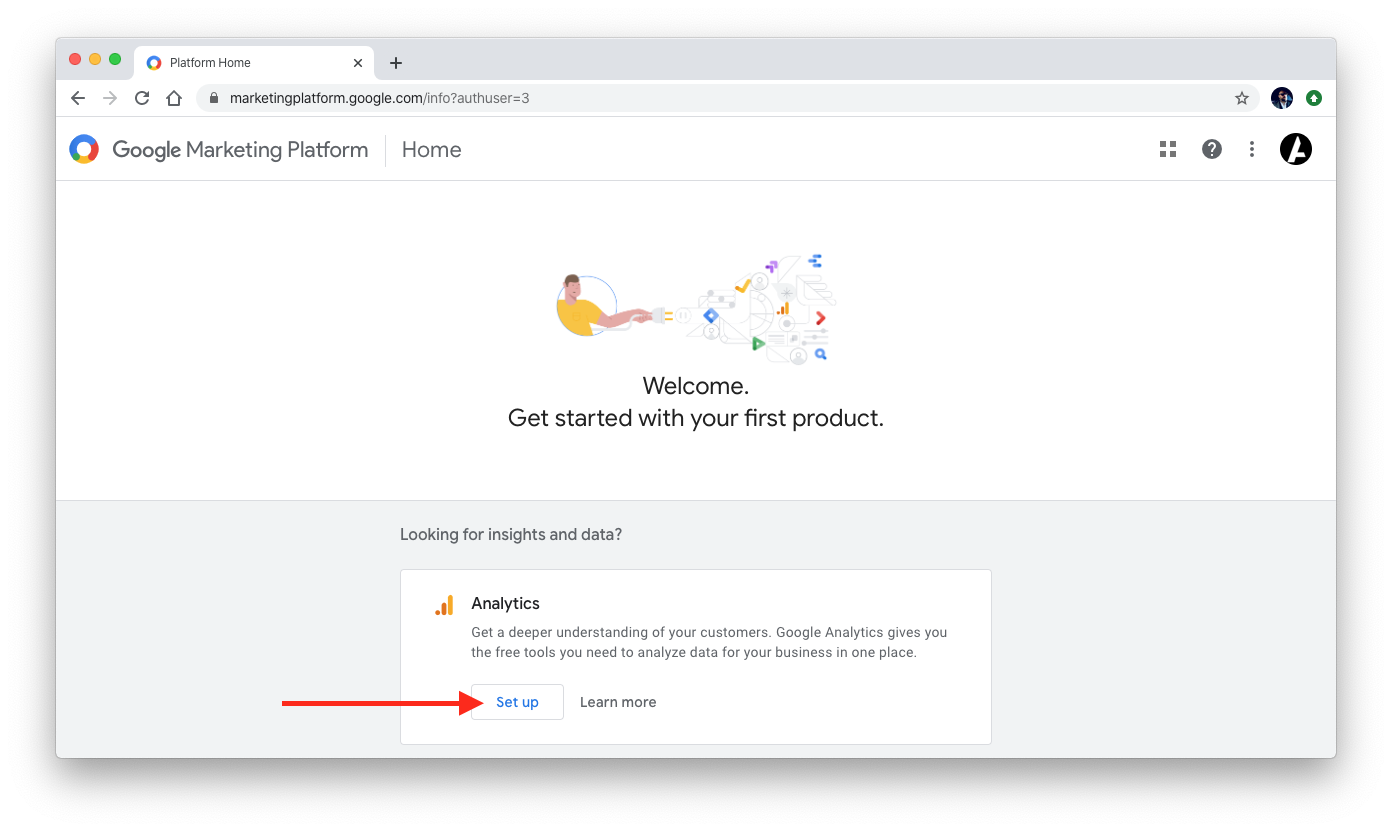 Step 3
Click the Set up for free button: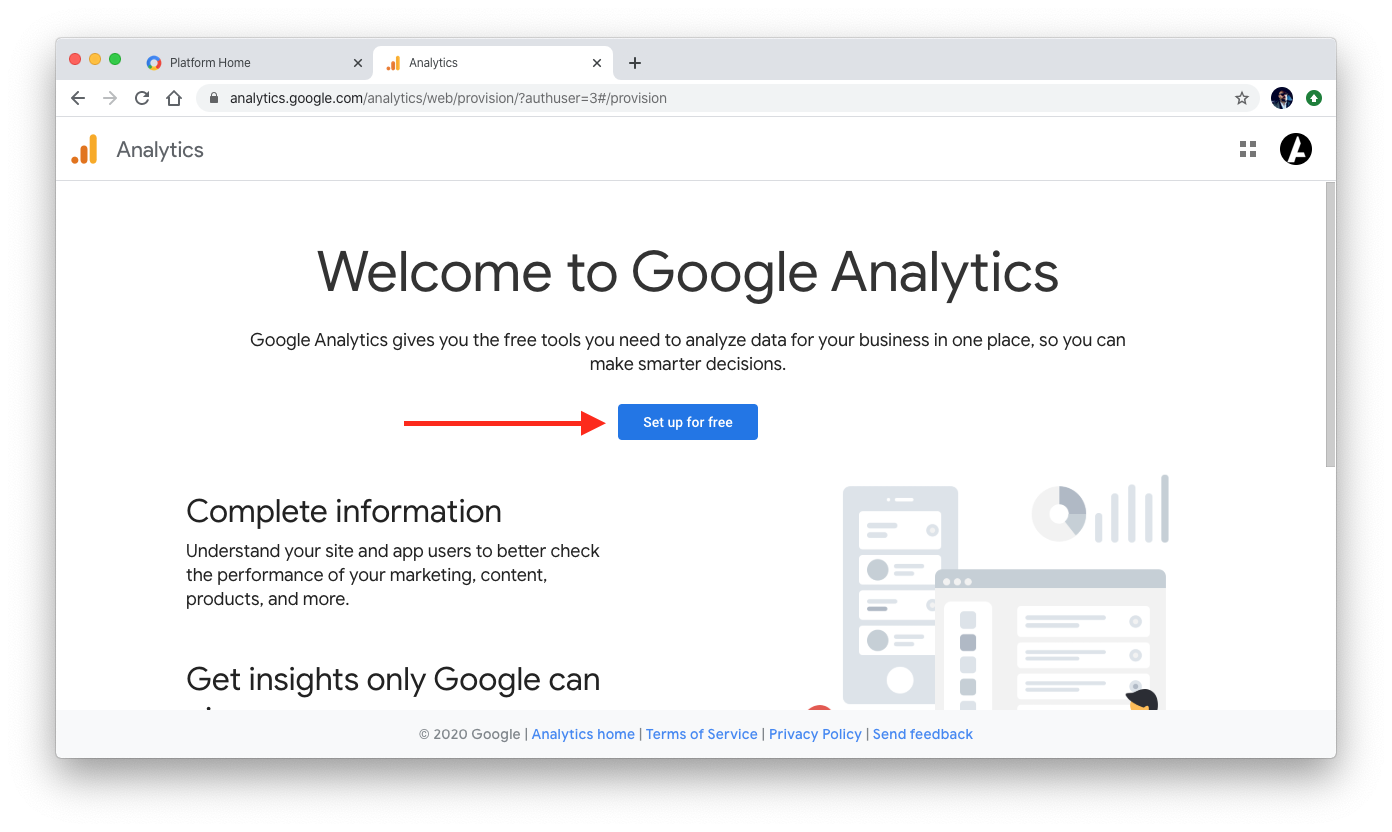 Step 4
Fill out the account name: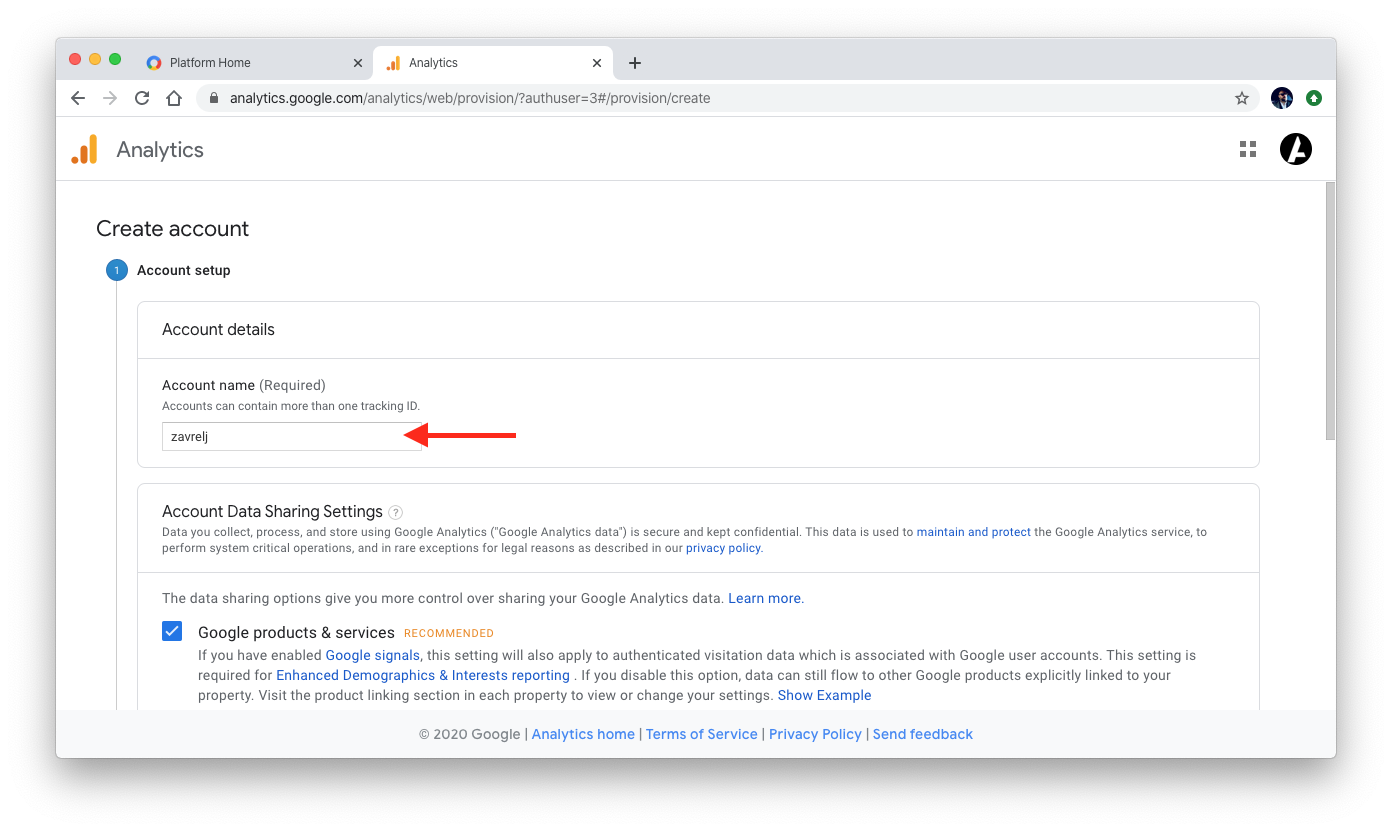 Step 5
Scroll down and click the Next button: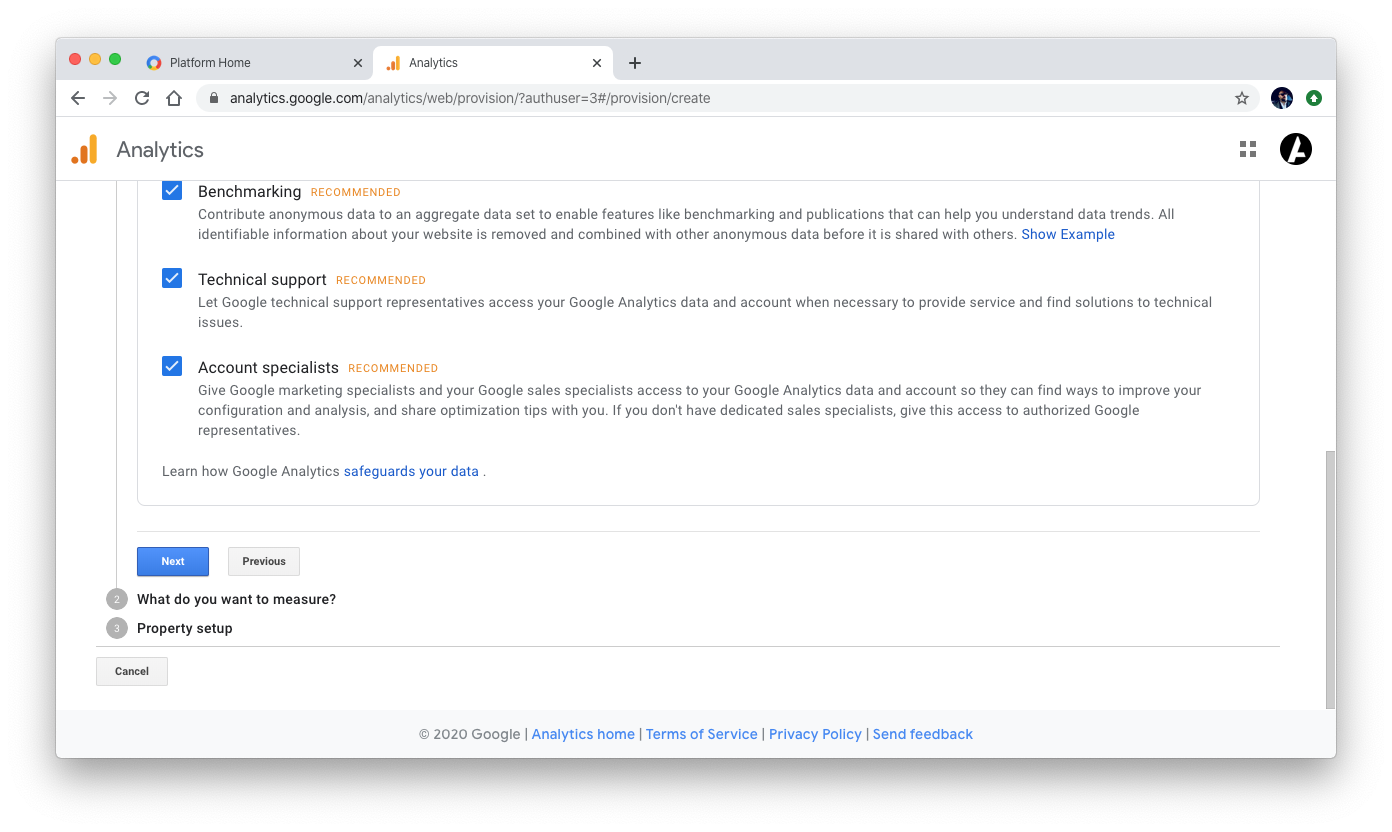 Step 6
Choose the Web from the list: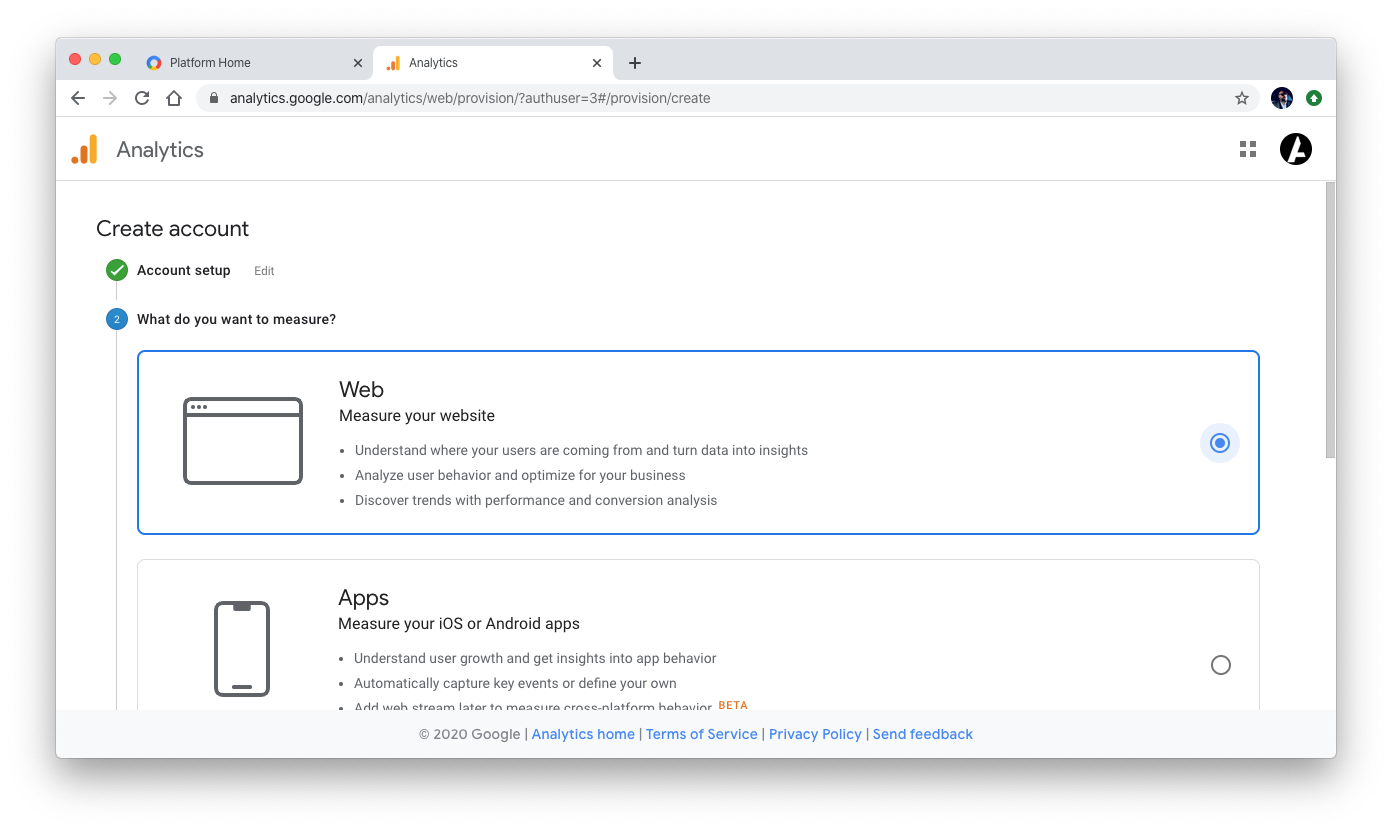 Step 7
Fill out your website name, URL and select category and time zone. When you're done, hit the Create button: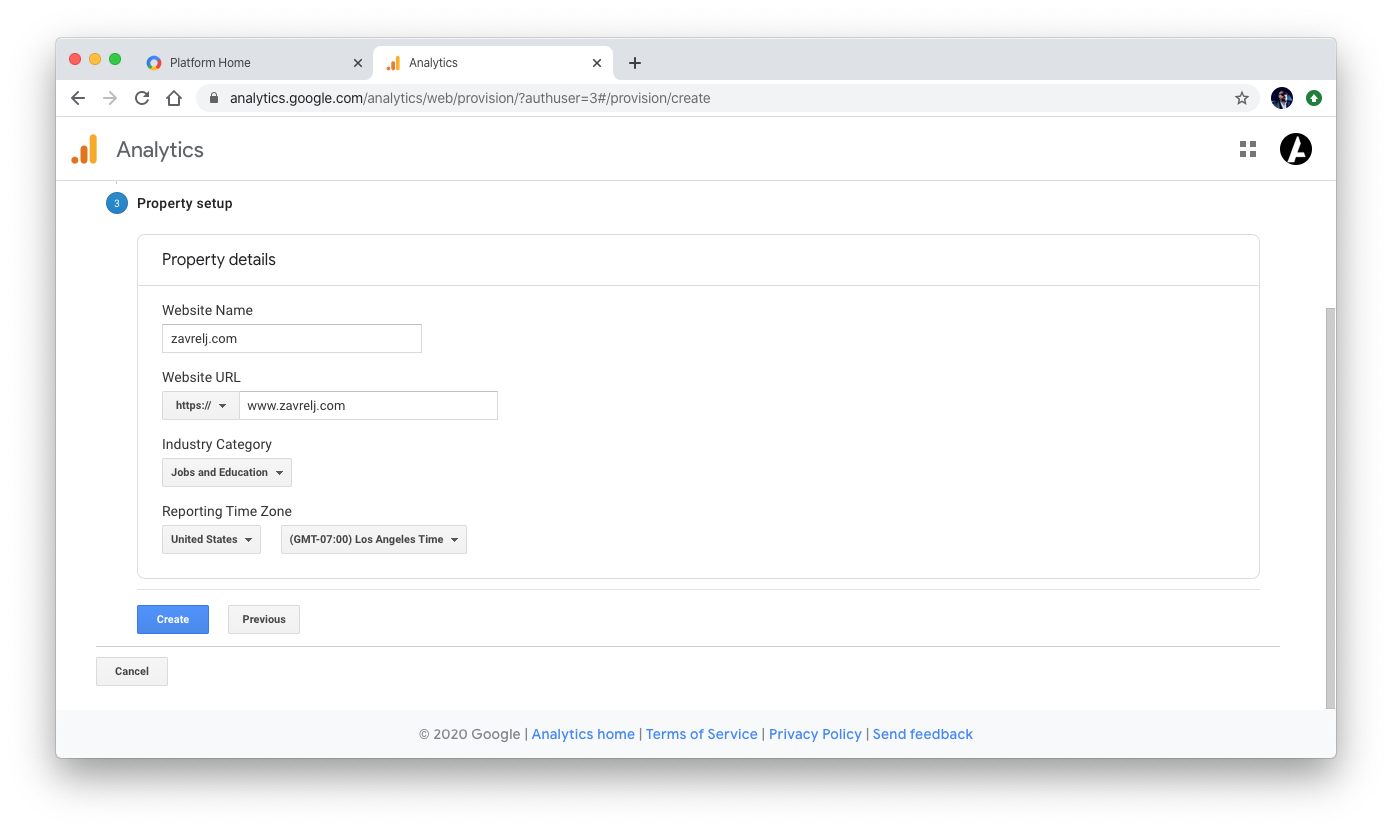 Step 8
Write down the Tracking ID.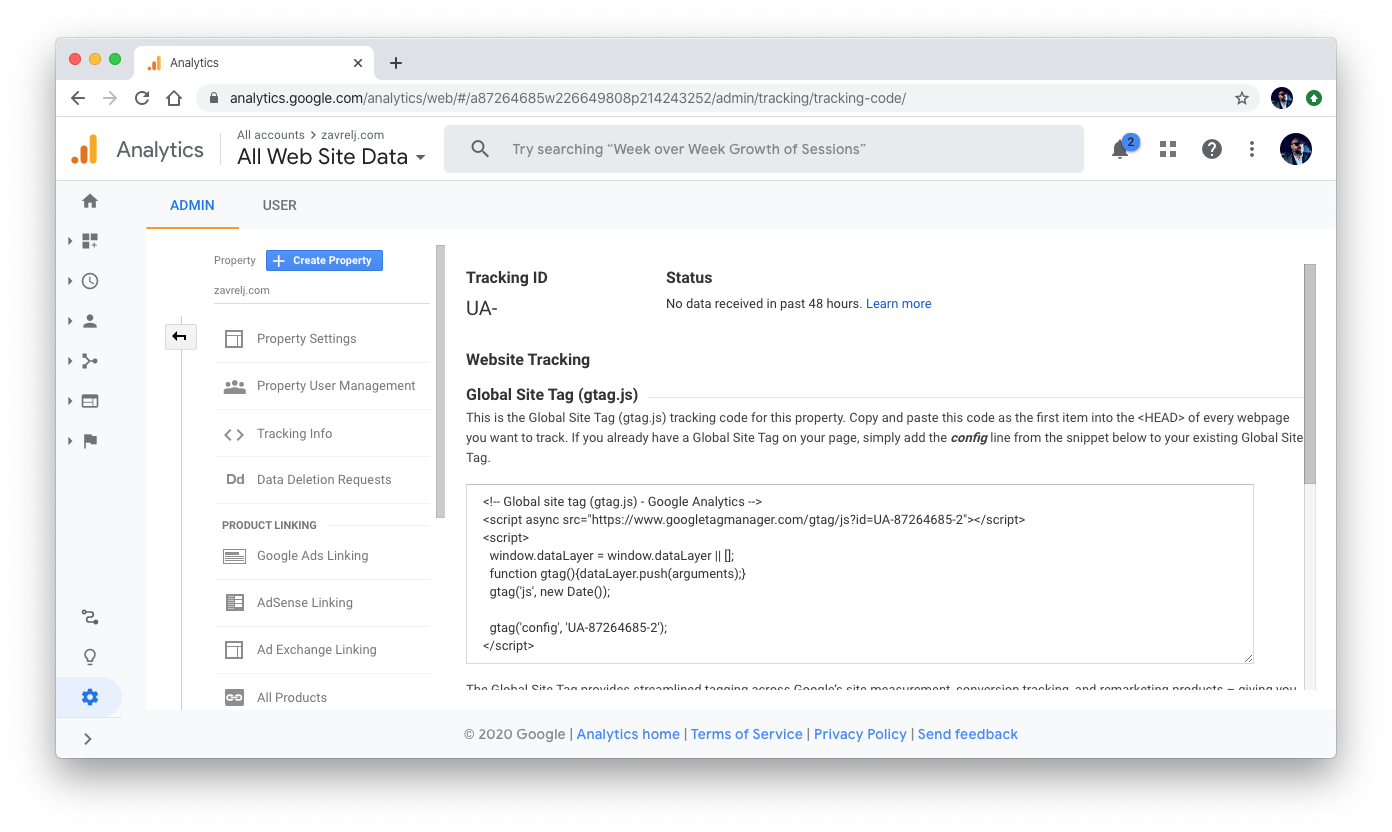 Great job. Now that you have your Tracking ID, you need to install it in WordPress and the easiest way is to use the MonsterInsights plugin.
The whole process is fairly easy.
Step 1
Go to your Admin Dashboard and select Plugins -> Add New in the left panel: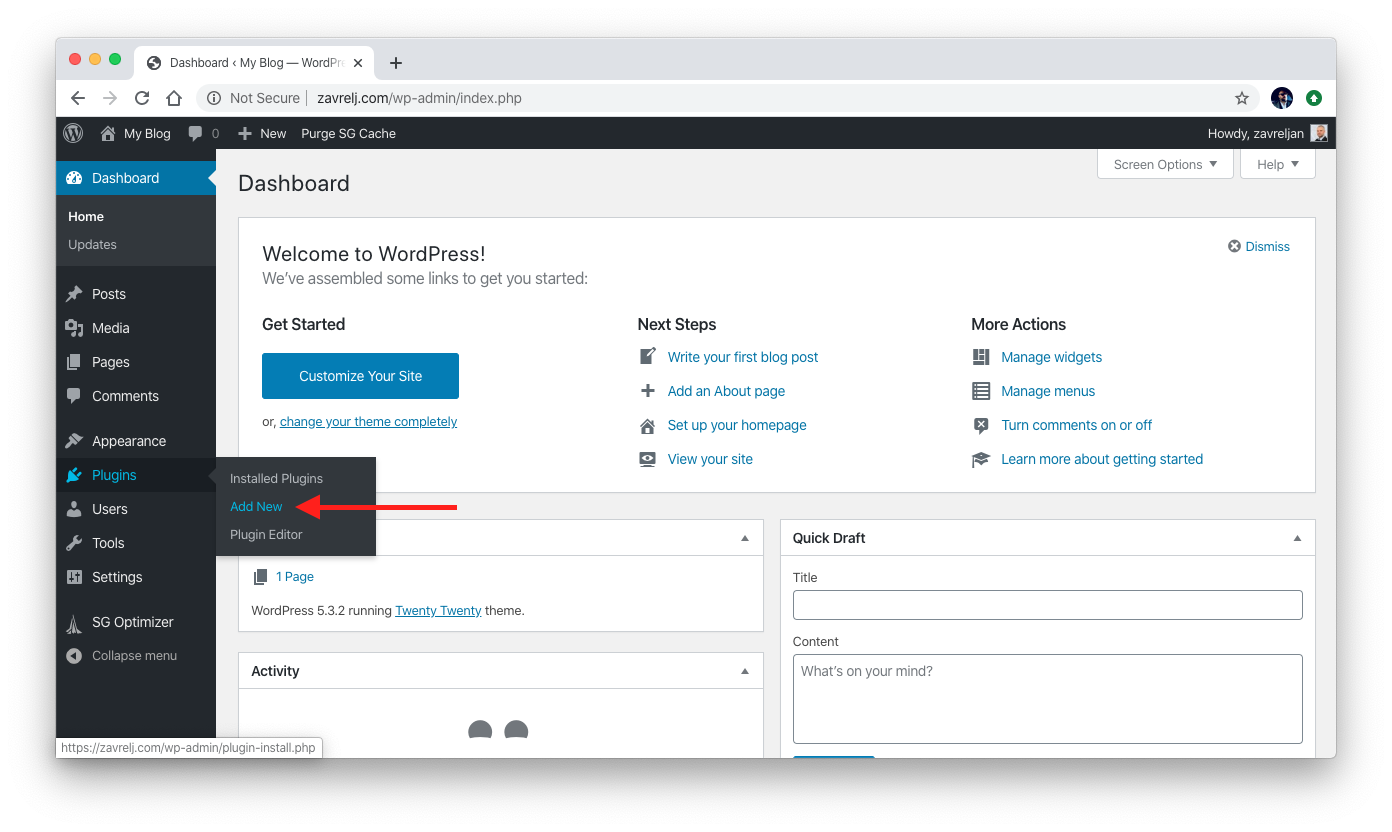 Step 2
Search for MonsterInsights and hit the Install Now button: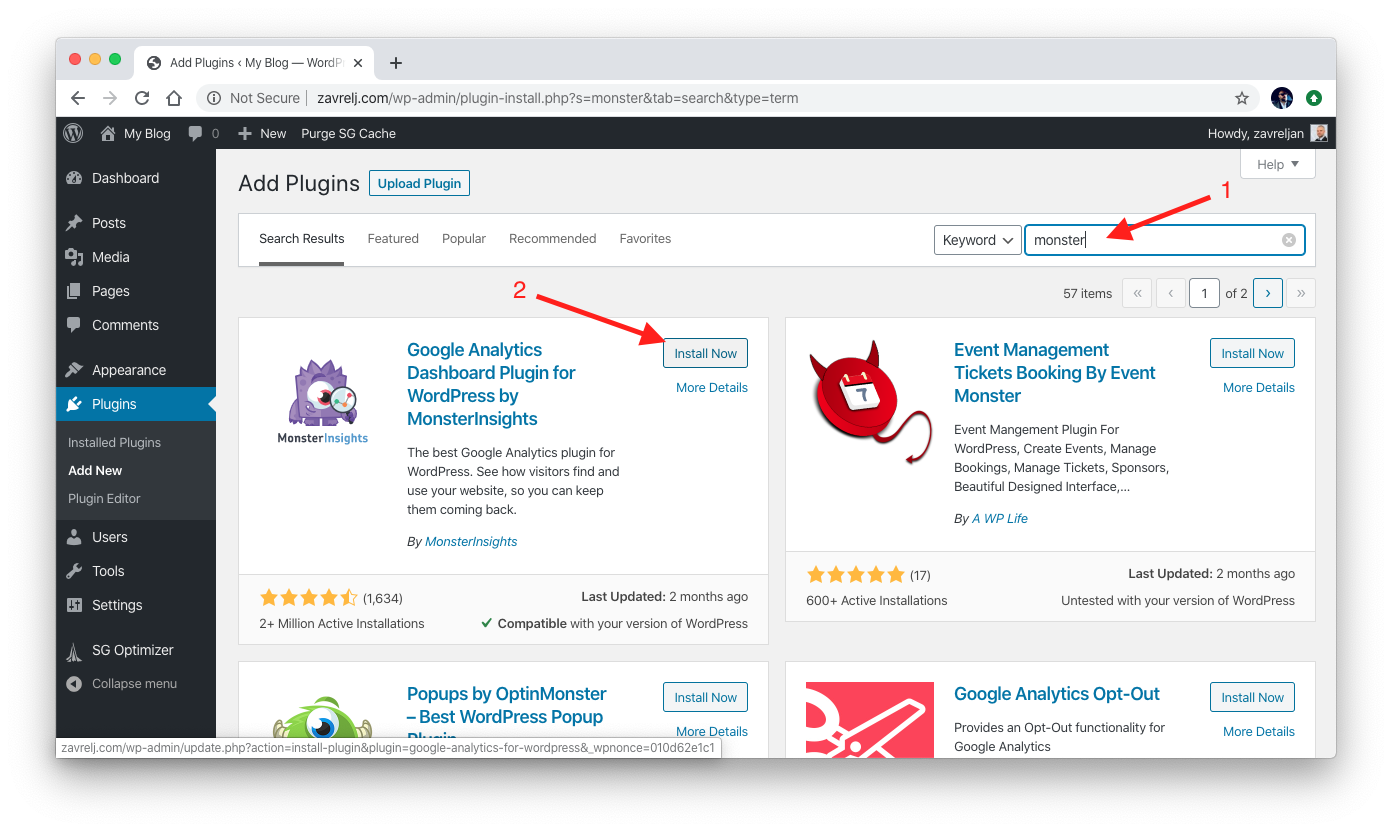 Step 3
Once it's installed, click the Activate button: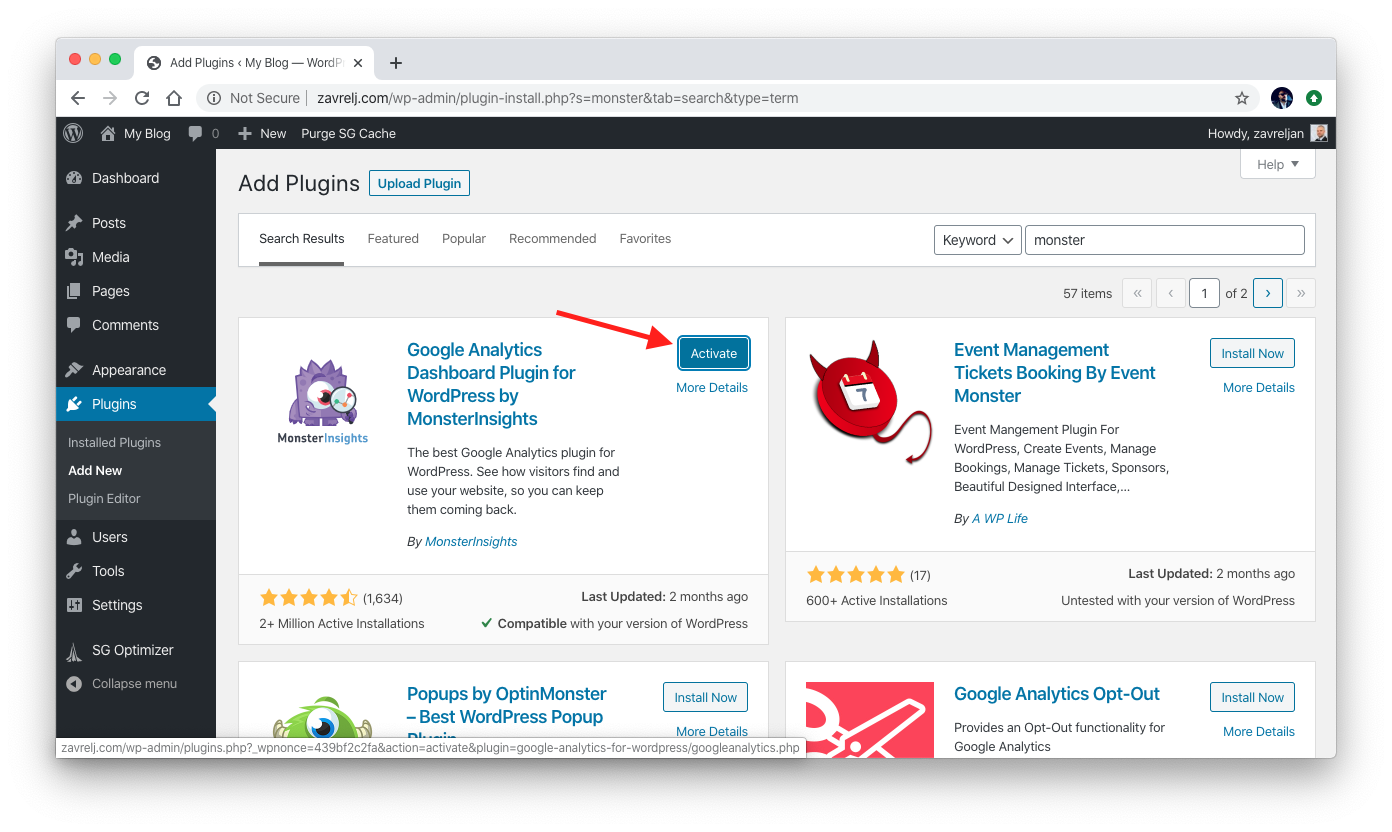 Step 4
If you're interested in how MonsterInsights work, check out the short introductory video: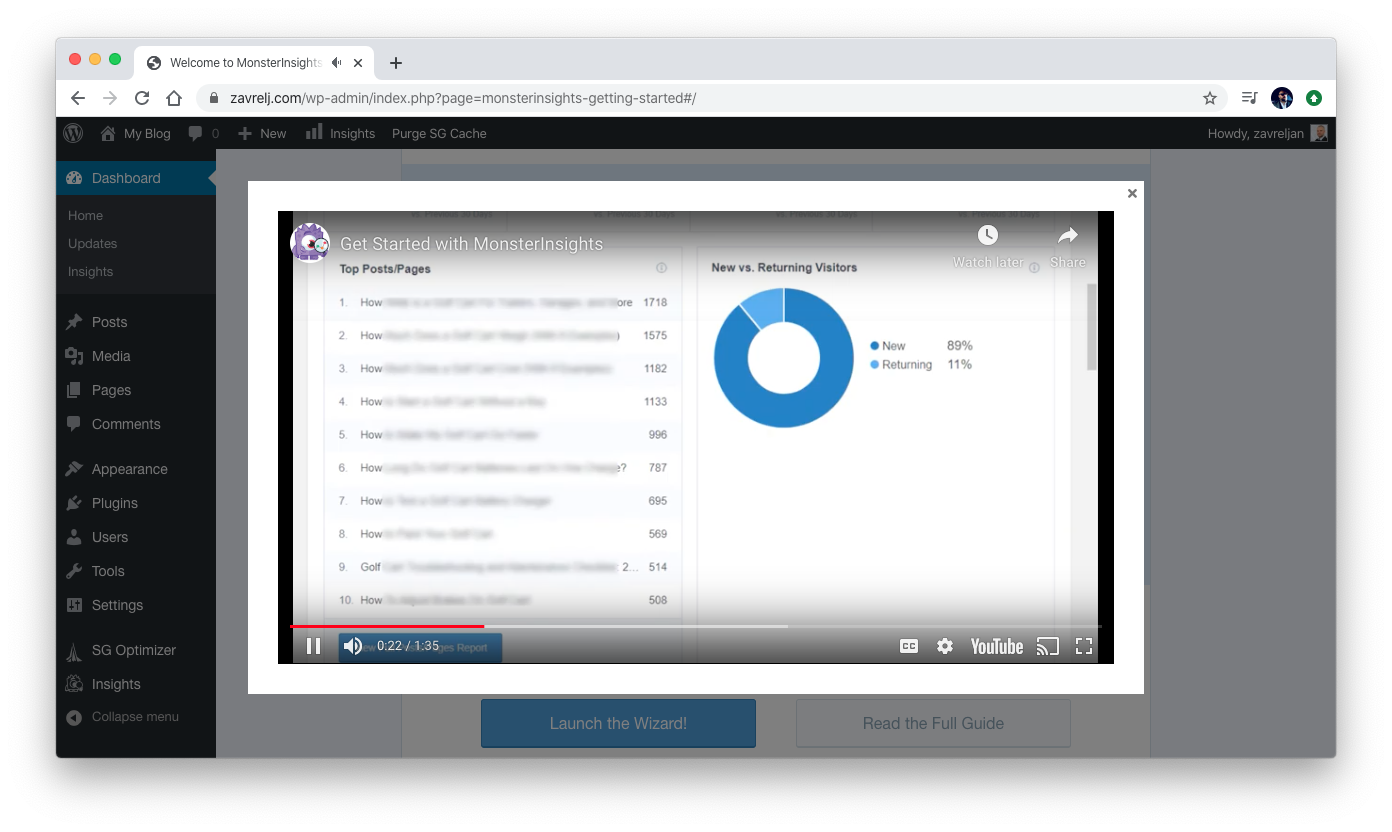 Step 5
Scroll down and click the Launch the Wizard button: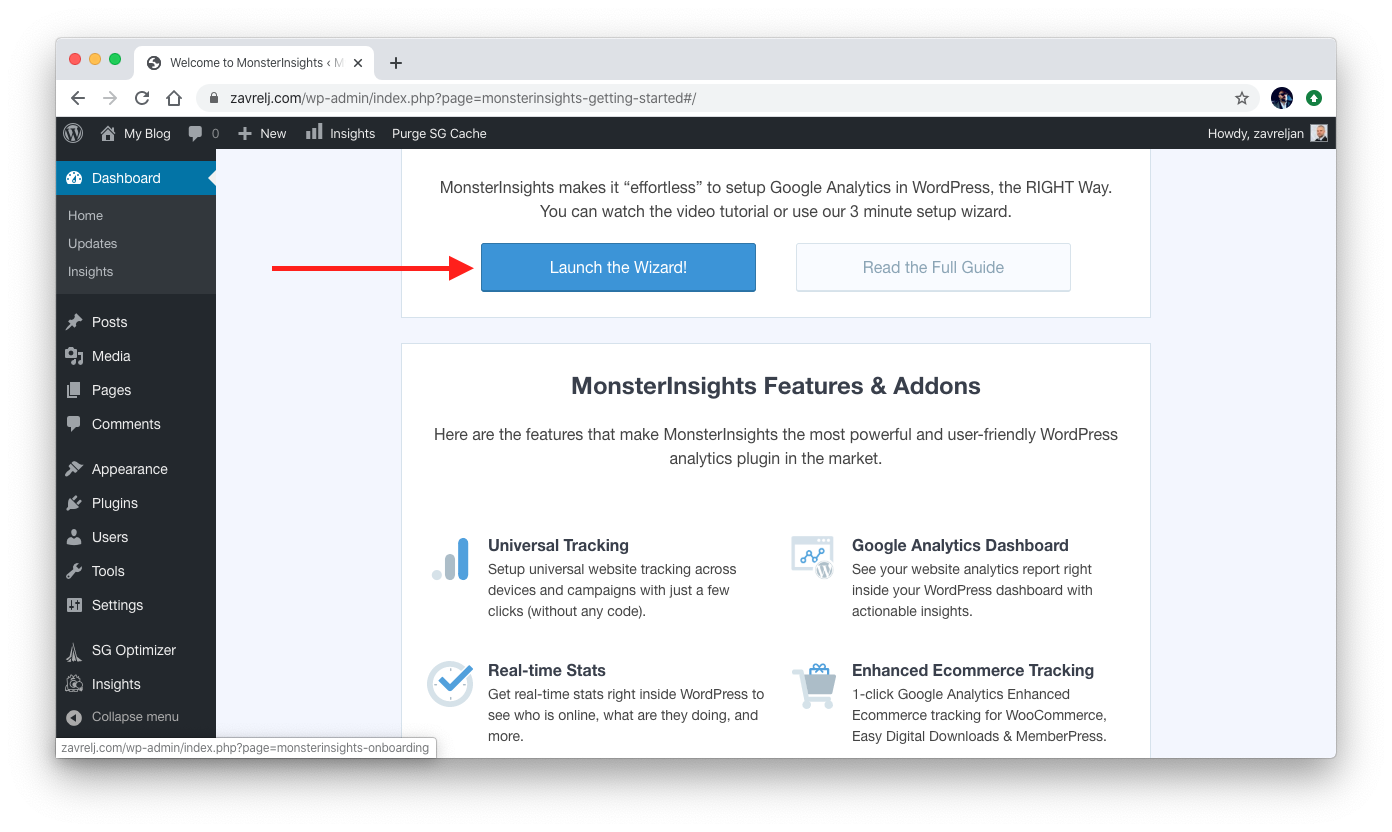 Step 6
Select the category which describes best your website, I chose Publisher (Blog):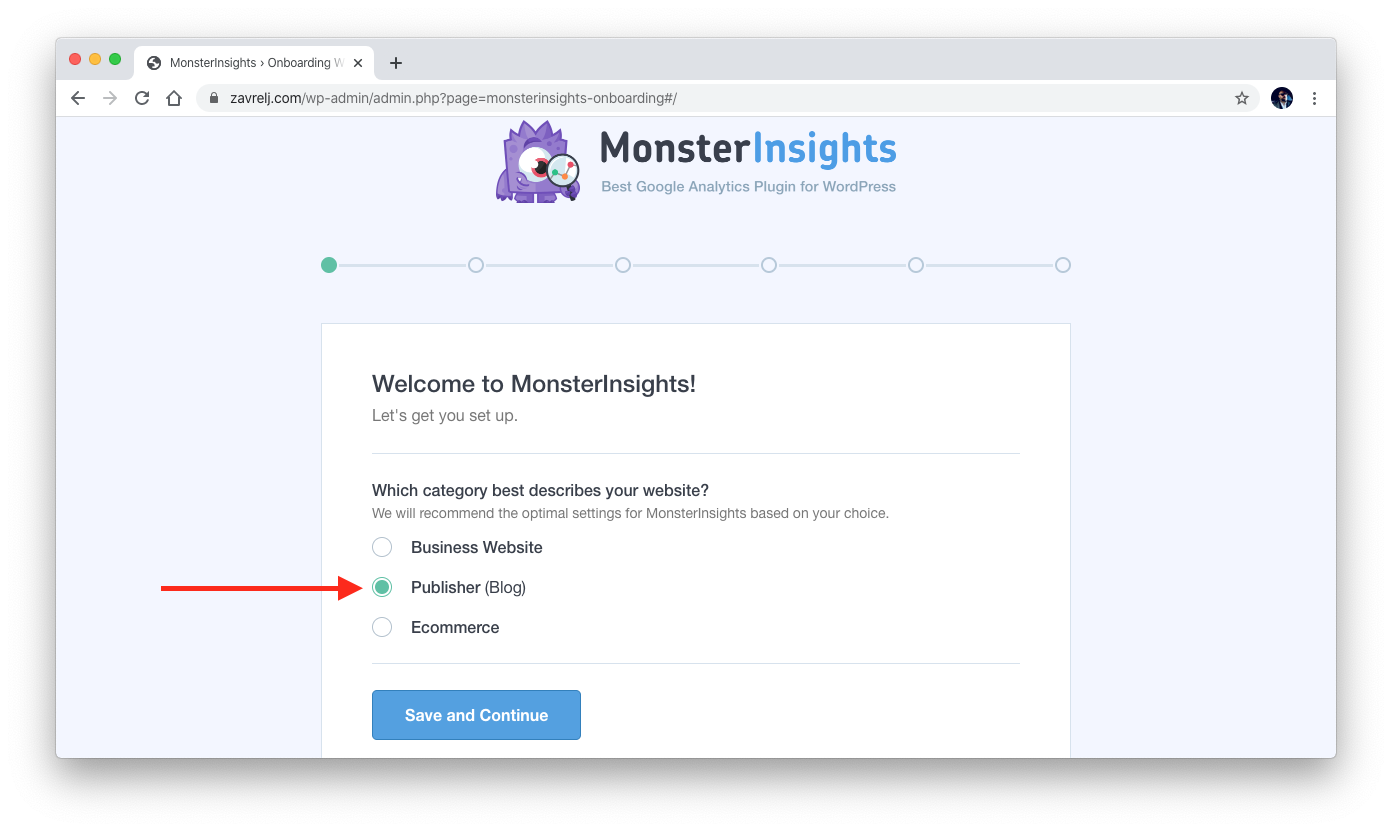 Step 7
In the next step, simply click the Connect MonsterInsights button: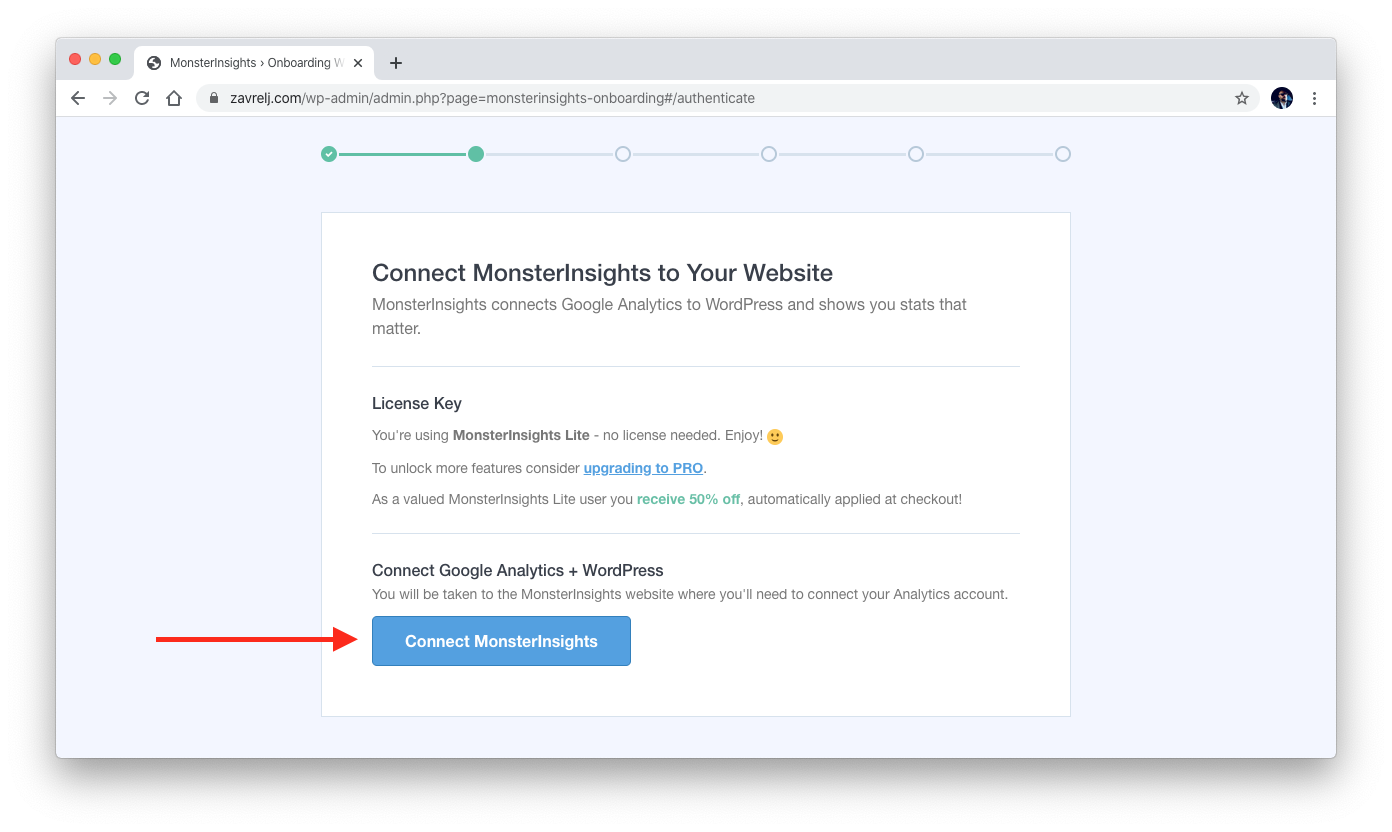 Step 8
You'll be asked to sign in to your Google Analytics account and grant MonsterInsights some permission so it can view, update add and delete some management entities. Don't worry, this is perfectly fine. Click Allow button in all four cases: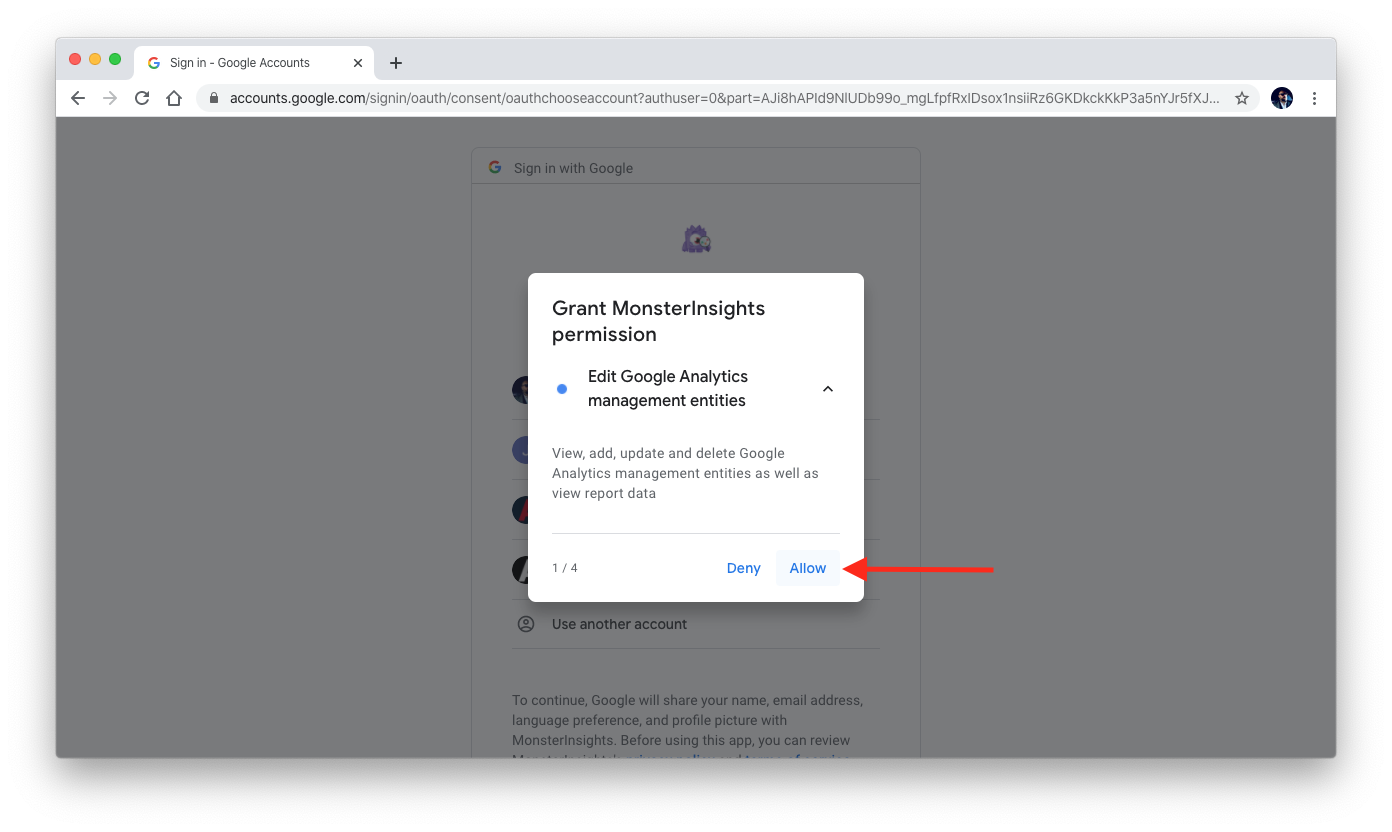 Step 9
Finally, you'll need to confirm that you trust MonsterInsights by clicking the Allow button: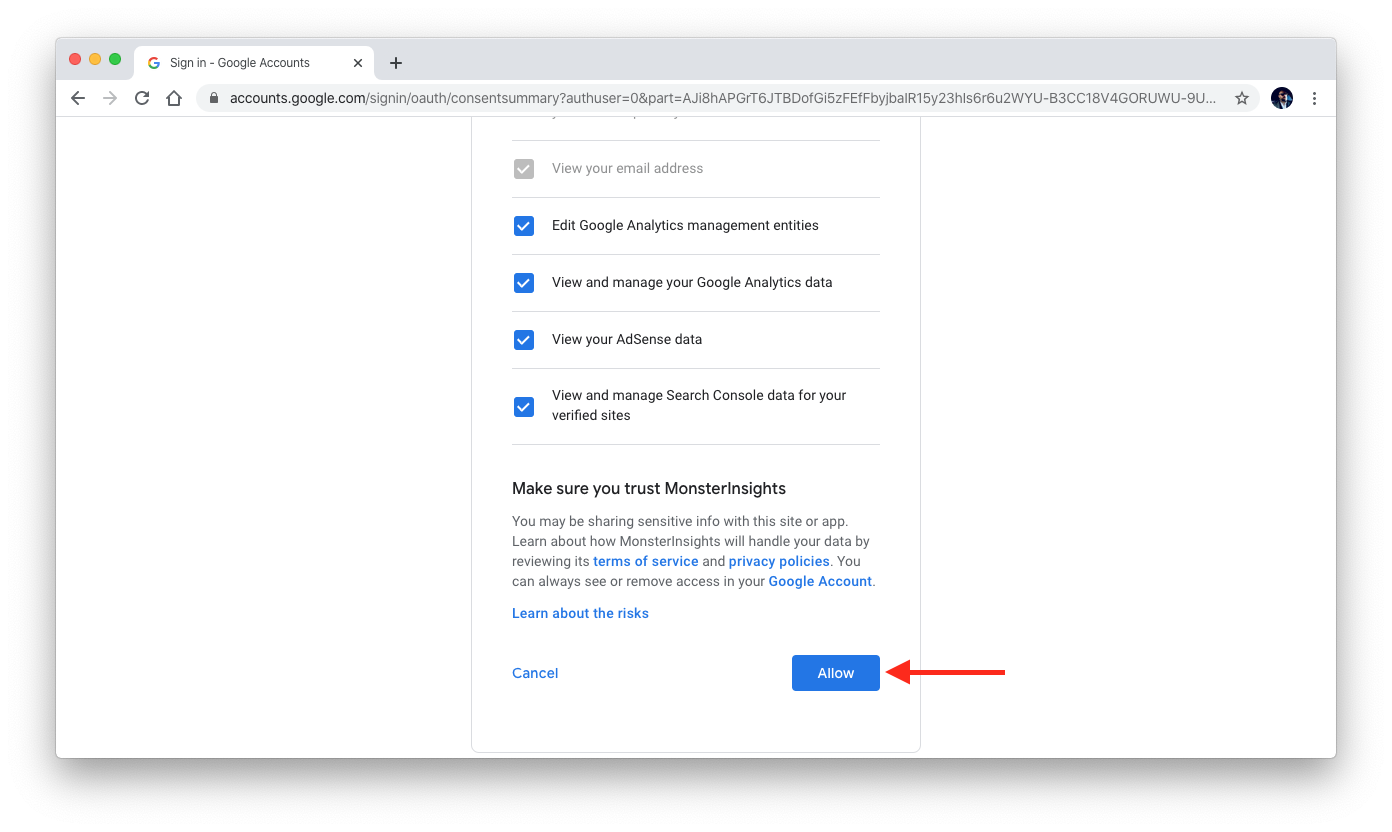 Step 10
Next, you'll need to select your website from the drop-down menu and hit the Complete Connection button: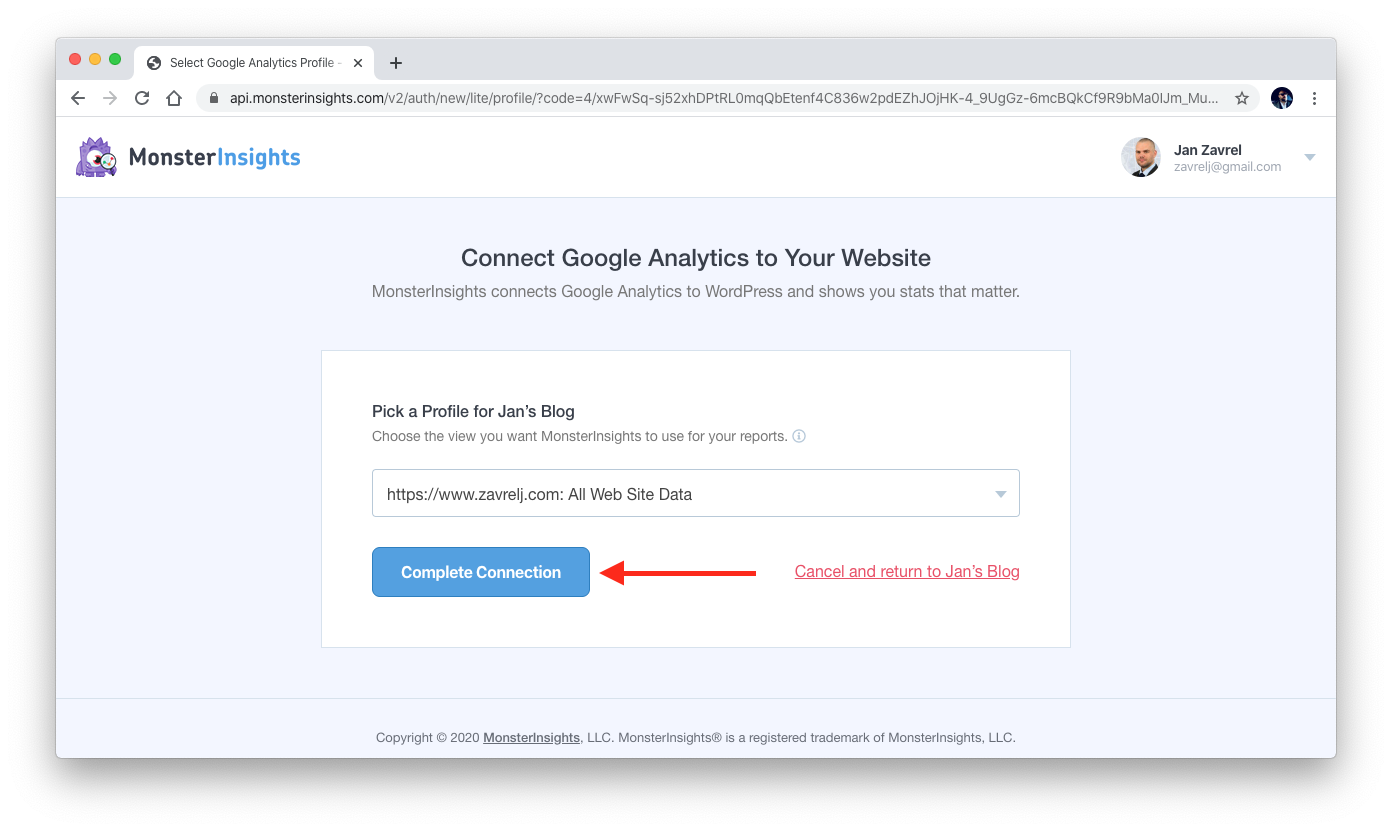 Step 11
Wait until MonsterInsights finalizes authentication, it shouldn't take much time: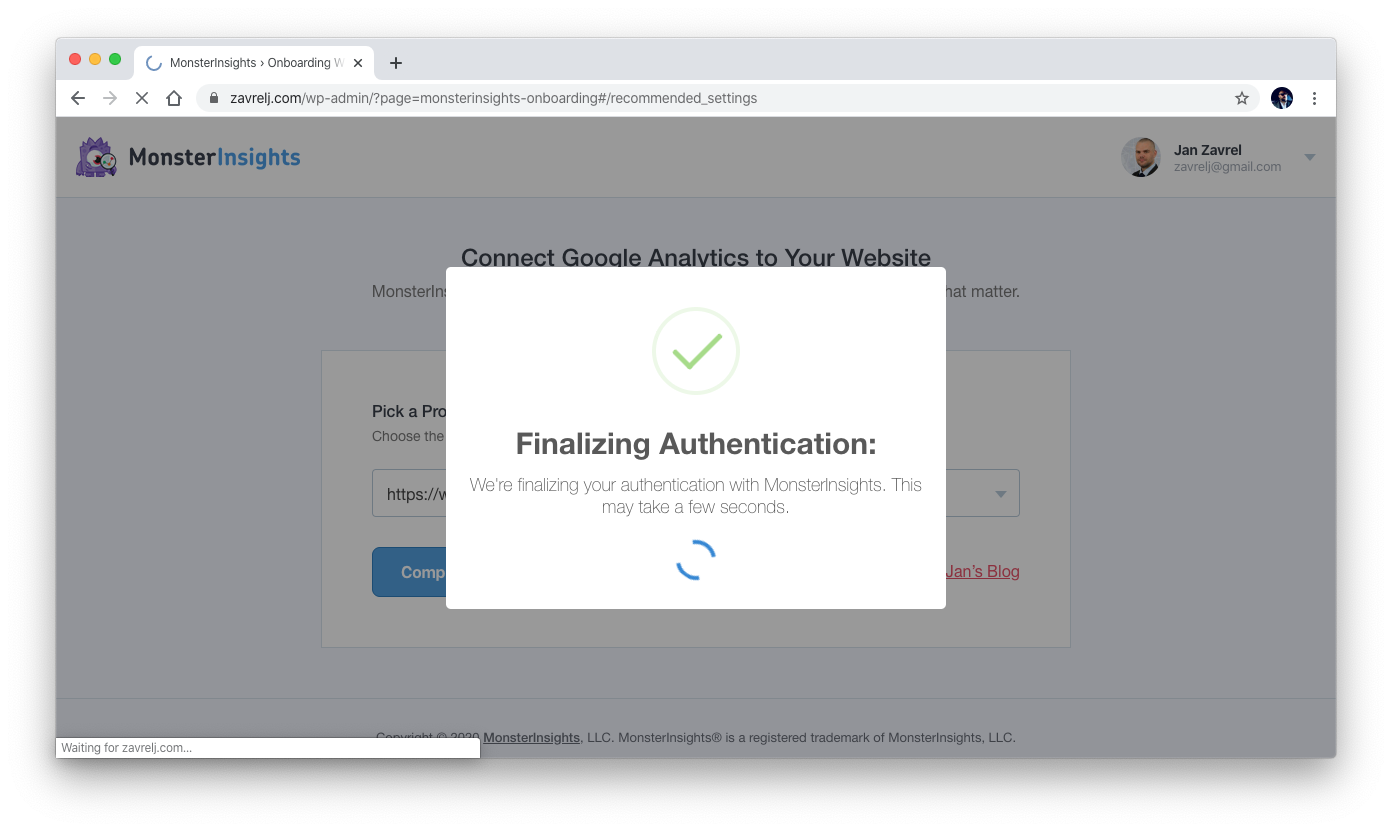 Step 12
Make sure to have your preferred affiliate link structure set here. I'll discuss this topic later so if you have no idea what it means, just type the /recommends/ text and delete any other row by clicking the red button next to the form: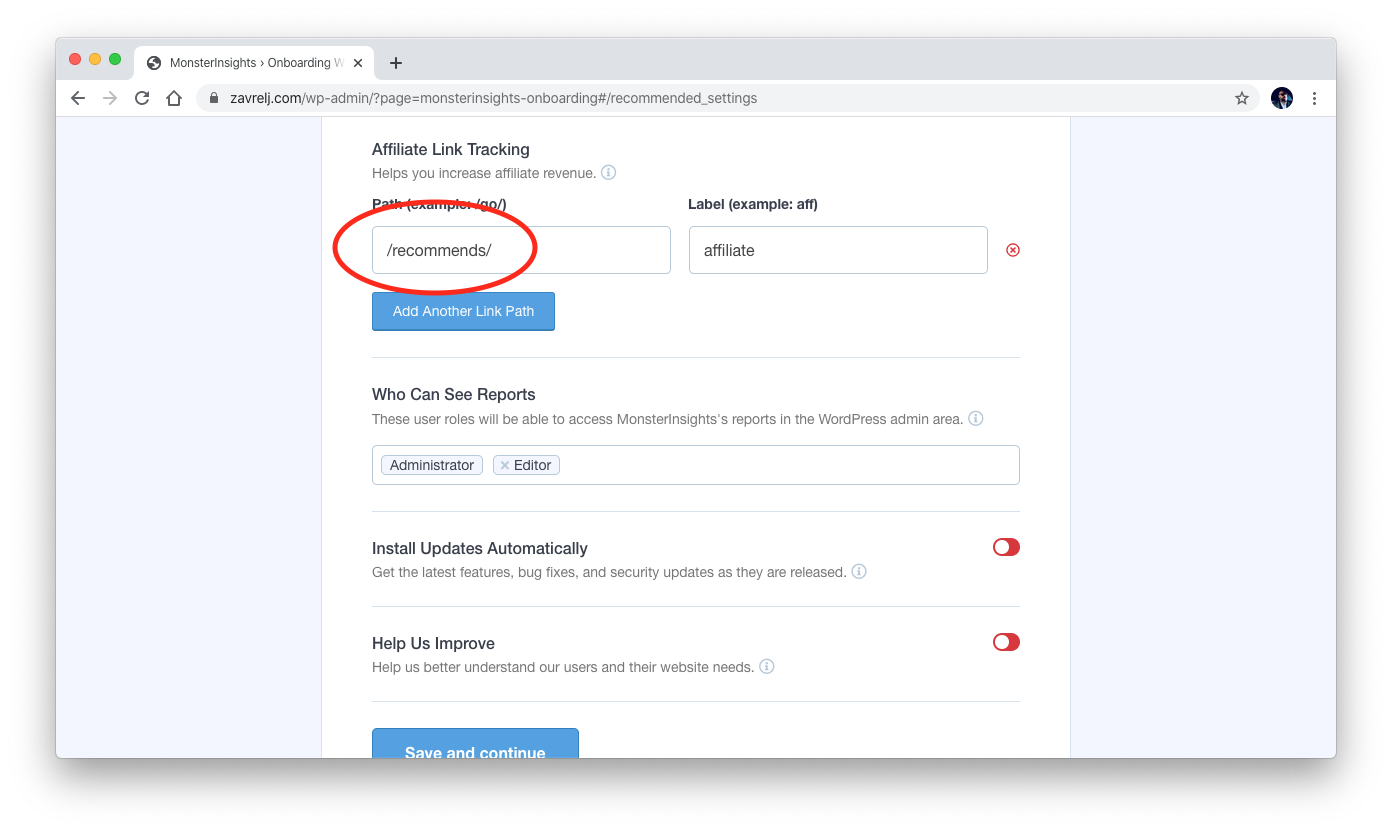 Step 13
Scroll all the way down and hit the Save and continue button: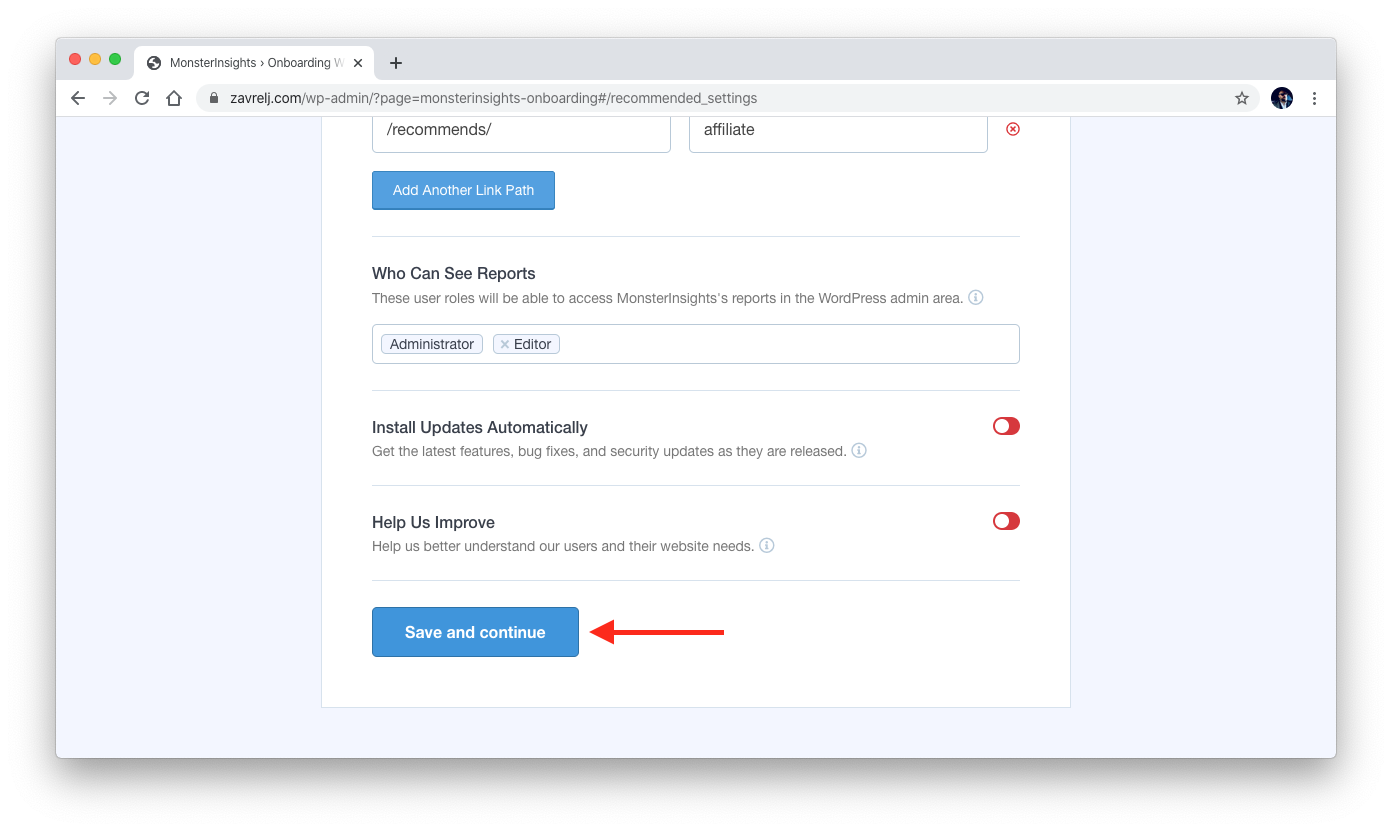 Step 14
Since you don't need WPForms right now, I don't suggest to install more plugins than those absolutely necessary. Feel free to skip this offer and continue with the next step: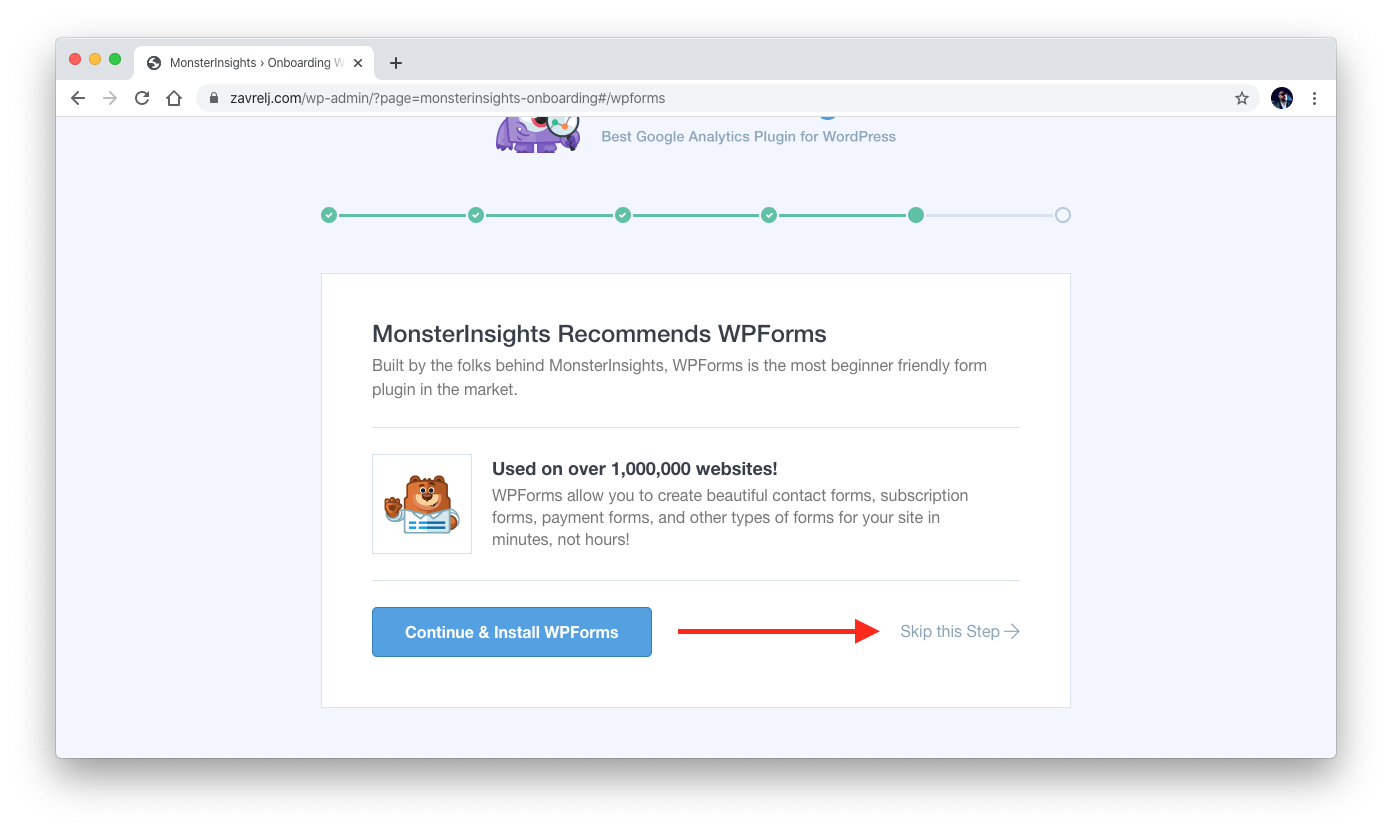 Step 15
Alright! You're all set now. Finish setup and exit wizard: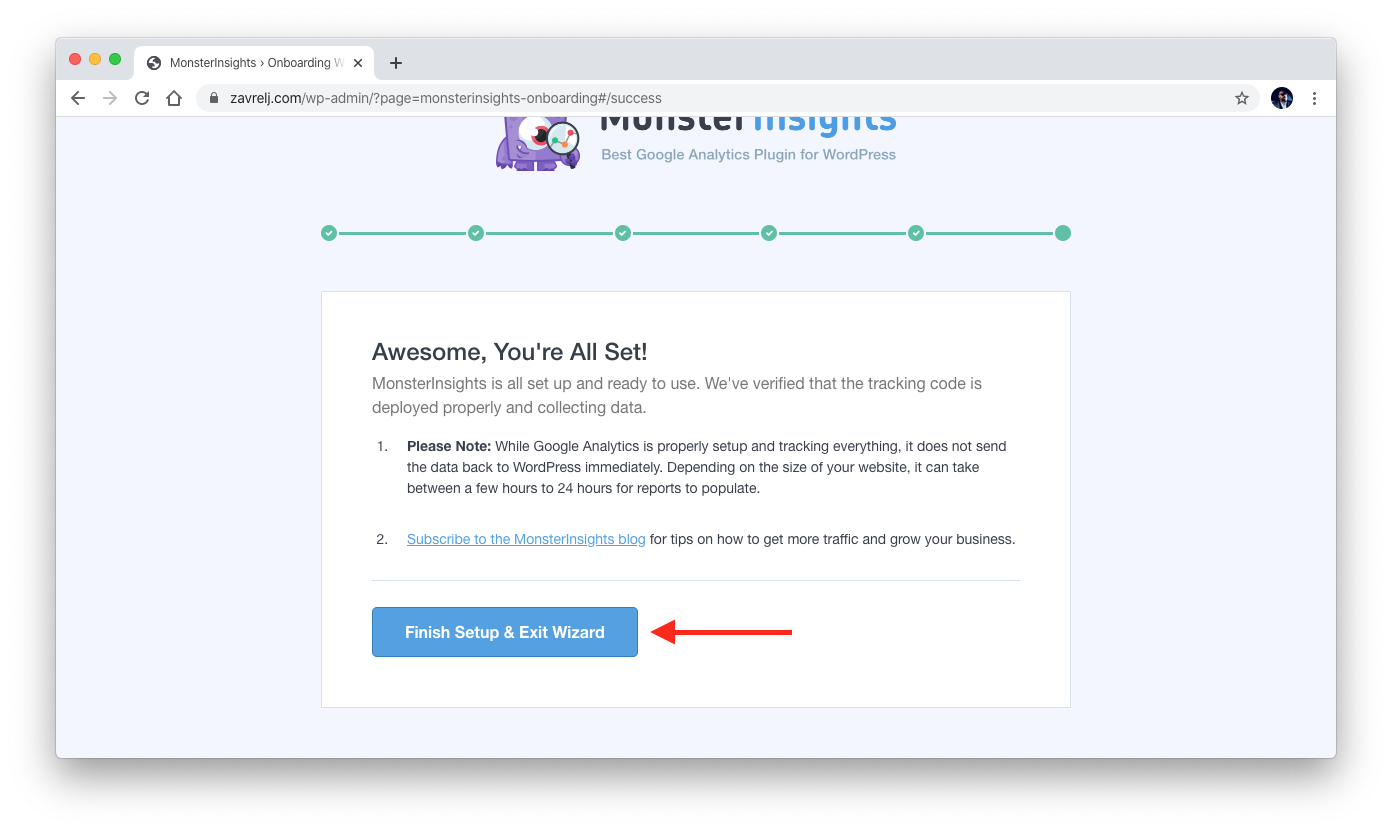 Step 16
Once you're back in the Dashboard, make sure that your Active Profile corresponds with your Google Analytics Tracking ID: